​
FPL Team News and Predicted Line-ups Gameweek 6
Welcome to Gameweek 6…..
Make sure to check all the Team News before the deadline and all twenty predicted line-ups. Best of luck this week and let your ranking reflect the effort you put in.
Arsenal
MonrealSokratisMustafiBellerin
HOME – Everton Sunday 23rd September 16:00
Last Updated: Friday 21st September 2018
Mkhitarayan has a right ankle problem and will have a late fitness test.
Torreira came out with a bit of a knee problem from the Europa fixture, similar to Mkhi as he will also need to be assessed before Sunday.
Kolasinac, M-Niles, Jenkinson and Koscielny all still remain out,
Expect some rotation with players like Ozil, Ramsey, Bellerin, Xhaka and Lacazette probably making their way back into the XI after not starting vs Vorskla.
Current form: LLWWW
Bournemouth
AWAY – Burnley Saturday 22nd September 15:00
Last Updated: Friday 21st September 2018
When talking injuries Howe said "Charlie Daniels is still a doubt and Kyle Taylor looks like he's picked up a calf problem.
"Apart from that, we're pretty good."
Stanislas could be back in contention after featuring in the Hampshire Senior Cup.
Let us not fool around with a winning formula, at least that is my thinking, we will see what Eddie thinks when the xi comes out.
The last 4 encounters versus Burnley have finished with one of the sides winning by a goal with both sides taking two games a piece.
Current form: WWDLW
Brighton
MarchBissoumaPropperStephensKnockaert
HOME – Spurs Saturday 22nd September 17:30
Last Updated: Friday 21st September 2018
Chris Hughton confirmed that the only player they have out at the moment is Pascal Gross, due to an ankle injury.
Jose Izquierdo is training at the moment while Florin Andone played 45 minutes for the U23s last Friday night. Speaking of the pair Hughton said, "Andone and Izquierdo are ones we'll have to make decision on this week." Don't expect to see either in the starting XI.
In the absence of Pascal Gross, Yves Bissouma will be expected to continue in midfield.
Current form: LWLDD
Burnley
GudmundssonHendricksCorkLennon
HOME – Bournemouth Saturday 22nd September 15:00
Last Updated: Friday 21st September 2018
Sean Dyche says Burnley have "gone full circle in a very short time frame" as they target their first win against Bournemouth this week. "Now we're back to being underdogs again. We're back to being Burnley of before, the underdog punching above its weight".
This is Burnley's twelfth game of the season already more than any other team in a major European league. Defeats to Watford, Fulham, Manchester United and Wolves leave them rock bottom of the table.
They've conceded 10 goals in those games; it wasn't until 26th November that they conceded 10 goals last season.
Dyche said his players were trapped in fog after losing to Wolves last weekend. Maybe this explains why Wood and Barnes have stopped scoring and why Joe Hart has started saving shots.
Ben Gibson is out for several weeks after a hernia operation. Steven Defour and Robbie Brady remain out but have stepped up their comebacks by playing in a behind-closed-doors game and should come into contention next week.
Current form: DLLLL
Cardiff
HoilettRallsArterCamarasa
BennettBambaMorrisonManga
HOME – Man City Saturday 22nd September 15:00
Last Updated: Friday 21st September 2018
Despite not winning any of their opening five games Colin is not concerned, "The players are trying their hardest. We've made individual errors but they're really doing their best."
Colin has been keen in recent weeks not to rush Aaron Gunnarsson back. Looks like he'll be waiting a little longer as the Icelandic international picked up another knock in midweek.
Sounds like the doc might be required, "We've got one or two little niggles as always. We'll leave it till the last minute. We've had a little bit of a virus this week too but everyone wants to be involved if I can. We'll have a look at the sick parade." Perhaps Mo Salah could give them some lemsip?!
Harry Arter is expected to be available after being forced off due to a bout of sickness last weekend.
Current form: LDDLL
Chelsea
AlonsoLuizRudigerAzpilicueta
AWAY – West Ham Sunday 23rd September 13:30
Last Updated: Friday 21st September 2018
League leaders Chelsea are looking to win their opening six games in a Premier League campaign for the third time (after 2005-06 and 2009-10). No other side has done it more than once in the competition. The Blues have won the league on both previous occasions they've won their first six matches.
Chelsea only left Greece on Friday morning after their flight was cancelled due to bad weather Thursday night. Clearly preparations have been disrupted. Either that or they just preferred the Greek weather!
Hazard will be well rested after missing the Europa game in Greece due to fatigue. New manager Maurizio Sarri has set Hazard a huge target this term, stating: "We have spoken and I told him he can score 40 goals. He has to improve some things, but he can do it."
Alonso and Jorginho came off early Thursday night and Luiz was rested completely in preparation for West Ham.
Pedro is a major doubt after injuring his shoulder in Chelsea's Europa League win at PAO. Though it's not deemed serious and he has said himself he's ok. Sarri was not so sure after the match. Who knows? Kovacic could also miss out through injury.
Gorgeous Olivier Giroud loves playing West Ham. He has 6 goals and 3 assists against them in 10 games. That's better than any other club he has faced!
Current form: WWWWW
Crystal Palace
McArthurMilivojevicKouyateTownsend
Van-AanholtSakhoTomkinsW-Bissaka
HOME – Newcastle Saturday 22nd September 15:00
Last Updated: Friday 21st September 2018
Roy confirmed that they are still without Christian Benteke but that otherwise they have a clean bill of health. He's obviously forgotten about Connor Wickham and Scott Dann!!
Roy spoke at length about Zaha and stated the obvious when he said that their chances are better with him in the team!
Having beaten Huddersfield last weekend Roy will be reluctant to make any changes. He may be tempted to start Meyer in support of Zaha with Ayew dropping to the bench.
Jeffrey Schlupp could be recalled on the left with McArthur replacing Kouyate in the middle.
Current form: WLLLW
Everton
RicharlisonSigurdssonWalcott
AWAY – Arsenal Sunday 23rd September 16:00
Last Updated: Friday 21st September 2018
Silva is hopeful that Phil Jagielka will return to training next week.
Yerry Mina, Seamus Coleman and Michael Keane remain on the side-lines. Yerry Mina's condition is improving every day but Silva refused to confirm whether he'll be involved at Arsenal on Sunday.
Despite conceding three against West Ham last weekend changes at the back are unlikely due to a lack of options.
Silva on the return of Richarlison, "It's important. He's an important player for us. He started very well and scored important goals for us. It's very important for us that he's back."
Given the poor form of Tosun to date there is the possibility we'll see him drop to the bench with Niasse potentially starting up top.
Current form: DWDDL
Fulham
Le MarchandMawsonOdoiFo-Mensah
HOME – Watford Saturday 22nd September 12:30
Last Updated: Friday 21st September 2018
Tom Cairney and Neeskens Kebano remain sidelined. Tim Ream is working towards a first team start.
Jokanovic said: 'For me, being brave and choosing what you believe in is the best way to win a game'. With four points from five it's safe to say it isn't.
The manager also said: 'Five games are behind us and we have made interesting steps'. If that isn't code for disappointment, we don't know what is.
Current form: LLWDL
Huddersfield
Van La ParraPritchardDiakhaby
KongoloZankaSchindlerHadergjonaj
AWAY – Leicester Saturday 22nd September 15:00
Last Updated: Friday 21st September 2018
Wagner says everyone is healthy except for Sobhi. Ramadan should be back training with the side after the next international break according to the gaffer.
Which means that Kongolo (minor knock) Durm (back problem) and some othere minor concerns have been dealt with.
Hogg is back from suspension and will hope to slot back in. This could see Billing drop to the bench or possibly have both with Mooy in a 5-3-2 set-up.
Huddesfield scores every other game which so far has been the away games, luckily for them, they happen to play away this weekend, so that's one positive.
The Terriers can be tricky as Wagner loves to rotate and is willing to change formations. But here is one change we recommend, if you are not scoring goals, perhaps changing a striker who hasn't scored all season could be an option.
Current form: LLDDL
Leicester
ChilwellEvansMaguirePereira
HOME – Huddersfield Saturday 22nd September 15:00
Last Updated: Thursday 20th September 2018
Puel revealed he has no new injury concerns ahead of their fixture vs Huddersfield.
However that does not mean there are no absences. Matty James remains out and Wes Morgan is suspended.
As far as who replaces Morgan it looks like Puel has made his decision, saying on Evans and Soyuncu "I am happy with the work of both. I think Jonny deserves to play, he is a very experienced player."
Claudio also mentioned that he was considering giving Maguire a rest, he did however say that if he rested him and they lost that he knew he would be criticised. Prophet this guy.
Albrighton will be pushing for a start after coming on last week and getting on the score sheet with either Gray or Ghezzal possibly making way.
Current form: LWWLL
Liverpool
Robertsonvan DijkGomezClyne
HOME – Southampton Saturday 22nd September 15:00
Last Updated: Friday 21st September 2018
Lovren continues to miss out, "Dejan is close. Looks really fit. Fitness wise is on a really okay level. Better than average. He's not in squad for weekend but we will see how soon we can try to involve him again."
Klopp on Salah, "The last two games from Mo were outstanding. That says everything about him. It's normal for an offensive player that there are times when you don't score. He is in a good shape. Finishing is something you never can take for granted."
Klopp confirmed that Firmino is available to start the game. He then threw a spanner in the works by claiming that Firmino and Sturridge could play together.
Klopp insists that none of his players are tired but I expect to see a number of players rested tomorrow. I would be surprised to see both Gomez and TAA start. I wouldn't be surprised to see an entirely different midfield than what featured against PSG. Finally, I think there's every chance that Salah starts from the bench…
Current form: WWWWW
Manchester City
SaneD. SilvaB. SilvaSterling
DelphOtamendiStonesWalker
AWAY – Cardiff Saturday 22nd September 15:00
Last Updated: Friday 21st September 2018
The big news is that Benjamin Mendy has been ruled out.
Guardiola on the Mendy injury and how long he's out for, "I don't know, he has a little bit of a problem in his bone. His ankle." Apparently he has a bruised metatarsal on his left foot. Last weekend Pep told us it was his knee!
Pep is encouraged by the progress De Bruyne is making but is not setting any deadlines for his return.
Having scored against Fulham and against Lyon, Leroy Sane will be hopeful of making his 2nd start of the season.
In other news, City have proposed moving Coronation Street from Champions League nights in an attempt to boost attendances!!
Current form: WWDWW
Manchester United
ShawSmallingLindelofValencia
HOME – Wolves Saturday 22nd September 15:00
Last Updated: Friday 21st September 2018
Matic and Rashford are not available due to suspension.
When talking about injuries Jose said "No injuries from the match, small things but nothing important. So I would say Marcos Rojo is the one that is still not training with the team and Ander Herrera is not ready to play but is in the final phase of his recovery process, Jones OK now."
Jose ruled out any chance of Dalot starting this weekend by saying "[Diogo] Dalot will not play tomorrow but he will play on Tuesday against Derby in the Carabao Cup," says Jose. "I want him in this process of adaptation. I want him to play totally fresh."
Jose certainly has some able bodies if he feels a player or two needs a rest. Young could come in for Shaw and Pereira and Bailly also remain alternatives if the gaffer deems they are needed.
Current form: WLLWW
Newcastle
MurphyDiameShelveyRitchie
DummettFernandezLascallesYedlin
AWAY – Crystal Palace Saturday 22nd September 15:00
Last Updated: Friday 21st September 2018
Rafa on injuries "We have just Lejeune (out) who is a long-term injury. The others have been training and are available."
Benitez on transfers "I was talking with the head of recruitment this morning. We have an idea for the next window, & now we just need to see if we have any money. Always we have to be optimistic, but also realistic." Rafa, Rafa, Rafa my son. Are you really falling for this again?
Rondon should replace Joselu after being rotated last week after playing with Venezuela over the break.
Shelvey was left frustrated last weekend, but felt the need to protect him as he didn't feel he was fully fit. Shelvey will be chomping at the bit this weekend.
Lascalles came off at the half vs Arsenal, but is said to be fine now after suffering a bit of an ankle problem.
Current form: LDLLL
Southampton
RedmondHojbjergLeminaElyounoussi
BertrandHoedtVestergaardCedric
AWAY – Liverpool Saturday 22nd September 15:00
Last Updated: Friday 21st September 2018
Saints are unbeaten in three, but let a two-goal lead slip against the mighty Brighton on Monday night to make it five points lost from winning positions already this season. Of course this is not Mark Hughes' fault "Guys in the media will pick up on these stats but it's not really something we are dwelling on. We are more concerned in how we are performing" "I don't think that's a character trait or how poorly we're playing but these things can happen." If balls come in in good areas you are at risk of conceding and referees can make decisions that affect you adversely". So basically it's everyone else's fault.
Danny Ings can't play as he is on loan from Liverpool ahead of his move being made permanent next summer, while Manolo Gabbiadini is a doubt after pulling up in training with a hamstring injury. There were no other injuries reported.
Austin should come in up front. Hughes has been talking him up and has said he's rediscovered some of his "spark." "Maybe he just needed a little bit more time to get up to speed so we will see.
Current form: DLLWD
Tottenham
DaviesDembeleEriksenTrippier
VertonghenSanchezAlderweireld
AWAY – Brighton Saturday 22nd September 17:30
Last Updated: Friday 21st September 2018
Some good news and some bad news for Tottenham fans this week; Dele Alli is back in training, but so is Moussa Sissoko.
Hugo Lloris remains out with a thigh injury.
It will be a toss up between Heung-Min Son, who played over 60 minutes midweek against Inter, and Erik Lamela, who played 72, as to who gets the starting berth with Alli unlikely to start the match.
Having played three centre-backs against both Fulham and Watford, we think Pochettino will look to do the same again here, Brighton (not that it worked against Watford!) Yeah Brighton, we're talking to you!
Current form: WWWLL
Watford
HolebasKabalaseCathcartJanmaat
AWAY – Fulham Saturday 22nd September 12:30
Last Updated: Friday 21st September 2018
Watford were finally beaten last time out for the first time this season, but Gracia is confident they will bounce back. "I'm sure (we'll react well). We had a good performance last week. Regardless of the result, I think we played well. We didn't get a good result but I'm pleased with the performance."
Deulofeu is still out with Tom Cleverley. Gerard is training but not with the team," said Gracia. "I think after one test on Saturday we'll see if it is possible the next week [for him] to train with us. At this moment he's not ready." So basically he's still close.
Watford could become only the fifth club to name the same starting line-up in their opening six matches of a Premier League season. Gracia has hinted at some rotation in the future but this will likely come in the league cup. "In the next seven days we have three important games and I'm sure all of the squad is going to play. In this moment I think all of them are ready, all of them are important and we try to choose the best line up for all of the games. For me, the three games are very important and we've got to play three tough games."
The big news out of Watford came last week, with the man behind Watford's controversial Harry the Hornet mascot announcing his retirement. Highlights include mocking Wilfried Zaha by diving, after the winger had been booked for simulation and Harry has also been videoed doing the Conor McGregor walk in front of the away fans. Hodgson once branded the mascot "disgraceful" and Sam Allardyce once said the mascot's actions were "out of order". Watford fans are hoping this won't have a negative impact on their great start to the season.
Current form: WWWWL
West Ham
AndersonObiangNobleYarmolenko
MasuakuDiopBalbuenaZabaleta
HOME – Chelsea Sunday 23rd September 13:30
Last Updated: Friday 21st September 2018
On whether Marko Arnautovic can shake off a knock, Pellegrini said 'we will see'. At least they have the extra day with the Hammers playing on Sunday.
Javier Hernandez is still sick and Jack Wilshere's problem with his ankle remains.
The manager praised the performances of both Declan Rice and Pedro Obiang last week, as well as (of course) Andriy Yarmolenko, so watch Carlos Sanchez start!
Current form: LLLLW
Wolves
JonnyMoutinhoNevesDoherty
AWAY – Man United Saturday 22nd September 15:00
Last Updated: Friday 21st September 2018
Nuno Espirito Santo comes up against former boss Jose Mourinho, and he was full of praise for the man who managed him at Porto. "To all the players that were in the squad between 2003-04 – he was a big inspiration," he said
"It will stay in our memories forever. But then things change you go on with your career personally – he was a big inspiration. I still have great memories of those days." It was mostly just a Mourinho love fest! After the game there will be moonlight, music, love and romance!
Wolves have not won at Old Trafford for 38 years! Nuno's men will be confident though as they have suffered defeat just once so far with that happening at Leicester City on the second weekend of the campaign. Since then they have had back-to-back wins over West Ham and Burnley – after an impressive draw against Manchester City.
Wolves named an unchanged team for a fifth successive league match against Burnley last time out and Nuno Espirito Santo may be reluctant to make any changes after their 1-0 win. There are no new injury concerns.
Cavaleiro is likely to miss out again with a back injury.
Current form: DLDWW
Thanks for reading Fantasy Football Team News and Predicted Line-ups GW6. This article was written by Fantasy Football 247
SUSPENSIONS UPDATE
We have a few simple pictures to illustrate the situation here. This information is taken from The FA website and can be found here – http://www.thefa.com/football-rules-governance/discipline/suspensions
Currently on suspension this week
The list below will show all players whose parent club is in the Premier League even though they may be out on loan.

One yellow card away from a ban

FPL FIXTURE TRACKER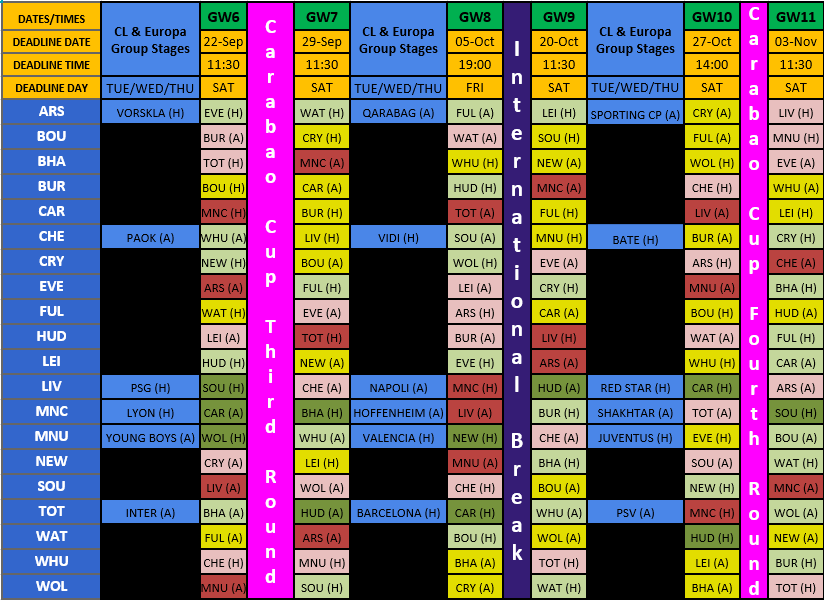 FIXTURE TRACKER LINK
Welcome to our Fantasy Football leagues section.
The League Codes for FF247 for the 2018/19 season are as follows –
Thanks to our friends Follow @ff_surgery and please give them a follow.