Fantasy Football Captain Picks Gameweek 14
Welcome to Fantasy Football Captain Picks Gameweek 14.  I thought I'd keep it short 'n' sweet and offer you four clear candidates and four differentials. Without further ado, let's have a look at the latter:
Theresa May:
Pro: Brexit; Currently (notional) captain of the Blues. Runs round, slightly crazily, in circles.
Cons: (ervative); possibility she may longer be in play by the time GW14 comes around. Those circles will become ever decreasing and eventually result in a comical self-collision.
Captain Mainwaring:
Pros: The rotund captain was probably fitter in his middle age than 98.8% of the current population of the UK. Has Wilson and Fraser to call upon.
Cons: In spite of his relative fitness, is unlikely to last 90 minutes; 98.8 seconds of ill-humoured huff and puff may be the best you get.
John Keating: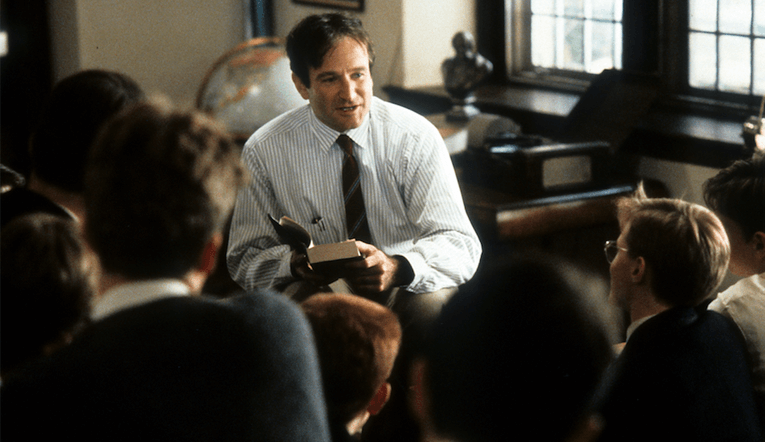 Pros: Only answers to Whitman's O Captain! / my Captain! If that's not a ready made captain then I'm J. Alfred Prufrock.
Cons: Tendency to fall foul of conservative organisations, so may not get on with the FA.
Skippy the bush kangaroo:

Pros: Bouncing in at number 4, Skips is the fittest of this quartet; 'Skippy' sounds a bit like 'skipper'.
Cons: last seen on British TV in the early 1970s. I'm not sure what the average life expectancy of a kangaroo is, but Skippy may be quite elderly now.
Less fancifully, perhaps, here are four more candidates:
Eden Hazard
Pros: Home game versus one of the league's worst sides. Certainly its most generous, in terms of a leaky defence. On paper it seems an easy decision, one where I'd say don't overthink it, just do it. However…
Cons: Recent returns and the ankle injury have made owners edgy, reflected in >50k transfers out at time of writing: probably a straight swap with Sterling. Talk of the Ranieri bounce largely irrelevant now and the word 'bounce' has already been covered in this article.
Mo Salah
Pros: The prattle of his being a one-season wonder has drifted away in the aether. Getting back to his consistent self as Liverpool motor(ik) on.
Cons: Lack of BPS can be frustrating (judging by the yells of rage on the comments' board).
Kun
Pros: Home game against a side unlikely to park the bus. Man City comfortably in the lead amongst sides creating big chances.
Cons: As discussed last week, the new hair-do brings out his inner Leland Palmer. Seldom gets 90 minutes. But does that matter?
Raheem Sterling
Pros: Something of a differential in terms of ownership, though not for much longer given the numbers bringing him in. Monstrously good form. And see the pros for Aguero above.
Cons: Naysayers may whisper the word 'rotation', causing mass Xanax chomping. But don't worry, and don't live on the raw edge of imminent nervous collapse. Just make sure your vice-captain isn't your goalkeeper.
*I prepared a fair amount of this before Hazard keeled over. I have no idea how bad his injury is. Haz spoke some plucky words about it. It seems fair to mention the ones who got away from the article, namely Mane and Vardy. But I suspect most people will be on Salah or one of the City players anyway, unless Hazard is OK.
Best of luck.
Thanks for reading Fantasy Football Captain Picks Gameweek 14. This article was written by Kralin.
FPL FIXTURE TRACKER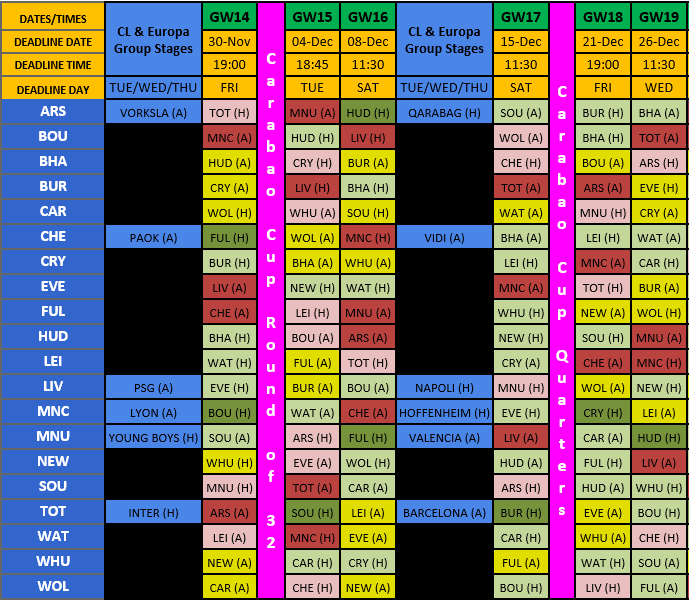 FIXTURE TRACKER LINK
Welcome to our Fantasy Football leagues section.
The League Codes for FF247 for the 2018/19 season are as follows –