Fantasy Football Captain Picks Gameweek 31
Welcome to Captain Picks Gameweek 31. Also known as BGW31 (that's Blank Game-Week 31 to those not au fait with FPL acronyms). In last season's equivalent to BGW31, weeks of planning and chip strategy became largely moot thanks to four goals from the dominant captain pick Mo Salah. Salah netted his owners 29 points – 58 if you captained him (and every man and his dog did). I distinctly remember one guy on Twitter who went into the game-week with just 4 players, the triple captain on Salah; yeah he did pretty well.
Whilst Liverpool play away this season (last year it was Watford at home) the opposition (Fulham) are without doubt a whole lot worse than Watford, and that's being kind. So, will it be a case of history repeating itself? Should I save us all the time and energy and just suggest we all 'stick it on Salah'? Maybe, to both of those.
If I did that I could, of course, end the article right here, but in doing so would likely never be asked back, and well, it keeps me off the streets. So if it's not Salah for the armband then who?
Sadio Mané– Fulham (A)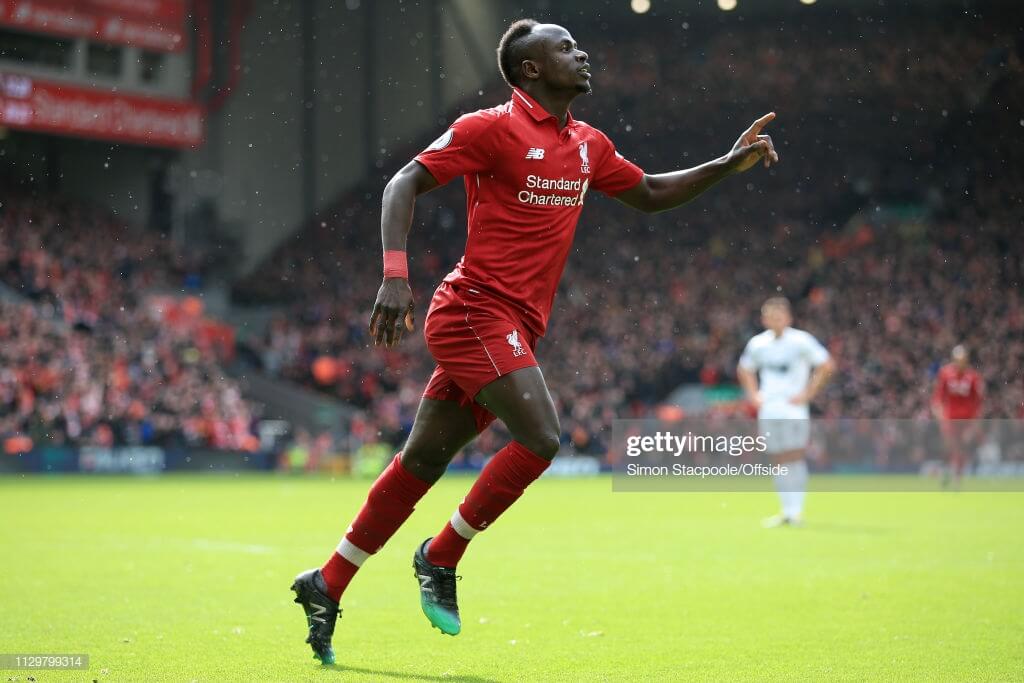 Well, if you base your captaincy picks on form, then Sadio Mané is without a doubt this week's best pick. His double at home to Burnley (his second in his last 3) in GW30, will see his ownership increase beyond the current 27.5%, and those who own him will be sorely tempted to hand him the armband.
Opponents Fulham come into the match having conceded more shots (73) in their last four than any other team. This fixture may be on home turf, but will likely be scant consolation for the team with the worst home record in the league having leaked the most goals (28), and boasting just a solitary clean sheet at Craven cottage all season.
The Senegalese heads into this fixture with 8 goals in his last 10 and his 14pts at the weekend have seen him climb to 4th in terms of overall FPL points. For those of us who have doubled-down on the reds defence, Mané could be the fly in the ointment and the difference between a good or bad BGW31.
Mo Salah – Fulham (A)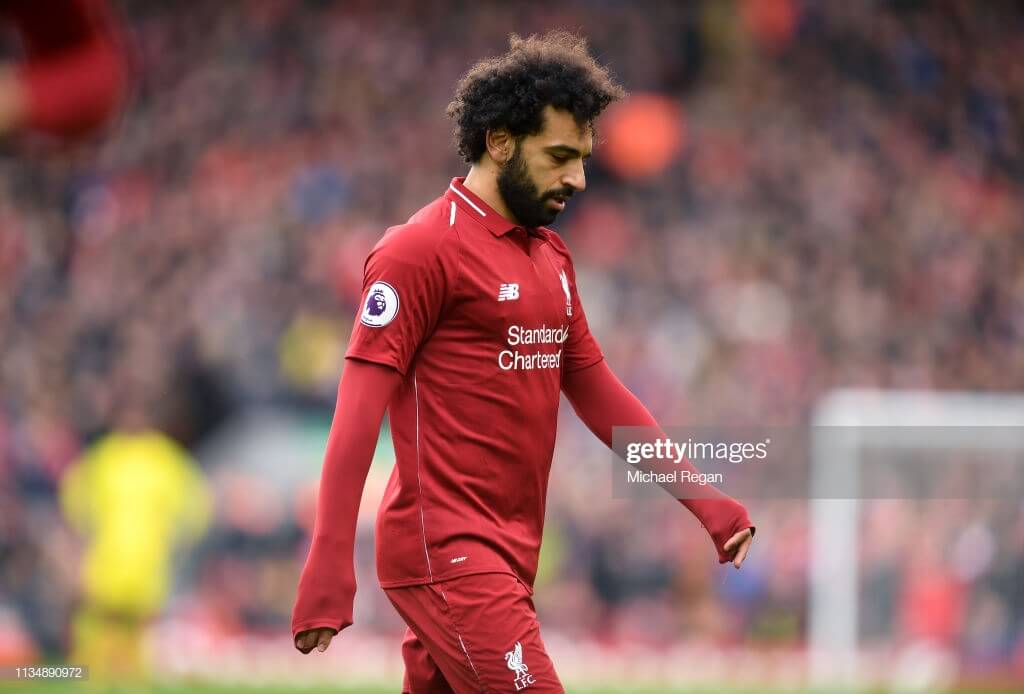 Ok, so for those of us without Sadio Mané, it may feel as though we have to Captain Mo Salah purely because we own him, and well… it's Fulham. The problem is, Salah hasn't shown any kind of form in recent weeks. It's four game-weeks since he's scored, and he has just 4 goals in his last 10. An assist at the weekend is perhaps a sign of promise, but it's hardly the return many had hoped and expected as we head into what could be a season-defining week in FPL. One statistic which may help sway your decision; Salah's vs Mané's away form; in their last four away from Anfield, its 10 shots to 3, 7 in the box to 3 and 6 on target to just 2. 3-0 Mo.
Stats aside, when all is said and done, we all know what Salah is capable of. He made his sellers look a little foolish when he followed two successive blanks with a hat-trick and 21pts away to Bournemouth in GW16, and whilst he may not be getting the goals, his 41 penalty area touches in his last four (the highest in the league) suggest it's surely a case of when and not if he finds his shooting boots once more.
Eden Hazard – Everton (A)

As an Eden Hazard owner, Chelsea v Wolves in GW30 was a largely frustrating watch. In GW29 I was torn between using my FT to bring in either Sterling or Hazard, and despite vowing never to own him again earlier in the season, the pressures of BGW31 loomed and I ultimately opted for the Belgium. I may still be 32pts worse off, but boy did I celebrate when Hazard finally rewarded my stupidity with a goal in the second minute of injury time. To top it off (and much to the frustrations of more than just a few on Twitter) he also took all three bonus points; 2pts becoming 10 in the blink of an eye.
Opponents Everton have what can best be described as 'mixed' home form; 6 wins, 4 draws and 5 defeats. They have kept 5 clean sheets at Goodison but they have also conceded as many as they have scored (21). So make of that what you will. Hazard has 8 double-digit hauls this season and 3 of those came on the road against opponents with similar home records (Brighton and Watford), so he's certainly more than capable, but is it enough to sway you away from the Liverpool duo?
Jamie Vardy – Burnley (A)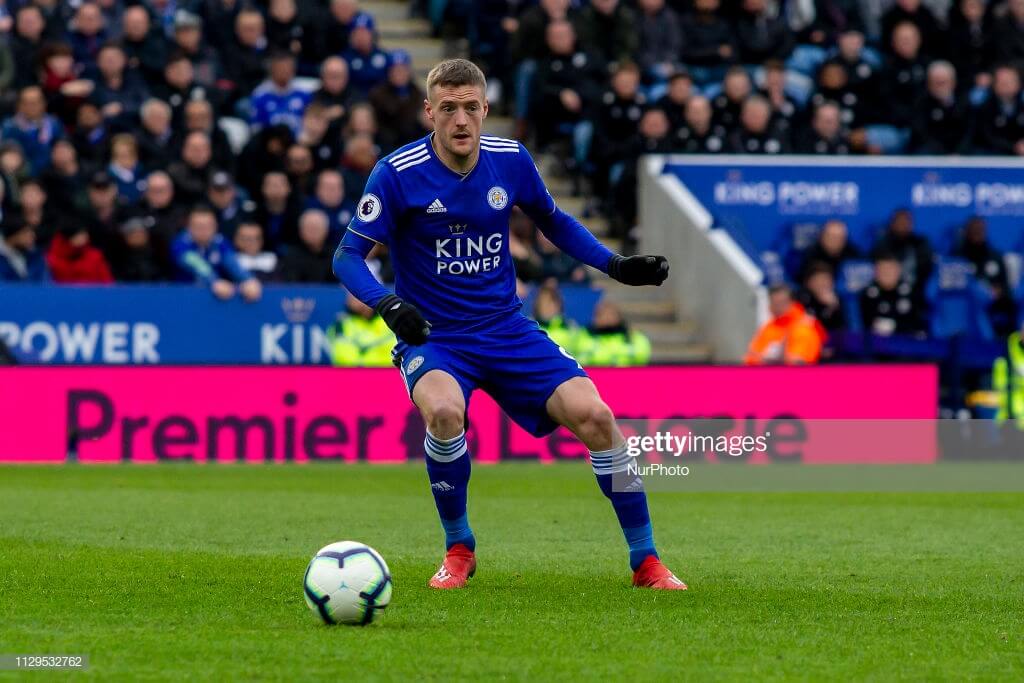 His brace at the weekend means its 5 goals in 5 for the rat man, throw in an assist and for all those point chasers out there he's looking very tempting indeed. I'll be honest, I don't actually have an issue with Jamie Vardy, I certainly didn't have an issue with the 16pts he brought me in GW30. However, I did think that at 32, perhaps his best days were behind him, but the appointment of Brendan Rodgers has seen Vardy once more become the focal point, gone is possession-based football played under Claude Puel and Vardy looks a genuine FPL asset once more. Rat fans rejoice, yaaaaaahhhhhh!
Burnley may have shown signs of improvement in recent weeks, but they've failed to keep a clean sheet at home since GW16. Their home record over the season does not read well; only Cardiff and Fulham have conceded more than the 26 goals they've shipped at Turf Moor. They head into GW31 on the back of three successive defeats, it may be four come Saturday and it could be time for another Vardy Party.
Callum Wilson – Newcastle (H)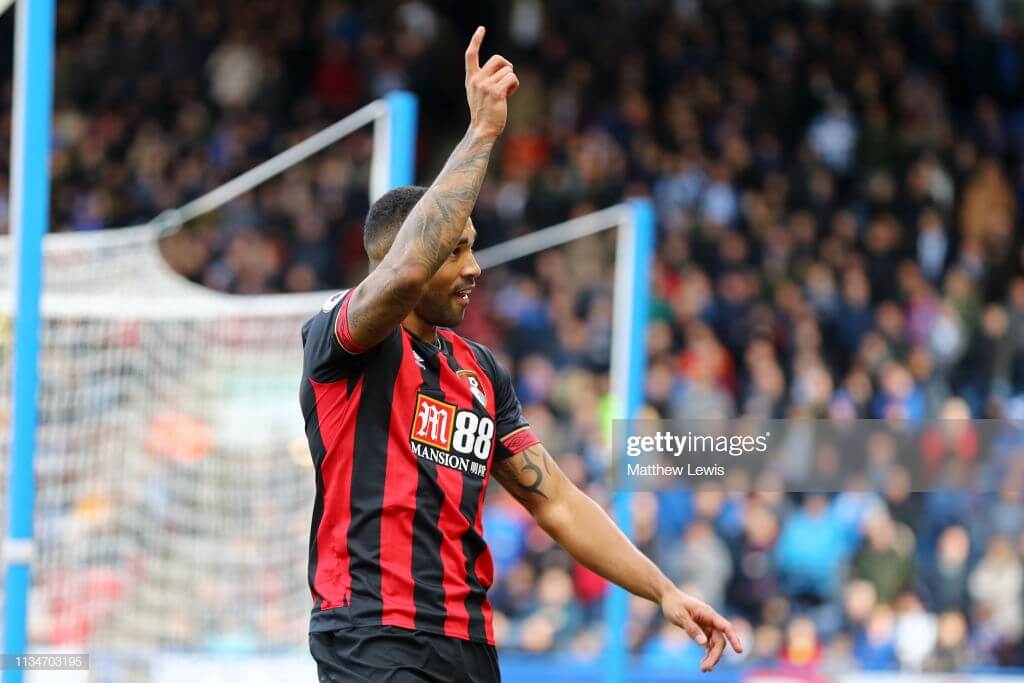 Callum Wilson has been one of the few highlights in an otherwise forgettable FPL season for yours truly. Until his injury in GW24, he had been a permanent fixture in my side since my premature GW3 wildcard, and alongside teammate Ryan Fraser he brought me many points and much joy. His return at the weekend could not have come at a better time, the Wilson and Fraser show was back in full effect; a goal and assist for both in the 2-0 win away to bottom club Huddersfield.
Whilst Newcastle's home form has seen a dramatic improvement (5 wins on the bounce), our away form is cause for serious concern. We haven't won or kept a clean-sheet since way back in GW17 and that was away to bottom club Huddersfield. I don't really like to back players against my own team, but I've said it before; when it comes to FPL I'm cold as Ice – I'll likely bring will Wilson in, will I captain him? Maybe not, but that doesn't mean you shouldn't give it serious consideration.
Good luck to each and every one of you, may you be showered with GA's this coming BGW (Green Arrows this coming Blank Game-Week).
Thanks for reading Fantasy Football Captain Picks Gameweek 31. This article was written by Rosco.
FPL FIXTURE TRACKER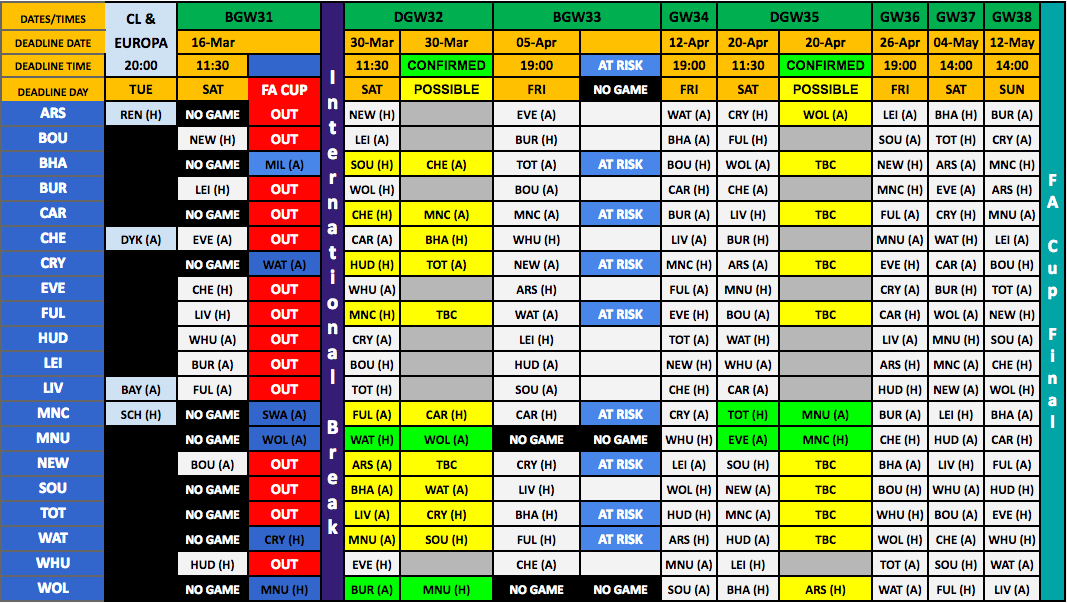 FIXTURE TRACKER LINK
Welcome to our Fantasy Football leagues section.
The League Codes for FF247 for the 2018/19 season are as follows –