FPL Team News and Predicted Line-ups Gameweek 38
Welcome to Fantasy Football Team News and Predicted Line-ups…
Make sure to check all the Team News before the deadline and all twenty predicted line-ups. Best of luck this week and may your ranking reflect the effort you put in.
This article was last updated on: Friday 10th May @ 19:40 GMT.
Arsenal
KolasinacXhakaTorreiraMaitland-Niles
Burnley (A) Sunday 12th May 15:00
Last Updated: Friday 10th May 2019
There was no press conference from Emery today, as is to be expected after a Europa tie, but he is the one out of the pair who usually still holds one at some point, whereas Sarri clearly just couldn't be arsed! To this end we shall update our Arsenal section on Saturday if he materialises. The line-up posted is what they went with on Thursday night and it's just a place holder for reference.
Current form: LWLLLD
Bournemouth
Crystal Palace (A) Sunday 12th May 15:00
Last Updated: Friday 10th May
Bournemouth finish their season away at Crystal Palace. The Cherries have only lost three of their last eight league matches and beat the nine men of Spurs 1-0 last weekend. Even their typically bad away form has started to improve, with two wins and a draw coming from their last four away days.
Travers looks like keeping his place after his impressive debut against Spurs. Howe "He's a very level-headed guy, he seems to rise to any challenge that you give him. It's very early days in his career but certainly good signs to start with." Begovic has been ruled out for personal reasons.
David Brooks and none of the other previously injured players will return this week. Howe; "David Brooks will miss out. None of the players that were unavailable last week are back." That should rule out Gosling and Solanke.
Other players missing are; L. Cook Francis, Surman, Daniels, Diego Rico, and Stanislas.
Current form: LLWLDW
Brighton
MarchKayalStephensKnockaert
Man City (H) Sunday 12th May 15:00
Last Updated: Friday 10th May
There will be a party one way or another at the Amex, be that City celebrating the title or Brighton simply celebrating having already secured their top flight status for another season.
Other than Davy Propper and Jose Izquierdo boss Hughton has no fresh injuries to contend with.
As such we expect few changes as they will want to do the honourable thing and push City all the way.
Whether it's Murray or And one up top it probably won't matter too much!
Current form: LLDLDD
Burnley
McNeilWestwoodCorkHendrick
Arsenal (H) Sunday 12th May 15:00
Last Updated: Friday 10th May
Burnley host Arsenal in their final game of the season. Sean Dyche's men have lost each of their last nine consecutive encounters between the sides. Dyche is very happy with his sides effort this season. "The fans have been terrific this year. Even when things weren't going well they were there and I think they get the business model and understand the club. This team gives everything and the fans have had their rewards."
Robbie Brady will face a fitness test after coming off with a slight calf strain at Everton last weekend. Phil Bardsley could return from a thigh injury but has signed a contract extension.
Lennon and Defour will again miss the game through injury.
James Tarkowski has just become a father so his participation is still to be determined after he missed a few training sessions.
Current form: WWWDLL
Cardiff
HoilettBacunaGunnarssonMendez-Laing
BennettMangaMorrisonPeltier
Man United (A) Sunday 12th May 15:00
Last Updated: Friday 10th May
Harry Arter has been ruled out due to a calf injury and so may have played his last game for Cardiff as his loan spell ends after this game.
Warnock was hopeful that Victor Camarasa may make it after he sustained a "nasty dead leg" last week, although he didn't seem overly confident. Bobby Reid will continue to deputise if he doesn't make it.
Danny Ward began up front last week and was replaced by Kenneth Zohore so perhaps it will be the turn of the latter to start this week.
Current form: LLWLLL
Chelsea
AlonsoLuizChristensenAzpilicueta
Leicester (A) Sunday 12th May 15:00
Last Updated: Friday 10th May
Chelsea have the difficult task of an away game against Leicester after their Europa league heroics. Sarri "For sure, it will be very difficult for Sunday, I think. But we need to consider that our best match, in my opinion, was here in Stamford Bridge against Tottenham, three days after 120 minutes in the cup final against Manchester City. Of course, now it's more difficult, I think. We played 61 matches, so it's very difficult. We need to rest, of course. Unfortunately we have to go to the US to play a match. And then we have, after the US, 10 days to prepare the last match."
Sarri confirms Loftus-Cheek was withdrawn due to the "usual cramp" after 86 minutes. "It's not serious."
Christensen will also be assessed after picking up an injury but this is nothing new the guy is made of glass and usually turns up to start with anyway.
Rudiger and Hudson-Odoi have been ruled out for the season. Kante won't be risked with a hamstring injury.
Current form: WWLDDW
Crystal Palace
ZahaMilivojevicMcArthurTownsend
Cardiff (A) Sunday 12th May 15:00
Last Updated: Friday 10th May
Crystal Palace host Bournemouth and are hoping to sign off with a home win. The Eagles have won just 17 points in home games this season, compared to 29 away from home. When playing their final game of a top-flight season at home, Crystal Palace have never lost, winning five and drawing two of their seven such games.
Scott Dann is a doubt with Palace running out of defenders. Hodgson: "We'll have to assess Scott Dann tomorrow because he left training today feeling a slight strain. That's the only one that could possibly be added to the ones we've had for the last few weeks."
On other injuries Hodgson said "It's the same injuries as last week". (Souare / Tomkins / Sakho / Schlupp / Benteke).
On Speroni playing (or not!) because it will be his last ever Crystal Palace game. Roy said said: "I think those sort of sentimental moments are debateable, and whether they are the right thing to do or not. However, I didn't have a decision to make on that front because Julián, who is a consummate professional, made it clear to me that he thinks we should carry on approaching this game in the professional way we've approached all games this season; he doesn't see a reason why all of a sudden he should be made the second goalkeeper or put on to the field of play just because the last game of the season".
Current form: LWLWDW
Everton
Spurs (A) Sunday 12th May 15:00
Last Updated: Friday 10th May
Quite a few injuries for Silva to contend with this week starting with Calvert-Lewin who won't travel to Spurs. This will probably mean a rare start for Cenk Tosun.
Their firepower is then further diminished with the loss of Richarlison who is out due to the rib injury he has spent most of the last three games writhing around on the ground with.
Seamus Coleman will need a late fitness test on his ongoing groin issue.
The good (better) news is that Andre Gomes is available again after his three game ban.
Current form: WWLWDW
Fulham
BryanLe MarchandReamChristie
Newcastle (H) Sunday 12th May 15:00
Last Updated: Friday 10th May
Scott Parker has been given the job on a permanent basis on a two-year contract.
Unfortunately, that distracted the journalists from asking the all important team news questions!
Marcus Bettinelli, Lazar Markovic and Timothy Fosu-Mensah will remain sidelined.
The rest is guesswork unfortunately. Denis Odoi was ruled out last weekend with concussion so could be available again.
No fresh injuries were reported.
Current form: LLWWWL
Huddersfield
LoweKongoloSchindlerSmith
Southampton (A) Sunday 12th May 15:00
Last Updated: Friday 10th May
We shall be brief here as quite frankly nobody cares.
Eric Durm is out.
Zanka didn't train.
Chris Lowe has a 'small problem'.
Current form: LLLLLD
Leicester
AlbrightonMaddisonTielemansGray
ChilwellMaguireEvansPereira
Chelsea (H) Sunday 12th May 15:00
Last Updated: Friday 10th May
Leicester have no new injury concerns, with just Matty James and Daniel Amartey remaining out.
Rodgers has been fairly consistent in his selections thus far and so this will probably continue although it remains to be seen how he will mark the final games for Leicester for both Danny Simpson and Shinji Okazaki.
Current form: WWLDWL
Liverpool
HendersonWijnaldumFabinho
Robertsonvan DijkMatipAlex-Arnold
Wolves (H) Sunday 12th May 15:00
Last Updated: Friday 10th May
Liverpool have twice won the league by beating Wolves on the final day – in 1947 and 1976 and will be hoping for the same again. The Reds head into the final match day one point adrift of leaders Man City who are favourites to clinch the title by beating Brighton.
Firmino has been ruled out. Klopp "Bobby is not for the weekend,". "But we have time (before the Champions League final) and that should be enough."
Salah is expected to return as he looks to win the golden boot. "Mo looked good around the celebrations (on Tuesday). The day before and yesterday he was running outside and he will be part of training today."
Robertson (calf) and Henderson (knee) are also expected to work as normal ahead of the game with Wolves. Barring a setback, both players will be available. On whether they will be available "It's only pain," Jurgen Klopp says. Milner is available to come in should either not make it.
Current form: WWWWWW
Manchester City
De BruyneGundoganD. Silva
ZinchenkoLaporteKompanyWalker
Brighton (A) Sunday 12th May 15:00
Last Updated: Friday 10th May
City will win the premier league with a win at Brighton. Pep "It's a privilege. We are in this position because we won a lot of games, 13 in a row, we have to win one more in the Premier League and that is what we have to do. I see the team relaxed, training good, smiling a lot, completely focused on the pitch or in meetings. Anything can happen in the game and one mistake of our side or one incredible performance from the opponent, one mistake from the referee can decide the title. That's why we have to be more precise in all the aspects we are working with these last three years and try to win the game".
Kevin De Bruyne has trained with part of the squad for the last two days so could be involved against Brighton. Fernandinho is out though.
Pep praised B. Silva. Guardiola on Bernardo this season: "He was the best – not just in our team but I don't vote!" Says he could get in any team in the world "by far".
No further news on Benjamin Mendy.
Current form: WWWWWW
Manchester United
ShawLindelofSmallingValencia
Cardiff (H) Sunday 12th April 15:00
Last Updated: Friday 10th May
Man United host Cardiff this week to end their disappointing season. Solskjaer could do with a win but could make changes. "You never know, [the Cardiff game] might be your last game but it might be the start of some careers as well. We've had some young players knocking on the door all season, really, and we'll start one or two of the kids as well."
Jesse Lingard (knee inflammation) could return on Sunday, but doubts remain over Alexis Sanchez (ankle), Romelu Lukaku (hamstring) and Anthony Martial. Eric Bailly is ruled out.
Valencia and Herrera will play their last games for the club. "I spoke to Antonio yesterday," Solskjaer said. "He's not been fit, five or six months I've been here. Unfortunately, he's really struggled. But he feels that he could play a part, yes, and I would hope he gets through today and tomorrow and we can give him a nice send off". On Herrera "Ander, he might play, we haven't picked the team. He will probably announce himself later on where he is going to continue his football".
Be warned United youngsters could feature this weekend. The lineup could be a lottery. – Angel Gomes, Mason Greenwood, James Garner, Tahith Chong, Dylan Levitt and Arnau Puigmal have all trained with the first team.
Current form: LWLLDD
Newcastle
RitchieScharLascellesDummettManquillo
Fulham (A) Sunday 12th May 15:00
Last Updated: Friday 10th May
Ki Sung-yeung has been ruled out of the visit to Craven Cottage with a knee injury. Jonjo Shelvey is the most likely candidate to slot into what will otherwise be a largely unchanged team.
Rafa said he was unlikely to unnecessarily risk anyone who is out with a knock.
Yedlin, Almiron, longstaff and Lejeune all looked to have already kicked their last ball of the campaign.
Current form: LLWWDL
Southampton
BertrandBednerakStephensValery
Huddersfield (H) Saturday 12th May 15:00
Last Updated: Friday 10th May
Saints finish the campaign with a home game against relegated Huddersfield. After securing safety, Hasenhüttl freshened up the starting eleven and gave opportunities to four players who had not had as much game time for the trip to West Ham which did not go very well as the Saints were hammered.
On team news Hasenhüttl said "We have one game to go. We may have a few changes and change back to the shape we were playing before, with the players that played before. That means that Angus is playing at the weekend again".
Yoshida will miss out again. The boss said "It was a very, very strong virus and so he is still not more than ten minutes on the bicycle and that's enough for him. I know he has to go to the national team in June so I give him the chance to rest completely and it doesn't make any sense to take any risk."
Current form: LWLDDL
Tottenham
DaviesAlderweireldDierWalker-Peters
Everton (H) Sunday 12th May 15:00
Last Updated: Friday 10th May
Davinson Sanchez, Harry Kane, Harry Winks and Jan Vertonghen are ruled out and Juan Foyth and Heung-Min Son are both suspended. Alderweireld is therefore the only recognised centre-back so Ben Davies or Eric Dier could be pushed into centre-back.
A last minute call will be made on Danny Rose and Victor Wanyama who kicked up knocks against Ajax.
Serge Aurier is back in training and in contention.
On whether the league is still important going into the final game, Pochettino said: "It's a great opportunity for us to finish well. Of course it's better to finish third than fourth but the objective is to finish in the top four and it's almost done but we have one more game."
Got that? He then said: "Our objective must be to finish third." Make sense? Nope, didn't think so.
Current form: WWLWLL
Watford
HolebasCathcartMariappaFemenia
West Ham (H) Sunday 12th May 15:00
Last Updated: Friday 10th May
Watford host West Ham in their last game before the FA cup final. Javi Gracia's side will finish in the top half with a draw though West Ham could finish above Watford with a win. Results have been poor since knocking out Wolves of the FA cup with just one narrow win against Huddersfield in five matches.
Gracia has hinted at little rotation "All my players are ready to play. All the squad and me, as well, are only focused on this game. In this moment, we prepare as best as possible the next game and after we have enough time to prepare the final, as well." Gracia went onto say "Sometimes you think it is better to rest some players and after it is not the best decision. I prefer to take decisions thinking only of the next game. The next game is important."
Étienne Capoue has managed to shrug off the minor groin complaint that kept him out last weekend and he is set to return on Sunday. "He will be available," said Gracia. "Everybody knows he's an amazing player but I think this season he was able to keep consistent".
On other injuries Javi Gracia: "In this moment we have Domingos Quina and Sebastian Prodl injured and the rest of the players are available.". If anyone is rested it could be Deulofeu but he could easily start.
Current form: WLWDLL
West Ham
CresswellDiopBalbuenaFredericks
Watford (A) Sunday 12th May 15:00
Last Updated: Friday 10th May
Good news on the injury front for the Hammers: "For the last game now, except Andy Carroll, Winston Reid and Andriy Yarmolenko, all the players are fit."
"Samir Nasri is fit. He doesn't have any problems."
Jack Wilshere, who came off the bench against Southampton after a spell on the sidelines, is "ready to start, and he will be… on the squad list".
Pellegrini didn't say much else other than that he wants to win the game, which is hardly newsworthy.
Current form: LLLDWW
Wolves
JonnyMoutinhoDendonckerNevesDoherty
Liverpool (A) Sunday 12th May 15:00
Last Updated: Friday 10th May
Wolves travel to Anfield to try and burst Liverpool's bubble. Wolves are on a three-game winning run at the moment and have secured their seventh-place finish in the Premier League.
Nuno was typically confident about the game. "It's another important game, a tough challenge. It's the final game of the season and we want to compete, as usual. It's the same. We're trying to improve as a team, always. That is what is important. The players rise for every game and every training session. This is what we want. We want to compete. As always, the focus is on our preparation. Let's play."
As per usual Wolves have no injuries and have a fully fit squad to choose from.
Current form: WLDWWW
Thanks for reading Fantasy Football Team News and Predicted Line-ups GW38. This article was written by Fantasy Football 247
SUSPENSIONS UPDATE
We have a few simple pictures to illustrate the situation here. This information is taken from The FA website and can be found here – http://www.thefa.com/football-rules-governance/discipline/suspensions
Currently on suspension this week
The list below will show all players whose parent club is in the Premier League even though they may be out on loan. As of now players must reach 15 yellow cards to activate a 3 game ban.

One yellow card away from a ban

FPL FIXTURE TRACKER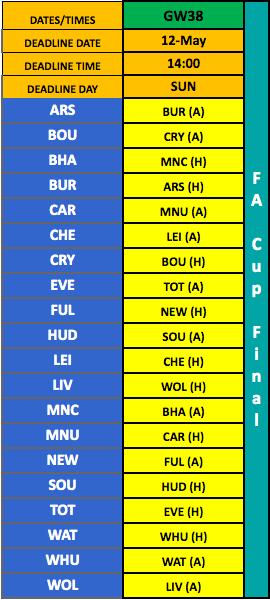 FIXTURE TRACKER LINK
Welcome to our Fantasy Football leagues section.
The League Codes for FF247 for the 2018/19 season are as follows –