Fanteam announces the third instalment of the World Championship of Online Fantasy Football!
Do you have what it takes to become a World Champion? If you can climb to the top in the final, you can cash out €30,000! The prize pool in the final is guaranteed to be €100,000.
The buy-in in the final is €1,050, but don't worry, it is very possible to get into the final without paying the big bucks. Actually, the vast majority of the finalists will qualify via satellites, which are running many times a week from now until the end of December. The final in itself will consist of two gameweeks of Premier League in daily fantasy style where the points from round 2 gets added to round 1 to get the final score. The two final rounds are independent, so you will be able to create a brand new team in round two without getting any penalties – this is the real DFS experience. The final starts on the 28th of December, so we recommend you start trying to qualify as soon as possible!
Pay-out table for the WCOFF 2019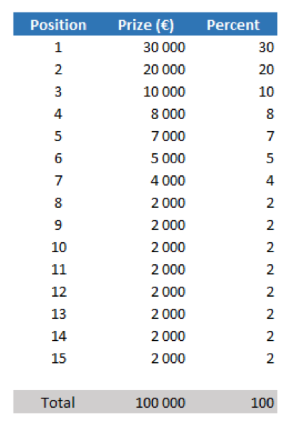 These are the pay-outs, based on a prize pool of €100,000. The pool can obviously never be smaller than this, but it could be bigger, in which case the extra money will be added to the prizes.
In the tournament lobby, you will find satellites for the WCOFF every day. There will be different buy-in levels. As of now, in the lobby there are buy-ins of €2.75, which lead to another satellite with €55 buy-in, but there are €11 and €55 buy-in contests that lead directly to the final too. There will be other variants as well. Many of the satellites will be based on Premier League matches, but other leagues and even other sports will be used to get a big variety of buy-ins. Some satellites award tickets to other satellites, while some award tickets to the final. If you are unsure which one it is, please check the 'details' button for the given satellite in the lobby.
The Weekly Monster FF247 Giveaway
Fanteam have kindly gifted us 5 free entries to this week's Weekly Monster, to enter simply reply in the comments below with your Fanteam Username and we shall do a prize draw on Friday evening. Entries close on Friday at 8pm GMT.

Thanks for reading Fanteam announces the third instalment of the World Championship of Online Fantasy Football! This article was written by FanTeam