Dear Community, as the pre-season is getting more interesting and you are already starting your analysis of the prices and fixtures, we have some big news for you. Our new £500 Regulars League sponsor, Fanteam, is offering a Premier League season game with a prize pot of an incredible €250,000.
If that already sounds interesting to you, just wait for the following information. The first prize receives €50,000 and to be in the top 20 would still grant you a minimum payout of €1,500 (and that is ignoring the additional weekly and monthly prizes). Now you might think that the entry fee will be extremely high, but you can get a chance for life-changing money with only €25. (Yes, we couldn't believe it at first either). We will come to the prize structure in more detail later.
The best thing besides the prizes is however, how similar the game is compared to the original Fantasy Premier league game. This should allow the experienced players an easy transition and you can easily manage a Fanteam team next to your Premier League team, without much additional work.
We have already been co-operating with Fanteam some years ago (when they were called Woofbet) and are happy to come together again now. The guys over there are really nice and we can wholeheartedly recommend their platform, which we have been testing in the last few weeks for you.
A Fantastic first impression – Premier League Season 19/20 on Fanteam
The season tournament on Fanteam is well designed. Everything is set up so that even beginners can easily get started. The buy-in prizes are mentioned clearly, and no hidden fees are applied.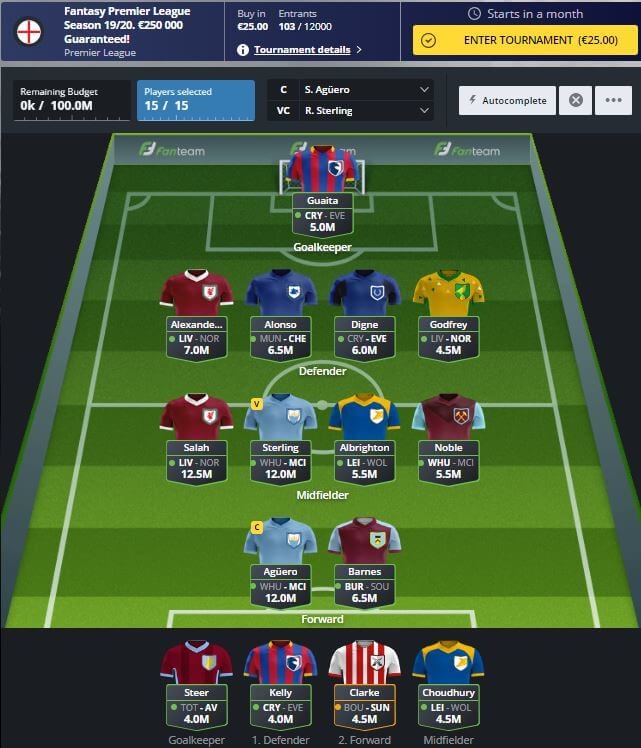 We, as frequent FPL players feel quickly at home here – and it really seems like the games are identical. However, some minor changes (besides the nice prize money to be won) do exist. So, let's quickly jump into that.
Prize Structure
As stated, Fanteam has a very different prize structure. For this year, they raised the stakes significantly and offer a minimum guarantee of 250.000€ distributed among the players. The money is spread among the top 15%, which gives even non-professional players a good chance to recover their buy-on. The first prize with 50.000€ is very tempting and should be possible to reach for one of our community – we will take care of that by providing you continuously with insider information. When considering that the entry is capped at 12.000, the chances to win this tournament are significantly higher than the official pl game with several million entries.
Here are the most important facts for you shortly summarised:
– €250,000 minimum guaranteed in prizes
– €50,000 for the first prize
– 1,250 different prizes in total!
This translates into the following prize structure;
Prize Structure Main Event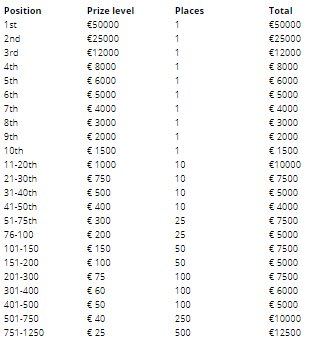 Additional Side-Events
Fanteam offers additional chances to receive prizes appear on a weekly and monthly basis. So even though you might have fallen behind in the overall tournament, you can still win big by showing strong performances in a shorter time frame.
A manager of the month award exists, with a prize of €1,000 and a manager of the game week award with a prize of €400 given out every week. See the tables below for complete information.
Prize Structure Manager of the Month

Prize Structure Best Gameweek Manager

Fanteam's specific PL Season 19/20 Rules
As previously stated, the rules are very similar to you FPL freaks and only some small details should be noted.
Firstly, the scoring system has no bonus points. Instead an "impact" factor is applied, which awards players with a negative or positive point, depending on whether his team was winning or losing with him on the pitch.
Secondly, Fanteam has no chips system, as you might be familiar with. They prefer to keep things more simple. However, they do have two wildcards, which can be used to change the entire team.
Thirdly, price changes on Fanteam appear at "random" times. To be precise, they appear, when a dramatic increase or decrease in demand happens. This is different to the fixed time frames for price changes on the regular FPL.
Fourthly, the sell and buy prices are identical throughout the season. There is no "tax" applied on a price increase when you sell a player, like on FPL. This means that if a player is worth 7.M and increases to 7.5M, then 7.5M is the amount to sell and buy this player.
The entire rules can be found by clicking here… FANTEAM RULES
Looking ahead
If you enjoy the official FPL game, but want the chance to win a bit of money down the road, this is the best option for you. The best aspect is that you can simply copy your FPL team and play it on Fanteam, since the prices and the design of the game are so similar.
We, at FantasyFootball247 are already loving Fanteam's season game and can't wait for the season to start. While we will of course still focus on the official Premier League season game, we will from now on also cover some content related to Fanteam. If you have any questions, or want us to focus on specific content, please let us know.
Now, we recommend you to register for the tournament with the link below, since the number of places is limited. Best of luck!
https://www.fanteam.com/fantasy/participate/171482
FPL FIXTURE TRACKER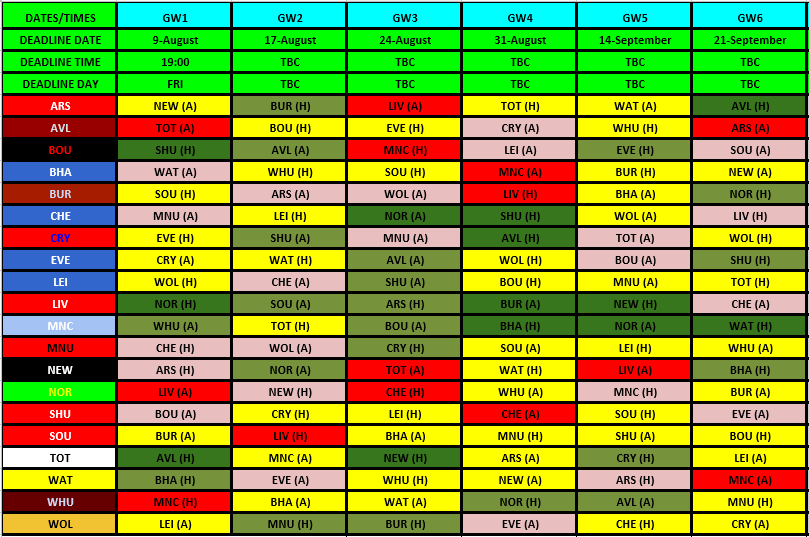 FIXTURE TRACKER LINK
Fantasy Football 247 League Codes: