Fanteam's €100,000 Champions League Fantasy Game
The guys at Fanteam are back with an all new fantasy tournament and this time they are going for Europe's Elite!
As advertised the prize pool is a guaranteed €100,000 to be shared between 600 rankings as well as best GW manager and highest round-score of the group stage. This tournament will not run for the whole UCL event but ONLY of the group stage so just for 6 Gameweeks. If I am honest this is better than the original UCL Fantasy where you have a Wildcard at every stage as the teams tend to template.
Top 10 managers at the end of the tournament will win 4-digit cash prizes as per below table!
Test your knowledge of the game at a European level and use the skills you acquired over the years playing FPL to win some cash.
Game Rules
• Build a team of 15 players which consist the same amount of players in each position as the usual fantasy games
• Maximum 3 players from each team
• Budget of 100m
• You can enter multiple teams up to 20 teams per user (1 entry fee per team of course)
• Players' prices will rise or fall depending on form and transfer activity
• Deadline is just 10 seconds before the first match kicks off
• You get to choose a captain and vice captain as usual
• You also get 2 free transfers each GW and each additional one will cost a -4 points
• In case you don't want to use your transfers you can carry them over to the next Gameweek up to a maximum of 4 free transfers.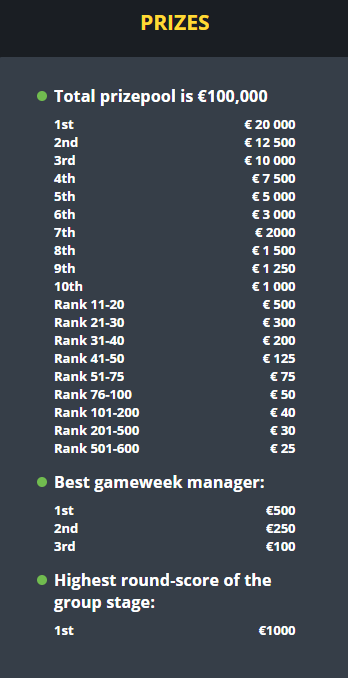 There are limited spots given for this cash tournament and the magic number is 4,800! As per above table it means that the top 12,5% will get paid which is not that big of challenge.
Hurry up and sign in at fanteam.com and claim you spot to greatness!
Click here for the FanTeam Champions League Link.
CL FF247 / FanTeam €100k Comp
As per in the PL games FanTeam have very kindly gifted us 3 tickets worth €25 each to enter the CL main competition which you can do HERE.
In order to be in the free draw, which will take place at exactly 11.00pm on Monday night (GMT) simply reply in the comments below with your FanTeam Username.
Thanks for reading Fanteam's €100,000 Champions League Fantasy Game. This article was written by FanTeam