How to play the €250,000 GTD season game on Fanteam
This year the season game is even more interesting than usual. The reason is Fanteam's huge game with €250,000 guaranteed to be paid out. If you play well enough, you could exchange €25 with €50,000!
There are many interesting aspects of the seasonal fantasy game. In this article we will look at some of them. At the end of the day, what matters is which players YOU decide to pick. But we have some ideas that you may want to consider.
Advice number 1: Don't spend too much money on forwards
In our experience, the forwards generally are priced too high in the season game. Very few forwards return enough points to justify their high price. Since the expected value is low, mathematics dictate that we should not put in much money for players in this position. We looked at last season's performance compared to this years' prices and came up with one obvious candidate: Wolverhampton's Jimenez. He got 175 points in the 2018/19 season, which was about the same as Lacazette and Firminho, and not too far behind Aguero and Aubameyang, the top two forwards. Jimenez costs only 7.5M! Another reasonable priced forward is King from Bournemouth. He was not at Jimenez' level last year, but VAR is coming to the Premier League this season, which could mean more penalties. The 6.5M King is a penalty taker… Also, the controversial new rules that makes it harder for keepers to save penalties will be in effect from this season. Finally, we picked the cheapest forward we could find, as we don't want to spend our money on forwards. He will probably be a permanent bench player for us.
Advice number 2: Get the top defenders
If we look at the defenders' performance last season, there were some that offered really big value: Defenders from Liverpool and Manchester City. The numbers actually seem to imply that it is better to have defenders from Liverpool than midfielders/forwards. This is controversial, but in our setup we go for Van Dijk at 7.0M and Robertson at 6.5M. If they do as well as the previous season, they will give you more than 30 fantasy points per million for the season. (Don't worry about the exclamation mark on Robertson; he had an infection, but will be fit for fight any day now). In the same category is Laporte from City. He is City's best defender and guaranteed to be preferred by Pep. At 6.5M he is an obvious choice. 3-5-2 is one of the best formations you can have in this game, and with this trio you will almost always have a playable option at the back. Try to save some money on the remaining two defenders, but try to find someone that will actually play.
Advice number 3: Watch out for the cheap keepers
Ederson and Alisson offered best value per million last season, but this may change in this season, as there is a rule change in place for the keepers. While they previously got 1 points for every third save, they now get 0.5 point per save (in FanTeam). Consequently, keepers will overall get more points than they did last season. And those who have many saves, will improve the most. Interestingly, keepers from the top clubs score horribly when it comes to number of saves. They just don't get the chance to top that statistic. All this means, it may be smart to look for a keeper from a lower team. Fabianski (West Ham) is known for having many saves, he could be an option at 5.0M.
Advice number 4: Try to have 5 playable midfielders
While easier said than done, going for that 3-5-2 formation is smart. Other formations that historically score well are 4-5-1 and 4-4-1. In other words, you need at least four midfielders you can field without too much worry. You should probably also try to have as many players from Liverpool and Manchester City as you can, as those two teams may battle for the championship once more. Fortunately, there is room in our budget for Salah 12.5M and Sterling 12.0M. Both performed well last season, and we believe they both will play at the same level this season. We are running out of money, so let's put in Sigurdsson (Everton) 8.0M as he is a penalty taker with other skills as well. Brooks (Bournemouth) had a great season last year and will probably only get better, a nice budget option at 6.5M. Finally, we have Dendoncker (Wolverhampton) at 4.5M. Ideally, we would like to have a slightly better player than him, but it says "Remaining budget: 0k" on the screen!
Do you think you can create a better team than this? If so, you should enter it at Fanteam and win some big money!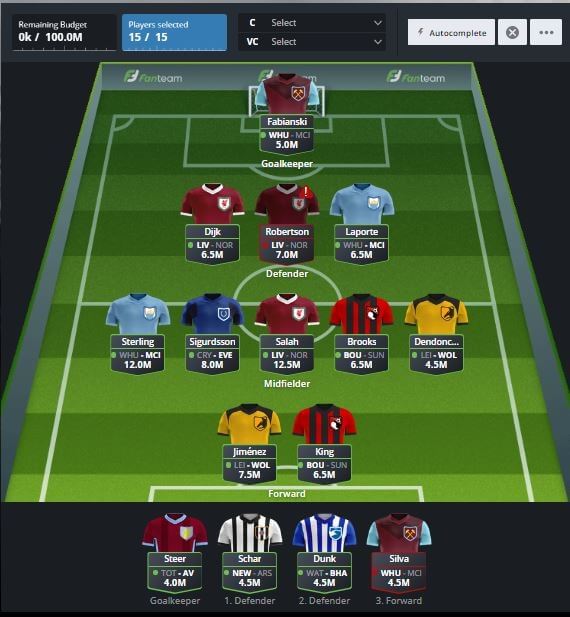 Thanks for reading How to play the €250,000 GTD season game on Fanteam
Fantasy Football 247 League Codes: