Welcome to Fantasy Football Fixture Analysis Gameweek 5. First of all, thanks to Adam for writing the article in my stead last week, the break was much appreciated. Though the couch that was covered in fried chicken wasn't mine – anybody who's seen a picture of me knows that it's highly unlikely that I would be so wasteful with fried chicken. Although, if I was taking too much DayQuil again… there's no telling how I left that office when Adam took over.
Actually, now that the lads at HQ have undoubtedly seen my score from this past round, I'm surprised that they've even let me come back at all. For those of you that don't have ready access to my team, you should know that I wildcarded last week, and I ended up on a grand total of 26 points for my efforts. That's right, I wildcarded and somehow managed to pick a team that couldn't reach the average. It's ok if you call me rubbish. I deserve nothing less.
The good news for you lot is that my advice has been pretty sound, I'm just too much of a dolt to follow it myself. For instance, United attack is absolutely crushing it this year – so I went ahead and loaded up with two of their defenders and their keeper. We all knew that Eriksen would continue to come good this month – but I went ahead and got Hazard anyway. His one point was just swell.
Do as I say, not as I do. You'll be all the better for it.
The Fixture Tracker…
Gameweek Tracker GW5-11

Top 3 Best Bets
Manchester United – EVE (H), SOU (A), CRY (H)

No doubt, some will be disappointed with United's last result – and nobody really thought that a 2-2 draw with Stoke was even a possibility, so fair play to Stoke on securing the upset. But that draw really doesn't downgrade United's ranking in this list when you look at the entirety of their work thus far. Let's not forget, United have scored crooked number tallies in each of their four games this season; and when a team like United is averaging 3.0 goals scored over 0.5 goals allowed…you have to figure that's a ratio you can still get behind.
The Everton game coming up might be a bit of a fun affair, and a miracle goal could be had by either side. Rooney and Lukaku both will be playing against the former clubs for the first time, and between the two of them a moment of individual brilliance is certainly possible. But as for the rest of the players on the pitch, United undoubtedly hold the advantage. Everton had no answer for Spurs over the weekend, and they're still lacking a bit of punch to contend with the elite teams. Southampton shouldn't pose much of a challenge in their current state; they've only been victorious once, and wins against West Ham don't really count. Same could be said for Crystal Palace here in the third game on this slate. Palace have already fired their coach after getting blanked in four straight games, but even an interim coach won't be able to whip that team into shape to contend with United.
Tottenham – SWA (H), WHU (A), HUD (A)

Now that August has passed, Harry Kane has been released from his cosmic curse and is free to score at will in the league once again. Many of us intuitively knew this would happen – but if you're like me, you ignored this bit of common knowledge and left him off your team anyway. In Spurs' game against Everton this past weekend, Kane (and the rest of his team) did everything right. Did Everton not perform to expectation? I think that played a part. But the bigger story is that Spurs really didn't display any deficiencies in their win. They scored 50% of the shots that were on target, and they only allowed Everton a single shot on goal despite Everton generating 12 total shots. It was simply the perfect win, in the perfect style, from one of the elite clubs in England.
Looking to their upcoming competition, you have to really like what you see here. Swansea have only scored in a single game this year thus far – and those goals came in a win over Palace, so take that for what it's worth. West Ham may have won on Monday night but they still have so much work to do to even begin to contend with a top half club. As for Huddersfield, they're actually performing above anybody's expectations. They hadn't allowed a goal in any of their first three games this year, but they looked toothless on Monday and when West Ham make you look like that then my money is on Kane and company to do some real damage.
Liverpool – BUR (H), LEI (A), NEW (A)

This isn't a 'controversial' pick, though it may feel that way considering that Liverpool just got smashed 0-5 by City (my inner Everton fanboy is giddy, by the way). Simply put, when a red card is involved in a game so early – and it removes one of your best players – you just have to write that result off as an aberration. Could Liverpool have gone down to ten men against Palace and held their own? Probably. But against a team like City, the deficit was just too much. But keep in mind, this team still has Salah, Firmino and Coutinho (somewhere) to cover for Mane during his enforced break; and against this schedule, that should be more than enough firepower.
Burnley have done well to start the year, but they've yet to replicate the scoring they saw against a bewildered Chelsea team in Round 1. Also, Burnley may be without their starting keeper for a while, so expect some trouble in the back against the bigger clubs. Leicester fooled us all against Brighton in Round 2, but it now looks like they're really not all that good after all. And as for Newcastle, they've done well against competition near their level, but they've yet to prove that they have enough in the tank to topple the big boys. Advantage to Liverpool all the way through this run.
Teams To Avoid
Crystal Palace – SOU (H), MCI (A), MUN (A)
Amazingly enough, Christian Benteke is still owned by nearly 5% of all players in the game. How does a striker from a team that has yet to score a goal get even half of that? Palace are a mess top to bottom. They can't score, they can't defend and they have no coach at the moment. And really, why fire the coach now? As you can see, they play both the Manchester clubs away this month, and you have to wonder why they'd introduce a new coach when you have two guaranteed losses waiting for you either way. If their general play isn't enough to scare you off of this team, maybe their upcoming schedule will inspire all Palace owners to close out those accounts.
Swansea – TOT (A), WAT (H), WHU (A)
As I said above, Swansea's only goals this year have come against Palace – so let's not get to thinking they'll be proficient scorers any time soon. And compounding Swansea's problems, they'll now have to go up against two teams in the Top 5 of the league in back to back weeks. I know that Watford's inclusion into the league's upper tier may be an anomaly, but you have to admit that Watford have proven themselves to be a team that needs to be reckoned with thus far. It's very possible that Swansea will only escape from this run of fixtures with just a single point. I predict losses in the first two clashes and a 0-0 draw to close out September.
Bournemouth – BRI (H), EVE (A), LEI (H)
I'm picking Bournemouth here in this spot simply because they're only marginally better than Palace have been: Bournemouth have actually scored a goal this year. But they've only scored just the one goal (in a loss to City), so they're still in really bad shape. The Brighton game is probably going to be a coin toss according to the bookies, but until Bournemouth can put together an offence, I'll still tip the match to the visitors considering how Brighton have already found their way through their own drought. Everton will be so happy to be done with their terrible schedule that they'll be looking to tee off on a lower club. And Leicester might not win, but they're still better than Bournemouth by a large margin.
One Week Punt
Brought to you with a bit of a different slant on it this week. We asked our FF247 League sponsor Starting 11 to give us their 'One Week Punts', given as this is what they do for a living basically. We shall hand over to them to explain –
In Starting 11, managers build 11-man lineups without a salary cap and can make up to three substitutions to their lineups during live play. Last weekend, for example, if you had Sadio Mane in your lineup, you could have subbed him off and brought on a different player in his place after Mane received his marching orders. Even better, if your squad performs poorly on Saturday, you can recover with a new lineup for Sunday's matches.
We have built a lineup for each day of the upcoming weekend. FPL managers will see some names in these lineups that they likely wouldn't see in an FPL lineup. That's because Starting 11's scoring system includes points for completed passes, shots, and tackles, which creates more valuable assets than the average game, especially among defensive midfielders. Now is the perfect time to check out Starting 11, as the manager that scores the most points in the month of September wins the Premier League shirt of their choice. You can download now on iOS and Android.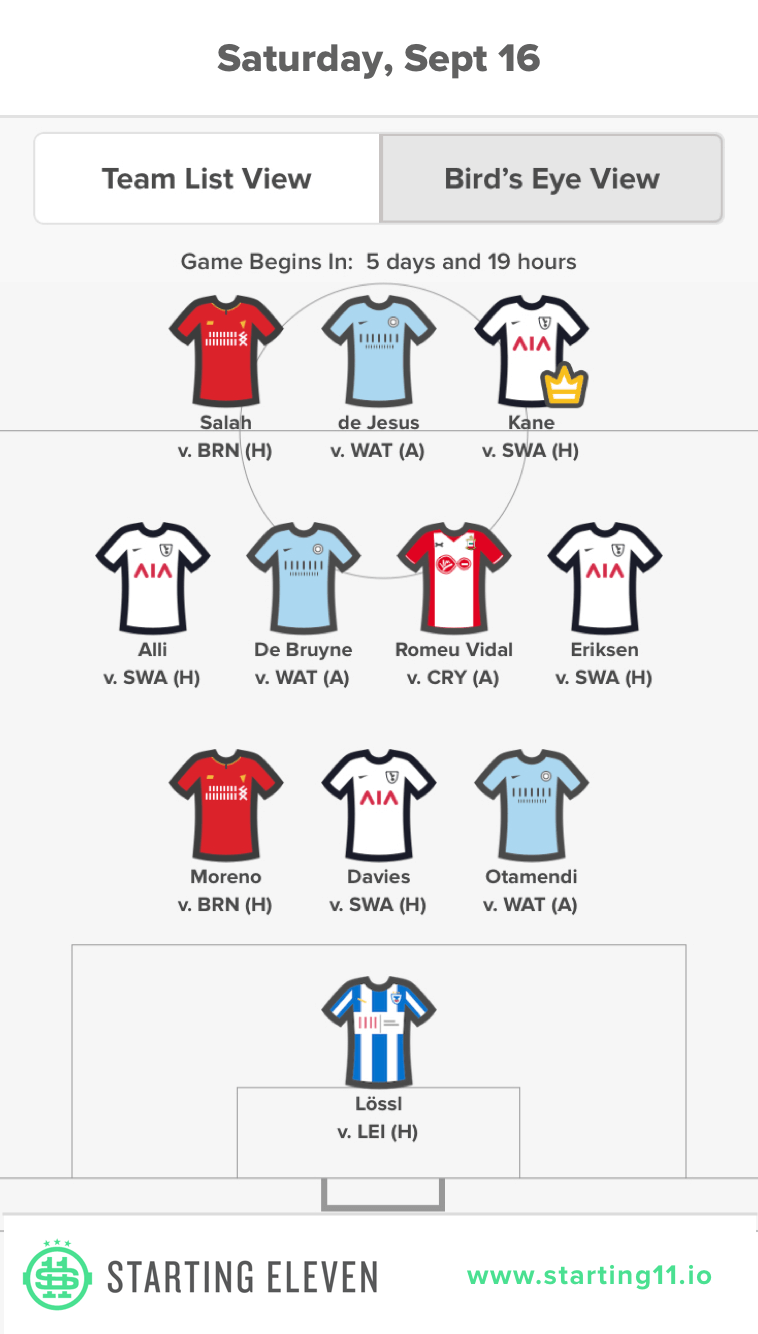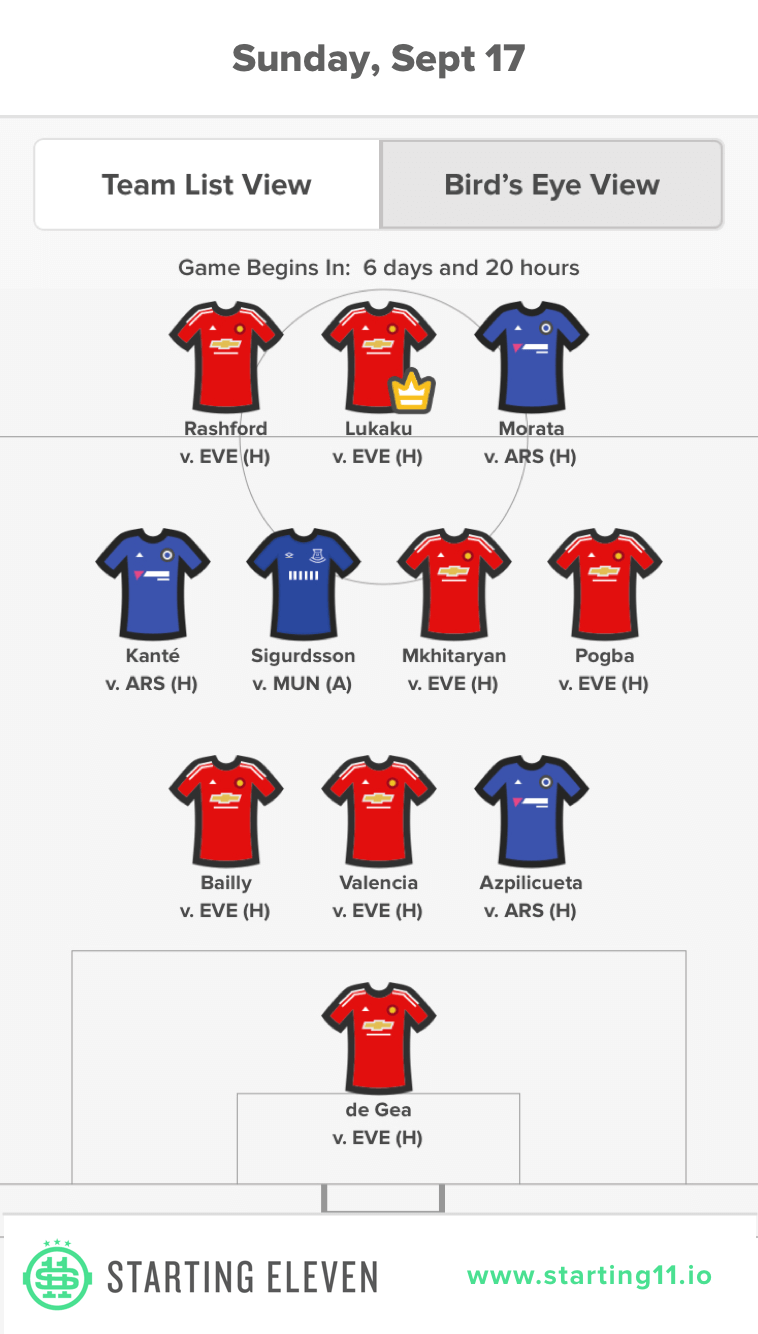 Thanks for reading Fantasy Football Fixture Analysis Gameweek 5. This article was written by Guy
The League Codes for FF247 for the 2017/18 season are as follows: