Welcome to Fantasy Football Fixture Analysis Gameweek 7. Well folks, I did it. I actually scored higher than the average. It only took me six rounds to get my act together, but I followed my own advice (finally) and just loaded up on the smart plays instead of trying to think outside the box. That's just a polite way of telling you all that I'm really kind of stupid, and sometimes I try to overcompensate for my condition with some risky plays. But when that doesn't work, I revert back to my natural state and just play some Route One fantasy football. In short, I capped Aguero against a bad team and earned big points. And believe me, you don't have to be much of a genius to figure out that was a decent play.
In keeping with the theme of staying in my lane and not pretending that I'm some FPL savant, my top picks this week will look quite a bit like the top of the league table. Between FPL, NFL, work and kids being in school, I had to keep myself in check and get back to basics a bit for this round. Route One fantasy football. It's a real thing, trust me.
The Fixture Tracker…
Gameweek Tracker GW7-11


Top 3 Best Bets
Manchester United – CRY (H), LIV (A), HUD (A)

It was a toss-up this week as to which of the Manchester clubs would get top billing in the article – but advantage has to go to whichever team gets to play Palace at home in their schedule. As we saw with City's 5-0 dismantling of Palace this past weekend, there's just a treasure trove of points, on both sides of the ball, for any team that takes them on. And United aren't exactly lacking in talent at the moment, so it should be safe to expect similar results from them this weekend against a severely inferior team. But let's be honest, United don't need to play a severely inferior team to get results. And really, until we get to their next derby, both Manchester clubs are likely to be favourites in any game they play. Playing against Crystal Palace is just the icing on the cake, so to speak.
Maybe United haven't scored quite as many goals this season as City have, but both clubs have allowed just 2 goals against them through six games. And that's just madness when you think about it. This is all more impressive when you consider that United conceded both of the goals against them in a single match – so starting the year with five clean sheets is nothing short of spectacular. Now given the fact that Palace haven't scored a single goal yet this season, the pessimist inside of each of us is absolutely screaming that this will be the game that sees Palace finally get off the schneid. But that's just irrational fear. Don't let this golden goose of a game pass you by.
As for Liverpool and Huddersfield, Liverpool will undoubtedly be the tougher challenge of the two matches, but they aren't an obstacle that United can't overcome. Three weeks ago, Liverpool lost to City 0-5 (with the aid of a red card), and they then followed that game with a 1-1 draw against Burnley and a narrow 3-2 win over Leicester. In short, Liverpool aren't exactly defensive juggernauts, and they can be beat. Huddersfield have the third best defensive record in the league, but like I said last week, they haven't had to play the big clubs yet. Let's see how high everybody still is on Huddersfield next week after they take on Spurs this round.
Manchester City – CHE (A), STO (H), BUR (H)

There's no getting around the fact that Chelsea are going to be a tough match for City. But when you consider the games that serve as bookends to the Chelsea affair, it's not likely that anybody was ever going to sell their City players en masse to avoid this one game; the schedule City has is so good that it can absorb a single tough match. Over their last three matches, City have accumulated a combined score of 16-0. So when you see that City will soon host Stoke and Burnley in back to back home games, it's pretty easy to just gloss over the Chelsea game as a necessary evil to be suffered for the greater good of your fantasy team.
And that's not to say that City have no chance of winning the Chelsea match, it just means that any positive points you take away from that game should be considered as a bonus – because we've all seen what City can do to the lesser teams in the league, and that's why they still deserve all of your attention going forward in this schedule of theirs. Looking past Chelsea, Stoke haven't won a game since August 19 when they snuck by Arsenal. But their form has dropped off as of late and they're currently sitting on a two-game losing streak that's seen them get outscored by a total of 6-1. And Burnley are trying to lead the charge to be the best mediocre team in the league. Alongside Huddersfield, they have the most draws in the league (3), and they haven't been able to score a crooked number goal tally since the first game of the year.
So like I said, just ride out that Chelsea game with your City players, and be sure to stick around for the games that follow it. There's a points bounty waiting there for those that remain faithful.
Chelsea – MCI (H), CRY (A), WAT (H)

So what if I put the top three teams in the table as my best picks this week? Sometimes the best teams get the best schedules and it makes my job easier. And honestly, you could take everything I just said about City and apply it here to Chelsea. Look past their game this week, and continue to haul in those points with the second two games on their docket. How's that for some analysis for you? Ignore hard game. Big points on easy games. If you say that in the most non-PC voice you can muster, it's actually quite funny.
I have no idea how that Chelsea v City game is going to end up. Either team could win, and there could be 6 goals scored in that game or none at all. I know I'm not being much help here with that statement, but just be prepared to ride out whatever the result is to get to the better points that are just on the horizon. And that's just what there'll be: points aplenty heading into October. Chelsea v Palace? With the form that Morata is in, that could be another easy hat trick. And against Watford, well, we've seen what Watford are actually capable of against big teams (0-6 loss against City still looms large). All in all, there's still a lot to like in this Chelsea schedule moving forward.
Teams to Avoid
Crystal Palace – MUN (A), CHE (H), NEW (A)
Palace are still the only team in the league yet to get a win – and yet to get a goal. This would be a hard schedule for even the best of teams; for the absolute worst team in the league, it's a killer. At this rate, Palace are probably sorting out which players they can sell in January to make a bit of a profit before they hit the Championship next season. But they most certainly aren't focused on winning anything in the present, that much is clear.
Huddersfield – TOT (H), SWA (A), MUN (H)
There's nothing wrong with Huddersfield, per se. But this is a tough patch in their schedule and will surely put them to the test. They've only allowed 3 goals total on the season, but they're just now getting to the teams that can score at will. I think Huddersfield will count themselves lucky if they escape this run with 2-3 points.
Burnley – EVE (A), WHU (H), MCI (A)
Burnley have only one win in September – and that was a 1-0 over Palace. First of all, everybody should be beating Palace, but just sneaking by with a 1-goal win isn't really good enough. Burnley are keen to play low-scoring games to a draw, but their away games here are going to put that strategy to the test. It's possible that Burnley could get through this run with 6 points, but 1-3 points is looking more likely.
One Week Punt
Brought to you with a bit of a different slant on it again this week. We asked our FF247 League sponsor Starting 11 to give us their 'One Week Punts', given as this is what they do for a living basically. We shall hand over to them for their One Week Punts line-up for GW7 –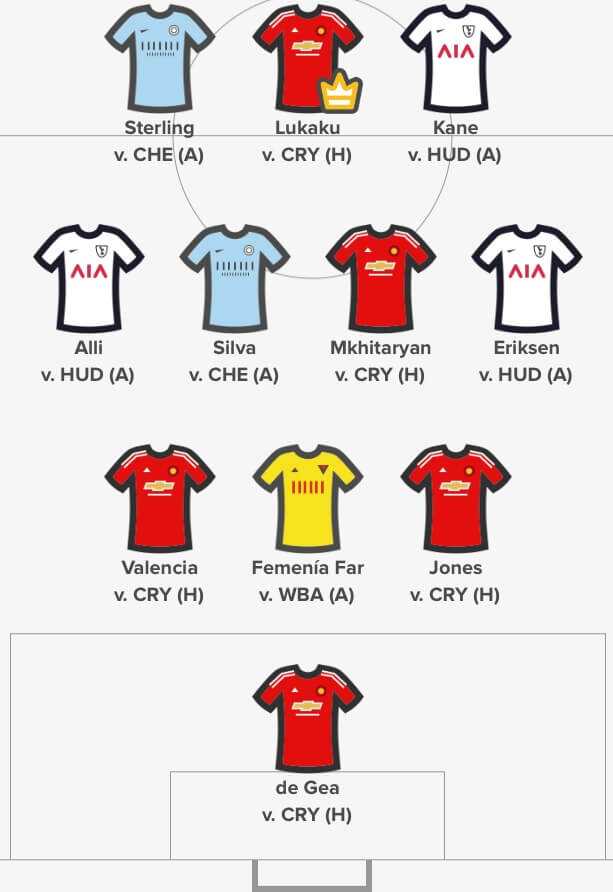 You can download Starting 11 now on iOS and Android.
Thanks for reading Fantasy Football Fixture Analysis Gameweek 7. This article was written by Guy
The League Codes for FF247 for the 2017/18 season are as follows: