Barry and Paul's Predictions GW1
Welcome to Barry and Paul's Predictions GW1. We hope you've all had a smashing summer and you're feeling refreshed and ready for another season of FPL and of course Premier League predictions. Thanks again to all of you who took part in our World Cup edition, and congratulations again to Horse for the win. A special shout-out to last year's winners – Coys and DenPerryDitIt, hopefully both of you will be back to defend your title this season. We have a lot of new members on the site with more joining every day, welcome to each and every one of you, we hope you're all going to get involved!
For those of you new to the competition, the premise is pretty straightforward; each week we'll post the following weeks fixtures at the end of the article, cut and paste the fixtures and add your prediction at the end of each like so:
Manchester United v Leicester 2-0
Not like this:
Manchester United  2 v Leicester 0
We'll reveal the weekly winner in the following weeks article and each week our winner will walk away with a FF247 branded t-shirt! We'll also have an overall league table which we'll update each week.
Scoring couldn't be simpler:
Correct Score = 3 points
Correct result = 1 point
Correct First Goal scorer of the game-week = 5pts
Points are awarded on an 'either or' basis, so you'll either score 3 points or 1 point for a correct prediction, these are never added together for a 4 point score.
This season we have added tie-breakers so the Correct First Goal scorer will still grab 5 points but will only be added if you are drawing with another. In the event there is still a draw, we want everyone to also add minute of the first goal in the first game of the weekend so add that to your predictions too please.
This Week's Comp…
The rules are few; 1 entry per person, and all entries must be submitted prior to the first game of the game-week. Kick-off this week comes on Friday at 20.00. Once all the games have been played, we'll count up the scores and the winner(s) will be announced in the following weeks competition article.
So just to recap all you need to do is copy and paste the fixtures from below, pop your score prediction on each and then tell us who you think will be the first goal scorer of the week. And that can be from any game regardless of your other predictions. Oh and if you say 1-0, you mean 1-0 to the home team. Not either team. Capiche?
Here are the fixtures, best of luck to you all!
Deadline is: Friday 10th August 8pm
Manchester United v Leicester
Newcastle v Tottenham
Bournemouth v Cardiff
Fulham v Crystal Palace
Huddersfield v Chelsea
Watford v Brighton
Wolves v Everton
Liverpool v West Ham
Southampton v Burnley
Arsenal v Manchester City
Thanks for reading Barry and Paul's Predictions GW1
This article was written by Barry and Paul… aka Matt and Rosco.
FPL FIXTURE TRACKER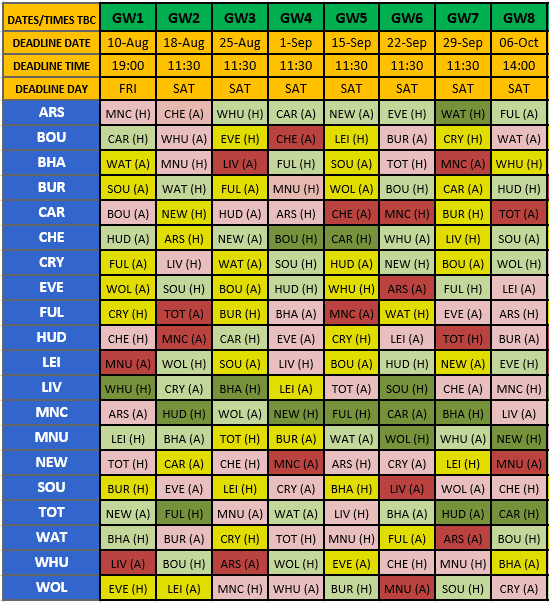 FIXTURE TRACKER LINK
The League Codes for FF247 for the 2018/19 season are as follows –