Barry and Paul's Predictions GW33
Welcome to Barry and Paul's Predictions GW33. Every week I write this intro and wonder if anyone actually reads it. I know Init reads it, which is fortunate as last week I was awarding the previous weeks winner a t-shirt, sloppy on my part. It has also been brought to my attention that some of our winners are yet to receive their FF247 t-shirt; sloppy on someone else's part (I'll not name names (Rich) but I can't be held responsible for my delivery boy). Whilst my fellow chuckle brother and I are not responsible for the receiving (or not receiving) of said t-shirts, my apologies non-the less.
A 1-0 win for the Toon was surprisingly not my favourite result of the weekend. No, that honour goes to Burnley's 2-1 win over West Brom. Not that I have anything against West Brom of course, this was all to do with 'the lord' getting the bullet (I'd insert an Easter based joke here but I'm not one for upsetting any of our readers with strong religious beliefs). Ian Wright reckons Alan will struggle to get back into management, well ain't that a shame! I don't like Alan Pardew, I'm sure I'm not alone in this.
Our winner this week was one of our own – Swirly. Well-done hun. Want to know what winning looks like? Well Swirly correctly predicted no less than 4 correct scores (Palace v Liverpool, Man U v Swansea, Newcastle v Huddersfield and Watford v Bournemouth). Not content with that, he also correctly predicted wins for City, Arsenal and Spurs. Nice work. He was pushed close though, Bongo and my fellow chuckle brother Matt came in with an impressive 13pts. No change at the top of the table, but unlike the Premier League this one won't be wrapped up any time soon. Still just 2pts separate first and second, and 11pts between 1st and 4th, a couple of correct first scorers could blow this thing wide open – what drama!
Thanks to everyone who entered, better luck next week everyone!
Congrats Swrily, please contact FF247 at contact@fantasyfootball247.co.uk to get your hands on that FF247 t-shirt.
Weekly Leader board (GW32)
Winner =Swirly 15pts
2nd = Bongo and Matt 13pts
The cumulative league table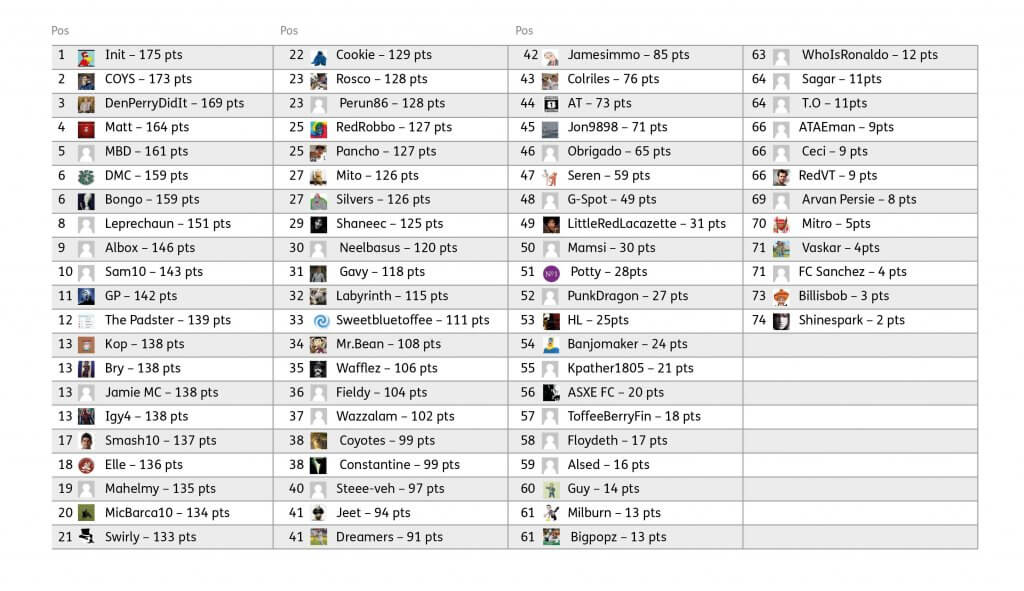 This week's comp…
The rules are few; 1 entry per person, and all entries must be submitted prior to the first game of the game-week. Kick-off this week comes on Saturday at 12.30. Once all the games have been played, we'll count up the scores and the winner(s) will be announced in the following weeks competition article.
So just to recap all you need to do is copy and paste the fixtures from below, pop your score prediction on each and then tell us who you think will be the first goal scorer of the week. And that can be from any game regardless of your other predictions. Oh and if you say 1-0, you mean 1-0 to the home team. Not either team. Capiche?
Here are the fixtures, best of luck to you all!
Saturday 7th April
Everton v Liverpool (12.30)
Bournemouth v Crystal Palace
Brighton v Huddersfield
Leicester v Newcastle
Stoke v Tottenham
Watford v Burnley
West Brom v Swansea
Man City v man Utd
Sunday 8th April
Arsenal v Southampton
Chelsea v West Ham
Thanks for reading Barry and Paul's Predictions GW33
This article was written by Barry and Paul… aka Matt and Rosco.
The League Codes for FF247 for the 2017/18 season are as follows:
Gameweek Tracker GW33-38