Barry and Paul's Predictions GW36
Welcome to Barry and Paul's Predictions GW36. I'll start this article with a special thanks to my fellow chuckle brother Barry (aka Matt) for picking up full responsibility for both the maths and writing responsibilities In my absence in GW34, love you bro. (Editor note: Errrr, you mean the editing team for doing Matt's math and proofreading for him, right? right!?)
There was a minor scheduling error with the incorrect first fixture for GW35, in light of that we have not included the first scorer points towards that game-week. Apologies. (Editor's note: oh, it was all Matt, he deserves the credit.)
With the last B&P's covering two game-weeks, one of which was the DGW34, there are far too many fixtures to run through in great detail. The notable result of GW34 was of course West Brom's 0-1 victory at Old Trafford, a result that confirmed Man City as Champions. I suspect nobody seen that coming, or maybe Init did as he seems exceptionally good at this predicting lark.
Speaking of City, their 5-0 win over the Swans in GW35 showed us that they'll not be heading for 'the beach' anytime soon, despite wrapping up the title at a canter, which of course makes life a little easier for us lot over here.
We have two lots of winners this week. In DGW34 it was Padster who came out on top with 15pts, second place with 13pts was shared by Jamie Mc and the only GP I know who's not a total ____, Well played.
In GW35 top spot was shared between Mr. Bean and COYS, a win which may yet see the title snatched from Init's grasp. Third placed was also a tie, Neelbasus and Constantine with 7pts apiece. Top darts.
Thanks to everyone who entered, better luck next week everyone!
Congrats Padster, Mr Bean and COYS, please contact FF247 at contact@fantasyfootball247.co.uk to get your hands on that FF247 t-shirt.
Weekly Leader board (GW34)
Winner =Padster 15pts
2nd = Jamie Mc and GP 13pts
Weekly Leader board (GW35)
Winner = Mr Bean and COYS 9pts
3RD = Neelbasus and Constantine 7pts
The cumulative league table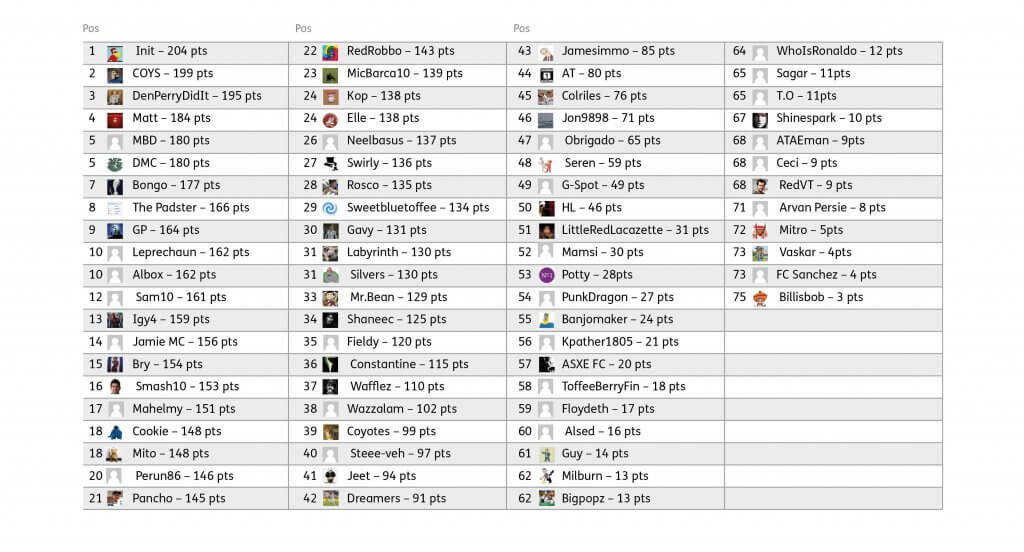 This week's comp…
The rules are few; 1 entry per person, and all entries must be submitted prior to the first game of the game-week. Kick-off this week comes on Saturday at 12.30. Once all the games have been played, we'll count up the scores and the winner(s) will be announced in the following weeks competition article.
So just to recap all you need to do is copy and paste the fixtures from below, pop your score prediction on each and then tell us who you think will be the first goal scorer of the week. And that can be from any game regardless of your other predictions. Oh and if you say 1-0, you mean 1-0 to the home team. Not either team. Capiche?
Here are the fixtures, best of luck to you all!
Saturday 28th April
Liverpool v Stoke (12.30)
Burnley v Brighton
Crystal Palace v Leicester
Huddersfield v Everton
Newcastle v West Brom
Southampton v Bournemouth
Swansea v Chelsea
Sunday 29th April
West Ham v Man City
Man Utd v Arsenal
Monday 30th April
Tottenham v Watford
Thanks for reading Barry and Paul's Predictions GW36
This article was written by Barry and Paul… aka Matt and Rosco.
The League Codes for FF247 for the 2017/18 season are as follows:
Gameweek Tracker GW36-38