Fantasy Football Fixture Analysis Gameweek 2
By the time that you read this, things — fixtures — will have happened! Certain players (most probably) brought in double-digit hauls for their owners; several favourites (most likely) got booked. The culprits may well seem obvious now, but it wasn't even remotely clear on Saturday morning.
Indeed, whilst I'm writing to you from the past — well, that can be said of any given passage, but it's often fresh off the print — we've now observed ~2.105% of the new [F]PL season, albeit not a full Gameweek yet. That leaves us with just under 98% of the season to chase: almost quite literally, then, all to play for! One step at a time, though, or perhaps three to four steps; Premier League fixtures (even in the crowds' absences) will never cease to function as our guiding lights.
This might just be my first Fixtures article, but you know the drill already. As always, take the bold statements that follow this with a pinch of salt. Then flush them all down your now-briny toilet.
FPL FIXTURE TRACKER
But first up that all important Fixture Tracker itself…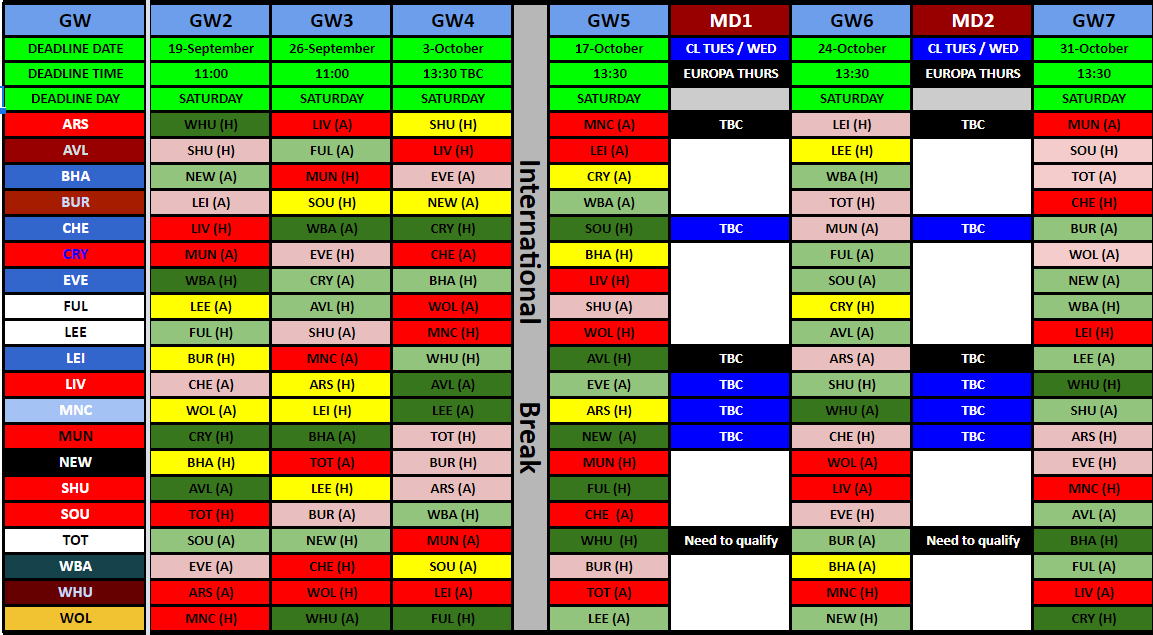 FIXTURE TRACKER LINK
Worth Chasing
The pair of elephants lurking in the room (as per Swirly's reference last week) both need addressing here, but first off, it's only fair to feature the best upcoming fixtures of all…
Everton — West Brom (H), Crystal Palace (A), Brighton (H)

You never know how The Toffees will perform in a given match. Again, that can be said of any given team, granted. Given their [outfield] squad, however, this is a baffling bunch. Did any of you see that Spurs (A) result coming? Turns out they are baffling too.
Anyway, caveats aside, this revamped squad (James Rodríguez in with a jerky four-point hit?) now faces three sides that should all be primarily aiming to survive. For a team with Ancelotti's presumably high ambitions, this lot should yield seven to nine points, 'should' being the major operative word. You probably don't have space for Digne-esque punts, but Fixtures articles don't care.
Manchester United — Crystal Palace (H), Brighton (A), Spurs (H)

Once more, here's a team that now faces three sides that should all be primarily aiming to survive. No more digs from now on, no matter how easy the fixture schedulers have made them. I'll try…
Manchester United are back from their summer holidays. Of course, sadly, not everybody returned on their expected flight; in contrast, The Fridge just feels thankful to be back at all, and likely never wants to leave the safety of his kitchen again. All of the rest should be charged up and raring to go. Solskjær was driving pretty smoothly in the closing stages of the prior season and I wouldn't be remotely surprised to see him storm towards pole position after their opening set. I've just realised that, beyond fridges having wheels, there's absolutely no need for this F1 analogy.
Manchester City — Wolves (A), Leicester (H), Leeds (A)

More returns from summer, even better players, slightly harder fixtures. Granted, an initial away match at Wolves doesn't scream out for a big GW2 transfer, yet no PL fixture necessarily stops this machine from scoring half a dozen goals. Leicester folded harder than James Milner's fresh ironing after the post-lockdown resumption and, quite frankly, Leeds United might as well be carrying the first-time participation badge.
I expect some resilience from each of their opponents here, make no mistake, but I don't expect much. Pep failed to pull off his three-consecutive-titles trick — he'll instil his relentless hunger amongst everybody whom he selects to start now — we just need to figure that selection out…
Worth Running Away From
Any takers? Surely not. I'd be saving those 'calculated gambles' for much further down the line.
West Ham — Arsenal (A), Wolves (H), Leicester (A)

Another set of overlapping fixtures here. The teams in question, however, couldn't be much more different — except for their questionable defences. Even then…
Never mind whatever the Newcastle result was — it can only get sadder from here.
Crystal Palace — Manchester United (A), Everton (H), Chelsea (A)

Since the restart, with Norwich out of the picture, no PL team's looked worse. Only a solitary point claimed against Spurs (which, of course, means almost nothing) in their final eight matches. Things don't look much better for Mitchell and co. now.
I just remembered that you can use factual stats to consolidate your viewpoints…
West Brom — Everton (A), Chelsea (H), Southampton (A)

One final team with two away trips in their next three matches. Which one has the worst deal? It's nice to remember that you don't need to worry about your choice: stick with Pereira; ditch for an emerging option who keeps winking at you; just don't bring in another squad member from this tragic trio.
Probably Not Worth Losing Sleep Over
Southampton and Liverpool offer plenty of FPL options — you know their names — but it's a pretty mixed bag for both at present. Leicester are now blessed with a very enticing pair of home fixtures that straddle their dreaded Etihad visit. Spurs cou——
I'm afraid that all that we've got enough space for! Good luck with your GW2 plans. I'll catch you soon.
Thanks for reading Fantasy Football Fixture Analysis Gameweek 2. This article was written by Jamesimmo.
VOTE ON THIS WEEK'S CAPTAIN POLL GW2
Fantasy Football 247 League Codes:
All prizes must be claimed within 30 days of the final GW.