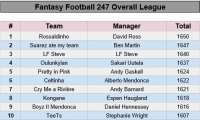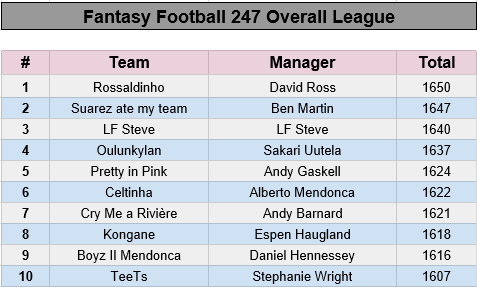 Welcome one and all to the February FF247 leagues round up. Well I must say its nice to be back, I have tended to my personnel business, got new batteries in my hearing aid and given my jam jar glasses a good clean, so I'm raring to go. Thanks to my young apprentice for standing in at short notice and writing a great article for the month of January. I had a great meeting with Stevie G and Bruce Arena, all is looking swell for the LA Galaxy. Stevie has been given the number 8 shirt, which he is happy about, but there was some argument over taking the captaincy and penalty duties off former Liverpool team mate Robbie Keane, which are still to be resolved. There is also talk of Stevie building a brand new mansion not far from Liverpool, does this mean he could be loaned back to Anfield from LA Galaxy? We shall have to wait and see. Anyway on with the round-up.
FF247 Overall League.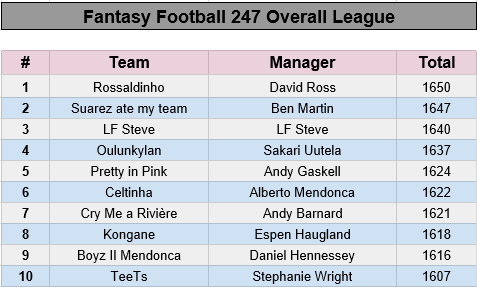 Top of the podium in the overall league is David Ross with his team 'Rossaldinho', David has achieved a grand total of 1650 pts so far. In 2nd place, with 1647 pts is team 'Suarez ate my team' with owner Ben Martin. 3rd goes to Stephen Gayton… Qual, with his team 'LFSteve' and a total of 1640 pts. The 3 guys mentioned have also hit lofty heights in the global rankings, their positions being 82nd, 90th and 156th respectively, positions which would give most of us nosebleeds, well done to all 3 of you. 4th + 5th positions go to Sakari Uutela with team 'Oulunkylan Tahti' and Andy Gaskell with team 'Pretty in Pink', both having 1637 and 1624 pts respectively
FF247 Manager Of The Month.

Gold medal position for February goes to Rishad Islam who managed to achieve 263 pts over the 4 gameweeks with his team 'Hunain F C'. Team 'James United' took silver for James MacKenzie with a total of 258 pts. We had a tie in bronze medal position with Dan Treeby and Akshay Salunke each gaining 252 pts with their respective teams 'Inter Young Boys' and 'Akshays Warriors'. In 5th just 1 pt behind bronze was Soud Abdallah Soud with his squad 'SAS United'.
FF247 Doubles League.
Top of the shop are NZ Alex & Peaky Dave with their team 'North South Divide', this pairs joint efforts have amassed 1585 pts so far, this total also gives them a global ranking of 1669, which I think is great for a doubles team. 2nd position goes to team 'Potty Morbid FC' with a total of 1540 pts for our old friends Potty and Morbid. Team 'The two Uniteds' are just 3pts further back in 3rd place with a total of 1533 for owners Silvers & PvR. In 4th and dropping like a whore's knickers, are 'The Boss' Init and my good self with 1521 pts for our team 'Aditupem', as pointed out by my apprentice in last month's article, our cheating looks to have been found out???? 5th spot goes to the pairing of Monty + Norfolk, with their team 'Le$bian Lion$' with a total of 1500 pts.
Congratulations to all mentioned, and if you are not, as in the case of our regular poster 'Razman' keep plugging away, it will come good eventually. That is it for February, I'm off to commit a crime or two, so I will see you all at the end of March.
Thanks for reading Fantasy Football 247 League Round Ups February. This article was written by Ellefcee