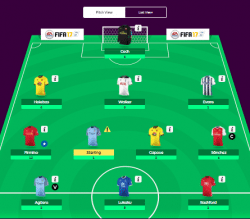 Welcome to the Fantasy Football 247 Site Team Gameweek 8 article. GW7 turned out ok for us in the end despite Captain Alexis failing to do anything bar keep a clean sheet at Burnley. In a low scoring week which saw the average muster just 42pts, we totalled 52pts which resulted in a second successive green arrow and a rise in the rankings to 60,865. Firmino was our best performer with a 12pt cameo at Swansea, while Lukaku started off the game-week well with a goal and 2bps on the Friday night. Clean sheets for Cech and Walker and an assist and 2bps for Holebas were the only other contributors with Aguero, Rashford, Capoue, Sterling and Evans all failing to deliver.
Before we proceed we should add a massive thanks to DMC for providing us with a bonus section at the end of this article in which he pours over how the key FPL players fared on international duty this week.
Transfer: We have sold Jonny Evans and bought Adam Smith and saved the other free transfer
Exciting stuff! Well no, exciting it is not! We had two transfers to use and our discussions ranged from using both to using none and in the end we decided to spruce up the squad by making one defensive change and bringing in Smith, who has already recorded one goal and one assist this season. The sale of Evans is very much to do with Albion's poor fixtures coming up, while Smith and Bournemouth have a decent run of matches.
We did toy with selling Etienne Capoue and upgrading him for a more premium midfielder – Tottenham's Son was the favourite but Pochettino's comments that the midfielder may be rested after his long travelling over the international break led to us holding fire.
We are left with two free transfers for next week and with an extra week to check on the midfield situation, it may well be that Capoue is in the last chance saloon this week.
THE NEW TEAM IN FULL FOR Gameweek 8!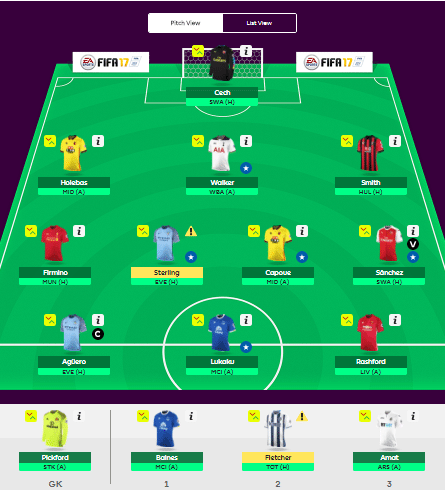 Our captain is Sergio Aguero and vice captain is Alexis Sanchez.
Not much of a discussion here as Captain Default won the vote – we just hope he is more successful than in midweek when he missed a penalty for Argentina. And that he actually plays. Oh well, at least we've got Sanchez as back up. Oh, hang on…
If anyone is interested in following the site teams progress then you can do so here and we wish you all the best of luck this week with your own teams.
And now over to DMC for a round-up of the International break and how it affects us.
Well, well, just three GWs in and we got ourselves an IB, four more GWs and another one – this one – and you know what, there will only be four more GWs until the next one.
Fixtures for this period have been brilliantly and shrewdly covered by Mr. Guy Sanchez and we now give you an update on how the most important FPL players fared for their national countries in these long two weeks enabling a better assessment of their condition ahead of GW8.
We should probably start with the big hitters here but we just can't ignore the Enner Valencia episode during Ecuador's game at home against Chile, their first in this IB. Minute 82'', Ecuador were leading 3-0 and Enner was taken away on a stretcher. That was basically ignored by everyone in the Olimpico Atahualpa, except by 2 diligent policemen that were not convinced by Enner's sudden transportation to the ambulance. As it pans out the Everton player had a restraining order over him grounded on failing to pay his daughter's maintenance payments to his ex-wife and was due to go on custody after the game. We've seen all kinds of odd legal obligations evasion but faking a serious injury into an ambulance to skip the authorities is a first. I wonder what was his plan to then get out of Ecuador… Enner then of course feature all 90mins in Ecuador's next game away to Bolivia and indeed scored a brace when they were down to 2-0 to give his country a well-deserved and very important tie. I'm sure Enner's daughter was pleased with that. Not as pleased as the ex-wife who got paid the reportedly due £14k. First we got Mito21, now Enner. Some things will only happen in South America.
Elsewhere, we should highlight Hector Bellerin's performance in Spain's U21 two games. The diminutive Spaniard got two clean sheets and most importantly two assists. Granted it was against lesser opposition but with 11 and 6pts in his last two EPL games the signs are there to suggest he is gaining some kind of form and should probably be considered given Arsenal's favourable schedule.
Seamus Coleman scored one and assisted another in Ireland's two games and we all know about Everton's favourable schedule after this GW. The signs of him reaching form are here to stay, it seamus (see what I did there?).
Antonio Valencia scored one (assisted by Enner a.k.a. "The Fugitive" Valencia) and assisted two in Ecuador's two games.
Dusan Tadic scored one and assisted two in Serbia's first game away against Moldova and scored the winner in the 3-2 home thriller against Austria in the second. He also assisted both Mitrovic's goals in that game and both Tadic's goals in these two matches came from open play (he's their penalty taker). Dusan has one goal and one assist in his last two EPL games and has a tasty game against Burnley this week. It's worth nothing that Branislav Ivanovic also scored on the first game while Alexandar Kolarov assisted Dusan's winner.
Marko Arnautovic scored a brace in Austria's first game against Wales where Joe Allen also scored to make it three goals in three matches in all competitions. He was subbed with injury on the 56th min though and he's rated 50% on the FPL site so maybe look elsewhere for now.
Heung Ming Son, the man in form, has not disappointed either, scoring from a Sung Yueng Ki assist and assisting him in South Korea's 3-2 win against Qatar in their first game. He also played all 90mins against Iran on their second (that was in Tehran, a mere 5h45m plane ride against the 11h that separate London from Seoul).
Nathan Redmond assisted Demarai Gray in England's U21 first game and Duncan Watmore scored and assisted one in their second, in which the former two only played 15''.
Dimitri Payet scored one on France's 4-1 win against Bulgary and assisted Paul Pogba's winner in Holland in their second game.
Toby Alderweireld, Eden Hazard and Romelu Lukaku (what a screamer) all scored in Belgium's 4-0 win against Bosnia in their first game and Christian Benteke scored a hat-trick and Hazard another one in their 6-0 beating of Gibraltar in their second. Both Hazard's goals were from open play and he also assisted two of the eight goals he didn't score himself.
Philippe Coutinho scored one and assisted Roberto Firmino, who came from the bench with 67 mins, in Brazil's 5-0 win against Bolivia in their first game. The former played another 83mins while the later didn't feature at all in their second away to Venezuela (0-2).
Alex Iwobi and Kelechi Iheanacho both scored in Nigeria's win away to Zambia and you will also be pleased to know that the African contingent only played one game in this IB, meaning the likes of Sadio Mané (90mins), Yanick Bolasie (90mins), Wilfried Bony (7mins), Ryad Mahrez (87mins), Islam Slimani (90mins, assisted one) and others probably made it back to the UK early this week.
Sergio Aguero on the other hand played both Argentina's games and perhaps the news here is that he didn't score in any of them and indeed missed a penalty in their second when they were down 0-1 to Paraguay, at home. Rumours of an injury were quickly denied and he played all 90mins in that second game.
Diego Costa was his usual self, meaning he scored one goal and picked up a yellow card in Spain's two games.
Steven Davis, Nolito, Dele Alli and Daniel Sturridge also scored in this IB while people like Alexis Sanchez, Christian Eriksen, Theo Walcott or Salomon Rondon were not among anything relevant for their countries.
Well, that's all folks! I hope this was useful in any way and best of luck for absolutely everyone for GW8.
DMC
Thanks for reading Fantasy Football 247 Site Team Gameweek 8
Fixture Tracker – the next 6 games