Fantasy Football Captain Picks Gameweek 11
Welcome to Fantasy Football Captain Picks Gameweek 11. In previous iterations of Fantasy Football Captain Picks, I've reached out to the world of social media; dipped into our mailbox; conducted a book review and even rewritten history as a work of fiction. This has led to accusations that I rely on gimmicks to get through these articles in a thinly veiled attempt to disguise my lack of FPL expertise and to add variation in having to write about the same f***ing players every time. Undeniably these are allegations that have hit home rather hard, but it is important to take on board criticism and learn from it. This week's Captain Picks comes to you in vanilla. Just a packet of ready-salted crisps. A forward defensive prod. A pass back to the keeper. A safe, no thrills, missionary position of an article. No lazy gimmicks. Let's get stuck in.
Before we continue, it would be remiss of me not to give a special thanks to everyone who took part in my competition announced last Saturday.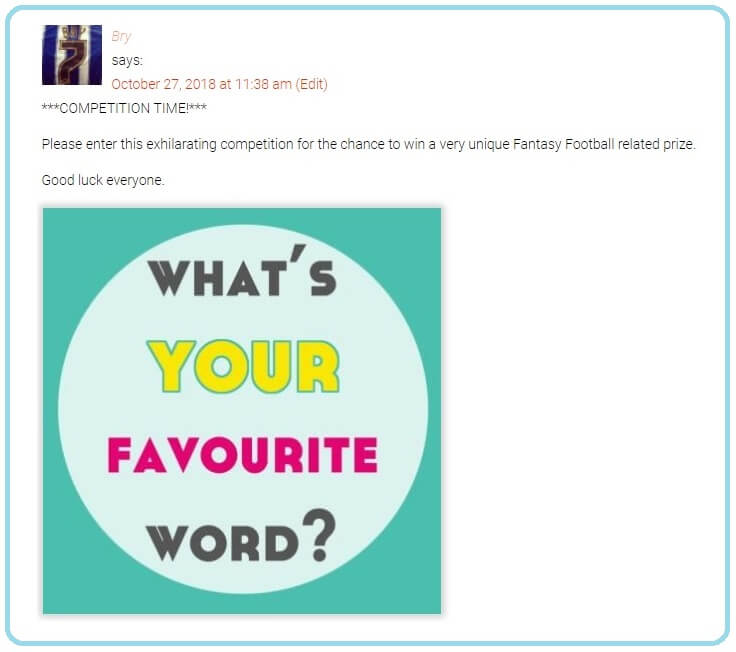 Participants will be delighted to learn that their favourite words have been included in, and will form the thematic crutch for, today's Captain Picks: Gameweek 11.
SERGIO AGUERO – Southampton (H)
Having shipped 3 goals in each of their encounters with 2 other title contenders (Liverpool and Chelsea), Southampton will be hoping to sneak on an extra defender when the officials, the TV cameras, and 50,000+ home fans aren't looking, as the struggling Saints go marching into the Etihad. Credit where it's due though, Mark Hughes' men have arrested the slump somewhat with back-to-back goalless draws, but confidence is still likely fragile for a team languishing in 16th without a win in 6 games.
With only 9 FPL points in 3 appearances Kun is wandering uncomfortably close to Harry Kane territory, but on the bright side his minutes on the field have increased. From GW5 his game-time has read 53′, 60′, 65′, 65′, 65′ and 70′. That's… progress, right? Another silver lining is City have a habit of dominating possession against, and ruthlessly dispatching struggling teams. Were that to unfold, don't be surprised to see Ederson rested for a scarecrow and let's just hope the no.10 gets a fair crack of the whip.
Now offering up Agueroooooooooooo™ is hardly the most exhilarating of captain suggestions, but let's face it, this week it's between either him or…
EDEN HAZARD – Crystal Palace (H)
Prior to the Blues' visit to Turf Moor, Hazard's injury had been seemingly played down and gave cause for only minimal consternation. However, his complete absence from Sunday's squad left us feeling discombobulated. Those entrusting him with their GW10 armband must have gone to bed and cried into their pillow that night, having wondered what could've been following that 4-0 trouncing. Those rogue few that chanced their arm instead at Ross Barkley were no doubt partying into the small hours and, as Jay Cartwright from The Inbetweeners would say, "…fighting off the clunge".
Visitors Crystal Palace have failed to realise early season promise and are in a 5 game winless slump, while Chelsea are playing with a swagger again under the tenure of chain-smoking moob icon Maurizio Sarri, making FPL's leading point-scorer Eden Hazard an almost irresistible choice.
HARRY KANE – Wolves (A)
Actually, no. Sod it. I can't bring myself to justify Kane's inclusion anymore. Touting him for the captaincy because hey he's Harry Kane blah blah blah, in spite of his recent record, would be a logical fallacy. A non sequitur. He needs a rest, so I'm giving him a week's holiday. Forget you ever saw this.
BENJAMIN MENDY – Southampton (H)
For some FPL folk, it's going against the grain that gives them their kicks. The kind of person that gets a duck-billed platypus for a pet in lieu of a Dalmatian. Step up Benjamin Mendy. An option which, come Sunday afternoon, could very well leave such contrarians feeling moist, and reaching into their haversack for a celebratory nip of brandy, or if they're with a loved one, some lube.
As already stated, opponents Southampton have enough to worry about without having to visit the reigning champions and current league leaders. Not least their horrific run of 5 games without a goal. In every game bar one, Mendy has either had a clean sheet, an assist, or both. Even in that solitary exception the Frenchman earned 2 bonus points. Having proved his fitness he's sure to be a popular transfer, so whether you've already brought him in, or if you're going to procrastinate and leave it until Friday, he's going to be a tempting captaincy gamble.
Thanks for reading Fantasy Football Captain Picks Gameweek 11. This article was written by Bry.
FPL FIXTURE TRACKER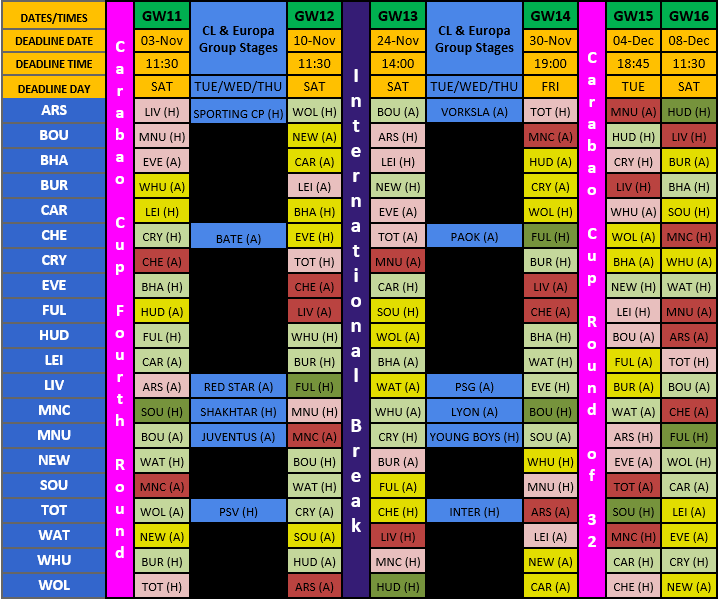 FIXTURE TRACKER LINK
Welcome to our Fantasy Football leagues section.
The League Codes for FF247 for the 2018/19 season are as follows –
Thanks to our friends Follow @ff_surgery and please give them a follow.