Fantasy Football Diary 2020/21 – Xmas Day Special
Happy Christmas to you all. If you're reading this on Christmas Day then we applaud your commitment to the site! If you have enough time before being dragged back to present opening, turkey basting or if you're young and lucky enough to be getting your leg over, then let me walk and talk you through the last few (game)weeks. I can promise you frustration and elation, a new bird in town and a trimmed bush, a morning in court, jumping the locals and you know what there may even be a green arrow or two.
Friday 20 November
House to myself, love Friday's – I get even longer as the wife works till 5 and the kids are at their grandparents until 6. With Salah joining the Covid club he is ruled out of the weekend, maybe longer. The popular replacement this week is Bruno, but KdB has a great run after this week. Bruno wins, he plays West Brom this week.
Saturday 21 November – GW9
William and I finalise our teams in bed – he plays his wildcard and captains DCL, I captain Grealish cos I'm a dick who just can't be sensible.
I get up and have to trim our side of the hedge at the front. The neighbours come out and do some gardening and there's a few 'love a trimmed bush' innuendos flying around. They're both in their late 60s. Lovely couple – he's the nicest bloke in the world and a Brentford fan, she's as mad as a hatter and has put up her Christmas decorations, tree and lights already.
The first game of the weekend goes great for me with clean sheets for James and Chilwell at Toon. Sadly I can't watch it as the wife and William want to watch Bath lose to Newcastle (rugby). The mrs is snappy – she works at Bath Rugby but the reaction seems a little unnecessary.
I take the girls out the front to clear up the leaves and bits of the hedge.
3pm and my captain plays. I'm back inside having tidied up the garden and the bush is beautifully manicured.
Grealish blanks. Watkins blanks. Martinez blanks. Dicks, the lot of them. Lamptey is sent off but luckily he's on my bench. Grealish gets booked late on and delivers me 2pts as captain. William finds this hugely amusing. Dick.
Spurs then beat Man City 2-0, Son scores, Kane assists, William sold both (and Dier) on his wildcard. I laugh. He's angry. With me. Apparently I told him to sell them. This may or may not be true.
It's Bruno up next and his 11pts is a decent return given he and United were awful. Why didn't I captain him?
Sunday 22 November
First up is Everton at Fulham and it's on BBC which is a real treat for William and I as we can watch on a normal screen without having to peer into an iPhone (Init has kindly provided us with a SkyGo log in). Just as they are about to kick-off the wife calls out that sausage baps are ready in the kitchen – William wolfs his first one down and runs into the lounge to see that Everton are already 1 up. DCL, his skipper, scored in 40 seconds. Haha. A bitter sweet moment – he's chuffed, but he missed his captain scoring by about 90 seconds. I laugh. He punches my arm.
DCL scores again before half time and I have a happy son. Then Doucoure scores. William sold him on his wildcard!! Naturally I try not to laugh. Unsuccessfully. He's not happy. "Why did you make me sell him?" I try to explain that wildcards and me are never compatible.
I then drop the mrs and kids to the inlaws as grandma is cutting William's hair. I make an excuse that we need more Rice Krispies and head to Morrisons. West Ham are playing Sheff Utd and I own Fornals for some reason. I am tasked with buying dinner – I have suggested pie but that gets quickly rebutted as apparently we have had that for the past two Sundays. I look for a roast chicken but there's none left so I head to the steaks – the mrs loves a rib-eye and I pick her one up and then find a lovely looking fillet for me. 0-0 at half time, why did I buy Fornals?
On the way back to the outlaws I hear Fornals name for the first time and in the next second Haller has scored – was that a Fornals assist? The traffic lights are red, I quickly check my phone, no assist given. I arrive at the inlaws and the assist has been awarded – get in! The game finishes 1-0 – William has benched Masuaku! Oooops.
The evening sees Liverpool beat Leicester 3-0, nothing for Vardy is fantastic – my only representation is Robertson: clean sheet, assist, 3bps, kerr-ching!
I finish the week on 76pts and a jump from 3.2mln up to 2.4mln. If I could only choose a sensible captain…..
Tuesday 24 – Friday 27 November GW10
Fairly standard week, I'm not making any changes until deadline day due to European comps and Covid fears.
There was a knock at the front door Tuesday evening – it's Nick from two doors down (we oldies call that 'next door but one') – he can't start his car and wants to know if I have jump leads. It appears I have found the one person on earth who knows less about cars than me. I get his car started soon enough and he drives off to give it more charge.
Next morning I'm working away and he's waving at me – car won't start again. I get the jump leads out and get it going and he heads off to the garage to get it sorted.
Bizarrely enough the next day I'm dropping the girls at pre-school and there's a broken down Ocado delivery van – given my newly found mechanic prowess I ask him if he could do with a jump. Slightly perturbed he gives me a look and then realises what I mean. Strange folk these west country bumpkins. Having got him going, or at least his van, I've now been involved in more jumps in the last 72 hours than I have all year.
I'm now known as The Batheaston Jumper. This is not necessarily a good thing.
Aside from trimming bushes and jumping the locals, rather ironically I have been asked to become the Safeguarding Officer of William's rugby club. You couldn't make this up. If they read this I'll be finished before I've started. I can see the RFU form arriving….'Are you known by any other name?' 'Hobbies?' 'Please confirm all the details on this form are accurate.'
Everyone seems to be buying Vardy this week – home to Fulham on a Monday night does seem prime captaincy material in fairness, but I want KdB too as City enter a great fixture run, starting with a Pope-less Burnley at the Etihad. That would be another hit though…..
Having given it 15mins thought, I took the hit and sold my Spurs duo for KdB and Vardy. What could possibly go wrong?
I persuade William to captain Vardy and not DCL so we can have some Monday evening fun watching our captain destroy Fulham.
The Friday evening match saw Toon beat Palace 2-0 with Wilson grabbing a late goal and assist.
Saturday 28 November
I wake up to William standing over me at 6.47am – he has his laptop in hand and demanding to know why I 'made him' sell Wilson. I'm going to have to introduce him to Kop and Init and the poor chap will never make another transfer again.
Lunchtime and Liverpool play at Brighton. A Salah assist is annoying, a Jota goal the same, I should have bought him. So should William apparently and that's my fault. Fck, it's like having two wives, or in my case, three.
A late Brighton goal ruins my Robbo clean sheet and apparently 3bps – less annoying as it's Liverpool, although I could have done with the points. I sit down for the 3pm kick off – how will my new recruit do vs Burnley? Well pretty good, two assists, could have been more, but I'll take it.
DCL does nothing vs Leeds. I tell William that he should be grateful to me for persuading him not to capo DCL. He shrugs and murmurs. The little fecker is turning into a teenager 5 years ahead of time.
Sunday 29 November
We plan to go for a walk as a family, just like we did most days at the start of the first lockdown but as it transpires I cannot persuade the girls to leave their pyjamas, let alone the house. A couple more wannabe teenagers in the making it seems.
After watching United go 2 down at Southampton, I turn off the match and play a game with the kids. A few mins after half time William spots that United have scored….and it's Bruno! Get in. He's not happy, he has Rashford. I question his loyalty to the cause and he just glares back at me blankly.
United end up winning 3-2 and Rashford gets an assist to keep the little fella happy.
Having sold Kane and Son and owning Chilwell and James, the Chelsea Spurs game was always going to be a painful watch. I spent the first half playing penalties with William in the front garden, but then it got darker, so we went in. 0-0 at half time, schweet. Let me tell you the second half was torture, every time the play was anywhere near Chelsea penalty area I was a nervous wreck, especially if Kane or Son were involved.
What seemed like 3 hours later the game finished 0-0 and only a couple of late Lloris saves prevented my pair of walking off with max bonus points. Still, the perfect result especially with Kane and Son blanking.
William checks his scores and asks why he has 4pts for DCL. The wally didn't confirm the change of capo, lol.
Monday 30 November
Back to school, back to work. Fck that, it's all about tonight… Captain Vardy to destroy Fulham and if that wasn't enough excitement I then have Fornals battling Martinez, Grealish and Watkins. And I'm on the average already so a green arrow will be coming my way. Yeah baby.
The day drags as the excitement builds.
Fck me Leicester are shite. I told Kop this last week – everyone buying Vardy and he's rubbish at home, the stats prove that. But no it's Fulham and it's Monday night so we all jump on…… and quelle surprise, one sodding assist.
Oh well it's as much as Salah and more than Kane and Son and at least he turned up, unlike Sterling.
William is gutted he even got an assist.
Still 10pts in the bag with four left to play, it's looking good.
Two hours later….
Useless bastards!! One (great) goal from Grealish and that was it. Martinez and Fornals a point each, which is one more than Watkins managed – not only did he miss a penalty but he then had a goal chalked off for offside in the last minute.
All that excitement. And all that disappointment. It could have been so much better. Robbo's clean sheet robbery Saturday lunchtime, KdB hitting the post in the last minute and now this sh1t show tonight.
Still I end the week on 60pts, better than the average of 44 and a game-week rank of 800k – I'm now hovering just above the 2mln mark but I have gained 2mln places in 3 game-weeks. In all honesty this probably says more about the first 8 game-weeks rather than the last 3, but momentum is good.
William scored just 39pts and is now 24pts behind me. The loser.
Tuesday 1 – Friday 4 December
Covid, bloody Covid. So it turns out that Newcastle is riddled full of the disease and Friday's match at Villa has been called off. I have three Villa. Bearing in mind two of them were useless last week maybe I should just dump them anyway!
The good news my friends is that I had my 'court case' on Tuesday. It was done over the phone first of all with the court's legal adviser and then the magistrate – they appreciated my guilty plea and believed my version of events and had the fine reduced from £881 to £175 + costs + 3 points. Fair enough, no criminal record, we move on. Made me feel like a criminal for a while which wasn't pleasant plus I could hear the mrs stalking around outside the bedroom while I was all sweet and innocent to the judge.
Now a free man again, I wake up with a spring in my step. The heron has been around much of this week and has now been joined by a cormorant. I always thought a cormorant was purely a sea bird but this one has come in land and has spent much of the week with me and the heron. Might go for a walk at the weekend and see if the donkey is about or if he's been transported to Bethlehem for the festivities.
No one has requested my jumping services this week, so it looks like that the car recovery career is over pretty much before it started.
So what to do for GW11?
Friday night dinner is always fish and chips. Always. Dunno why but it is and it's non-negotiable, and we love it. As nice as it was, this week I was troubled – my three Villa blanking, Mitchell losing his place, Robertson yellow flagged and my reserve keeper not playing. I'm thinking that Adams should come in for Watkins and then maybe lose Grealish for Jota. But Grealish has been superb and I'll want him back, but Jota and JWP appeal plus the case for Jota is strengthened by not having any Liverpool attack and Fulham to come next week.
I wash the last piece of fish down with my final drop of Argentinian Malbec and retire to the bedroom. My haven. My safe place. Or cell. Whichever way you want to look at it. I decide to sell Watkins for Che Adams as I'm sure about this and leave anything else until the morning.
Saturday 5 December GW11
I wake up still confused. Jota or JWP or keep Grealish and play Oliver Burke who may not even play and hasn't scored or assisted all season – or indeed ever as it would appear.
I then get a call from one of William's friend's Mum asking if the lad wants to go and play football with his mate in the park. If there is one thing to motivate my lad to get washed and dressed it's the lure of a kickabout in the park. Having seen him off (we checked his capo was on KdB first!) I request 5mins to myself to nail my transfer decision. 2mins into 'Me Time' the girls request to see pictures of themselves at pre-school so I take them up to the laptop and 25mins later I look at my watch. It's 11.03am. And then it hits me. I've missed the deadline. Trying profusely to avoid swearing in front of the girls I try and take the positives of having Burke in my starting XI.
There are none.
The game-week finally begins and the customary DCL goal kicks things off for most of us. It's then City vs Fulham – KdB capo for William and myself. The boy has also bought Mahrez and has Cancelo. All three start. An early KdB assist calms the nerves and then he converts a penalty – a very satisfying first half. In fact that's how things finish. 34 points from 2 players and don't forget I'm only playing with 10 as I have no keeper… or 9 with no keeper and a Burke.
Bruno starting on the bench is not ideal for me but with United 1 down at half time and all over the place Ole brings him and Rashford on and my man runs the second half and is possibly unlucky just to register an assist and 2bps. But with many captaining DCL, Bruno and Mahrez this is going well.
The girls are finally asleep at 7.45pm and I go into William to watch the day's highlights on YouTube. He falls asleep as Chelsea kick off. I could really do with another double clean sheet for James and Chilwell.
William is quickly awoken by his father's furious outburst as Bamford scores in 5mins. Jeez. Back asleep he misses James' assist (hee hee) but is not impressed when he learns of this the next morning!
Sunday 6 December
Burke Day.
First up is William's return to rugby post lockdown and he and the other kids throw themselves into it, literally.
The afternoon sees Leicester at Sheffield or Vardy at Burke if you are me. With Vardy being a popular captain I'm not sure what to wish for here for the Toothless One.
Burke lasts 80mins which is a feat in itself. 2pts in the bag, it was never going to be more than that in all honesty so I'll take it and hope I get away with no Salah, Mane, Kane or Son later today.
Vardy scores a last minute winner and maximum baps.
A few hours later….
Well that didn't quite go according to plan did it?! Kane goal and assist, Son goal and assist, Salah goal and assist. From a decent ranking I'm going to end up where I started!
Monday 7 December
My last hope is Che Adams. As you may remember I liked him from the start of this season but he just didn't deliver despite his play and stats looking good. So I sold him and he started delivering almost every week. Having bought him back he blanks vs Brighton just to test my resolve.
I end on 67pts and jump 37,385 places to 2,007,132! On Saturday night I was around the 1.2mln mark. Never look at your rank mid-GW! It is however my 5th green arrow on the bounce so I'll take it and move on.
Tuesday 8 – Thursday 10 December
Life is hectic. Work is manic, ridiculously busy, this rugby club role involves a lot more than I was led to believe, with me working from home the kids are itching for extra attention when they get home from school, plus I need to earn a little extra cash on the side every month. This is of course on top of my FF247 duties, my new found love of bird watching and continuing to perform my 'husband of the year' role. Plus Christmas is coming. Aaaaarrrrggghh!
William desperately wants FIFA21 which will involve a new Playstation but there are none in the shops. A tad easier, Olivia wants colourful socks and Imogen chocolate cake, bless them!
As I write, a robin has appeared in the tree next door.
Yesterday William and I watched a squirrel bury his nuts in our garden. Sometimes, it would be nice to be a squirrel.
Friday 11 December GW12
I have the afternoon off work today as Grandma has a hospital visit. Not sure why I told you that really but news is pretty dull at the moment.
I want Callum Wilson back in my team but would need to sell either Vardy or DCL. Given that I have no value accrued in DCL and Vardy faces Brighton this week, DCL departs. Vardy is my captain.
The evening match sees West Ham win at Leeds, another annoying Bamford assist. Nothing again for Fornals. I am losing patience.
Saturday 12 December
The mrs is working today so it's just me and the kids. Lucky blighters. I give them a day to remember visiting Asda, M&S and Sainsburys but also the posh garden centre near us to see the many Christmas decorations etc and then onto the park. All is calm and everyone has a nice day.
Villa beat Wolves at lunchtime with my man Martinez saving everything and collecting max bps, though Grealish handing a penalty to El Ghazi in injury time was disappointing to say the least. Greater men have been booted out of my team for less.
We arrive at the park at 3.05pm. A good father would have ensured the girls were having fun on the zip wire or playing in the tunnels and that William was happy kicking the ball into an empty net. I on the other hand checked my phone for Newcastle, or more importantly Wilson, as they had just kicked off vs West Brom.
1-0 already my phone tells me. Like a child on Christmas morning I cannot contain my excitement as I click on the match details to see that, not Wilson, but Almiron who never scores has scored. Not even an assist for my new friend. Still, surely now the floodgates would open.
Hmmmm. They didn't. West Brom scored, Gayle then came on and scored the winner and Wilson got booked late on. The prick.
The Manc derby was a bore draw, 3pts apiece for KdB and Bruno. William has captained KdB. Hee hee.
Next up was my double Chelsea defence vs DCL. Mendy bundles over DCL, completely unnecessarily to give away a penalty and doubly punish me, triply punish me actually given I had sold DCL.
Sunday 13 December
In FPL terms I don't like Sundays at the moment – with no Salah, Son or Kane I live the day in terror and getting abused and punished, in FPL speak I mean. (I wonder how Park Chick is doing).
Che Adams scored for me vs Sheffield United, good lad. And then Spurs kick off at Palace and early doors Son assists Kane. Here we go. Luckily that is the end of their fun but it's a long 90mins. And now we have Salah vs Fulham. Oh crikey! Hopefully Robertson can somehow match Salah. Fulham score. I weep like a child who has just been told in the playground that Father Christmas doesn't exist.
The clock ticks by and it remains 1-0. 60mins. 65mins. 70mins. Please blank Mo. 75mins. Just 15mins left. 77mins. 78 mins. Hang on, please hang on.
Goal at Fulham. The goal is for Liverpool. Salah penalty. The bastard. And then the whole story. Dodgy penalty. Salah was about to come off. Another minute and I'd have got away with it. The bastard.
Luckily I escaped with Captain Vardy scoring 13pts (26 as capo) vs Brighton. I score 61pts in total and record another green arrow (that's six in a row now) which takes me into the top 2mln for the first time this season. Small pleasures but the momentum is good!
I'm 42pts ahead of William now but I'm not taking my foot off the accelerator. Well not deliberately anyway!
Monday 14 December
There's a quick turnaround with a midweek game-week starting tomorrow. With Jonny Evans suspended and Söyüncü still injured, I'm tempted to sell Vardy and bring back DCL. Don't laugh!
First up though and a busy day at work. I have to run a team meeting this morning which has involved me preparing a presentation on Powerpoint. I've never used Powerpoint before but have always been impressed by those that do. They make their presentations look so grand and professional. Given a 5 minute lesson I am tasked with sorting my own presentation and then realise most of the boxes are already in place, you just add the data. No wonder their presentations looked so great, it's easy. It's like finding out that the Wizard of Oz was just an old pervert behind a curtain.
The presentation goes well. Boss is impressed. I'm pleased. Job done.
Tuesday 15 December GW13
Ten midweek games spread over three evenings, lovely. But what to do? I want to cash in on Vardy but who to buy?
The sensible part of me says to get widely held DCL back, but I never do the sensible thing do I? The 'punty' side of me thinks of Jesus home to West Brom. However I end up with Bamford – he starts this week at home to Newcastle, has a double in GW19 and is great value. I have loads of cash in the bank.
The wife is not working today so we go and buy a Christmas tree – we find a nice one in Morrisons car park. Genuinely! A local geezer is selling them there and they're better than the ones in the local garden centre. Still no sign of Park Chick. The father-in-law has apparently got a stand we can borrow for the tree.
Mrs C spends the afternoon putting the lights on the tree. It looks a bit wobbly when she tries to put the star on top. The kids love it when they get back from school and add their own artistic flair to the tree decorating.
My double Chelsea defence is guaranteed more points at Jimenez-less Wolves who cannot score. Well they score twice, damnit, but at least Chilwell gets an assist. Loads have captained KdB this week at home to West Brom and I was tempted but fancied another captain in the final match of the game-week so Bruno has the armband. William has captained KdB.
The Baggies nick a draw at City with KdB doing nowt. Hee hee.
A late dinner ends and I sit in the grotto-type lounge with the Chrimbo lights on and drop off in front of the news. 30 seconds later….CRASH. The tree has fallen over. LOL. Well, not completely LOL as I was about to go to bed and when I want to go to bed…..
The in-laws' tree stand has been broken in the fall. Defo LOL. We have now wedged the tree up with the help of three quarters of a tree stand, a rock from the back garden and the broom. Don't ask.
Wednesday 16 December
The alarm goes off at 6.45am – I get up a couple of snoozes later and go downstairs to turn on the heating and put the kettle on. A nervous look in the lounge sees the broom still doing its makeshift job.
Having dropped the kids off at school and then the mrs at work, I stop off at my favourite car park to buy a new and slightly more up-to-date tree stand. The bloke recognises me from the day before and tries to sell me one for £40. Twat.
Six games this evening with my new-look front line all featuring. And as it turns out all contributing – a goal for new man Bamford (great decision that) and assists for Wilson and Adams. Schweet. Meanwhile Vardy blanks (great sell that) and DCL returns just an assist. More bullets dodged. And then its Liverpool vs Spurs….or Salah vs Son and Kane. Sadly Salah and Son both score which spoils things somewhat and I'm thinking it may be time to get both in. Meanwhile Fornals is hauled off at half-time – well, I'm not putting up with that. It's very unlikely young Pablo will still be with me come the weekend.
Thursday 17 December
The mrs and I work well to remove the broom, rock and broken tree stand and replace it with my new stand. I've saved Christmas. Do I get any thanks or credit? Do I ****. However Mrs C does make me the most gorgeous bacon baguette for brunch – I'll take that. She must want something. Shiiiiite. That reminds me, I haven't yet bought her anything for Christmas. I'll shoot out somewhere tomorrow when she's at work.
It's the kids' last day at school before Christmas and the girls have a party at pre-school. Bless them, they melt my heart – they are so excited, they think they'll be blowing out candles and eating cake at their 'Christmas Birthday party'!!!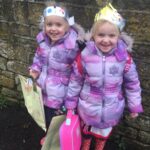 Back to important matters and a Martinez clean sheet is welcome vs Burnley. Sadly Grealish wastes a few efforts on goal for a 3 pointer, which is only one less than Captain Bruno musters vs Sheff United. William is happy as United win and my man does sod all.
I end the week on 47pts. Not wow, but not a disaster. It's another green arrow – that's seven in a row now, must be a record for a below average FPL nob like me. My rank is now 1,787,585 – much work still to be done but I feel more in control of things. Although I know a silly transfer or a mega hit is always just around the corner!
William scored 44pts. He needs a little boost. Probably me staying away from his team meeting would help!
Friday 18 December
Not my usual chilled, relaxed Friday as the kids have broken up from school and William doesn't want to spend the day with his grandparents. That's my boy. I do however negotiate for them to go over there for the afternoon. With no peace and quiet in the morning I give them an early lunch and drop them around. Now I have some peace and quiet to get on with some work, sort out some Christmas shopping and more importantly decide on my next transfer.
Weeks ago the wife said she needed a new blender. A trip to Asda finds one for £25. Job done. Before you all criticise me she's also got a new iron, oven gloves and laundry basket. I jest. She's got a massage, a pair of slippers, perfume and some Alexa thing that apparently plays music when you shout at it.
Back to FPL and I'm not putting up with Fornals' half-time subbing last time out and so with over £5mln in the bank I put to bed those painful Sunday afternoons of missing out on Son's hauls.
With DGW19 announced I need to make a plan for that. But that can wait.
The evening sees rumours appear that Salah will not starting at Palace. That'll be a result, as a non-owner.
Saturday 19 December GW14
I have a dilemma whether to play Lamptey home to Sheff Utd or Adams home to City. I'm thinking Lamptey and go with it. Bruno is my captain at home to Leeds – that game has goals written all over it.
The lunchtime game line-ups reveals the rumours of last night are true – Salah is benched. Lol. Salah owners are up in arms, non-owners appear from the back of the sofa.
With Liverpool coasting, Klopp brings on Salah with 35mins to go. Two goals and an assist later and owners have backtracked quicker than a Boris lockdown decision, while non-owners are rushing to DFS. At least Robertson gets me 10pts with an assist and bonus point. 10 from 1 – good start, but Salah owners are laughing, captainers have had it off.
A blank for Adams vs City confirms my decision to play Lamptey. My Brighton full back is yellow flagged but is expected to be ok. Everyone gets a KdB assist.
The early evening match sees DCL score vs Arsenal before cameras reveal it was going wide before hitting Holding, so his 'goal' becomes an assist, much to the annoyance of William who has captained him.
Callum Wilson's rather dubious penalty vs Fulham sees me score 24pts from 3 players from day 1 – with no Salah, Mane, Ings or DCL, day 1 was always going to be a case of staying in touch and while my rank has dropped slightly (why did I look?!), it's not dropped much and I still have 8 left to play including captain Bruno.
Then disaster strikes. Twofold. Firstly over dinner the mrs drops the bombshell that we are going to the inlaws for Christmas Day. Failing to understand why I wasn't consulted on this I start to protest but then rein it in.
Potentially this could be ok – no responsibility for dinner and we can depart when the kids get tired and leave the outlaws to smash each other to pieces.
Having made peace with Christmas Day, I then discover that Reece James is injured. Oh FFS. Seriously? F.F.S.
I really need Lamptey to play now otherwise I'll be a man down with Mitchell not appearing for Palace (probably a good thing!).
Sunday 20 December
I am beginning to loathe Advent Calendars. The kids have 3 each and this month has just been a chocolate fest.
William's last rugby session before Chrimbo sees the clubhouse turned into Santa's Grotto for the kids. The girls are scared shitless as they were last evening when we saw the chubby hero of Christmas drive through the village being pulled by a tractor. It all happens down here.
Just when the mrs and I are about to take the terrified girls into the grotto, Kop tells me that Lamptey isn't playing. Not sure who is more pissed off – the girls for being dragged to see a fat old git or their own fat old git with his guaranteed clean sheet ripped away from him.
Sheff United scoring appeases me somewhat!
With me being a Son-day afternoon convert I'm pretty relaxed as we drive to Aldi. We leave the mrs to do the shopping and have a walk around Chippenham – these kids don't know how lucky they are. Vardy scores, damnit. William cheers. Vardy assists, shite – William is delirious. Son blanks – the loser. These Sunday afternoons are not all they're cranked up to be.
Celebrating his Vardy haul as we drive home, a thought occurs to me and I beg the question, 'William, how did you finance replacing Mahrez with Rashford?' – oh you should have seen his face. It turned white and I thought at one point he was going to burst into tears when he remembered selling Vardy on Thursday.
Poor lad was mortified when we snuggled on the sofa to watch United play Leeds. We both own Bamford, William has Rashford, I've captained Bruno. Both our United lads are subbed off on 70mins – poor William got 2pts for the feeder of the nation's kids, while the smart ones amongst us received a meagre 34pts for captaining Bruuuuuuuuno.
Mildly aggressive for the rest of the afternoon I reminded William that I'm short of Lamptey and James this week – this obviously appealed to his sadistic side as he cheered up a little. He fell asleep while we watched Villa beat West Brom with us both benefitting from Grealish's two assists and a clean sheet apiece.
The day ends with me on 78pts – a nice haul. 80pts if you want to count Adams' 2pts now. Poor young William is on 48.
Monday 21 December
Four sleeps to Santa. Back at work, well in my bedroom, working. The mrs is at home as are the kids. Great.
With Salah exploding and with West Brom visiting Anfield this week, I'm thinking of selling KdB for the Egyptian. The problem is my defence with James crocked, Lamptey always injured and Mitchell AWOL I may have to hit for a defender….a FPL 'no no' according to the experts.
As expected James misses out but doesn't need an operation, sounds like he's due for a rest though. So I'm playing with 10 with just Chilwell left.
William and I tune in at 8pm in to watch our last player hopefully add to our week's tally. A clean sheet is the least we expect, hopefully another assist. Is that greedy?
Well obviously it was as the useless turd (Chilwell not William) lasts approximately 8mins before going off injured. Wonderful, I now have four defenders not playing.
My mood has now soured. I leave William to sleep, pour myself a glass of red and do 30mins of ironing in front of A Question of Sport. I have no interest in this game now (but secretly do keep checking to make sure Zouma, Werner or Soucek haven't scored!).
I end the week on 81pts, not bad with 9 players. Another green arrow, I'm now up to 1.4mln. Eight green arrows in a row since my infamous 20pt hit. Hmmmm, the mind boggles.
Tuesday 22 – Thursday 24 December
The run up to Christmas. Trying to keep the kids off the chocolate. What to do with my defence? Or lack of it. Surely I have to buy Salah and so any defenders in would be for a hit. A double up with Trent and Robbo is going through my mind. Kop tries to talk me out of it. He's normally right. I'm normally wrong. I wonder how this will end.
I message Park Chick to see how she's doing and to tell her I'm about to do the wine shop at Morrisons. We have a little banter about wine and broccoli. On arrival she wasn't there waiting. I draw the conclusion that the romance is off.
I find my favourite bottle of Argie red and clear out Morrisons by buying 16 bottles. Should keep me going for a while.
I am trying to psyche myself up to enjoy / get through Christmas Day at the outlaws.
One more sleep to Santa.
I resist no longer and decide to double up Robbo with Trent. It may deter spending elsewhere but it's a slightly different strategy that not many others will go for so could work well.
The kids are soooo excited. I take them into Bath for a pizza and a play in the park.
I've never known them so keen to get to bed. And the girls even promise to sleep in their own bed all night. Heard that before!
Having hung up their stockings by the fireplace, they left a mince pie and glass of port for Father Christmas and a carrot for Rudolph.
Should I buy another defender for Lamptey or James or Mitchell? I decide not to ask William or that'll keep him awake for another hour.
They were asleep within 10mins.
The mrs and I enjoy a salmon teriyaki dinner with me considering Dallas, Coufal, Taylor, Stones and Dier.
William wakes up as the mrs takes in his stocking! D'oh. She waffles something about 'Ssnta asked me to make some room'.
We then sort the girls' stockings incident free and I retire to enjoy the mince pie and port. And a reload of the port. Santa's prerogative.
The mrs then appears. 'Imogen is in our bed'. FFS. There goes my hopes of some 'Christmas fun'.
By 3am both the girls are in with us.
Friday 25 December
William is stalking around at 5.37am.
Christmas Day is here. Brexit is looming, Covid is mutating and my defenders are rapidly disappearing but for one day at least let's have some fun and cheer and forget the bad stuff.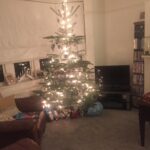 Whether your plans have been turned upside down or like me you're trying to get through the day unscathed, try and have a fun day.
Happy Christmas to you all and thanks for bearing with me so far this season!
Here's to a healthier, less Brexity, less Covidy 2021 full of cheer, optimism and more green arrows.
Cookie x
Thanks for reading Fantasy Football Diary 2020/21 – Xmas Day Special This article was written by Cookie.
VOTE ON THIS WEEK'S CAPTAIN POLL GW15
FPL FIXTURE TRACKER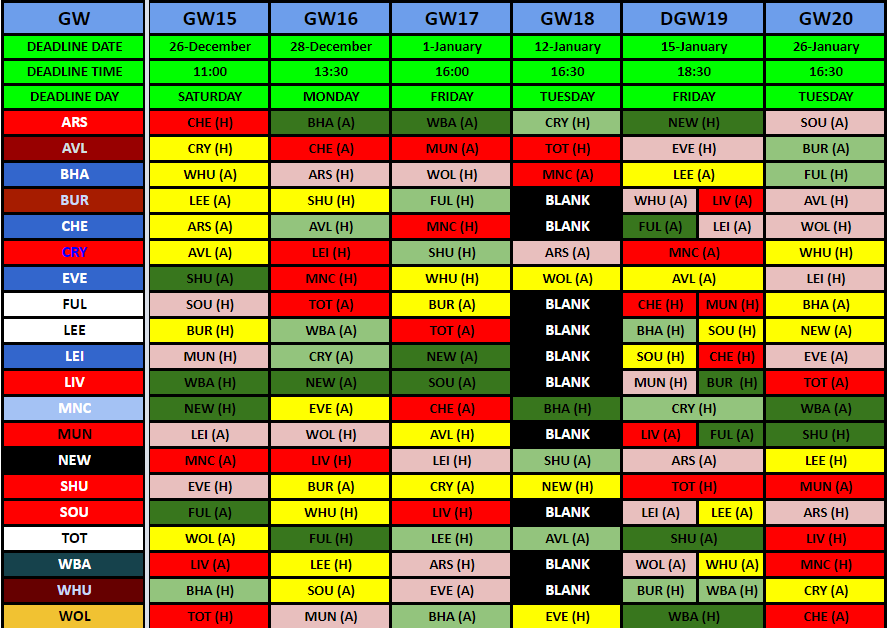 FIXTURE TRACKER LINK
For those who want their own tracker to play with, just make a copy using the link below;
Fantasy Football 247 League Codes:
All prizes must be claimed within 30 days of the final GW.