Fantasy Football Diary 2020/21
'It's only GW1, son'.
So much has happened since I last put pen to paper.
To give you some background, I am a distinctly average FPL manager who seemingly fails to learn from his mistakes, but on the flip side I try not to take the game too seriously, I love a punt and have been known to captain full-backs too many times. From a personal point of view I am happily married with five children, 3 from my current, 2 from my Welsh ex. We live just outside Bath where we relocated to after a fun eleven years in sunnier climes was suddenly brought to a crashing halt due to work blowing up leaving us penniless and having to live with the in-laws for what can only be described as the worst five months of my life.
We now live in the same village as the outlaws, but a few streets away – handy for childcare, but still too close for my liking.
I have been working from home since April which is saving me a daily commute to Bristol – the kids are back at school and pre-school, the mrs works 3 days a week and every day I can be found alone tapping away in my bedroom. On my keyboard, you saucy buggars.
So here goes, the diary for the 2020/21 season begins here and now. Please don't be offended by my sometimes coarse humour, I am a man born in the seventies but I'm trying to adapt to our new world. Love Alf Garnett. Black Lives Matter. Long live lesbians. See, I'm diverse, accepting, a man for all seasons.
The lead up to GW1.
Work has been really busy, leaving me so little time to get on site. My normal weekday timetable reads something like this:
6.45am – alarm goes off
6.45am 5 secs – discover the twins have quietly joined my wife and I in bed during the night leaving my wife comfortably laying on her side and me hugging my bedside lamp and hanging off the bed.
7.00am ish – think about getting up. Put kettle on, make wife tea, me coffee.
7.05am – am joined downstairs by bleery eyed kids (could be one, could be three) demanding breakfast. 'Why aren't you still asleep? I want a coffee and do some work before sorting you all out.'
7.06am – take kids breakfast orders, deliver wife her tea, log on, back to brekkie making….
7.30am – sit down for half hour, do some early work in the bedroom. In darkness.
8-8.45am – shout, chase, threaten kids until they are washed and dressed and ready to go to school.
8.45am – take son (William) to school.
8.55am – return to take girls to pre-school.
10am – Zoom chat with my team, explain how productive I've been so far that morning and my plans for the day. Do some work!
3.00pm – collect girls, drive to school to pick up William.
3.15pm – try and avoid the park explaining I have work to finish.
3.17pm – talk to other parents in the park.
6pm ish – kids dinner time.
8.45-9pm – kids all asleep, nackered, no evening left, may get 30mins on the sofa to check site, twitter, do some ironing.
9.30pm – dinner.
10pm – hopefully in bed. Alone. Fall asleep looking at phone.
So you can see, life is busy, hectic, rock n roll.
But that doesn't mean I haven't been tinkering. My photo history on the mobile bears witness to that as I spot way too many different drafts.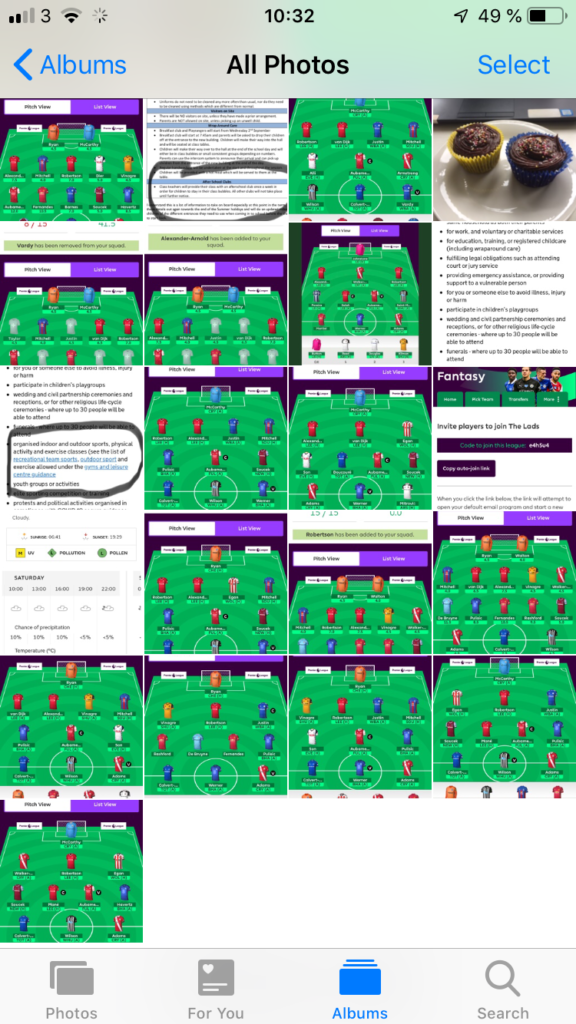 Wednesday 9 Sept – 3 days to GW1 deadline. It's my birthday. This bears no significance to FPL, but I wanted you to know.
Thursday 10 Sept – 2 days to GW1 deadline – we finally conclude the site team and from usually getting what I want, I am outvoted on all the remaining issues, which is fine as they can only blame themselves when they languish behind me in the rankings.
Put William to bed. He wants to play FPL this season so the wife registers him on her email (fully compliant here) and we lay in his bed to construct his opening squad. In 10mins he's happy. Jeez, mine takes weeks and is still not complete. And his team looks good.
I go to bed after some particularly tasty meatballs washed down with a couple of glasses of South African red and start to look again.
With the site team done and William signed up I can concentrate on my own team and it looks soooo template bar Salah. Werner, 2 big mids, 1 mid mid, Soucek, TAA & Robbo zzzzzzzz. But isn't FPL meant to be dull and boring? Slow and steady and all that?
Kop then appears on Whatsapp…..'Team sorted?' to which I send him a photo of my latest draft. I then tell him that I really want Rashford in there…..why wouldn't you? United forward classed as a midfielder for less than 10mln? I end up with a draft I love, but with no Werner. I convince myself to go with the 3 cheap strikers and get 'Marcus the feeder of the nation's kids' instead. He feeds my kids, the least I can do is select the geezer. I sleep content, happy at last with a draft.
Friday 11 Sept – 1 day to GW1 deadline. I wake up, rush about, shower, log in, make drinks, wash the kids, make their brekkie, take William to school. Decide I really should have Werner. I take the mrs to work and then drop the girls at the in-laws (no preschool on Fridays) and get home just before the 10am Zoom work call. I tinker during the call. TAA goes, a bit of shuffling about and I turn Callum Wilson into Werner, just like that. Just one premium defender and that's where all the value lies. But Liverpool's opening fixtures are not all that and TAA has had no preseason, but is owned by everyone but me. Gulp. My argument here is that Robertson has looked good preseason and ended last season really well so he'll outscore TAA early doors.
A friend texts to say that they've been ill all week and are awaiting their Covid test results. We were round their house last Sunday for a BBQ. Shhhhhite!! That would complicate life. The wife's workplace would have to shut temporarily, the kids would not be at school, my peace would be ruined. Oh and we may have a life-threatening virus.
I announce on site that I will reveal my team at 9pm that evening. Like anyone cares and who the **** do I think I am? But I love the drama and as you know by now, 9pm is the only real time I get to myself.
Still no news from the friends' and their Covid tests.
Put the kids to bed and open a bottle of red.
News comes through that Bruno may not be back from Portugal in time to avoid quarantine and may miss GW1. Ah damnit, these last minute issues. Spend most of the evening trawling the net looking for news, accessing airport CCTV, creating an Instagram account and following Bruno. Still no news.
Can't risk it, I decide to get Rashford instead.
Obviously not able to leave it there I tinker more and get rid of Werner and grab a Liverpool mid instead of Son. Mane has looked better in preseason so I grab him, avoiding the more widely owned Salah, who according to all reports has looked 'sluggish'. Excellent, nice differential there. What could possibly go wrong?
I end up with a cheap forward line of DCL, Adams and Wilson. Loving the value there – it stinks of Jimenez and Ings last season.
Auba is my captain, has been since draft 1.
I don't announce my team just in case Bruno turns up.
It's FPL eve, I hang my FPL stocking at the end of the bed and hope Santa brings me lots of Auba and Mane goals and a Salah blank.
Saturday 12 Sept – FPL DAY!
William wakes me at 6.30am because he wants to look at his team. 'It's the ****ing weekend, you've done your team, don't change it now.'
Two coffees later I'm feeling the Mane love and captain him. And I benched James Justin for KWP, not sure why. These 4.5mln defenders are doing my head in.
Deadline arrives, good to go. 'Good luck everyone'.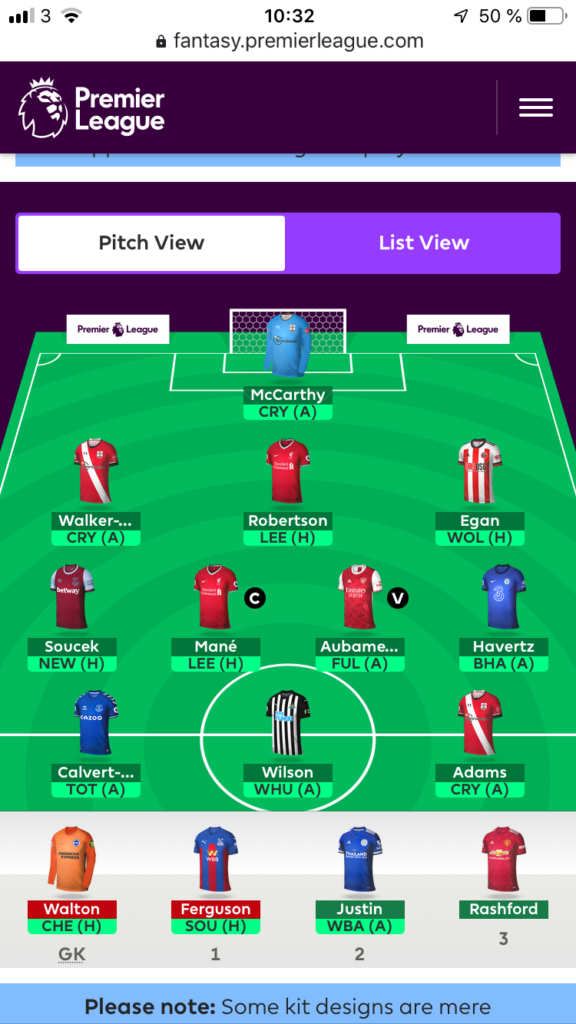 Auba gets a first half yellow card, I laugh (quietly as he is William's captain).
Text received from friend: 'Covid tests all negative'. Phew.
Auba scores in the 2nd half. Hmmmmm. But that's it, just one goal.
The 3pm game sees Palace score to dent my McCarthy & KWP double up and then KWP gets sent off, quickly rescinded. I'm still a dick.
I am running cricket training for William and his mates, 15 of them in total. Good fun and we end up in the pub after. When I say 'we' I mean me, the mrs and some of the parents, his mates have gone home, before you accuse me of encouraging under-age boozing. I leave after 45mins with Salah having already scored twice and Mane spending most of the half congratulating his mate. I want to cry.
Put William to bed with the words, 'Don't worry son, it's only GW1 and at least your captain scored.'
Wilson scores for me vs West Ham and looks very sharp. Or West Ham are just crap. Both I think. Wilson was a good move.
Sunday 13 Sept
Sunday sees good and bad. Or rather bad then good as Justin adds an assist to his clean sheet. Nooooooo. I want to cry. DCL then scores at Spurs to relieve some of my pain. Outlaws come round for a BBQ and I abandon cooking to play touch rugby with the kids. I slip while trying to tackle William and fall into one of the girls. It all kicks off.
Father-in-law cooks and the kebabs catch fire. I love it and am distracted as one of my 3 year old twins scores a try.
I end Sunday on 38pts. Salah as captain scored 40pts for everyone on Twitter it seems.
'Don't worry son, it's only GW1'.
Monday 14 Sept
Crazy morning, sore head after drinking too much red wine and falling asleep in front of MOTD2.
Having dropped everyone off I get some work done but look forward to tonight. Please end the pain of GW1!
I have Egan playing vs Wolves and Havertz (it's just occurred to me he is the mix of car rental companies) at Brighton. The world owns Werner.
Egan's clean sheet disappears in 3mins and Wolves score a second immediately. This is not going well.
As I am reading to one of the girls, William rushes in with a massive grin on the face. 'Guess what Daddy' he says. 'Has Egan scored bud?' I replied. 'He's just got a yellow card!'
'What are you looking so happy about? That's not good news'. (He owns Egan too). Very bizarre.
Already grumpy, I start to listen to the Chelsea game. Werner wins a penalty. I switch off the radio and do some ironing in front of the highlights of the 1993 NatWest Trophy Final (cricket). A while later after dinner I switch back to Chelsea. They've scored 3 goals and HertzAvis is not involved. Literally a minute after switching on, Lamps brings off our favourite car rental midfielder. Cosmic.
I end up on 40 points. The same as Salah scored if you captained him. A truly disastrous open to the season. Why am I so bad at this?
Tuesday 15 September
William wakes me up asking what the Chelsea score was last night.
'Just don't. Please just go and get washed and let me sleep'.
'Don't worry Dad' he said, 'it's only GW1'.
Thanks for reading Fantasy Football Diary 2020/21. This article was written by Cookie.
VOTE ON THIS WEEK'S CAPTAIN POLL GW2
FPL FIXTURE TRACKER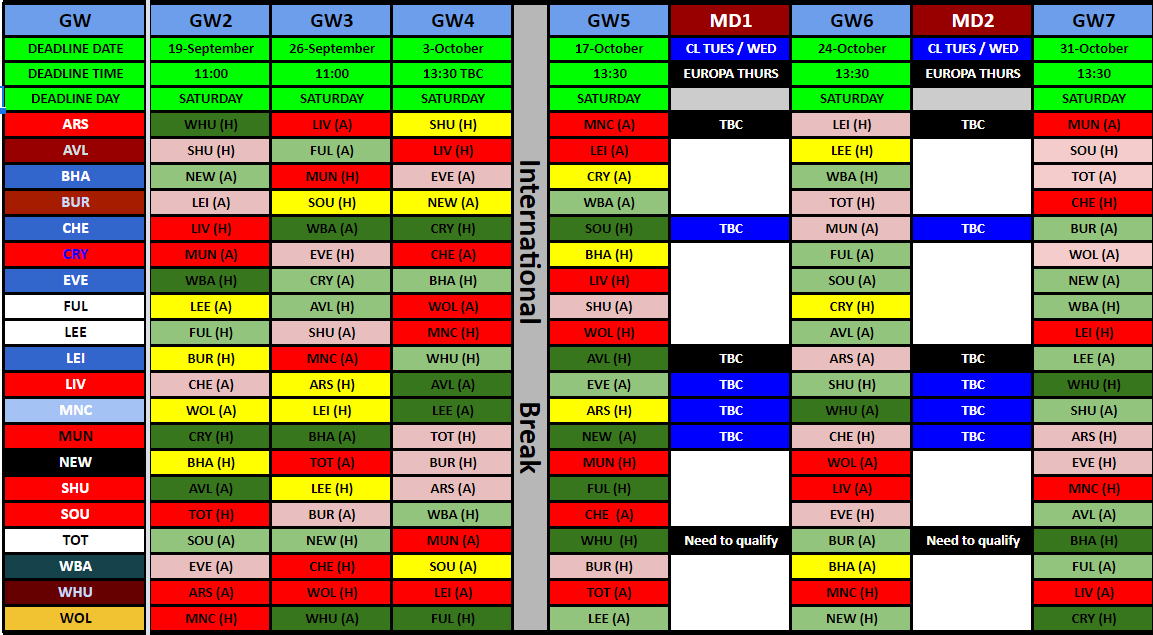 FIXTURE TRACKER LINK
For those who want their own tracker to play with, just make a copy using the link below;
Fantasy Football 247 League Codes:
All prizes must be claimed within 30 days of the final GW.