Fantasy Football Diary – GWs 9-12
Hello everyone, only me with my dreary FPL ramblings, my walk through the valley of the shadow of death at the in-laws and my continued search for meaningful employment. Or any employment for that matter! To cut a ridiculously long article short, we're still with the in-laws where we have bad days and really bad days, I'm still looking for work although things do appear to be happening and I've had a decent four weeks FPL-wise. All will be revealed if you can stay awake reading the 4-week run through below! For those who suffer with insomnia….. thank me when you wake up.

Game-week 9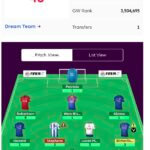 The lead up to GW9 was fairly dull again from an FPL point of view – my transfer target was Mitrovic who was entering 3 decent looking weeks of fixtures while Zaha has gone off the boil and Palace's fixtures are taking a turn for the worse.
At home a truce was called, surprisingly by father and daughter. Quite surprising, but welcome. Even more surprising was the truce lasted almost 24 hours before another father / daughter barney blew up. I think I may be part of the problem – he clearly resents me being around, but without a job I'm not sure where he expects me to go. Maybe I should just keep walking until I walk into the job he expects me to walk into.
On the work front a head hunter got in touch with me only to tell me that 1) I'm old and 2) my last 12 months revenue generation will work against me. Thanks. One more door shut. Meanwhile, two of my close FF247 buddies are trying to help – Init attempted to set me up as (not with) a checkout girl while Kop half offered me a relocation option to Wrexham. I suspect Kop and the father-in-law are in contact.
I have sent me CV to various agencies but to date, they are slow to respond, annoyingly. Searching online an option to be a trainee Air Traffic Controller and then an Intelligence Office appeared interesting until I saw the (minimal) salary for the Air Traffic Controller and that one needs a degree to be an Intelligence Officer. Two more doors shut. Three if you include the check out girl. Kop, I haven't yet ruled out Wrexham
All this takes me back to school where my brief and single visit to the Careers Officer ended with a suggestion to become a Stuntman. Seriously.
Back to FPL and it turns out that Josh King picked up an injury on international duty while Sadio Mane broke his thumb. Damn. Then Zaha is yellow flagged, he also picked up an 'international break injury'. So that's 3 yellow flags and Peltier. Remember him? He's a red flag.
Klopp reveals that Mane has trained and could feature but will be assessed closer to the time while Eddie Howe is 'hopeful' of King making it. So am I. My plan proceeds as expected – on Friday night I sell Zaha and buy Mitrovic and hope that Mane and King play.
Saturday comes and the wife and I take the kids out for a walk by the river and end up at the park – all quite nice, the kids play in the leaves, William rides his bike, the Mrs and I enjoy a hot chocolate, the deadline comes and goes. Chelsea and Man United kick off – GW9 is underway.
And then the phone beeps. A Whatsapp message from Init. '?' That's the message. What have I done now? Talk to me man, don't send a random question mark. It's the sort of thing my wife would do. Then it hits me. I've forgotten to wish him 'Good Luck' again. I try and laugh it off and then go on site and wish the poor love 'Good Luck'.
United almost win at Chelsea but are denied by a last gasp Barkley goal. Grrrrr. I don't care for Hazard and Alonso this week, I just want my team to win. They don't and Hazard and Alonso score 2pts between them, lol. At least I didn't capo Haz this week.
Talking of Captain – Kun starts at home to Burnley. Annoyingly Walker is not in the squad. Grrrr again for this is a guaranteed clean sheet for City. Kun scores early. Lovely jubbly. He then misses two straightforward chances. He may be the most captained player but plenty haven't given him the armband. No bonus pts for him. King plays but does nothing at home to Southampton. Mitrovic assists at Cardiff.
The Liverpool line-up is announced and Mane hasn't made the squad. Damnit. Salah plays and scores the only goal. A clean sheet and 2bps for Robertson sees him become my top scorer for the week. It's going to be a low one.
Sunday sees Richarlison fail at home to Palace. Zaha plays but does nothing so the move for Mitrovic looks justified.
I finish on 40pts for the week, a Game-week rank of 3.5mln and clearly below the average. Not good but my season rank remains in the top 100k (somehow) – I drop to 88,003.
Thoughts of playing the wildcard enter my head. I can't tell Kop as he will nag away at me all week until I give in and press the button. The team actually looks ok for next week so there is no real need but we'll see what the midweek Champions League & Europa matches produce in terms of injuries.
Game-week 10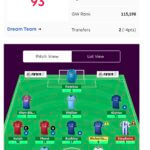 GW10 wasn't so much of a game of two halves, but rather a week of two halves. Professionally and personally there is not much positive to update, sadly.
After being told I maybe too old to return to the City, my mind had to look elsewhere and given our daily (or eveningly) situation at the inlaws I thought a bit of driving for Uber may be a good idea before something more permanent turned up. I looked online and all seemed fine so I registered and was asked to come to the Bristol office for a 'personalisation'. Perfect, I thought, I can drive during the day, spend some time with the kids around bath and bed time and when they're down I can shoot out for a few more hours, avoid the nightly arguments around the dinner table and earn a few quid. Bristol is just a 25min drive from Bath, easy enough.
When I was asked for my Private Hire Vehicle licence I knew things weren't as straightforward as I hoped or imagined. So this licence involves an application, a driving test, a medical, another driving test and then an acceptance…. all that will cost £400 and take around 12 weeks. Cosmic. Back to square one.
The rest of the week involved getting to the library mainly, where for 3 hours a day, I can tap away looking for jobs, send out my CV and play 'in-law avoidance' for as long as possible.
FPL wise and Eden Hazard has a back injury. Reports are unclear how bad it is but he misses Chelsea's Europa stroll, which he no doubt would have missed if he was fighting fit. With Salah scoring twice for Liverpool vs Red Star, the clamour for Mo to be reinstated as a 'must have' is relentless. And overpowering. A few are resisting, but with form comes the fixture with Cardiff this weekend's guest at Anfield. Is Mane enough coverage? Will Hazard play at Burnley? A late deadline means no real pressure to deal on Friday evening so I fall asleep and wake up to the same dilemna. Hazard to Salah would involve a hit due to lack of funds. Hmmmm. Lucas Moura hasn't done much lately and can be sacrificed. Leicester have nice fixtures and I've banged on about Maddison enough this season…. but I can't afford him. Damn.
Watford have 3 decent fixtures starting with Huddersfield at home and Pereyra is the obvious call, though I quite like Deulofeu as a differential – he's just back from injury and only costs 5.4mln. Tempting. Something puts me off – I think it's Watford's two away fixtures in GW11 & 12. I can't explain why but my focus is directed to Ross Barkley. I know!! He has a bit of form though having scored 13 & 6pts in his last two matches. Maybe Sarri likes him. 5.7mln – nice price. And if I have no Hazard I retain some Chelsea exposure. They play Burnley away this week and then it's Palace (h), Everton (h), Spurs (a), Fulham (h).
I bite the bullet and ignore Watford and plump for Barkley. I just hope he plays.
The deadline bell rings and my first thought, naturally, is to wish Init 'good luck'. Back in the good books.
My second thought is to check my players are actually playing. They're not. FFS. Robertson rested by Klopp and Josh King not fit for a trip to Fulham. Man alive, that's realistically 15pts lost already. Wan-Bissaka and Stephens will come off my bench. Fortunately Mane plays – his thumb must be ok, bless him.
The Saturday matches kick-off and captain Salah scores – and at approx the same time, Pereyra scores for Watford. What a dick I am. All week he was my affordable choice before I started my mind games. Damnit. I've taken a hit, I've lost 2 decent point scorers and now this. And then Deulofeu scores. Couldn't make this up.
We drive into Bath and for the first time in probably 11 years I switch to Radio 5 Live for some Saturday commentary. Just as we are parking, Mane scores. Get in! Two further assists for Salah and another Mane goal sees those two produce 45pts between them with baps included. And Liverpool concede, which makes me chuckle and softens the blow of Robbo not playing. I can almost forgive Mitrovic blanking and Patricio conceding. But I'm still annoyed about Pereyra and Deulofeu.
I have no interest in the evening match between Leicester and West Ham. Though that will change, as we are all sadly aware. First up my my mood is saddened with the news of Glenn Hoddle's heart attack and if that is not bad enough, reports emerge of a helicopter crash outside Leicester's ground after the game. Any half knowledgable footy fan knows who is 99% likely to be on that chopper. There are no words but I know I am not alone in saying all decent fans of the game are saddened when a disaster happens around a match. The team or individual is irrelevant. We all remember fondly Leicester's season of triumph and what an inspiration the Chairman was to that campaign, the club as a whole and more importantly the city. A truly sad day is compounded the next day when it is confirmed Chairman and owner Vichai Srivaddhanaprabha was indeed on board.
Life will go on for Leicester City Football Club and the family of the Chairman – his legacy demands it. And indeed it goes on for all. Including Ross Barkley. Time to stake your claim my friend. I was of course just pleased he was announced as a starter and with Alonso making up my Chelsea double up at Burnley, I don't mind admitting I was hopeful rather than confident.
Mrs C and I took the kids swimming, more 'in-law avoidance' and as soon as we got back in the car the twins fell asleep. Burnley vs Chelsea was 15mins in, so I suggested a drive so the girls could sleep a bit longer
Much to William's annoyance Radio 5 Live was again deployed but the commentary was Palace vs Arsenal. Damn. 'I want my music' was the shout by the wannabe moody teenager in the back. With no interest in Palace vs Arsenal I almost relented until the commentator announced there was a goal at Burnley….drum roll….c'mon please be Barkley, perlease! Morata has scored (grrr) but Barkley has assisted….niiiiiice, I'll take that.
The drive through the villages around Bath became more pleasant, William fell asleep, even the Mrs fell asleep. For half hour it was just FPL and me. And then, another goal at Burnley….. Barkley scored YES!!! You beauty! Barkley then assisted again, Alonso assisted and kept a clean sheet, the hit has paid off, Barkley has outscored Salah and Mane and he and Alonso, just like Salah and Mane, share 5bps.
To cap the afternoon, Richarlison assists for Everton vs United, United win and Hoddle is reported to be talking to his family. Careful what you wish for. I end the day on 81pts and a mahoosive green arrow.
Monday evening sees Man City go to Spurs – Kun does nothing which isn't bad as he is the 2nd most captained player this week while Walker keeps a clean sheet. I end the week on 93pts (net 89) and my rank has soared to 35,727 from 88,003.
Ross the Boss! Some laud me on site as an expert, those closest to me (Init, Kop, Mito etc) know better of course but it's nice when a funky move comes off, because generally they don't.
And now everyone wants a bit of Barkley……
Game-week 11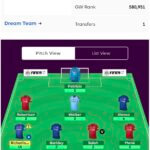 I have a plan. A FPL one, not a career one. My career is spiralling out of control with no obvious end game. Back to FPL and we all know the feeling after a good GW, the satisfaction inside and the confidence it brings. King to Arnie is an obvious transfer given King's ongoing fitness and West Ham's fixtures.
Job wise the week starts promisingly. I am contacted by De Vere Group for a Webinar. A webinar? A job as Spiderman? May the careers officer at school was right all along. I have returned to a new world. And the recruitment agency I first contacted want to meet me at last.
And at 'home', Monday and Tuesday evenings were both 'fight free'. I mean almost, the mother and father in-law still had words and shouted at each other but the Mrs and I escaped unscathed. Something will be brewing though, no doubt. It's Halloween after all.
As suspected, we come back from Trick or Treating to the mother-in-law demanding a teenager gives her a trick. The mind boggles. He only has to ask. She's been on the gin, or the vino or likely both.
Out of desperation to be out of the house and earn some cash I apply for a job at Sainsbury's! The supermarket. I know. I am granted an interview, things are looking up!! The bloke interviewing me is younger than me and looks a bit snide, but I smile and chat away. I should know either tonight or Monday.
I hear nothing.
The deadline passes – I wish Init 'good luck', of course.
GW11 begins with Man Utd's trip to Bournemouth – I have no players in this one and the week starts badly with highly owned Wilson scoring, before Martial, one of the week's more popular transfers, equalises. A last minute Rashford goal is great but my rank is going to suffer.
I recover as my only two 3pm players have it off, to coin a phrase. Richarlison and Arnie contribute 27pts between them. Back in the game. the two late kick offs don't bring so much luck with Robbo, Mane, Salah & Patricio each scoring 2pts. Back to average!
William looks like he has caught chicken pox. Great. That'll make life easier at home. No doubt the twins will catch it also.
Luckily Kun comes to the party home to Southampton on Sunday and Alonso grabs an assist and a bap. Barkley does nothing and is subbed off. Hahaha. Useless twonk.
Just Mitrovic to play and I'm on 71pts and up to 28k ish place. Decent.
We go to the doc – chicken pox confirmed. It's the poor lad's birthday this week and we'll have to cancel his party.
Mitro away to Huddersfield on a Monday night, surely, surely! Nope. Nothing. Just a booking. He'll be gone as soon as I can work on a replacement.
Still no word from Sainsbury's. Very rude. Not impressed. I mean I don't really want the job but to not let me know is pretty poor. Init's check-out girl wouldn't get treated like this. I cheekily look at Rightmove to see house prices in Wrexham but I don't tell Kop!
Anyway, I end GW11 on 72pts, a weekly rank of 580k and that produces another green arrow as I rise to 27.096.
Game-Week 12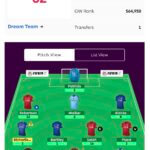 So Mitrovic has to go – I've narrowed the list of replacements down to Murray (good fixtures, on pens, Init keeps recommending him on site but Murray has never done well for me), Jimenez (1mln cheaper than Murray, mixed fixtures, 12pt haul last week) and Wilson (mixed fixtures, can't stop scoring, he let me down massively last season and I don't like him).
I go to Bristol to see a recruitment agency specialising in Financial Services. The girl is nice, we get on well, she sounds positive but nothing is immediate. I need to be bringing in some cash to get us out of the in-laws. It's keeping me awake at night. But it's nice to get out of Bath for an afternoon at least.
I apply for a job as a Trainee Mortgage Advisor in Bath – the basic wage is crap, but something, and there's commission on top if I do ok.
Still no word from Sainsbury's. ****ing rude. I email their Resourcing Team.
Meanwhile, the Mitro replacement conundrum continues in the back of my mind – it's kind of the default subject when I don't want to think about the important stuff for a minute or five.
I look at the fixtures for the next couple of weeks and check to see who is playing Fulham. Well it's Liverpool this week and then Southampton in GW13. Hmmmm, Ings enters the equation. He's cheap, he's fit, he scored vs City last week, but he plays for Southampton. The cash could be useful though. I buy him. What the hell. Home to Watford this week could work I guess.
An opportunity of a job at a new property company becomes a possibility after a referral from a friend. Not exactly my background but it could be good. A couple of conversations are had and they will come back to me over the weekend with an offer. Things may be looking up.
Richarlison is a big doubt for Sunday's match at Chelsea while Barkley played 90mins in Europa on Thursday so he defo won't start vs Everton.
I'm all set for the game-week, with 10mins to go I ensure Salah has the armband and my bench order is right. Stephens, Wan-Bissaka, Peltier. Cool. Could be important if Richarlison and/or Barkley don't feature. Let's go.
The customary 'good luck' message is relayed on site with no need of a moody '?' message from Lord and Master Init.
No real interest in the early kick-off unless Stephens comes off my bench. Stephens gets red-carded after 33mins. No. No. No. Of all the people. Of all the weeks for it to happen. FFS.
The 3pm matches see only Arnie and Ings appearing for me. Arnie at Huddersfield and Ings home to Watford. We've taken the kids to the park – it's a big park with loads to do yet one of the twins still wants to be carried around, hampering my minute-by-minute score check on the mobile.
I stick her on the swing and get the phone out. A goal at Southampton…..please, please, please. Gabbiadini scores. Damn. But it's an assist for Ings. I'll take that. Like any over-obsessed FPL addict my thought process is now, 'if he can just get a goal himself he'll get 3bps and what a purchase he's been'!
Sadly life doesn't always deal us the hand we want. Don't I know that. Ings is subbed off on 39mins. Cannot believe this. To compound matters, Arnie goes down injured and every time I hear that I'm expecting him to miss the next 14 matches given his medical history.
Arnie recovers but does nothing in a 1-1 draw. Ings somehow is on for 2bps after playing less than a half. Weird bps but I'm not arguing!
Palace vs Spurs holds no interest apart from hoping Trippier concedes and Kane blanks as both are very highly owned. Trippier doesn't concede but does limp off after 23mins. Now I really don't wish any player an injury, but I have to admit a smirk appears on my face. An assist from Kane is fine, it's minimal. I end the day on 8pts from 2 players.
I receive an emailed job offer on Sunday – I always knew the basic would be low with very good commission bonuses on offer. I think about it for a few hours while walking with the kids and reply to see if they can up the basic very slightly on the basis of the higher the basic the quicker we can escape the house of horrors and get our own place to live.
FPL Sunday is all about Richarlison and Barkley. I need them both on the pitch….at some point. But first up Liverpool ease past Fulham – Salah (c) scores, Robbo adds an assist to his cs to collect max bps, while Mane fails. Two out of three ain't bad.
Richarlison starts! Tick. Barkley as expected is on the bench. The game appears dire but it's irrelevant, with 10mins to go Sarri has made 2 subs and Barkley ain't one of them. Come on mate, don't do this. I don't need Stephens and his negative points coming off the bench.
And then, as if by magic (Mr Ben fans will appreciate that), he appears to not only grab me a point but consign Stephens back to the splintered bench. It's the greatest 1pt cameo ever.
The game-week ends with the Manc derby and Arsenal vs Wolves. Sadly Patricio concedes a late goal while Kun scores vs United (bitter sweet). Martial's goal is good for his owners and kills my Walker cs.
I end up on 62pts – it's been a strange game-week but the score is ok – a weekly rank of 564,950 and a 3rd successive green arrow which sees my rank climb to 22,191.
I finally hear from Sainsbury's – I didn't get the job. Hahaha. The shame. I can get a job as a mortgage adviser and possibly in a property company but I can't get a job in a supermarket. Funny old world.
The international break awaits, so I'll sign off for now and try and get the work situation in better shape. Speak to you all soon!
Thanks for reading Fantasy Football Diary – Game-weeks 9-12. This article was written by Cookie
FPL FIXTURE TRACKER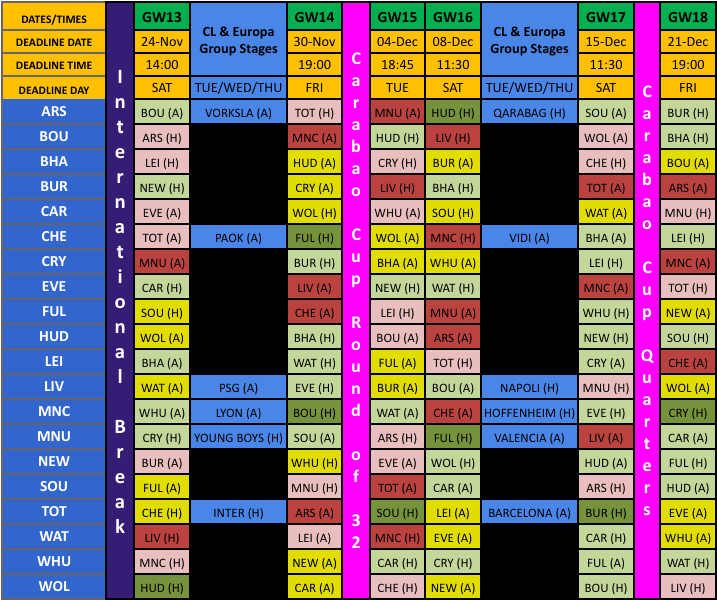 FIXTURE TRACKER LINK