Fantasy Football Fixture Analysis Gameweek 1
It seems an age away that we watched Man City clinch the league at Brighton in May, but however you have spent your summer thus far, it's almost time to stop the tinkering and make some firm decisions for the new season. With just days to go until the deadline bell for GW1 rings and gets the 2019/20 season underway, we kick off our usual set of weekly articles with a look at Fixtures – who is hot, who is not and an extra GW1 supplement as we snapshot each remaining team.
Favourable Fixtures
Liverpool – Norwich (H), Southampton (a), Arsenal (H)


The fixture generator has again been kind to Liverpool as they attempt to win their first Premier League. An opening trip to Anfield on Friday evening is not the start that Norwich would have dreamed about as they make their return to the top flight, but for Klopp's men it represents an early chance to not only top the table but show the rest that they mean business once again. A GW2 visit to the south coast will not only offer half their squad a nostalgic trip to their past, but also it'll give us managers an idea as to whether Liverpool can reproduce their form of last season.
With Arsenal showing their usual defensive frailties thus far in pre-season, GW3 should hold no fears for the scousers either and with a trip to Burnley in GW4 followed by the visit of Newcastle a week later, personally I'll be surprised if Liverpool don't return maximum points from their opening quintet of matches.
Man City – West Ham (a), Spurs (H), Bournemouth (a)


The machine that is Man City looks likely to be the team to beat once again as Pep's men aim for a hat-trick of titles. While the fixtures may not appear to be as straightforward on paper as Liverpool's, away trips to West Ham and Bournemouth should hold no genuine fears. Spurs' visit to the Etihad in GW2 may prove more of a challenge but City will have revenge on their minds having been dumped out of the Champions League last term by Poch's boys. Even if Spurs do upset the apple cart, GWs 4, 5 & 6 sees fixtures vs Brighton, Norwich and Watford – I'm assuming that rotation holds most fears for us here and that, together with premium priced players may just stop most learned FPL managers maximising on both City and Liverpool.
Everton – Crystal Palace (a), Watford (H), Aston Villa (a)


Despite some mixed form in pre-season, The Toffees should be approaching the start of the season with confidence and expectation given that they finished the last one so impressively, they have finally spent some cash on a striker and their opening set of fixtures look pretty enticing. A trip to Selhurst may not appear as an obvious 'wow' opening day fixture but bear in mind that Everton are unbeaten in their last nine vs Palace and if they achieve their target of acquiring Wilfried Zaha then the opposition is immediately neutralised to a large degree. Everton then host Watford but a trip to Villa awaits in GW3. There is not much to fear for the Toffees until GW7 when they host the champions and they don't go to a top six ground until the derby in GW15.
Everton have plenty of FPL options with Coleman, Digne, Kean, Siggy and Richarlison and so some coverage looks advised from the off though owners may be concerned with the lack of goals in pre-season. Maybe the arrival of Kean changes that when he settles in.
Arsenal – Newcastle (a), Burnley (H), Liverpool (a)


There are a number of teams that I could have included in this slot – namely Bournemouth or Watford, possibly even Chelsea. However, given that Arsenal have just signed Nicolas Pepe to team up with Aubameyang and Lacazette up top, I am confident that scoring goals should not be an issue for the Gunners – stopping them going in may be a problem, but hey ho, nothing changes there. The Gunners kick off at Newcastle and that's about as good as it gets right now and then they host Burnley at the Emirates – Arsenal did the double over the Toon last season and they've won their last ten vs Burnley.
GW3 does see a trip to Liverpool which will clearly be tricky but then they face a whole series of games through to GW17 where you would expect them to score. 'Get some attacking cover if you can and avoid the defence' appears to be solid advice if you ask me!
Unfavourable Fixtures
Newcastle – Arsenal (H), Norwich (a), Spurs (a)


It's not a fun time to be a Toon fan. With the knowledge that your club's owner cares more about cheap jogging bottom sales than what should be his prized asset must be disheartening. To then allegedly spark false rumours of a fantasy buy-out every other summer must become tiresome. To then fail to appease the best manager they are likely to ever attract and to lose him to the Far East spells short term gloom until the Fat Man (the owner not the ex-manager) buggers off.
To compound matters they have lost last term's big performers and the first five fixtures sees trips to Spurs and Liverpool and the visit of Arsenal in GW1. No Rafa, no Perez, no Rondon = no chance.
Norwich – Liverpool (a), Newcastle (H), Chelsea (H)


Any newly promoted club can only hope for any help they can get as they attempt to lay the foundations to try and fight off the threat of relegation. Sadly for the Canaries the fixture computer wasn't playing ball and has handed them a trip to Liverpool first up. Having felt sorry for them they were then awarded a plum home tie with the above mentioned no-hopers, Newcastle. The joy, however, was short lived as GW3 sees a visit from Chelsea and then City come to Carrow Road in GW5. Sandwiched inbetween is a trip to Watford.
A quick glance at the rest
Aston Villa – tough opener at Spurs, is followed by a run of half-decent fixtures where they would be realistically looking to pick up some much needed points. Possible value in mids or Wesley.
Bournemouth – great opening two fixtures vs Sheffield United and Aston Villa should result in strong fantasy interest, but their fixtures turn from GW3's visit of Man City, so beware.
Brighton – a new manager has led to optimism and I see plenty of comments about decent opening fixtures. It's true that they only face one top 6 side in their first six (Man City at the Etihad in GW4) but fixtures vs Watford, West Ham and Southampton are not gimmes, so I'd exercise caution unless you want Ryan's save points.
Burnley – fixtures vs Arsenal, Wolves and Liverpool in GWs 2-4 scream avoid to me though Pope should return plenty of save points and Gibson could be a possible 4.0mln starter at the back.
Chelsea – the enigma of the division for me. A tough open vs Man Utd and Leicester should give us an idea of Lampard's set up and plans. Fixtures turn for the better in GW3 – get ready to jump on the bargain Blues.
Crystal Palace – a real mixture ar the start for the Eagles – much will depend on whether they can keep Zaha.
Leicester – fixtures not great to start with as they face Wolves, Chelsea, Man Utd, Spurs and Liverpool in the first eight weeks – the capacity to score remains but I wouldn't go overboard just yet. Perez as a 6.5mln mid will be popular as will the perennial Vardy.
Man Utd – a tough start vs Chelsea and Wolves comes before a turn of fixtures from GW3 – much will depend on whether United can learn to beat the lower placed teams and how well Maguire settles the defence. The possibility of Martial playing up front could offer great 7.5mln value but like Chelsea, maybe its better to watch and observe early doors.
Sheffield United – avoid unless you need cheap fillers. Fixtures are rubbish, especially from GW4. Lundstram (4.0mln defender) has been playing much of preseason in midfield, fyi.
Southampton – Liverpool & Man Utd in GW's 2 & 4 are mixed in with good fixtures through to GW6.
Spurs – a dream GW1 fixture vs Villa is followed by a trip to Man City. After that things improve and we'll all be looking to jump on board Kane, Son or Eriksen and possibly a defender where Walker-Peters offers great value at 5.0mln if he can make the right back slot his own.
Watford – three decent fixtures in the first four before things turn in GW5 – may find some joy early doors but look to offload in GW5.
West Ham – fixtures look great from GW2-GW5 but the question remains, 'Which West Ham will turn up?' Goals have been shared around in preseason while clean sheets have proven hard to come by.
Wolves – a tough start with Leicester, Man Utd, Everton and Chelsea all appearing in the first five game-weeks. Avoid for me, yet Jimenez remains popular though he did pick up a knock while scoring twice on Europa qualifying duty so monitor presser news.
Thanks for reading Fantasy Football Fixture Analysis Gameweek 1. This article was written by Cookie.
FPL FIXTURE TRACKER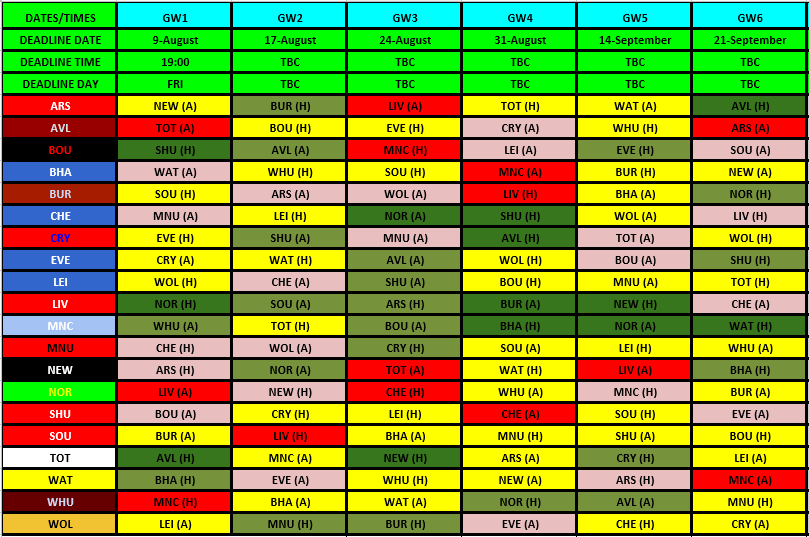 FIXTURE TRACKER LINK
Fantasy Football 247 League Codes: