Fantasy Football Fixture Analysis Gameweek 13
Today is a good day. Disney+ came out today, and I've been watching classic cartoons from my early childhood all morning. This isn't an ad for Disney, I'm just trying to let you into my frame of mind right now. I'm in a genuinely good mood. Who knew I needed to see some classic Daffy Duck again? Just watching Daffy beat his nephews for no good reason really took me back to a simpler time, a better time.
And then I knew I had to sit down to write this article and praise Liverpool and trash on Everton for a bit. Oh well, maybe when I'm done writing this article, I'll watch Dumbo's mom get whipped and then watch Bambi's mom die. Surely that will be more cheerful than having to put Liverpool up on a pedestal once more.
FPL FIXTURE TRACKER
But first up that all important Fixture Tracker itself…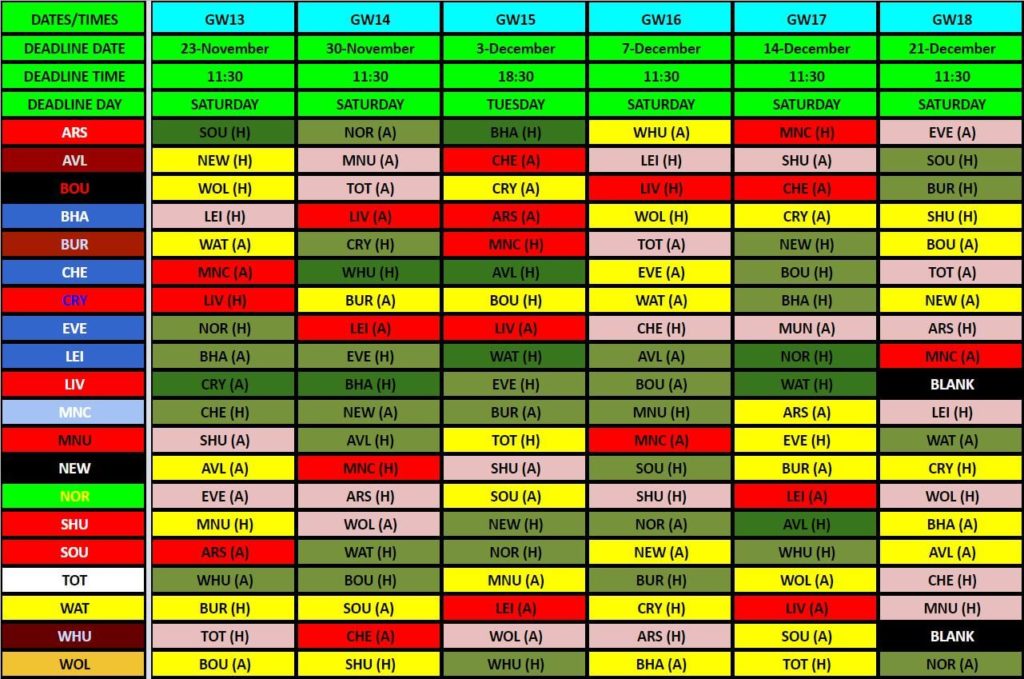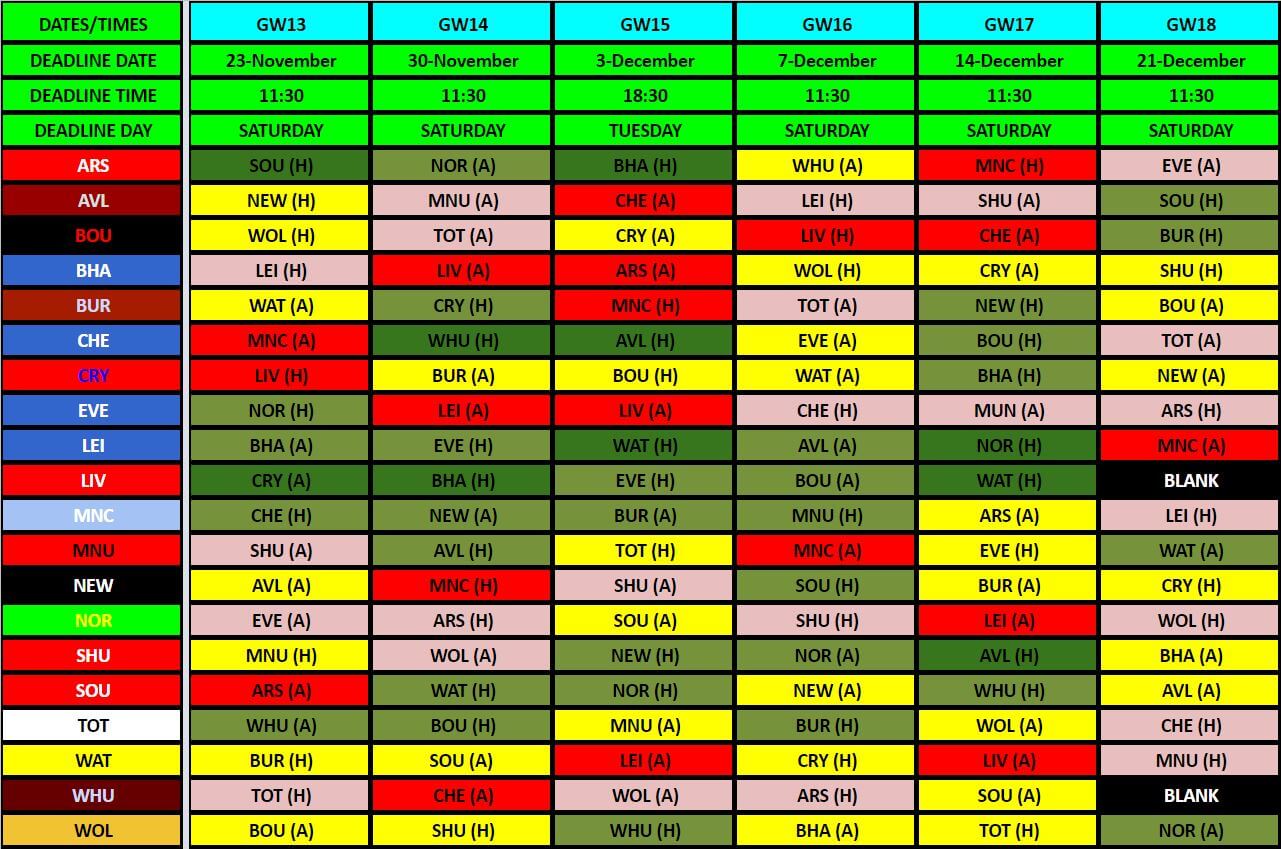 FIXTURE TRACKER LINK
Best Fixtures
Liverpool – CRY (A), BHA (A), EVE (H)

Liverpool are pretty great this year, no? Nothing I do seems to have any effect on their outcomes. I compliment them in hopes of jinxing them, and they win. I try to say disparaging things about them, and they win. If I try to ignore them completely, they still win. One might start to think that I, Guy Sanchez, really don't have any control over what happens to Liverpool at all. But that can't be right. If one lone Everton-loving voice from across the pond has no effect on the Reds in any way, then we're all doomed.
It's time to face facts, this Liverpool team have now proven that they're the team that will win the title. They completely wasted City last round, and it wasn't even close. You can blame VAR all you want, but City weren't going to win that game, not even if they were given an extra penalty to try to mount a comeback. Things just can't go wrong for Liverpool. Hell, even now when facing a minor injury crisis (Robertson, Salah) – they somehow managed to fit that crisis into an off-week so that they can all get right again. It's just not fair.
Regurgitating stats about how great Liverpool have been isn't what this article needs. Suffice to say, they've been more than decent. Here's what I will tell you, I feel good that Liverpool will win their next three matches by a total score of 9-1. I'd like to be able to think that they could win against Palace 5-0 and Brighton by 4-0 whilst losing to Everton 0-1. But odds are they put up 3 goals or more against each – and at some point they'll probably concede the single odd goal en route to maintaining two clean sheets. This prediction brings me no joy, but I'm not overly worried about being proven wrong here.
Leicester – BHA (A), EVE (H), WAT (H)
Poor Leicester. On a year when they're primed to make another miraculous run, they're caught staring up at an unbeatable Liverpool side. But let's be fair, the ONLY team that Leicester have to stare up at are Liverpool. Nobody saw Leicester being quite this good nearly a third of the way through the season, but their second place position is well-deserved. Their goal differential is second best in the league (+21) and they've conceded the fewest goals of any team in the league (8). For all the Twitter doom and gloom that surrounds this team every time transfers come around, they continue to defy expectations.
"Vardy won't score this round, don't @ me".
"Leicester haven't played anybody yet."
"Look for Maddison to disappear against (insert name)'s defence."
You've all seen variations of these tweets and comments. But they've all been rubbish. Maybe Leicester haven't played anybody worthwhile (and outside of Spurs, maybe you'd be right), but they're absolutely demolishing the lesser competition, so what does it matter? Against this schedule coming up, it should be more of the same for this squad. Two home games and an away trip against Brighton – they could mimic my predicted scoreline I gave to Liverpool when all is said and done.
Arsenal – SOU (H), NOR (A), BHA (H)

This team is a bit of a surprise to me. For all of the talk about Emery's lack of leadership or playing style, the dust-up with the team captaincy, and the team's general recurring bout of 'little man syndrome' in the larger scope of what constitutes the league's Big 4 – Arsenal have somehow found themselves nestled into 6th place in the table despite all of these distractions. I couldn't believe it either. When Evertonians bemoan their lot in life, you can look at their 15th place position and concede they have a real grievance. You shake your head and pat them on the shoulder and go about your day, thankful that you never loved a club that can't love you back. But these Arsenal fans…c'mon now. 6th place and you all act like the sky is falling?
I know, the Gunners expect more from themselves. I get that. But the season is far from lost, and this stretch here is the perfect place to get right. I'm not selling you any BS here – Arsenal have a definite chance to take 9 points from these next three games. Southampton and Norwich are in 19th and 20th place, respectively. Brighton aren't bad, per se, but they aren't stocked up in the same way that Arsenal are.
I'm not the advice guru – believe me, my OR in the game is so bad that I'm surprised that they even let me have a login on this site still. But if you were ever going to look for a differential pick in the attacking department, playing an Arsenal man against the two worst teams in the league might be a decent shout.
Teams to Avoid
Brighton & Hove Albion – LEI (H), LIV (A), ARS (A)


Brighton have been punching above their weight thus far. And their fans will be happy that the team is relatively safe from the relegation battle. But there's no way that Brighton are still in 11th position in the table when this run of games is finished. Somebody just award Leicester and Liverpool the 3 points already. No way does Brighton get a result out of either game. The best Brighton could hope for is a draw against Arsenal, but like I just said above, Arsenal will be riding a wave coming off two easier games. I may pour a preemptive sip on the concrete for poor Brighton here after writing this article. Just bad luck getting this schedule at this point in the season.
Everton – NOR (H), LEI (A), LIV (A)


Everton might have the Norwich game circled on the calendar as a gimme game. But with the way that Everton have played lately, maybe Norwich have Everton circled on THEIR schedule in a bid to get out of the cellar. Knowing Everton, they'll play down to the level of competition and probably give us a 1-1 draw with Norwich. And then after that, away to Leicester and Liverpool? No chance.
This all reminds me of when we'd be playing outside with my Pop as kids. We'd play Cops and Robbers, Cowboys and Indians, etc. Sometimes he'd join in with us. We used to have these stock piles of dirt clods saved up to use as 'grenades'. When you'd throw the dirt clod, they'd make this great little puff of dust – and if you had a puff of dust come off you, everybody could see you'd been hit. My Pop had an arm on him, and he'd get really into the game sometimes. And man alive, he'd chuck that dirt clod at us from 30 yards away, and BAM, pinpoint accuracy right to the chest. And then my pop would yell in a quasi-Eddie Murphy voice: "You're dead! Lay down, because you're dead, man!"
And that's the message I'd like to send to Everton now. You're dead. Lay down, because you're dead. We have no hope here. Now if you'll excuse me, I'm going to watch Simba paw at Mufasa's lifeless body to cheer myself up a bit. Cheers.
Thanks for reading Fantasy Football Fixture Analysis Gameweek 13. This article was written by Footy Fantastic (Guy Sánchez).
Fantasy Football 247 League Codes: