Fantasy Football Fixture Analysis Gameweek 13
Welcome to Fantasy Football Fixture Analysis Gameweek 13. And welcome back to your usual FPL articles again ahead of GW13 as we finally put the pesky International Breaks behind us once and for all for 2018 and concentrate on a prolonged period of GW's which will see us go uninterrupted all the way through to GW21 now. Man City vs Liverpool fittingly sees us out on the 3rd January after we've basically done nine GW's in about five and a bit (actual) weeks. It's going to be intense and hectic and it often sorts out the serious FPL players from the casuals, a bit.
The main 'madness' of GW's falling all over each other doesn't actually start until about GW18, although we do have a mid-week one in GW15 which begins on Tuesday 4th December at 6.45pm. Get a diary planner is what we are saying, basically.
It's probably worth noting at this point that the deadline passes for playing your 'phase 1' Wildcard (if you still have it) within the massively heavy section of this period: specifically at 2pm (UK time) on the 29th December. Or in other words; play it before GW20 or lose it.
Enough of the housekeeping duties anyway and on to the short to mid-term fixtures for the time being. And I have some issues to address along the way!
The purpose of this article is to point out which teams have favourable (and sometimes not) runs of fixtures, based upon their own current form and the strength and form of their opponents. And I'll be honest, there's very few who fit in either of those categories for favourable runs of at least 3 or more games. I could however go on for ages about why you shouldn't buy players from at least 12 teams, maybe more, at least given the criteria set out above. But I won't. There are a good few who have semi decent runs over an extended period, perhaps excluding the odd 'blip' so I shall focus on the positives alone, whilst simultaneously pointing out their flaws…
Let's crack on then and try to guide you through the next few weeks of relative calm before the promised land of mayhem, madness and inevitable rotation arrives…
And just for fun we shall rank them in terms of preference too.
The all important FPL FIXTURE TRACKER itself…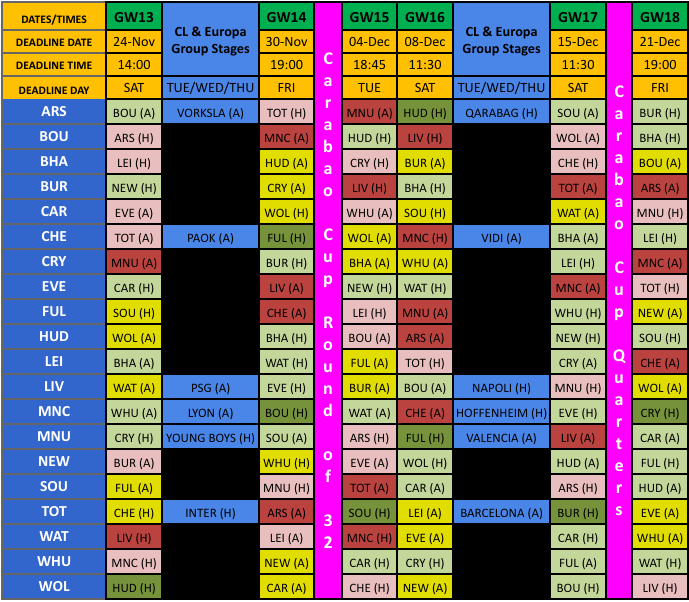 Favourable Fixtures
1. Man City – West Ham (A), Bournemouth (H), Watford (A)


I'll begin with my safe hand here then. Jose described their previous fixtures against Southampton and Shakhtar as 'friendlies', ironic given the training ground exercise of a goal they scored to secure the Manchester derby… He's the gift that just keeps on giving right now, but not for the right reasons if you are on the red side of that particular city.
That Shakhtar result in particular illustrates just why City will probably headline this article from here until the end. They absolutely hammered them, a seasoned and respected Champions League team, and yet barely anybody even batted an eyelid that they actually had. And it wasn't even their first team, or at least a full one anyway.
We could talk you through stats aplenty on both City and their opponents but what's the point, realistically?! They'll probably win them all and the only questions really will be by how many and who actually plays, neither of which we can answer.
Just to satisfy our statto's though, before they switch off in mass disgust and go back to watching Pointless, here's one to think about – City are on 36 goals so far, that's 114 pro-rata if they keep it up. They broke records last season with 106. I doubt they will quite hit that but you never know and that alone should be enough to make you stop and wonder why you only have one of them in attack, if you do.
2. Everton – Cardiff (H), Liverpool (A), Newcastle (H)


Not quite 'stretching the barrel time' just yet but we are only two teams in and already we are relying on just two out of three fixtures to be good. But good they are, and Everton are showing signs of improvement with four wins and a draw at home. Both Cardiff and Newcastle are winless away from home and the 4th game is also at home (to Watford) so perhaps a quick jump on some Toffee assets may be wise, short term. Liverpool away splits our featured three games which of course is unpredictable, at best. A word to the wise though, after Watford they then face Man City and Spurs back to back, so as I say it may be a case of jumping on and then off again, but it could be a short ride, with benefits.
Now then, we aren't allowed to encroach on actual player picks on this article, in case it undermines either our Captain Picks or Player Tips articles, but I feel the need for a bit of an intervention here as I've seen a certain Everton defender mentioned a number of times as a possible transfer in this week. For the sake of argument then lets call him… 'Sean G Lucid'. Sean came in from a European giant, and despite his recent claims that they really, really didn't want to let him go, they did. He's already starting to come across as a smart cookie, is Sean. Add in that he clearly shared the same barbers as Everton's last 'bright young thing' recruit from said giants (Deulofeu), I'm getting the impression that we have yet another 'legend in his own mind' on our hands here. Clawing it back to FPL then, and his prospects, yeah sure they have some good fixtures ahead, and his 'stats' say he's the best in the business right now at successful (whatever that means) crosses but the reality is that this bloke looks bloody dreadful in general play. He was by far the worst player on the pitch in the recent draw with Chelsea and I caught the Soccer Saturday panel on Sky joking about him consistently not clearing the first defender with his crosses the previous week. Only trouble is, they weren't joking. Anyway, I wouldn't touch him, but I can't even say who he is so move along, nothing to see here and all that, but if you're still intrigued I'll leave you 'A Dig'n (for) Clues'… (*cue two assists and a clean sheet this week! Not that it'll matter though as I didn't name him…)
3. Wolves – Huddersfield (H), Cardiff (A), Chelsea (H)


On the strength of their next two fixtures alone Wolves probably deserve to be a lot further up this list. Hand pick any next two games and it'd probably be Huddersfield and Cardiff. Fill your Wolves shaped UGG's whilst you can then as it's then Chelsea next for them but beyond that one it still looks OK ish as they have Newcastle and Bournemouth up next.
4. Brighton – Leicester (H), Huddersfield (A), Crystal Palace (H)


Brighton: DUNK. That's probably the first name that everybody thinks of when they see 'Brighton' right now, from an FPL perspective anyway. And rightly so, he's got two goals in the last two games. Fun fact(s) though, before everyone goes all Joleon Lescott on him: His centre back partner Duffy has more points than him this season. As does Mat Ryan. As does… go on, have a guess. It's Murray, of course, but it does also remind us of a great little aside that Mito posted the other day on here –Name the top 3 FPL scorers for each team… I'll be honest now, I flunked this massively, I got 42 on my first go.
Beyond the 3 mentioned above Brighton then have Burnley away which may be OK, but then it's Chelsea, Bournemouth, Arsenal, Everton and West Ham over the Christmas period. Dunk and Duffy would have to be at their very best to be getting clean sheets against that lot. It's probably a four week run then, and exit stage left, if you can.
5. West Ham – Man City (H), Newcastle (A), Cardiff (H)


NOT THIS WEEK! But beyond that you are OK. Probably more than OK in fact as they don't then face a 'top six' side until after Christmas with a run of the above plus Palace, Fulham, Saints, Burnley and Brighton. Grin and bare it this week against City and then you have a clear run, basically.
6. Newcastle – Burnley (A), West Ham (H), Everton (A)


Yeah, we wish it was a better team that had this run of fixtures too but they have the above plus Wolves, Huddersfield and then Fulham. Buy with caution though as a Christmas gift they are not, the festivities end before they even begin at GW19, as they then play Liverpool, Watford and Man United over Christmas.
One Week Punt
Fulham v Southampton


Dilly ding, dilly dong. A new manager bounce? You'd have probably fancied Fulham anyway in this one given how bad the Saints are but inject a bit of Ranieri and Mitro and co look all the more enticing.
It's purely a one week punt though as they then face Chelsea, Leicester and Man United in their next three.
Thanks for reading Fantasy Football Fixture Analysis Gameweek 13. This article was written by inittowinit
Welcome to our Fantasy Football leagues section.
The League Codes for FF247 for the 2018/19 season are as follows –
Thanks to our friends Follow @ff_surgery and please give them a follow.