Fantasy Football Fixture Analysis Gameweek 14
Welcome to Fantasy Football 247 Fixtures! Well, this week was fun, to say the least! City and Chelsea played out a decent battle, Liverpool remain nine points clear even if VAR dominated the game once again, and then Man United nicked a draw against the mighty Sheffield United. This weekend was also dominated by the sack race heating up, with Spurs getting a new manager and leaving Mauricio Pochettino a free man. It seems all owners are getting an itchy trigger finger and I don't think it will take much to spark a manager merry-go-round. This article will look at some abysmal sides and some top sides who a lot of people don't have much stake in but this could change, and if you are going to grab any player from these teams, now would be the time to do it. So, without me waffling on anymore here are my picks.
Teams to grab

Spurs – Bournemouth (H), Man Utd (A), Burnley (H)
The Special, Humble, Happy One is back! I don't know what he is calling himself these days but José has made another return to the Premier League and has gotten off to a winning start in a London derby – and it was an away game! Give him a statue alongside 'Arry' Redknapp. All jokes aside, I don't know what to make of this appointment as it's bound to end in ructions, with Eriksen leaving the club and possibly more with him; all before Jose gets a nice severance package in about two years. Like I say though, he did start his reign with a 2-3 win over West Ham so he is inspiring goals and this should continue with the next few fixtures.
First is a visit of a Cherries side who aren't exactly scoring freely. This should mean a nice clean sheet for Gazza, Aurier and co. The other end of the pitch is where we are more interested as Kane, Son and even Alli had a brilliant game at the weekend which has seen a lot of people jump on the Son bandwagon. I hope this continues as I would feel even more sorry for Poch if Spurs were still crap even after he was sacked. After the visit of Bournemouth, Jose returns to his old stomping ground, Old Trafford to face a Man United side that are all over the place. The match against Sheffield United was a terrible display by the Red Devils but honestly, I'm not complaining. It was refreshing to see the Blades cut through the United team as Graeme Souness would say Barcelona do on the regular. Now I am not calling Oli McBurnie 'Messi' but Spurs do have a lot more quality to offer than Sheffield do so this could be a big game for Jose to stick a massive middle finger up to Ed Woodward (but I don't think anyone would care!).
Lastly, Spurs get a visit from Burnley which could be a very tight affair as the Clarets are being pretty solid at the back as of late and this could end up a 0-0 draw if Nick Pope is in top form.

Chelsea – West Ham (H), Aston Villa (H), Everton (A)
Chelsea are going to feature heavily in this article, so I felt it was only right to put them in the 'good' section. Lampard's men have been brilliant lately and even against City they didn't play half bad. Granted I didn't watch too much of the match, but it seemed like they played well? I would be springing for some Chelsea cover if you already don't have any. The likes of Abraham, Pulisic and Willian are tearing it up lately and at much lesser prices than Son, Sterling and Salah I would possibly bring in a double up. Especially with the defences they are about to face.
First up is Roberto and West Ham and as you may know Roberto is a poor man's Kyle Walker. The West Ham fans even had a petition going around asking for the West Ham board to sign Walker on an emergency loan because of how little faith they have in their goalie. This should only put a massive smile on the faces of the Chelsea forwards as it could be a riot if they have their shooting boots on.
Next up is a slightly tougher opponent as Villa make the trip to Stamford Bridge. This should be a win for Chelsea, but Villa are an unpredictable team and if they show up, they could nick a point against the Blues. After the visit of the Villains, is another easy game for Chelsea against Everton who are hard to describe right now. They are in the bad section along with West Ham and you will see why if you keep reading. The Blue side of Merseyside are really struggling this season and I don't even know why. They are one of those teams that spend like crazy, bring in some nice players but then can't put it together and make a go of it. If I am wrong please let me know but I wouldn't be too worried if I was a Chelsea player or supporter going into this game.

Wolves – Sheffield Utd (H), West Ham (H), Brighton (A)
I kind of struggled to pick a third team to put here and was slightly tempted to create LiverCity and tell you to get players from both these sides but I had Init in my head calling me a tosser so decided not to do that and just pick one of the twenty teams available. This then meant Wolves came into the 'good' section and rightly so! Wolves are playing well right now and have moved into the Europa League spaces after a rocky start to the season but it seems Nuno Espirito Santo has steadied the ship and got them firing on all cylinders again. In fact, I was only reading that Santo is the bookies favourite to be the new Arsenal manager. Personally, I would stay at Wolves but I'm not a good football manager! The next few fixtures for Wolves could be a mixed back as they face a team that is flying high, a team that is sinking fast and another team that is just floating around the league minding its own business.
First is the match which could be an absolute cracker as Wolves and Sheffield face off at Molineux. This match could see plenty of goals and I am strangely excited to watch this game as these two teams are brilliant sides for the lack of money they have compared to the top six! After that game, should be an easy win for Wolves as they face West Ham who like I say will feature heavily in this article, so I won't say any more on them. The visit of West Ham is followed by an away trip to the seaside as the Wolves face a flock of seagulls which should be a delicious meal for the four-legged beasts. Brighton are quietly going about their business and could get a draw or spring a shock on Jimenez and men but really, I would put my money on Wolves getting the win here and Jimenez grabbing some sort of attacking return.
Teams to avoid

Everton – Leicester (A), Liverpool (A), Chelsea (H)
This section pretty much writes itself! Everton are all over the place in recent weeks, Marco Silva is on the outs with pretty much everyone and he's going to need a Christmas miracle to survive the mayhem. Sadly, for Marco, I don't see any North Star shining in the sky to lead him and his band of Wise men to the Messiah. Everton are about to embark on a journey that sees them play the current top three teams in the league; Leicester, Liverpool and Chelsea. That really should be enough said with the form Everton are in but alas, I must write more about the woes of Everton.
Not only do they play the top three in their next three games, but the next two are also away fixtures! A trip to the King Power sees them come up against a rebirthed Leicester side who are looking even better than their title-winning team. I feel that there is more all-round quality in this Leicester team under Brendan Rodgers and I thoroughly enjoy watching them. Next for the Toffees is another sticky situation as they face table-topping Liverpool in the Merseyside derby. The form both sides are in should see Liverpool win but I'm sure they won't make it easy for themselves! Lastly, a visit from Chelsea could see a third loss on the bounce. It could also be the last straw that breaks the donkey Marco Silva is riding and see him get the sack. Only time will tell but I suggest if for some reason you still have Everton players to sell them just in time for Black Friday.

West Ham – Chelsea (A), Wolves (A), Arsenal (H)
The two teams in this section are nearly carbon copies of one another. Both teams struggling, both managers looking for a miraculous recovery from somewhere and both sets of fans calling for a change in regime. I'll be perfectly honest here I wasn't keeping much of an eye on West Ham and just assumed they were plodding along around the 12th place spot. This weekend, however, I noticed just how abysmal the Hammers have been and have not won a game since GW6 against Man United and only picking up two points since, I can see why the fans want Pellegrini's head!
The next run of fixtures does not get much better for West Ham as they face a London derby with the trip to the Bridge to play a young, high-flying Chelsea side that just look like they could be getting better and better. When Lamps was announced as having the Chelsea job, I was sceptical, but I am glad to say I was wrong. He has come in and used the vast wealth of youth available to Chelsea with their 7,000 young players not being loaned out and the likes of Abraham, Mount, Tomori and Gilmour all getting game time and playing well. This is a breath of fresh air and I really hope that Lampard doesn't just start splashing the cash when this transfer ban ends. After the trip to Chelsea, West Ham face another away trip this time to Molineux to face a Wolves side that are on the up having not lost since GW5 to Chelsea. Jimenez is banging in goals for fun right now with four in his last five and I don't see West Ham stopping him with Roberto between the sticks. Lastly, there could be light at the end of the tunnel for West Ham as they face fellow strugglers Arsenal who the less said about the better. They want Emery gone, AFCTV is in meltdown and the players don't even seem to want to celebrate when scoring as they know it is just tying lifelines to their gaffer! I would still avoid the Hammers just in case Arsenal turn it around.
FPL FIXTURE TRACKER
But first up that all-important Fixture Tracker itself…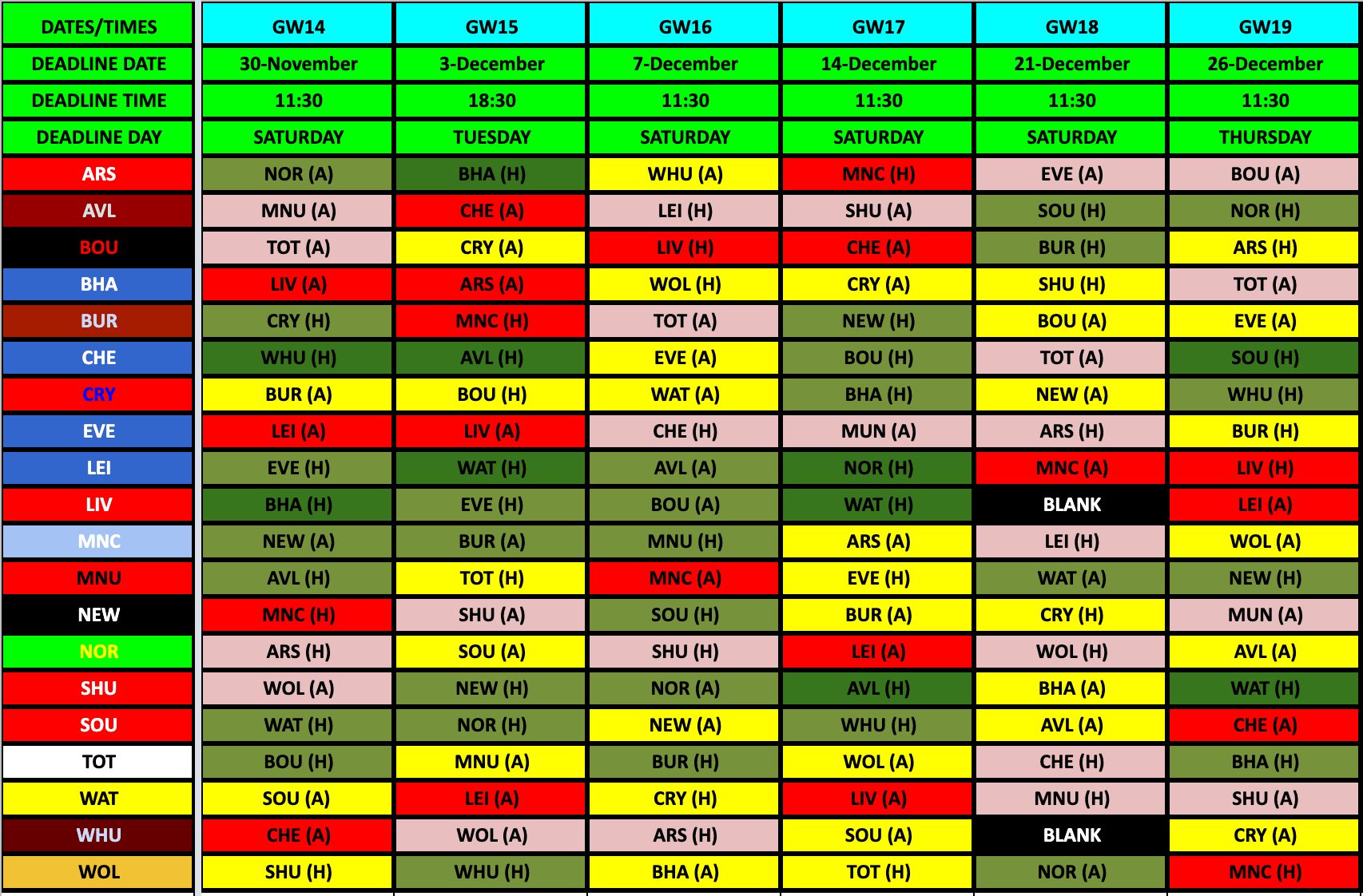 FIXTURE TRACKER LINK
Thanks for reading Fantasy Football Fixture Analysis Gameweek 14. This article was written by Matt.
Fantasy Football 247 League Codes: