Fantasy Football Fixture Analysis Gameweek 14
Welcome to Fantasy Football Fixture Analysis Gameweek 14. I come bearing bad news. When I first started writing for this site, I was mocked by some for writing books instead of articles. Too often the mind would wander and the pen would go with it. This became all too real last week when somebody actually fell asleep reading an article on this site! It hit too close to home; it is probably only by mere fortune that (hopefully!) none of my articles has triggered a state of drowsiness. With this in mind, and verbosity banished to the naughty step, I bring to you Fixtures for Gameweek 14, with no fewer than eight teams to talk about. I guess old habits really do die hard. Sorry if you fall asleep.
Before diving into it, I feel it necessary to have exhausted a handful of points. As Init pointed out in last week's Fixtures, you do not want to be caught napping on gameweek deadlines as both Gameweeks 14 and 15 are unusual; the Gameweek 14 deadline is this Friday at 19:00 and the Gameweek 15 deadline is Tuesday 4th December 18:45. Secondly, Leicester will play Southampton in their postponed Carabao Cup fixture this Tuesday and the top sides continue their European campaigns. The following serves as a summary of those sides' current European adventures:
Manchester City make a trip to Lyon on Tuesday night. A win would secure top of the group with a game to spare. If Lyon were to come out on top on Tuesday, Champions League qualification rules would mean that Lyon would top the group with victory over Shakhtar.
Manchester United are at home to Young Boys on Tuesday night. Provided Valencia don't beat Juventus, United can qualify with a match to spare with a win over the Swiss side.
Liverpool are away in Paris on Wednesday night and every point will count in this Group of Death; Napoli and Liverpool lead the way on 6 points apiece, PSG have 5 and Crvena zvezda bring up the rear on 4.
Spurs host Inter Milan on Wednesday and have to win to have any hope of progressing. Barcelona lead the way on 10 points, Inter are on 7 and Spurs are down in third place on 4.
Arsenal are already through to the next round of the Europa League and will look to beat Qarabag at home on Thursday night by a handsome margin to all but secure first place with a game to spare.
Chelsea are away in Hungary on Thursday night as they take on second place Vidi. Having already qualified, a victory or a draw would secure top spot.
Hopefully this time spent on European football will be useful in making your transfers for future weeks. What to take from it is probably that Man City, Arsenal and Chelsea will not be too focused on their European campaigns in the coming weeks. The same can't be said for Manchester United and, especially, Liverpool and Spurs (although Spurs might not care after the game against Inter!).
Without further ado, let's get into it.
The all important FPL FIXTURE TRACKER itself…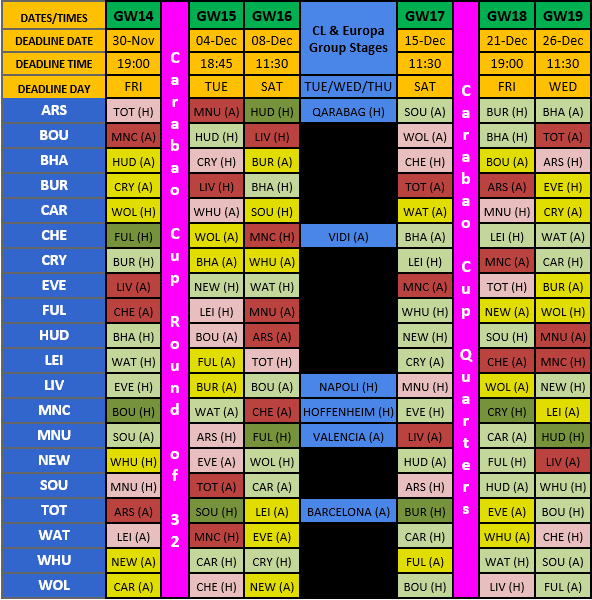 Favourable Fixtures
West Ham – Newcastle (A), Cardiff (H), Crystal Palace (H)


As Init mentioned last week (I feel like I am just regurgitating his article here!), you would be hard-pressed to find a team with three good fixtures coming up. West Ham is just that; the best of a bad bunch. Further, the injury to their talisman, Marko Arnautovic, which remains unclear at the time of writing, does not help matters. I don't see much joy for West Ham against Newcastle. Did I seriously just write that? Before you scroll down to check who is writing this, no it isn't Rosco.
Defensively, West Ham have conceded in every away game so far and Newcastle have scored in five out of seven at home. Offensively, the Hammers have only scored six away from home, and half of those came against Everton. Whilst Newcastle have conceded ten at home, they conceded two a game against Spurs, Chelsea, Arsenal and Leicester; after getting those matches out of the way, they have conceded just two in three.
After that though, two excellent home fixtures are in store. Cardiff have conceded 13 goals away from home (granted eight came in the two games against Liverpool and Spurs) and Crystal Palace have conceded eight in their last four. West Ham have only scored in three of their seven home games so far, although that includes blanks against Manchester City, Spurs and Chelsea and they have bagged eight in the games that they have managed to score in.
Manchester United – Southampton (A), Arsenal (H), Fulham (H)


A goalless draw against Crystal Palace on Saturday saw the fans get back on Mourinho's back, the xG lovers brag about how they told us Martial's form would not last, and the site team benefit from having such a strong Crystal Palace bench. That was supposed to be an 'easy' fixture for United, so I was a little apprehensive about picking these for fear of being burnt (out) for it. However, a winnable trip to the south coast followed by two home games that they should look to gain six points from, and the fact that I feel like I have drained the pool of teams with good fixtures already, means the Red Devils really had to be included.
United have scored 12 goals in their seven away games so far, and Southampton have conceded eight at home, which includes clean sheets against Newcastle and Burnley. I think I can confidently say that United are a better side than those two. Well, sort of confidently. Also, Southampton conceded three against a Fulham side under new management, and Ranieri said he was only looking for a clean sheet!
Southampton is followed by visits from two London clubs in Arsenal and Fulham. At home, United have scored eight in six. Not bad, but not great. Their opponents also don't boast great defensive records on the road though. Despite actually winning games away from home this year, at least with the assistance of a Jefferson Lerma thunderbolt of a shot that shattered the back of his own net, Arsenal are still leaking goals. They have conceded in all six of their away games this season, including two against Crystal Palace and Cardiff.
Fulham may have a new manager, and may have notched up three points at the weekend, but I am still waiting for them to prove that they can actually defend. They are still looking for their first clean sheet of the season, and have conceded 18 in seven away from Craven Cottage.
As for United defenders, I may as well copy and paste the Fulham paragraph above. The Red Devils have, perhaps surprisingly, only racked up one clean sheet all season. Mourinho needs to get Stagecoach on the phone; there must be some serious defects with the buses he bought for this season. Matic is one of them. To make matters worse, Victor Lindelöf looks set for a spell on the sidelines after Mourinho said the defender had sustained a 'proper injury' against Crystal Palace.
Everton – Liverpool (A), Newcastle (H), Watford (H)


Yes, you are reading this right. Everton are in the away dressing room for this Merseyside derby, yet still find their way into my list of teams with favourable fixtures. Liverpool have not lost at home for over a season, and, bar the 0-0 draw against Chelsea and the 2-1 win over Leicester, Everton's away form has not been great. Let's just presume this one is dead on its feet and move on.
After the derby though, Newcastle and Watford visit Goodison Park. At home, Everton have scored nine in their last four games and Gylfi Sigurðsson has already surpassed his output from last season in less than half the minutes. It is amazing what actually playing him in his best position can do. As for their opponents, Newcastle's and Watford's defensive stats are not actually that bad. Even after the result on Monday night, Newcastle have only conceded in three of their six away matches, and two of those were against the two Manchester clubs. However, their other three games were against Cardiff, Crystal Palace and Southampton. Watford have conceded in five of their six away games and Burnley (1), Fulham (1), Arsenal (2), Wolves (0), Newcastle (1), Southampton (1) hardly represent the most challenging of opposition. *fans of those clubs start to reassuringly tell themselves that it is the other teams in the list that make it a weak set of opponent*
Newcastle's failure to score in three of their six away games (oddly the two they scored in were the ones against the Manchester clubs) should bring some comfort to those who brought in Everton defenders last week and reaped the rewards for what was the Toffees' first home clean sheet of the season. Watford have scored just three in their last four away from home.
Unfavourable fixtures
Spurs – Arsenal (A), Southampton (H), Leicester (A)


Given the dearth of 'great' fixtures over the next three matches, the Spurs games probably don't look that bad. However, as noted above, if Spurs want to progress in the Champions League, they face a must-win game against Inter this week and then probably (assuming Inter beat PSV) need to beat Barcelona in a few weeks' time. As such, the compact fixture schedule could not have come at a worse time as the Lilywhites face five matches in 13 days; the manager will wish he had forty Winks to choose from! Although Pochettino has been fairly rotation-free in the past, I would expect Alli, Eriksen, Lamela, Son, and Lucas Moura to all see a decent proportion of minutes over this coming period.
As for the fixtures themselves, Spurs have been playing the majority of their games away from home as it is, and with great success. Eight matches, seven wins, 15 goals and four clean sheets. However, their fixture schedule so far has been relatively kind as five of those games were against teams in the bottom nine with the highest placed team being Manchester United in seventh.
Their next match, after their visit from Inter Milan, is a trip across North London to face Arsenal. Since drawing a blank against Manchester City at the beginning of the season, the Gunners have scored in the following six home games and only conceded four goals in that time. The Southampton game is midweek and could be Pochettino's time to rotate some of his key players. Having said that, Southampton have only scored six in seven away games so far and Liverpool and Manchester City put a combined total of nine past them. Spurs then face a trip up to Leicester. Recent weeks have been tough for the Foxes and it took a Vardy penalty to save their blushes against Brighton last weekend. Leicester have scored in all but one of their home games so far and have only conceded six though.
Bournemouth – Manchester City (A), Huddersfield (H), Liverpool (H)


After the result on Sunday, perhaps it is Bournemouth's Gameweek 15 fixture against Huddersfield that I should be warning you about. The Terriers scored two goals in a game for the first time in 23 matches and looked tenacious in defeating a below par Wolves side. I joke, of course. Huddersfield's 14 goals conceded in their six away games is the only reason I think I would consider keeping Bournemouth assets because sandwiching Huddersfield is a trip to the Etihad and a visit from Liverpool, the top two sides in the league and the only two remaining with unbeaten records.
Does it really matter what Bournemouth's stats are when Manchester City are averaging 3.86 goals per home game and have only conceded four in seven? Does it really matter what Bournemouth's stats are when Liverpool have only conceded four in seven away from home and have scored in each of their away games?
Fulham – Chelsea (A), Leicester (H), Manchester United (A)


A new manager and a win for the Fulham fans to celebrate does not do too much to mask the fact that they are bottom of the league without a clean sheet. Two away games in their next three suggests that the papers may not read too nicely for the fans in the coming weeks given that they have just one point from seven and face a Chelsea side with 15 goals in seven at home and a United side that, well, have 'only' scored eight in six, but did I mention that Fulham conceded two against Southampton even after Ranieri said he only wanted to keep a clean sheet?
There is no such thing as midweek respite for Fulham, as Leicester's creative spark, James Maddison, will be back from his suspension for what can only be described as a sh*t dive. Sometimes, part of me wants to applaud someone who manages to deceive the referee into giving them a penalty. James Maddison's effort was like your mate falling over carrying his round of beers over; funny but annoying. To be fair to him, he said he was anticipating contact. Have you ever been chasing down a 50:50 and you can see the opposition's 'heavyset' centre-half with his black Sondicos on steaming in? Part of me thinks a yellow might be worth it to avoid getting knackered by him.
15 goals conceded in six home games. Vardy might be having a party midweek. Maddison might have to be re-initiated.
Flatters to deceive (possibly)
I have added this section envisaging a few comments about not including these two teams in my 'favourable fixtures' list, especially given that, at face value, both are arguably better than all the ones I have included! These two sides don't have 'unfavourable fixtures', indeed quite the opposite. I would just advise caution, and getting carried away with their fixtures might be risky. Before I use any more 'arguablys' and 'mights', let's take a look at them!
Brighton – Huddersfield (A), Crystal Palace (H), Burnley (A)


Huddersfield, Crystal Palace, Burnley. All within two points of bottom of the league. However, two away games in their next three, followed by home games against Chelsea and Arsenal scream caution to me. Think of Brighton like a poor man's Arsenal; good at home, naff away. God damn awful away, in fact. At home, Brighton score most weeks and rarely lose. In fact, they have only lost three games at home in the league since the turn of 2018, against Chelsea, Leicester and Spurs. Away though it is a totally different story. In 2018 they have only won one game away from home, and that came against a jaded Newcastle side at the end of October. In fact, since they got promoted last season they have only won three games away from home, against West Ham, Swansea, and Newcastle. I am not saying that Huddersfield and Burnley are better than those sides, but such a poor win percentage does concern me. They have notably managed to score in four of their last five away games though, blanking only against Manchester City, so it could be worse!
Liverpool – Everton (H), Burnley (A), Bournemouth (A)


Liverpool's fixtures are not too bad. As I have already discussed this above, suffice it to say that Liverpool's Champions League group will be the key focus over the coming fortnight.
BONUS SECTION – FANTASY CHAMPIONS LEAGUE!




It's back with us again on Tuesday so this is just a gentle reminder to get your teams sorted in time.
Deadline: Tuesday 27th November @ 5.55pm UK time. It's an early one again but get used to it as this is how it will be every week, annoying as it is!
Transfers: You get 2 Free Transfers this week to use before the above deadline.
Order your subs correctly: Don't forget that you get to sub in any players who haven't played on Tuesday for those who did, but who you didn't much like the score from. Stick your Wednesday players on the bench basically, and make sure there are no Tuesday ones on there or else they'll be staying there.
Captain Tuesday: Same principle here; you get two stabs at it so make sure your deadline captain plays on Tuesday and if he fails then you get to switch him for a Wednesday player.
Wednesday Deadline: Again it's early doors at 5.55pm UK time so make sure you do all of the above subs / capo changes prior to this.
Fixture Tracker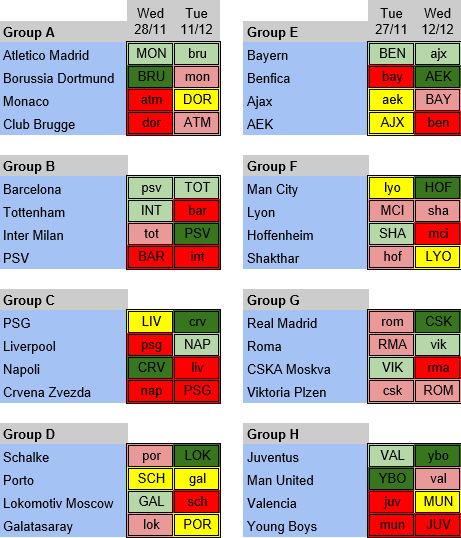 CL Set-piece takers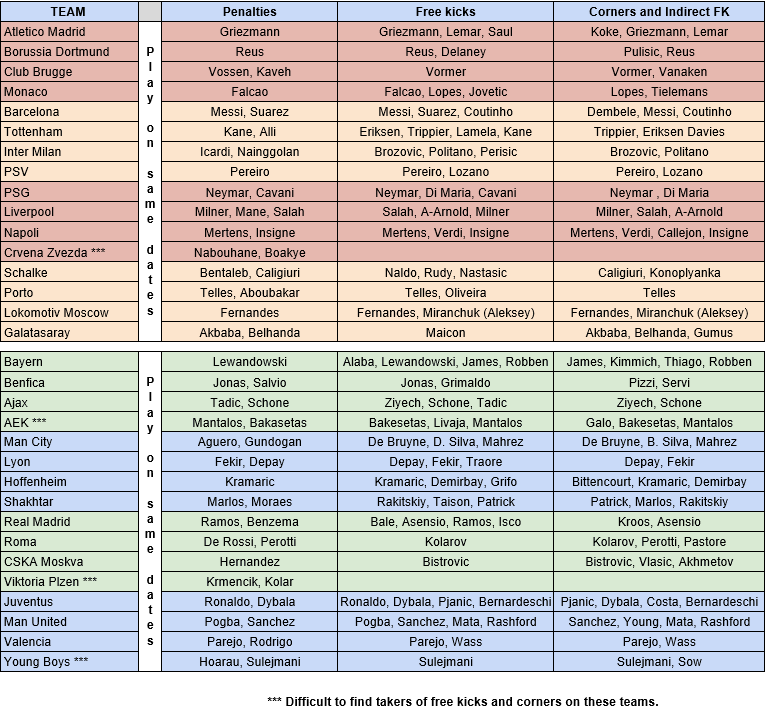 *this hasn't been updated since MD1 but should still be a very relevant guide.
Thanks for reading Fantasy Football Fixture Analysis Gameweek 14. This article was written by AT
Welcome to our Fantasy Football leagues section.
The League Codes for FF247 for the 2018/19 season are as follows –
Thanks to our friends Follow @ff_surgery and please give them a follow.