Fantasy Football Fixture Analysis Gameweek 17
Well, it's finally happened: I don't have to include a Liverpool write-up in the Fixtures article because they only have 2/3 of a schedule here coming up. Both Liverpool and West Ham will have a blank in GW18 – which does mean the MLS fanboys will come out in force to praise the 'DGW' in the near future… but that's neither here nor there at the moment. So, for now, I'm legally obligated to NOT include them here, at least that's what I gathered from the fine print in my contract. I am however obligated to provide a qualifying statement that Liverpool are good enough to score three rounds worth of fantasy points in just two games. So there's your asterisk (*).
And I really needed that break from Liverpool inclusion. I've had a rough time lately. I've run my course with nostalgia with old Disney cartoons. I've fully caught up on This Is Us, and I have no tears left to cry. At least that's what I thought until my oldest daughter turned 18 yesterday – turns out, still had more tears. But, you know, I cried in private like a man should. When my kids asked me why my eyes were red, I told them I was just yawning. And then I got the call to write this article, and I didn't know if I'd physically be able to write about Liverpool again… but they have a blank, baby! Prepping this article was almost like starting out in smog and suddenly finding your way to crisp, clean mountain air. So let's just get to the article so that we can all forget about what a giant man-baby I'm becoming in my old age.
Top 3 Best Bets
Manchester United – EVE (H), WAT (A), NEW (H)

Suffice to say, United fans have seen this year's campaign as a failure to this point. Sitting at 5th in the table would be a huge boon for most teams – but it's not the kind of positioning that United are really shooting for. And let's be honest, this year's 5th place isn't even close to being a springboard that they can launch themselves off of for a title challenge. But that being said, the Champions League spots are still up for grabs, and United will be keen to press on in that regard. Both Manchester City and Chelsea, who currently sit just above United in the table, have both just managed two wins each over their last five games – so the door for United to legitimately move into the Top 4 is definitely open.
Starting off United's schedule are Everton – and most of us pessimistic Everton fans are preemptively salty that the team has already 'shot their shot' on the back of Silva's firing. Will the magic continue under Duncan Ferguson? We'd like to think so, but the club seem keen to hire a new manager here as soon as possible, and that kind of looming transitional turmoil isn't going to do anybody any favours. My prediction: both sides play decently, but the action tilts to the home team and sees United win 3-1.
Following the Everton game, United play bottom of the table Watford in what should be a laugher. And then a decent test comes against a pesky Newcastle side that are defying expectations this year. Most would say that Newcastle's 2-2 draw against City was a fluke, but they've continued a winning trajectory since that game. All told though, I think United at home are too much for Newcastle and United has the best chance at 9 points of any team here in this coming 3-game stretch.
Sheffield United – AVL (H), BHA (A), WAT (H)

Fantasy wise, passions have cooled on the Sheffield side – especially their star defender, Lundstrom (who hasn't seen a clean sheet in six games now). But it would be easy to forget that this side are still 8th in the table, and have the goods to stay firmly top half until the end of the year. This isn't your typical promotion side that have a hot run and then fade away – Sheffield are definitely a good, well-rounded side. I'm not saying they're elite and that they'll be challenging for European spots any time soon here. I'm simply saying that they're good.
And a good side is all that's going to be needed here in this next run of fixtures. Villa are only out of the relegation spots based on goal difference right now, and a bad weekend could see them drop down to the bottom three. Also consider that Villa have only won a single match on the road this year – and that was against Norwich. All signs point to Sheffield having little trouble here to start this run.
Next up we have Brighton in what should be a close game. I'd say the two teams are similar in ability, but Sheffield have the momentum. Based on FPL selections, a 0-0 draw wouldn't be the worst outcome in the world for fantasy owners here. And finally, Watford. Any time any team gets to play the obvious worst team in the league, you have to back them. Not only are Watford bottom of the table, they're the only team that has yet to reach a double digit goal tally through this point of the season. Let me put that in perspective for you: Danny Ings has scored as many goals as the entire Watford team. If you were on the fence about offloading your Sheffield assets, just hang on a bit longer. They will come good again in this run.
Crystal Palace – BHA (H), NEW (A), WHU(H)

Before you accuse me of adding Crystal Palace in here just for the sake of variety, hear me out. Their schedule, on its own, would be deserving of any team getting a shout here in this article. The question is though, are the team in question able to make good on that schedule? Had you asked me early November if Palace could make good on this schedule, I'd have been dubious. But here recently, I believe that Palace have turned a corner and stand a decent chance at 7-9 points here over their next three games.
Over the last three rounds, Palace are the only team in the league to not concede a goal. Not even Liverpool or Leicester have been able to match that. Sure, they've kept clean sheets against a lower level of competition, but that's exactly what they're facing here coming up. And even if you look back to before their streak of clean sheets happened, Palace managed to hold both Chelsea and Liverpool to just two goals each. So while this Palace team may not be the most prolific of scorers, they've definitely turned a corner defensively, and that does merit their inclusion here against this next trio of teams.
Brighton and Newcastle will be toss-up games in the bookies eyes, but based on how Palace are approaching their games, they should be low scoring affairs. I'm more confident in the 3 points against Brighton at home, but even if they grind out a draw against Newcastle, it should still stay on script. And the West Ham game shouldn't be much of a bother. West Ham had a miracle result against Chelsea two weeks back, but that probably says more about Chelsea than it does about West Ham… who quickly then lost 0-2 against Wolves in the next week.
Teams to Avoid
Leicester – NOR (H), MNC (A), LIV (H)

Listen, nobody is going to sell off Vardy and Co. if they already own them. This team is doing so much better than anybody thought possible coming into this year. And Vardy is the leading scorer in the division, and there isn't anybody out there that's found a real good way to stop him. But looking at them from a pure fixtures standpoint, this is going to be a rough schedule for Leicester after the Norwich game. Maybe City will show up to play, maybe they won't. Liverpool will know what a 6-point swing means against the #2 team in the table as well, so they'll definitely show up to try to extend their lead. I'm not sure what the Tipsters will say later in the week, but this is one of those rare times when you say that a team is fully capable of earning 9 points over their next three games – but they may end up on 3 points just the same.
Bournemouth – CHE (A), BUR (H), ARS (H)

I'm putting Bournemouth here because lately, all of their fixtures are bad. Bournemouth have the longest active losing streak in the league (5), and they continue to drop like a rock. Bournemouth aren't just 'kinda' losing either. They've lost their last five games by a combined score of 11-4, and they failed to score at all in either of the last two games. They're quickly becoming the second favoured club behind Watford that a team would want to play to get right. They're now fantasy kryptonite and they still have a pair of defenders owned in the double-digit percentages in the game. And if all your defenders do is concede and lose games, you might want to take a look at that.
FPL FIXTURE TRACKER
And the all important Fixture Tracker itself…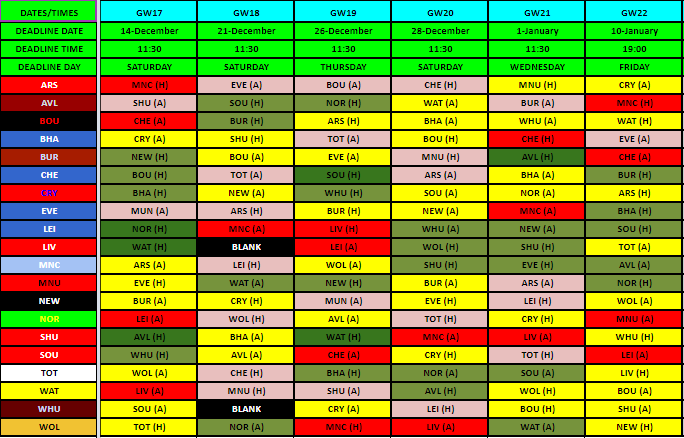 FIXTURE TRACKER LINK
Thanks for reading Fantasy Football Fixture Analysis Gameweek 17. This article was written by Guy.
Fantasy Football 247 League Codes: