Fantasy Football Fixture Analysis Gameweek 22
Welcome to Fantasy Football Fixture Analysis Gameweek 22.
Christmas is officially over and we're back in the routine of having to wait longer than two days before the next FPL deadline. Well, I hope you had a great Christmas and New Year and that Father Christmas brought you some merry green arrows. Speaking from my own perspective, I must have been a very good boy in 2018 as I moved up from 705k in Gameweek 18 to the 285k rank I now have.
But it's not all about me! I've been joined in this article by the site's big boss, Inittowinit, who has offered thoughts on the weeks ahead for his own team, Everton, along with Newcastle, the club our long-suffering Geordie Rosco loves with every part of his body.
The FA Cup third round has seen surprisingly strong teams put out by Premier League sides, with Rotherham United and Tranmere Rovers the unfortunate recipients of 7-0 thrashings. Elsewhere, at the time of writing, there was still room for a good giant killing as Fulham bowed out to Oldham Athletic, Lecester City got taken out by Newport County, Huddersfield were defeated by Bristol City and Cardiff lost to Gillingham, as Neil Warnock then quickly turned his attention to his thoughts on Liverpool. Looking far ahead, these kind of results will start to have an effect on Gameweeks 31 and 33, which clashes with the FA Cup quarter finals and semi finals respectively. Time to load up Microsoft Excel and start thinking about when you're using your chips and wildcard!
Back to the next few weeks, let's take a look at the good and bad fixtures ahead for certain Premier League teams.
Good times are coming
Man City (WOL H, HUD A, NEW A)


What a turnaround of events for Man City, after their blip of losing against the likes of Crystal Palace and Leicester City over Christmas time, as Woy and Claude – something that sounds like a new crime-fighting duo – each turned around their own misfortunes. Since then, however, Southampton were put aside 3-1 and, crucially for the title race, a close match against Liverpool saw the Cityzens record a 2-1 victory. As previously mentioned, they've also progressed in the FA Cup at Rotherham's expense, recording their biggest FA Cup victory in 51 years at the same time.
So, looking ahead, we have Wolves coming to the Etihad initially, a team who ground out a 1-1 draw when the two sides met back in the sunnier days of August and have managed impressive results against the top six already. But then they have also lost against the likes of Huddersfield and Crystal Palace. Pep's men are in resurgent form now first place is only four points away and we may be looking back on this gameweek with regret as we didn't have the likes of Sterling, Sane or Aguero. In fact, the last time the Midlanders beat them when away from home was back in 1999, a week – I'm sure you'd remember – when Ricky Martin's Livin' La Vida Loca had just got knocked off the number one spot by Ronan Keating. That same year was also the last time the Cityzens lost against their next opponent, Huddersfield, a side that is the opposite end of the Premier League table. An away day up north to Newcastle is then on the cards, as last year's champions look to stretch the lead when it comes to the table of goals scored.
Liverpool (BHA A, CRY H, LEI H)


Whilst this was written before Liverpool faced Wolves in the FA Cup third round, Klopp and co will want to return back to winning ways after their loss at the Etihad which, you may argue, could have gone their way, had the ball been 11 millimetres further over the line in the 20th minute. That fixture ended a run of eight wins in all competitions – with 23 goals scored in the process – and so the Reds are a good distance away from any kind of panic stations.
First up is a trip down south to Brighton, a team who put aside Bournemouth 3-1 in the FA Cup after only winning one game in six attempts – against the blue side of Merseyside, Everton, funnily enough. Head to head, you have to look back to 1984 when the Seagulls were last victorious, with one draw and seven Liverpool wins since, of which the last trip to the Amex saw a 5-1 scoreline in the visitors' favour as Firmino found the back of the net twice. Next in line, back at Anfield, is Crystal Palace, who have been quite a bogey team for the Reds across various competitions in recent years, as the last 15 meetings have seen the Eagles win six, with one draw. That said, of Liverpool's eight triumphs in that time, half have been the last four fixtures, having scored seven in that time. No travel is required in the next game either, as Leicester come to town and hope to end a run of three straight defeats against Klopp's men, of which Salah scored three of the seven goals in that period.
Everton (BOU H, SOU A, HUD A)


Whilst one side of Merseyside is fighting for the title the other is perpetually fighting for any semblance of form or consistency, not to mention their obligatory top eight finish. In other words, 8th. Once again Everton did some decent business in the summer with their midfield recruits, notably Gomes and Bernard looking the part, but once again they forgot to buy an actual centre forward. If it wasn't so bleeding obvious – and let's face it, now almost comical – you could be forgiven for saying it was down right negligent. When you reach December and start scratching around for a forward so much that Dominic Calvert-Lewin is your Plan B and now suddenly your 'go to guy' then heaven forbid…
As for their fixtures, we have long since been told that they turn for the better in January and that we should stockpile their assets* (*Richarlison). It feels almost like peer pressure then that they should appear here in the lofty heights of 'favourable' fixtures. Then again we think that run of games was supposed to include Brighton away (lost 1-0), and Leicester at home (lost 0-1). It did also however include Burnley away (won 1-5, absurdly).
Their current run of form therefore suggests that no fixture is actually more favourable than another for the Toffees. The fact that it is Bournemouth at home next probably suggests that you should keep hope in their assets* (*Richarlison) as only Fulham have conceded more on the road than The Cherries, they're averaging 2.3 goals against away from home. It's then Southampton away and we could tell you that The Saints have conceded on average 1.7 goals per game at home but that would only tell half of the tale as the majority of those were under a manager from the dark ages. That said, despite results, and certainly the mood around the place, improving considerably since Ralph waltzed in, they have still conceded 11 in seven games in total, or seven in their last three home games, or an average of 2.33 per game. That rubbing of hands you just heard was either an Everton asset* (*Richarlison) or Mark Hughes from his 'lair of quiet despair and angry desperation'. The trio of supposed 'favourable' fixtures sees a trip to a team with a home record of P10, W1, D2 and L8. Huddersfield may be stuck to the bottom of the Home Form league but they don't get hammered there, usually, they've 'only' conceded 16 at home which is actually very middle of the road, instead they prefer to lose by the odd goal or two, consistently.
There's trouble on the horizon
Brighton (LIV H, MUN A, FUL A)


As mentioned in my appraisal of Liverpool, Brighton haven't exactly had the best run in the Premier League of late, having picked up five points out of a possible 21 even though only two of the seven teams they played against were in the top six. Little surprise they're now 13th in the table, nestling nicely into the area of mid-table obscurity that is nowhere near the top but a safe enough distance from the threat of relegation – for now, at least.
It's fair to say you don't want to have a Brighton defender playing this gameweek, if recent history is anything to go by, as a whopping 16 goals have been conceded by the Seagulls in the last four times they have met the Reds across all competitions. After that it's a trip to Old Trafford which, before 18 December, they may have fancied a go at, however now a certain Norwegian is in charge, it could be an entirely different story as Pogba, Rashford, Martial and even Lukaku seem to have been given a new lease of life. After those two fixtures, Chris Hughton and his men deserve a bit of a break and a trip to Fulham could very well be a good opportunity to get some points on the board as they have not lost to the Cottagers in the last six meetings.
West Ham (ARS H, BOU A, WOL A)


Following on from Brighton is the team they played in Gameweek 21, West Ham. The Hammers have had a very mixed bag of league results in recent times, with five wins, two draws and three defeats in the last 10. That concluded with a 2-0 win against Birmingham City and so it's hard to tell which kind of team will come out in their fixtures.
The East Londoners are on a run of three straight defeats when it comes to playing their opposition this week, Arsenal. In that time they have conceded eight and the 0-0 draw with the Gunners before then also followed a 3-0 and 5-1 loss – the latter I remember well in particular as it was a Sanchez hat trick and I had decided on not giving him the armband beforehand! Old fantasy football wounds take a long time to heal! Trips to Bournemouth and Wolves then beckon – the Cherries may have a leaky defence now but Eddie Howe will no doubt turn that around and we know what Nuno Espírito Santo's lads can manage as they continue to look up the table rather than over their shoulders.
Newcastle (CHE A, CAR H, MCY H)


Not that anyone was actually considering buying a Newcastle player… perhaps Rondon crossed a few cash strapped and desperate minds. It's not that Newcastle are wretched, far from it, they just don't win many, one in the last nine, or score many – five scored in the last nine – or keep teams out, having conceded 14 in the last nine. They're just very consistently on the wrong side of average. If Cardiff at home in GW23 looks tempting, then we would urge you to resist the temptation, as that is sandwiched between Chelsea and Man City and it's a trip to Spurs beyond those. Perhaps the best thing we can say about Newcastle right now is that it's not often they get past the first weekend in January and still find themselves in the FA Cup. Technically.
It's worth one week
Arsenal (WHU A)


I'm not being unreasonable when I say Arsenal's defence, in the league anyway, hasn't exactly been watertight. Having conceded 11 in their last five, the Gunners have at least done well going forward, having also scored 11 in the same time. However, they face West Ham this week which, as I alluded to in the Hammers' write up, has ended up in the North London team's favour with 15 wins, four draws and one defeat in the last 20 times they have met in the league, netting 50 in that time. Whilst it's not worth playing a defender against Arnautovic and co, Aubameyang, in the form he is in, could well be among the points.
Whilst there is a match against Cardiff at home at the end of January, crunch matches against Chelsea at the Emirates and Man City at the Etihad make up two of the next three Premier League games for the Gunners and so life does get a bit difficult after this trip to The London Stadium.
The all important FPL FIXTURE TRACKER itself…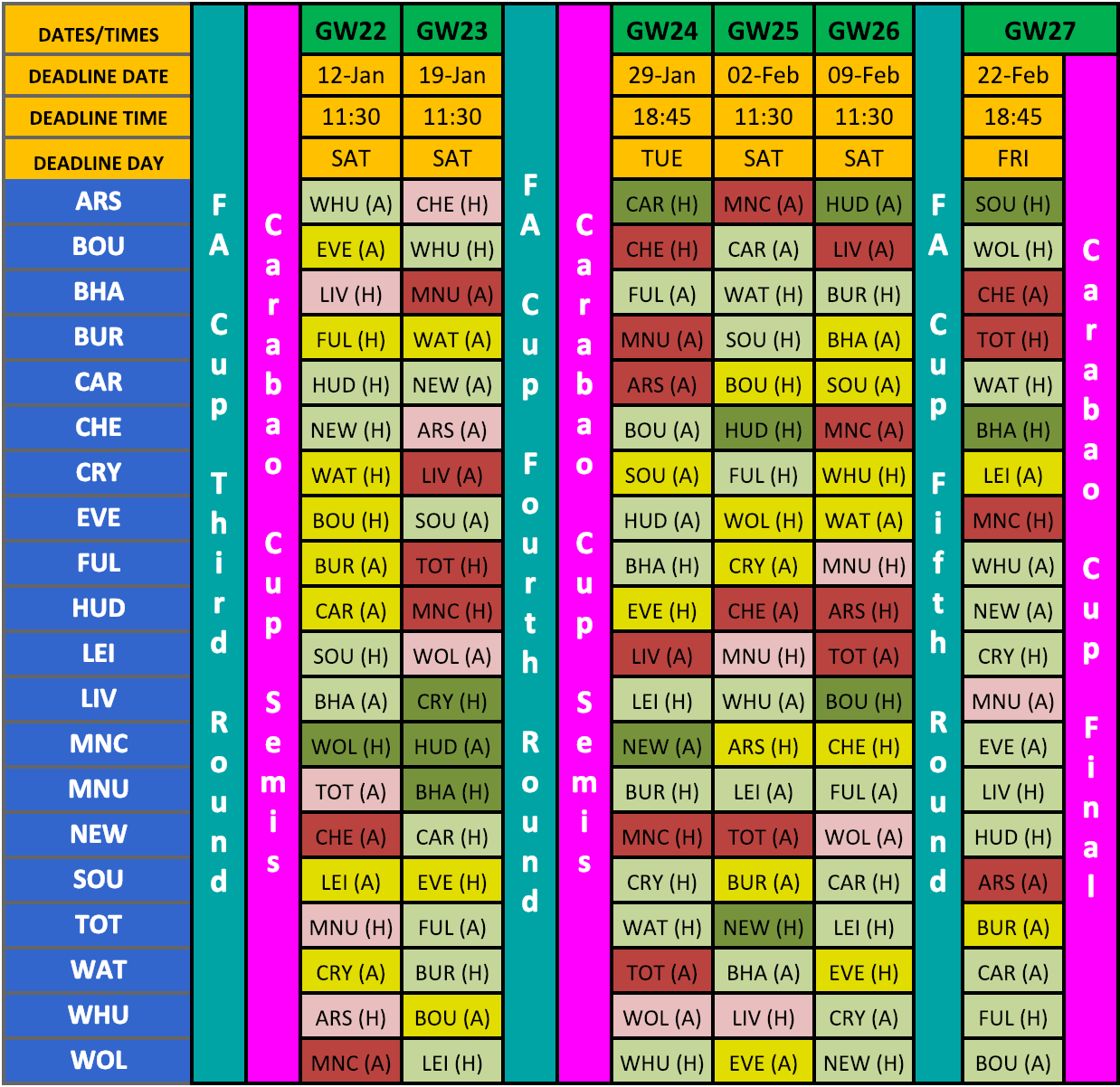 Thanks for reading Fantasy Football Fixture Analysis Gameweek 22. This article was written by Swirly
Welcome to our Fantasy Football leagues section.
The League Codes for FF247 for the 2018/19 season are as follows –
Thanks to our friends Follow @ff_surgery and please give them a follow.