Fantasy Football Fixture Analysis Gameweek 24
Welcome to Fantasy Football Fixture Analysis Gameweek 24. It would be remiss of us not to begin a Fixtures Article by touching on the inevitable blank / double game-weeks that are soon to loom on our FPL horizon. As we speak the only things confirmed in this respect are that the GW27 game between Everton & Man City is almost certainly OFF and that either the game between Burnley & Spurs or Chelsea & Brighton will definitely be OFF that week, depending on Thursday night's result, due to the Milk Cup Final being on the same weekend. When they will be replayed is another matter altogether, and we will shall find that out in due course. We could spend much time, and many words, speculating as to when they may be scheduled but in all honesty we think that would be a waste of both your time and ours as we'd be simply leading you down a myriad of garden paths that may or may not actually exist. Rest assured though, once more facts emerge in this respect we shall have articles on them to detail the reality and a fixture tracker to match*.
*For other pointless speculation, and perhaps the opportunity to pay for a detailed analysis of how pointless this is; see twitter.
The all important FPL FIXTURE TRACKER itself…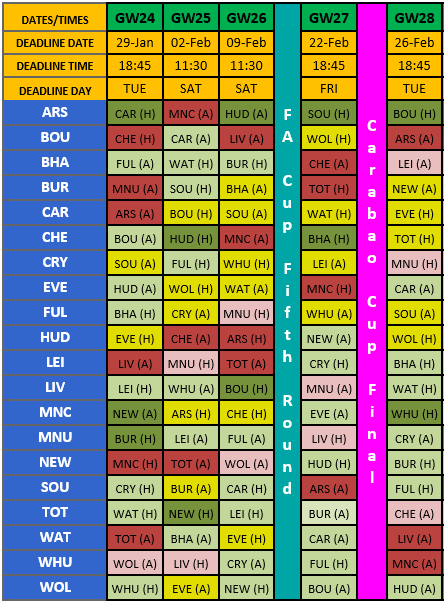 Favourable Fixtures
Before we begin, a bit of housekeeping, and before folk start panic buying ahead of Saturday; the next deadline is actually Tuesday 29th January at 6.45pm GMT. Next Tuesday, basically.

Liverpool – Leicester (H), West Ham (A), Bournemouth (H)
Liverpool are top of the league and scoring for fun, so what's not to like? Perhaps their defence, as that is one element that has been decimated by recent injuries, and so it proved in the last game vs Crystal Palace. They may have won, ultimately, but can anyone tell us the last time Palace scored 3 away from home?! Or even just scored 3!
It shouldn't matter though as the last 2 results have actually shown that Liverpool may finally have the resolve for a title fight; a close 0-1 away win and then a fight to the death in a 7 goal thriller, from which they came out victorious. Two very different games, but also two lots of 3 points secured. No signs of slipping up; maybe the threat of being sent to Scotland if you do is actually working out…
We'd say the next three are eminently winnable for Liverpool, but of course they should be if you are title contenders, and the next 12 after that should be too. Manchester United away in GW27 could be interesting of course but prior to that it's Leicester at home, West Ham away and Bournemouth at home. We won't bore you with the stats for each one as quite simply Liverpool should, and probably will, dispatch each one with ease.
Load up. Be that Salah plus a defender or two (Liverpool have still only conceded 13 all season), or Salah plus Mane, or Salah plus Firmino. Whichever way you choose to cut it there are points to be had in spades.
Manchester United – Burnley (H), Leicester (A), Fulham (A)


Ole made it a ridiculous 7 wins out of 7 last time out and looking at their fixtures would anyone bet against a straight 10 or 11 now? (It'd technically be 11 after the above 3 if they overcome Arsenal in the FA Cup). Either way, Pogba wouldn't. He'll probably send Mourinho a DM to point it out too. Has any player ever looked more motivated to prove a previous manager wrong than him right now?! It's almost like it's personal or something… It probably says a lot more about Jose than it does Pogba that most people side with the latter on this issue, despite finding him to be a bit of a preening t*t, and even forgiving him for clearly not giving (even) 50% of either a sh*t or effort in Jose's final games, or perhaps even any of them.
Given their form under Ole; 19 goals scored, just the 4 against, 3 clean sheets and of course 7 wins, their next 3 league games don't look overly daunting. Burnley have conceded 22 on their travels (joint 3rd worst), Leicester don't really score many at home, and Fulham are just leaky, only Cardiff have conceded more at home. Stack the stats up any which way you like but gut feeling says Man United look likely to continue forth against this lot.
Worth a mention…
Spurs – Watford (H), Newcastle (H), Leicester (H)


What exactly are we buying into here; Spurs or Spurs Light? Let's relate this back to Liverpool to try to understand exactly what. If Liverpool lost Salah to an ankle injury, and Firmino had to go off to a mid-season tournament somewhere, and then Mane pulled up with a hammy would we be as excited about owning any Liverpool assets as we were previously? Almost certainly not. In essence that's what has just happened to Spurs. And hence they sit in the middle section. If they were full strength then they would be firmly in the 'favourable' bit, what with three home games on the bounce. And probably favourable ones at that.
Manchester City – Newcastle (A), Arsenal (H), Chelsea (H)


What exactly are we buying into here; the answer is that nobody really knows as their team can and does change on a weekly basis. If the rotation doesn't put you off then perhaps seeing their schedule may somewhat. That said, as challenging as that lot may look for most teams, this is City after all, and let's not forget that they just scored their 100th goal of the season this past weekend, the 1st club in Europe's top 5 leagues to do so. If you own them we'd probably just leave them in and hope for the best in terms of whether they actually start, probably safe in the knowledge that if they do then there's more than a good chance they will be involved in some goals. Lots of them.
It's probably also worth noting that they have 3 games on the bounce (Wednesday, Saturday and Tuesday) before Liverpool take the field again for their next one.
Southampton – Crystal Palace (H), Burnley (A), Cardiff (H)


Maybe not a start worthy of Ole Olé's but probably worth a mention nonetheless, as Ralph does seem to be turning things around at Saints. The cynics may point out that it wouldn't exactly be hard to show signs of improvement after the Mark Hughes debacle. And they'd be right. Showing signs they are though and the run above isn't exactly the most difficult for a team on the up. They've scored 2 in each of their last 4 games, winning their last 2 PL games. Granted, none of their players exactly jump out as ones who could suddenly get you a monster haul out of the blue, but if you are looking for a mid-priced enabler somewhere then they are chock full of those; Redmond and Ings stand out in that bracket.
Unfavourable Fixtures
Bournemouth – Chelsea (H), Cardiff (A), Liverpool (A)
… is followed by games against Wolves, Arsenal and Man City. So that's 4 of the next 6 against teams in the top 6. We did look at their record so far against the top 6 in the hope that there may be a crumb of comfort to perhaps suggest that their prospects are not as bleak as they seem. They are. They've played the current top 6 teams 7 times so far and have lost all 7, to an aggregate score of 22-4.
Leicester – Liverpool (A), Man United (H), Spurs (A)
When you are under pressure (rightly or wrongly, wrongly in this case but that's a different discussion!) the last thing you need to see is a fixture list with Liverpool, Man United and Spurs as your next three. Although, unlike Bournemouth, perhaps it isn't actually the worst thing, given that they have recently beaten Chelsea, Man City and Everton whilst somehow interspersing those with defeats to Cardiff, Crystal Palace and Newport County. No wonder the fans are confused!
Huddersfield – Everton (H), Chelsea (A), Arsenal (H) and Newcastle – Man City (H), Spurs (A), Wolves (A) both made it into the unfavourable section but in all honesty if you owned any players from either already we could only assume they were bench fodder anyway, and if you were somehow considering owning any of them anytime soon then we can only assume you've lost the plot a bit.
Thanks for reading Fantasy Football Fixture Analysis Gameweek 24. This article was written by Inittowinit
Welcome to our Fantasy Football leagues section.
The League Codes for FF247 for the 2018/19 season are as follows –