Fantasy Football Fixture Analysis Gameweek 25
We appreciate that the ink isn't dry on DGW24 yet but we cannot wait upon that one concluding before cracking on with the GW25 articles otherwise you'd have them stacking up like Salah / Mane / Firmino / TAA DGW points*
*delete as applicable
We are about to enter a period of uncertainty but one in which planning and preparation usually separates the casuals from the hardcore. There's a reason we don't publish the Fixture Tracker in it's entirety; it will alter significantly in the coming weeks. Beginning with 'Blank GW28' and continuing forth as we move through the FA Cup clashes and all the subsequent rescheduled games, culminating in two more DGW's, in theory anyway.
And this is where our weekly Fixtures Analysis really starts to come into its own as we will be all over the changes and keep you informed as we go along. As such we shall begin with something a little different this week, which is basically a round-up of what to expect in terms of said fixture changes, and when. As best as we can with limited information anyway, but at least it's a start and you can begin to think ahead a bit when making your weekly transfers. And probably also how that relates to your remaining 'chip' usage.
Milk Cup Reschedules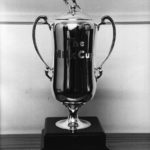 GW28 will soon be renamed BGW28, the 'B' standing for blank. In reality though it will probably be the lesser of the blanks as there will only be two games removed from it, there should in theory be many more missing from the 'FA Cup' clashes but more on those later.
Basically, two of the following four games will (may*) be lost from GW28 depending on who progresses from the semi-finals of the League Cup, the 2nd legs of which are played this midweek on the 28th & 29th of January.
(*There's a small possibility that one or both of these games could still be retained in GW28 but for that to happen both of the clubs involved would have to have exited the FA Cup by the 5th round as they could then be re-schedulded in the midweek following GW28 but not if they are in the FA Cup still as that is when R5 is being played (yes… in midweek!). At the time of speaking Villa are out, Man City have Fulham in R4, Leicester have Brentford and it probably won't matter much but for the record Man United have Watford Tranmere (wft!…).
Games at risk;
Norwich vs Leicester
Aston Villa vs Sheffield United
Everton vs Man United
Man City vs Arsenal
FA Cup Clashes

GW's 31 and 34 clash respectively with the FA Cup Quarter and Semi-Finals and as such both have the possibility to see blanks appear. But to differing degrees, let's take a look at them separately;
GW31
This one clashes with the quarters and as we stand all 10 games that week currently still contain a participant in the FA Cup. Now of course only 8 teams can reach that stage but in theory that could mean as many as 8 blanks. It's highly unlikely of course as it would have to be a bit of a freak occurrence but basically what we are saying is that 31 will be the bigger of the two blanks and probably the one you either have to keep a close eye on and prepare for in advance or throw the Free Hit Chip at.
It's probably worth noting on that last point that there will only be 2 GW's between the 5th round and the quarters so if it is indeed a massacre you can't really plan for it properly. For the record there are no replays in the FA Cup from said 5th round onwards so they will at least all be decided on the night.
GW34
The same as the above applies to this one but of course there will be a maximum of 4 teams at this stage so somewhere between 0 & 4 blanks are possible, but certainly no more. But conversely 34 could also be plumped up with rearranged games, which we shall come onto shortly.
CL and Europa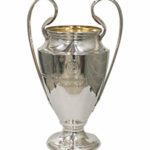 Neither of these have any effect on the PL schedule but we thought we would lob them on the new look tracker anyway just so you can see who's doing what and when and assess the potential for any rotation.
Possible DGW's
The most likely destinations for any games postponed, due to any of the above scenarios, are GW's 34 and 37 as these both have midweek spaces which don't clash with precious UEFA and their CL & Europa nights. There is precedence for this as it happened once but they really don't like it.
'Silly GW26'
This is the new 'Winter Break' whereby all teams get a two week break at some point, of a fashion, albeit with some playing one weekend and others the next. What it means for us is a ridiculously long GW. You'll have 8 teams going in the 1st half and 12 in the 2nd.
Some of the above may be resolved this weekend depending on the FA Cup 4th round results, and of course the midweek Milk Cup semis, and we shall update the Fixture Tracker accordingly as and when anything changes.
FPL FIXTURE TRACKER
That all important and revamped Fixture Tracker itself…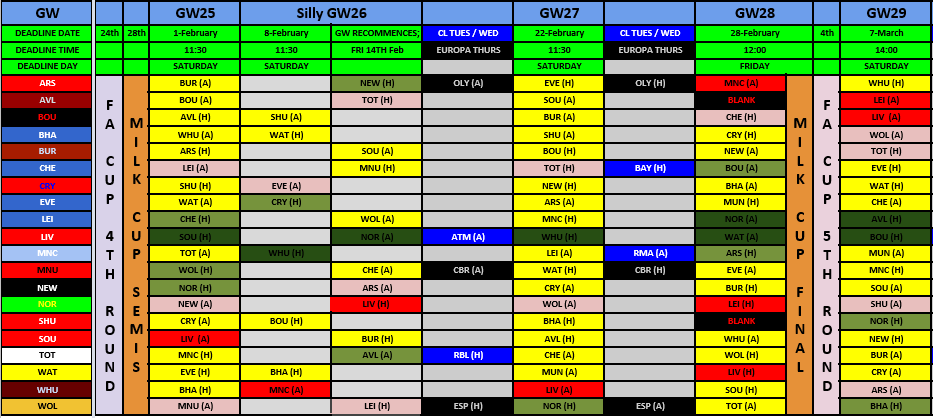 FIXTURE TRACKER LINK
There is a wider, season long version of this which you can access, view, download or copy here;
As ever this will be updated daily / weekly according to events. Or in the meantime you can play real money slots instead if you prefer.
Favourable Fixtures
We wouldn't of course leave you without at least a quick analysis of who has what ahead.
Liverpool – Southampton (H), Norwich (A), West Ham (H)


Which is then followed by Watford, Bournemouth, Everton, Palace, Villa, Brighton and Burnley in 10 of their next 11. The potential fly in the ointment being Man City in GW32 but even that point may / probably should be moot by then. Doesn't quite seem fair does it? Can we parachute in Barca, Bayern and dare we say Man City of past seasons to at least give them a game?
The main point here is that if you triple stacked them for the past DGW then you may as well keep them all for a bit, at least until the title is won, the CL reappears and the kids start getting run outs in the league.
Everton – Watford (A), Crystal Palace (H), Arsenal (A)


On the face of it a 2-2 home draw against Newcastle is hardly the basis for recommending a team but anybody who saw that game will tell you that it really should have been a 4-0 trouncing way before the Magpies even decided to launch their first meaningful attack, four minutes into injury time.
Likewise it's difficult to justify a team who soon enough will go on a run of games which reads Arsenal, Man United, Chelsea, Liverpool, Leicester and Spurs, with only the Canaries stuffed in there for solace. But having watched Everton lately there are certainly signs for optimism.
Another is the form table which sees Everton in 5th (should be 3rd), with 3 wins (should be 4), 2 draws (should be 1) and 1 loss (to Man City). The first two games are ones they will fancy, then it's the Arteta derby, which may prove tougher but even Man United at home looks decent right now, they beat them 4-0 in the corresponding fixture last season. What we are saying here really is that if you own any Toffees you can still conceivably keep, play and trust the attackers for about a month, and maybe the defenders for the next couple.
Southampton – Liverpool (A), Burnley (H), Aston Villa (H)


Liverpool. Away… We really aren't doing ourselves any favours this week are we?! But hear us out. That particular one comes just three days after Liverpool's DGW concludes so there may yet be hope, thinking kids etc…
Beyond that it's a couple of very inviting home games and beyond that further it's West Ham, Newcastle and Norwich so if you overlook that first game they have an excellent run for a good while.
The form table shows them in 3rd (Everton's spot…) with 4 wins, a draw and a loss, with 10 goals for and just 5 against and 3 of those were in that solitary loss to Wolves, in what was a bit of a mental game all round. In short, they really have got their sh*t together as of late.
Unfavourable Fixtures
West Ham – Brighton (H), Man City (A), Liverpool (A)


If you were lulled in by the West Ham DGW dream (madness) then we hope that works out for you, and you may have a week's grace to rectify that with the first game here. Beyond that we bring you this sobering thought; Man City & Liverpool away, Southampton, Arsenal, Wolves, Spurs and Chelsea on the bounce. Oh and they are joint bottom of the form table. Run Moyes, run…
Chelsea – Leicester (A), Man United (H), Spurs (H)


We just don't know what to expect from Frank's Chelsea team right now. They could as easily win all of those as lose them. The form table suggests as much with 2 wins, 2 draws, 2 losses, 8 scored and 7 conceded. And as a footnote; that Spurs game comes three days before they play Bayern Munich…
Man City – Spurs (A), West Ham (H), Leicester (A)


No such form issues for City as they sit 2nd in that particular table, and with the most goals scored to boot (15 in 6). And it's not really the actual fixtures themselves we are cautioning about here, it more the sheer amount of games coming up in close proximity to each other. They have an FA Cup tie on Saturday, a Milk Cup semi on Wednesday, Spurs and West Ham on consecutive Sundays. There's then a small break but when they return they have Leicester and Arsenal in a week with the small matter of Real Madrid away sandwiched in-between. And they may not even care about the league by then. You get the (rotation) picture…
Thanks for reading Fantasy Football Fixture Analysis Gameweek 25. This article was written by Inittowinit.
Fantasy Football 247 League Codes: