Fantasy Football Fixture Analysis Gameweek 26
The last time I wrote a Fixtures article I was in short trousers – I wasn't at school that day, it's just what the neighbours happened to have hanging out on the washing line that morning (needs must – all my money went on Beanos, Dandys, marbles and gobstoppers) – alas, I return after all this time, once again, to tell you which TEAMS look good and which don't.
For you see, I usually write Tips and such was my internal autopilot that I began to look at players this weekend before scrunching up my notes when it dawned on me all I had to do was pick Liverpool and three other teams who might win all of their next four games and choose four teams who haven't a snowball in hell's chance of winning theirs.
Before revealing these eight seven teams, I thought I'd see how the Premier League teams looked when I last darkened the Fixtures door.
Join me!
Liverpool – Signing the likes of Bjorn Tore Kvarme rather than Virgil van Dijk.
Manchester City – Hosting Wrexham in the old second division (League One in new money).
Leicester City – Light years away from WINNING THE PREMIER LEAGUE and you'd have been locked up for imagining such a scenario.
Chelsea – When the brilliant Gianfranco Zola was THE star of the Shed.
Sheffield United – Looked enviously upon neighbours Wednesday who were THE established Premier League club in the city.
Manchester United – I generally dislike kicking a team when they're down (and it's too easy). Next please.
Wolverhampton Wanderers – When a team of eleven Portuguese would have seen the Wulfrunians* laugh you out of the Black Country 'town' (only became a City in 2000)*
* (I've visited recently, can you tell?)
Tottenham Hotspur – It wasn't a year ending in a '1' so nothing happened to them.
Everton – It was the year of a fresh-faced Inittowinit wearing 'that' (now) retro kit. Give the pic another airing Init!
Newcastle United – When Rosco could enjoy smart attacking sexy football on his doorstep before Fantasy Football sucked the life out of him.
Southampton – Played at the old Dell and Matt Le Tissier was half-arsedly knocking in worldies.
Arsenal – Wenger was the manager (of course he was!).
Crystal Palace – Shared their ground with Wimbledon who physically threatened them into doing so it is assumed.
Burnley – Sean Dyche wasn't yet there but still played 4-4-2 and had a bit of hotpot at halftime.
Brighton & Hove Albion – Glenn Murray was three quarters through his career and scoring loads. Wonder what happened to him?
Bournemouth – Were still called "Bournemouth & Boscombe Athletic FC" I think.
Aston Villa – When a young Swirly was keeping a certain Jack Grealish out of the club's Under-8 team. Can't carry two such quality players.
West Ham United – When they actually had some identity as a club.
Watford – Elton John was still "Reg" someone…
Norwich City – Delia was introduced to alcopops.
Now leaving all that merriment to one side, we have business to attend to. Firstly, refer to last week's Fixtures article by Inittowinit who explained quite clinically all of the permutations with regards game reschedulement due to cup competitions and its effect on league matches in the form of blank gameweeks etc. I'm glad he did – so I can simply refer you to here.
Secondly, the winter break is here! Well it's not quite a proper winter break if you happen to be one of those clubs who can't take care of your FA Cup business on the first go. In effect then, the next Gameweek is over two calendar weekends.
This means that next weekend (Saturday and Sunday, 8th & 9th) showcases:
EVERTON v CRYSTAL PALACE
BRIGHTON & HOVE ALBION v WATFORD
SHEFFIELD UNITED v BOURNEMOUTH
MANCHESTER CITY v WEST HAM UNITED
Then the following weekend (Friday to Monday, 14th to 17th) we have:
WOLVERHAMPTON WANDERERS v LEICESTER CITY
SOUTHAMPTON v BURNLEY
NORWICH CITY v LIVERPOOL
ASTON VILLA v TOTTENHAM HOTSPUR
ARSENAL v NEWCASTLE UNITED
CHELSEA v MANCHESTER UNITED
So this means that this is going to be one long Gameweek indeed – approximately 225 hours long, first kick until last.
Fixtures then…
FPL FIXTURE TRACKER
But first up that all important Fixture Tracker…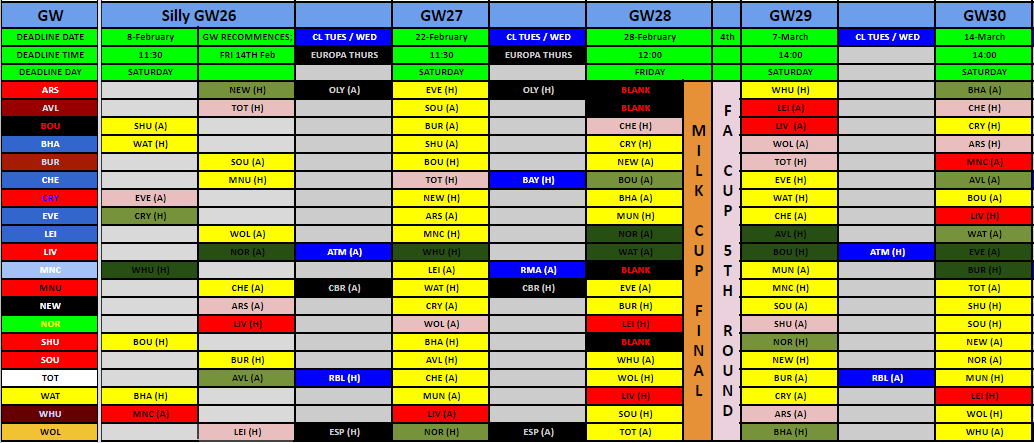 FIXTURE TRACKER LINK
Favourable Fixtures
Liverpool (Norwich, WEST HAM UNITED, Watford, BOURNEMOUTH)

OBVIOUSLY. You really need me to justify this? Well Liverpool now, as a result of Manchester City's result on Sunday, require just six more wins to clinch their long-awaited 19th English League Title. I think they will likely obtain four of these in the next four matches. If you asked any Kopite to hand-pick four fixtures they would surely come up with something like this. Norwich are probably gone (don't see them making up seven points), West Ham United have already lost to Liverpool in recent weeks and shipped 3 to Brighton at home most recently. Similarly Watford also lost three to Everton and then Bournemouth who sit only two points outside the relegation zone. In fact, these next four opponents make up four of the current bottom five. If you aren't going three-deep on the Reds then you're a braver man than I.
Wolverhampton Wanderers (LEICESTER, NORWICH, Tottenham, BRIGHTON)

"Oh here he is"… I hear you cry! The Wolves fanboy picks his latest squeeze. Well yeah, I do. By quirk of circumstance, I've seen them in the flesh twice this season (away to Newcastle and home to Liverpool) and I've been impressed – admittedly more so in the Liverpool match – but I've also seen plenty of them on television as well. They play exciting attacking football built upon a very resolute defence and they're peppered with quality players. I think they'll be a match for Leicester at home next Friday in a game I cannot wait to watch. After that they stay at home – to the bottom club Norwich – who they beat away from home earlier this season. The biggest test in a truly decent run until April is a visit to the Tottenham Hotspur Stadium in Gameweek 28. They lost to Spurs at home but this Wolves side are set up as well as any other team to grab a positive result away with only Liverpool and Sheffield United losing fewer on the road.
Sheffield United (BOURNEMOUTH, BRIGHTON, *BLANK*, NORWICH, Newcastle)

Sixth-placed Sheffield United are, Liverpool-aside, the story of the season. They are thriving in this league and are, whisper it, five points off the Champions League places. They have strengthened sensibly in January and an already comfortable in itself squad is becoming even more difficult to score against having only let in 23 goals in 25 games (only Liverpool have conceded fewer). The Blades next three matches are at Bramall Lane and again only Liverpool have conceded fewer home goals. Bournemouth, Brighton and, after a blank due to the FA Cup, Norwich visit and this should provide ample opportunity to add to their 36 league points. A trip to Newcastle in the middle of March will be their next away game and they'll probably fancy that as well seeing as they have only lost two out of 13 away from the Steel City.
Arsenal (NEWCASTLE, EVERTON, *BLANK*, WEST HAM UNITED, Brighton)

The Gunners have only lost five goals in their seven matches this year and I think Arteta is starting to get his feet under the table and turn the tide at the 2004 champions. In the balance of fairness, only one of the new manager's league matches has resulted in a win – 2-0 at home to Manchester United on New Year's Day – but the defensive problems appear to be getting addressed by the Spaniard with the signings of Cedric and Mari (on loan) and Arsenal appear, to the eye at least, to be heading in the right direction. They are another team who have three home matches straddling a blank gameweek with Newcastle United, Arteta's old side Everton and West Ham United visiting the Emirates. Brighton away follows this and then Southampton and Norwich soon after. You could invest in some Arsenal coverage with a bit of confidence that they have a fair opportunity to bring home some good results until April.
Unfavourable Fixtures
Norwich City (LIVERPOOL, Wolves, LEICESTER, Sheffield United)

Difficult to see Norwich doing anything much in any of these next four fixtures and I think the defeat of Manchester City away back in Gameweek 5 was the outlier in a season where they just haven't been strong enough to stick in the league. Cantwell is quite popular and very good for a fifth midfielder and first sub, but that aside and maybe you could hold Pukki if you had him, there's not much worth anywhere else in this side. They have the worst away record and second worst home record in the league so unless games are going to be played on the X-box, I don't fancy them.
Newcastle United (Arsenal, Crystal Palace, BURNLEY, Southampton)

Although it's not Liverpool, Manchester City, Leicester or Chelsea which would probably draw your eye, the next four fixtures for the Toon are very awkward in their own kind of way. For starters, three of the next four are away from St James' where Newcastle have won three and lost seven. Only Aston Villa have conceded more goals away from home. Trips to the capital, to meet an improving Arsenal (see above), a Crystal Palace team who have conceded the fewest home goals (13) in the bottom half and then a trip the length of the land to Southampton where you could flip a coin as the Saints home/draw/loss record mirrors exactly Newcastle's away one. None of which inspires massive confidence. Between those Crystal Palace and Southampton matches, the Magpies have a home date with an unpredictable Burnley. The Clarets now have back-to-back league clean sheets – against Arsenal and Manchester United no less – and face Southampton and Bournemouth next ahead of that trip to the north east so could be coming with a fine bit of form at their backs.
Watford (Brighton, Manchester United, LIVERPOOL, Crystal Palace)

Since the 'new manager bounce' provided by the appointment of Nigel Pearson to replace Quique Sanchez Flores has now worn off, Watford find themselves back in the relegation zone in 19th place and now face away matches at Brighton this Saturday followed by Old Trafford and then after that Liverpool at home and then away to Crystal Palace. Looking even further ahead, Leicester then come to Vicarage Road and then it's a trip to Burnley so a tough run indeed for the 'Orns. Luckily they used all their genius to get knocked out of the cup to concentrate on the league (despite being 3-0 ahead at home they still found a way to stretch it out to over three hours against Tranmere!) so now they can now turn their attentions solely to Premier League survival. 15 goals in the last 8 games across all competitions shows that they know where the net is and Deulofeu and Deeney will always threaten, however losing three to Everton highlights that they can ship them in equal measure.
Bournemouth (Sheffield United, Burnley, CHELSEA, Liverpool)

Bournemouth have won their last two league matches and sit 16th, two points above West Ham who occupy the last relegation spot. I don't believe the Cherries are out of the woods yet however as it is worth considering that the wins over Brighton and Aston Villa both came at home and they now travel north (obviously!) to Sheffield United (6th), Burnley (11th) and Liverpool (1st) in their next three. They've lost 8 of 12 away from home. Their one home game in this run is Chelsea (4th) who could blow hot or cold on the day. Bournemouth did win the reverse fixture in west London in December but that was clearly as much an off-day for Chelsea, as Bournemouth had lost 5 on the spin going into it and scored with their only chance and enjoyed just 33% possession.
Final Thought
When the season's fixtures are announced and then in turn compiled for each player in the game, the difficulty rating for each game is given a code of green, grey, red or burgundy. This is the Fixture Difficulty Rating (FDR). They say on the FPL website that this is "reviewed and updated accordingly as the season progresses" but I'm not so sure, or if it is, I'm not sure they guy doing it is doing it right! Almost everyone playing Manchester United is a red or burgundy rating. Now we know that that isn't necessarily the case the way this season, and United's performances, are shaping up. Similarly, Sheffield United are given as a favourable rating for most of their opponents – they sit 6th in the league at the time of writing. Wolves have beaten Manchester City twice despite burgundy ratings against them.
I suggest looking at the fixtures themselves measured against current form, and try not to have your eyes necessarily always drawn to the FDR colour. Sometimes it can be slightly off-putting seeing any red amongst your players' future matches, but this doesn't always tell the full story.
Best of British to you all this Gameweek (in a traditional, friendly and non-political sense).
Thanks for reading Fantasy Football Fixture Analysis Gameweek 26. This article was written by GP.
Fantasy Football 247 League Codes: