Fantasy Football Fixture Analysis Gameweek 27
Welcome to Fantasy Football Fixtures Gameweek 27. Gameweek 26 has been an odd gameweek so far. The slow drip feed of games hasn't made it feel like a 'proper' round of fixtures that was actually contributing towards my overall points total; as it turns out, it contributed very little towards it.
Storm Ciara wreaked havoc in the fishbowl that is Manchester to call off the City versus West Ham tie last weekend. Unfortunately for me, Storm Dennis doesn't look up to the task of getting it called off for a second time so forgotten hero Lundstram will remain firmly rooted to my bench. No doubt a certain someone on Twitter can let you know every possible gameweek to which the game could be moved if it is postponed again.
Despite not running any long distances events since school, I've had a mid-20s crisis and entered two half marathons. Let me know if you have any tips; the more ridiculous the better! Before this starts to feel like a millennial's blog, let's turn to look at the fixtures.
Whilst I haven't brandished any of the teams without a fixture in Gameweek 28 (that is, Arsenal, Aston Villa, Manchester City and Sheffield United) with the 'unfavourable fixtures' tag, it is worth bearing in mind as you make your transfer(s) this week. For example, with Manchester City facing Leicester and Manchester United away from home with a blank in between, perhaps you should be looking to move the vast sums of cash you no doubt have tied up in their players into others. Perhaps I've only made such a flippant comment because my season is as good as over already.
FPL FIXTURE TRACKER
But first up that all important Fixture Tracker itself…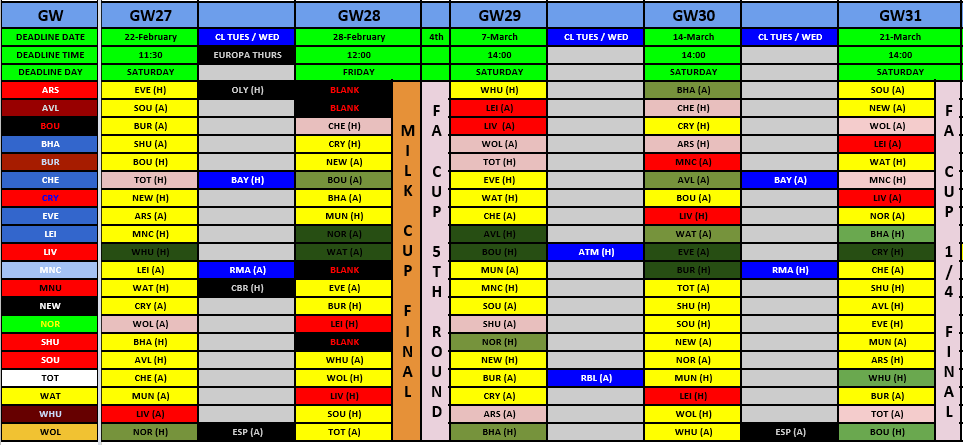 FIXTURE TRACKER LINK
Favourable Fixtures
Liverpool – West Ham (H), Watford (A), Bournemouth (H)


Liverpool could quite legitimately have been placed in their own special category of fixtures this week. I'm in the process of writing a strongly worded letter to FPL challenging the three player rule. Having said that, you probably could get by with three I have just been stupid enough to tie myself into Bobby Firmino – a player who seldom gets the points to show for the work he puts in.
Thanks to Storm Ciara, West Ham have the thankless task of making away trips to Manchester City and Liverpool in the space of just five days. The Hammers kick-started their season in (relative) style. In their last 18 matches though, they have managed to record just three wins and three draws; away from home that reduces down to just two 1-0 victories (against Chelsea and Southampton back in November and December respectively). In that period, they have scored just four goals in eight away matches, conceding 2+ goals in five of those games. It almost certainly does not need saying but Liverpool are currently on a five game clean sheet streak at Anfield after failing to keep a clean sheet at home beforehand. Only Wolves have managed to limit Klopp's free-scoring side to a solitary goal at home this season, and that was during the busy festive period.
Next up is a trip to Watford. After a good spell over Christmas, the Hornets are without a win in four, including defeats to Aston Villa and Everton and a score-draw against Brighton. They have managed an impressive six clean sheets at home this season, although perhaps with the exception of Spurs, none of the sides they kept out is even close to Liverpool's level who have scored in every away game so far, and 2+ in 9/12 of those. I'm not even sure Spurs are remotely close! With that generous pouring of salt in mind, it is at least worth noting that since Nigel Pearson's appointment in December (and rightfully excluding the game they played the day after he took over), Watford have scored 2+ in four out of five home games, only drawing a blank against Spurs. Liverpool have conceded just the one goal over their last five away games, mind.
A visit from Bournemouth rounds up the fixtures. If Eddie Howe says his biggest fear isn't Liverpool FC, he's lying. The last five fixtures between the sides have all gone Liverpool's way. And when I say Liverpool's way, I mean they all ended 3- or 4-nil. If you aren't sold just yet, the Cherries have scored just two goals in their last six away matches, losing five of them and conceding ten.
Wolves – Norwich (H), Tottenham (A), Brighton (H)


Wolves have home games in their next three against sides in the 'away table' relegation zone. Norwich find themselves adrift from the pack at the bottom of the league having managed just six points away from home all season (one win against Everton and three draws), scoring just six goals in the process and two in their last five. This could be a great chance for Wolves to notch up back-to-back clean sheets with just four clean sheets in their last 18 Premier League matches.
Wolves are like clockwork when it comes to scoring goals though, having scored in every single home game this season. Of course Friday night was going to be the exception. Hopefully the clock will be fixed for the weekend. Wolves have also only blanked three times away from home (against Leicester, Liverpool and Manchester United). Boosting their appeal is the fact that even Spurs – the difficult fixture on paper – have only kept three clean sheets at White Hart Lane this season (although they have only conceded more than one goal on just two occasions at home (against Bournemouth and Chelsea)).
Away from home, Brighton have battled to just one win away from home (against Arsenal) since the first game of the season, conceding in each their last ten and 2+ in eight of them. It is worth noting though that they have scored in eight of their last nine away games (albeit just the one goal on six of those occasions). Even if Wolves keep a clean sheet against Norwich, I wouldn't expect them to replicate that against Spurs or Brighton. It's Jimenez that appeals to me here. Goodbye Bobby, hello Jimenez and Mane?
Southampton – Aston Villa (H), West Ham (A), Newcastle (H)


Southampton are hardly prolific and find themselves at the bottom of the table based on home results alone with just 11 points. However, they (and when I say they, I of course mean Ings for the most part) have still managed to score in all but two of those home games and seem to prefer their time away from the South Coast having scored 2+ goals in four of their last five away matches, keeping two clean sheets in the process and conceding just one goal in two others. Oh, and the 'other game' in both of those tallies? The 4-0 drubbing at the hands of Liverpool at the beginning of February. I'll happily let that one slide.
First up is Aston Villa. Southampton rolled out 3-1 victors in the reverse fixture just before Christmas and Villa have conceded in every away fixture so far, winning just one of their last nine (against Burnley). Gameweek 28 sees Southampton visit the London Stadium. As stated above, West Ham failed to maintain their strong start to the season and have just one home win (against Bournemouth) since the start of October. That game against Bournemouth is West Ham's only clean sheet over that period too. Rounding up these favourable fixtures is a home tie against Newcastle who just three wins on the road, conceding in all bar two away games so far (Spurs and Sheffield United), and 2+ in seven.
Unfavourable Fixtures
Bournemouth – Burnley (A), Chelsea (H), Liverpool (A)


I'll keep this relatively brief because Bournemouth assets haven't been in fashion for yonks. First up is an away tie against Burnley. Clearly, Eddie Howe's men will look to this game out of the next three as the best chance of a result. Whilst Burnley often struggle for form, they have picked up an impressive ten points and two clean sheets in their last four games against Leicester, Manchester United, Arsenal and Southampton.
Up next is Chelsea at home, which could actually be the best game on paper for the Cherries' attackers. Chelsea away from home is a both teams to score punter's dream; ten of their 13 games away from Stamford Bridge have seen both teams score, with Chelsea conceding in all but one of those games (against Spurs). Don't expect a clean sheet from your cheap (most likely fifth choice) Bournemouth defender, but the Cherries would certainly be disappointed to draw a blank in this tie.
Gameweek 29 is a daunting trip to Anfield, which has already been discussed above. If head-to-head form is anything to go by, it should be a Liverpool walkover. If current form is anything to go by, it should be a Liverpool walkover. Away from home, Bournemouth have just four points since October, just two goals in their last six and have conceded nine in their last four against Brighton, West Ham, Norwich and Sheffield United. I've changed my mind. It will be a walkover.
Everton – Arsenal (A), Manchester United (H), Chelsea (A), Liverpool (H)


Not many years ago, you'd have probably taken a solitary point facing this quartet back-to-back. I've actually included Everton here to argue that their offensive assets may be worth hanging onto, despite the at first glance gruelling fixture schedule (at least until they play Liverpool).
Everton have been grinding out results for the past few months and, for what it's worth, played this string of teams in reverse in December, recording one win (Chelsea), two draws and a loss (Liverpool, of course), scoring six goals in the process and registering one clean sheet (against Arsenal).
This time around Arsenal is up first, at the Emirates. Arsenal have been crap away from home for a few seasons now. Unfortunately for the Arsenal faithful, they've also become pretty crap at home too with just five wins there all season. However, that is still three more than their away tally and they have scored 2+ in seven home ties, which is three more than they have managed on the road. Having said that, Arsenal have just three clean sheets at home and have conceded 2+ on an embarrassing seven occasions. Much like Bournemouth v Chelsea above, I'd expect goals at both ends of the pitch, which isn't necessarily a bad thing for those with Richarlison or Calvert-Lewin. I'm guessing none of you has Everton defenders, right?
Gameweek 28 sees Manchester United make the short trip to Goodison Park, where marquee recruit (says a lot) Odion Ighalo could make his debut in the starting line-up. Away from home, United have kept just one clean sheet all season season (against Burnley) and only actually scored in four of their last ten (albeit scoring ten in the process).
Chelsea is up next and are a roll of the dice at the Bridge; they go from losing to Bournemouth and Southampton to smashing Burnley, or from three clean sheets on the bounce to losing 1-0 to a mediocre to poor West Ham side. Quite which side comes out remains to be seen (probably depends on the score from the previous week's fixture!). If you're a head-to-head fanatic, Everton haven't beaten Chelsea in the Premier League at the Bridge since 1994. I still don't think this is necessarily a fixture to be wary of for your Everton attackers.
I added on Everton's fourth upcoming fixture just to let you know its Liverpool. Oo err.
Thanks for reading Fantasy Football Fixture Analysis Gameweek 27. This article was written by AT.
Fantasy Football 247 League Codes: