Fantasy Football Fixture Analysis Gameweek 28
There are many things that can descend quickly: the value of the pound, the hopes of Aston Villa fans after yet another loss and, seemingly, my FPL rank. Now, those in the same league as me may have little to no sympathy when I say I have had a good run up until the last few weeks with the heady heights of 9,795 as an overall rank just one month ago. Indeed, my latest position of 35,121 before the Liverpool game is certainly nothing to be depressed about, either. But red arrows are red arrows and so four consecutive weeks of them can still make you feel as beleaguered as Chelsea fans when Giovani Lo Celso didn't receive that red card on Saturday.
So, as we face just 11 remaining gameweeks of this rollercoaster of a season, we get to the real business end – using any remaining chips at the right time and having players to see out the blanks and doubles can pay dividends. As you are no doubt aware, Sheffield United, Aston Villa, Man City and Arsenal don't have a fixture this weekend which means they'll be playing twice at least in one more gameweek to ensure all 38 are played. In the case of Man City, a double could then come as soon as Gameweek 29, however nothing has been officially announced yet. With that in mind, the good and bad games ahead are based on how the calendar currently looks.
FPL FIXTURE TRACKER
But first up that all important Fixture Tracker itself…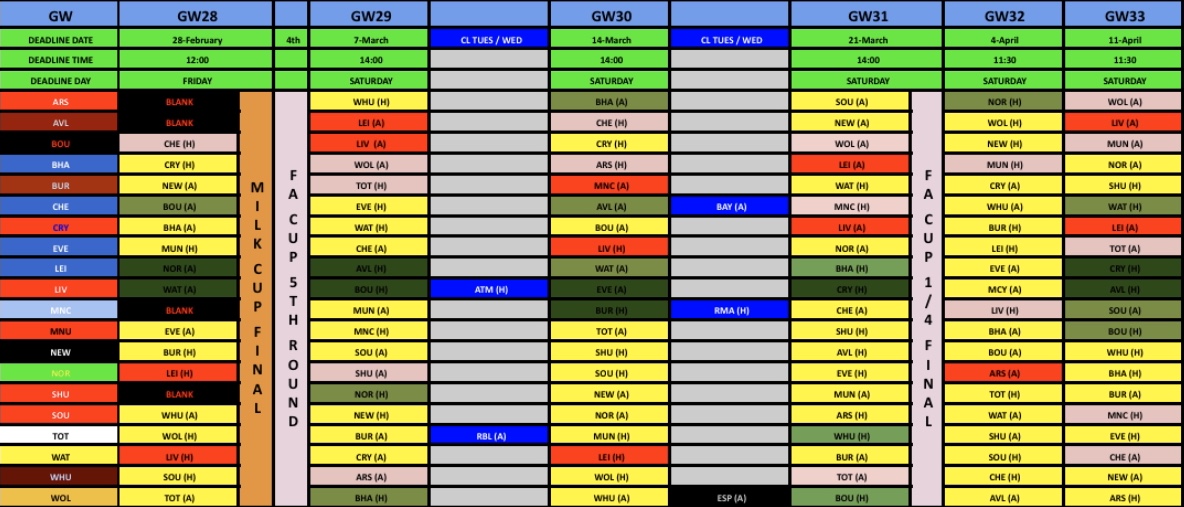 FIXTURE TRACKER LINK
Favourable Fixtures
Leicester (NOR A, AVL H, WAT A)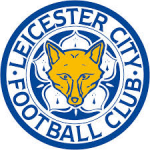 FPL favourites Jamie Vardy, James Maddison and Caglar Soyuncu haven't exactly set the world alight in the last nine gameweeks, as playing the trio in the last four would have got you just 26 points. Now is the time for them to shine – or face a lot of resultant rage transfers, of course – as the next four fixtures bring with them great points potential.
First up is a team who are rock bottom of the league and have conceded 10 in the last six, as the Canaries' departure from the Premier League looks to become more and more certain. A shame, considering their journey to promotion last season with a finish that was five points clear at the top. This obviously presents an opportunity for repayment of your faith – whether that has been in bringing them back or, like me, keeping them through blank after blank. Norwich are also tied with Watford, Newcastle, Newcastle and Crystal Palace in scoring the fewest goals, so there is also potential for points from the Foxes defence.
Aston Villa then come to the King Power Stadium. Those lads need no further introduction than the fact there isn't a team that has conceded more so far – the ball has found the back of the Villains' net an eye-watering 52 times in just 27 games. As previously mentioned, Watford are having trouble finding the back of the net and the fact they have let in 11 in the last five across all competitions also gives hope for returns from your investment in Rodgers' squad.
Liverpool (WAT A, BOU H, EVE A)

Liverpool continue to carry on undefeated, as Arsenal fans are now pleading for them to lose at least one match so that they can still be the Invincibles. Sadly for Gunners fans, West Ham couldn't manage it and the next three matches don't show any sign of that happening either, with Watford, Bournemouth and neighbours Everton on the cards.
The last time Watford played them was Nigel Pearson's first game and it gave hope for their fans from the quality of play that could have ended quite a few accumulators before two Salah goals put the game to bed. There was then a slight resurgence, however the Hornets have returned back to their bad old ways and the three goals shipped against Man United could well be the precursor to the same amount against the likes of Mane and co.
As for Bournemouth, they're one of quite a few teams that have a dour record against the Reds, with 17 conceded and none scored in the last five meetings. Though the Cherries are down there with the likes of Aston Villa and Watford in trying to be a Premier League team next season, their own 3-0 loss against Burnley reminds you of the fact Eddie Howe's men have only kept four clean sheets so far, as 1.59 goals have been conceded per match. That's on average, of course. The last fixture in the trio under the spotlight is a trip to Goodison Park which is, admittedly, a bit trickier as the last seven meetings have seen six draws and one win for the visitors, with an aggregate score at the home of Everton as 6-7.
Chelsea (BOU A, EVE H, AVL A)

Results for Frank Lampard's men in the league couldn't have been more mixed in recent times, as the victory over Spurs followed on from a loss against Man United, which itself was after two 2-2 draws against Leicester and Arsenal. Oh and they lost to Newcastle before that.
Whilst the gaffer has taken a leaf out of Pep's book when it comes to rotation, faith in his players could bring in some decent points as the next three games hold some opportunities. The last time they travelled to Bournemouth ended in a 4-0 loss as the weight of the job showed on Maurizio Sarri's odd chewing habits. Whilst the West Londoners also went on to lose 1-0 when they welcomed the Cherries to Stamford Bridge in December, times are slightly different now as the race for fourth place steps up a gear and Eddie Howe's men have been more dramatically misfiring.
Under Carlo Ancelotti, Everton look like a more competitive side, as the likes of Richarlison and Dominic Calvert-Lewin have properly flexed their muscles. That said, Frank Lampard has shown against the likes of Jose Mourinho that young age can outfox the more experienced shoulders, even if it ended as a 3-1 loss the last time the two squads met under Duncan Ferguson's stewardship. However, if that does not end up in Chelsea's favour, the trip to Villa Park – a place they have won five of the last seven games – could surely make up for it.
Unfavourable Fixtures
Aston Villa (BLANK, LEI A, CHE H)

I'll be honest, I've not exactly been subtle in expressing my feelings about Aston Villa's fortunes before the ball is even kicked come Gameweek 29, as this weekend's game is postponed. That pessimism flows on to the trip to Leicester, a location the Villains did manage to get a 1-1 draw in the League Cup, which then precedes Chelsea coming to Villa Park. The one player of any FPL value, Jack Grealish, still brings in respectable points every two or three matches but even Dean Smith seems to be getting fed up with the rest of the squad's efforts. I liked the Championship anyway.
Watford (LIV H, CRY A, LEI H)

As you've already read, Watford appear to have returned to their bad old habits of Quique Sanchez Flores under the management of Nigel Pearson and games against Liverpool and Leicester at Vicarage Road, with the sandwich filling of Crystal Palace in the middle, don't hold much hope. Against the Reds, they have a similar poor record to Bournemouth in that a whopping 27 goals have been conceded in just eight meetings, with only four to their name over the same period. Not that I imagine you do have any Hornets players in your FPL side!
Everton (MUN H, CHE A, LIV H)

The Toffees may be enjoying a run of five wins and then a narrow loss against Arsenal in a game that saw them push the hosts all the way, but the next three games could well be quite the challenge for them. First up is a visit from Man United who seem to be rejuvenated since the arrival of Bruno Fernandes, as he is still yet to feel what losing for the Red Devils feels like. Whilst the last time that side visited Goodison Park ended in a 4-0 defeat, that did follow a run of six wins and two draws in their favour across the previous eight trips to the same place. Chelsea away and then Liverpool back at home are also two games that, for a start, you wouldn't want to have any Everton defenders in.
Keep an Eye On
Arsenal (BLANK, WHU H, BHA A)

Once the Gunners have got the blank out of the way, there's a visit from West Ham – a game they will want to pick up on the same kind of effort shown against Everton. With 51 per cent of possession and only four shots on target, a 3-2 win shows clinical attacking. West Ham gave Liverpool a royal game but, having conceded 10 in the previous five across all competitions, three were then added in the eventual 3-2 loss. Having gone down 3-1, 4-1, 1-0 and 3-0 in the last four visits to the Emirates Stadium, the Hammers could give every chance to allow Aubameyang and co. to carry on with that trend. Brighton, Southampton and Norwich thereafter also carry with them excellent FPL points potential as things currently stand.
Thanks for reading Fantasy Football Fixture Analysis Gameweek 28. This article was written by Swirly.
Fantasy Football 247 League Codes: