Fantasy Football Fixture Analysis Gameweek 29
Well everybody, the first US case of Coronavirus that has ended in a fatality has happened in my state. So I guess you could say this is it. We've had a good run. I work two jobs and have three kids in public school, and as such, becoming a hermit is out of the question for me…so I just wanted to tell you that I love you all, and I hope you remember the good times. Remember that time I wrote like ten pages of MLS preview while hopped up on DayQuil? And remember all of those times I kept praising Liverpool hoping that I could jinx them? Ahhh, the memories.
Or maybe it won't be so bad. I mean, we've got the top minds of the country working on this, so we should be fine. Right?
See, I say this time and time again though. This is why we need football. This is why we need fantasy football. Even when life gets really crazy, we can focus on something like this and center ourselves in something good. Maybe I can't control the goobers out here that think the virus is a hoax and that the mandate to wash your hands is propaganda. But I can control my captain this week. I can't control the 40% of Americans that think Corona beer must have coronavirus in it, but I can control my transfers. This is our last bastion of sanity, folks.
And don't worry, I can't die this year. This has been my worst fantasy season since I started playing fantasy football. No way I'm going out on this note. Also, I can't die seeing Liverpool as the last champs of the league. I won't allow it. And with that being said, Liverpool tops my list – again. This too we must survive.
Top 3 Best Bets
Liverpool – BOU (H), EVE (A), CRY (H)


Our crayola specialists have determined that Liverpool have the easiest schedule of any team on the board here. But to be fair, any top-half team would consider this a gem of a schedule. So really, Liverpool's inclusion at the top of this list actually does have more to do with the fixtures than them being some mythical juggernaut that can't be beat. But there are questions now about Liverpool after their (glorious) defeat against Watford. And the most obvious question is: how much effort will Liverpool put in down the stretch now that their unbeaten run is at an end?
Any way you look at it, Liverpool are still going to be champions – but the style points of becoming champions and staying unbeaten are now gone. So that could mean that they'll refocus their efforts now on things that still matter. Namely, Liverpool still have a very winnable fixture coming up against Atletico Madrid in the Champions League next week. Does it make sense now to play Salah and Mane and TAA three times in one week? On a normal week, Bournemouth and Everton would probably be dead to rights if Liverpool were playing to their full potential. But now that the unbeaten run is at an end, maybe they'll rotate and rest some players to make sure they win the matches that matter.
Nobody is thinking that Liverpool are going to just start tanking here. But it's reasonable to suspect that there may be a justifiable dip in form against teams that don't matter in games that don't really matter. Or Liverpool could run through these games with an aggregate score of 12-0 just to prove they can. I mean, I don't know. They're Liverpool, they can pretty much do anything they want. But hey, the best team in the league has the best schedule in the league. Again. So do with that what you will.
Leicester – AVL(H), WAT (A), BHA (H)


Before anybody gets set to add in any Leicester players for inclusion into their squad, we'll all first have to learn to forgive them for not telling us about Vardy's injury until it was too late to do anything about it. Vardy against Norwich… he could've been the chosen one. Even if you didn't captain him, he was one of maybe three forwards that were 'must have' going into last weekend. And then, at the last minute, we were told Vardy was out. But at the same time, we were reassured that "he'd be back next game". Ok liars, I'll bite. Since many, like myself, already brought Vardy in (for a -4 hit no less), we may as well let it ride and pretend we can take Leicester at their word.
The teams that Leicester are set to play will be very motivated to get any points they can in their respective bids to avoid relegation – but Leicester are in third place and will probably be even more motivated to secure their European spot going into next year. Worryingly, Leicester haven't scored a league goal in three straight matches now – which shows that maybe resting Vardy might've been just what the doctor ordered. If this team can get right up front, they should breeze right through this schedule.
We just have to divorce ourselves from the emotion of last week's disappointment. The math still checks out on this Leicester side. They're still only one of three teams to have scored more than 50 goals this season. They're still one of four teams to have a 1.0 GA average or better this late into the year. Their recent run of form is, in my opinion, just an aberration. Look for Leicester to get back to their proven form here in the coming rounds.
Wolverhampton – BHA (H), WHU(A), BOU(H)


Wolves still haven't established themselves as one of the great teams – but for my money, they're probably the most fun team to watch this year. Sure, Sheffield United shocked the world and cemented themselves as a legit top-half side in the first half of the year. Chelsea have exceeded expectations, albeit quietly, at every turn. And Liverpool have put on a show that will go down in history as one of the great seasons. But Wolves… they've just been fun to watch.
And that fun that they seem to have has translated into some really good football. Wolves are only three points out of the top four right now. And with this schedule that they have, they could conceivably have that fourth spot in the table here before March is done. Very few people think that Wolves are a team that are deep enough to sustain a Champions League run next year – but you have to give them credit for putting themselves in the conversation to snag one of those spots regardless.
And these three games coming up couldn't line up better for this team. Wolves have gained some steam lately after a minor dip in form, scoring three goals in each of their last two games. Brighton can't seem to stop any team from scoring suddenly, and they shouldn't have the goods to produce anything here. West Ham still have Moyes at the helm, and even though they got a good result last week, their form prior to the game against Southampton should be more indicative of what we can expect from them here. And Bournemouth are on a three-game winless streak that has seen them concede a total of seven goals – so Wolves should have little to worry about in that spot as well.
Teams to Avoid
Everton – CHE (A), LIV (H), NOR (A)


Now it would be easy to list somebody like Aston Villa here at the top spot for teams to avoid. But that's no fun – everybody avoids Villa already. Outside of Grealish, nobody owns any Villa players. But many people do own some Everton assets, and this could be a troublesome run for our boys. Two away games and the Liverpool Derby will be problematic at best, and disastrous at worst. Sure, the Norwich game looks like a peach out there, but never doubt Everton's prowess for dropping points when it really matters. Could Everton win against Chelsea on the road? It 'could' happen, but nobody is seriously thinking about putting any real money on that chance. And as for the Derby? Lord help us.
Brighton and Hove Albion – WOL (A), ARS (H), LEI (A)


Brighton have been struggling lately, and this isn't the type of schedule that they'd have wanted to turn things around. At one point, Brighton looked relatively safe from relegation based on their position and the play of teams below them, but they've gone and blown that safety net completely apart. Brighton are now just a single point (and some slight goal difference) away from being in the drop zone. And they're definitely playing against higher caliber teams here this month. The best that Brighton could hope for here is three draws or a very lucky win – but either way, even seeing them get three points from this run would be a miracle.
FPL FIXTURE TRACKER
And that all important Fixture Tracker itself…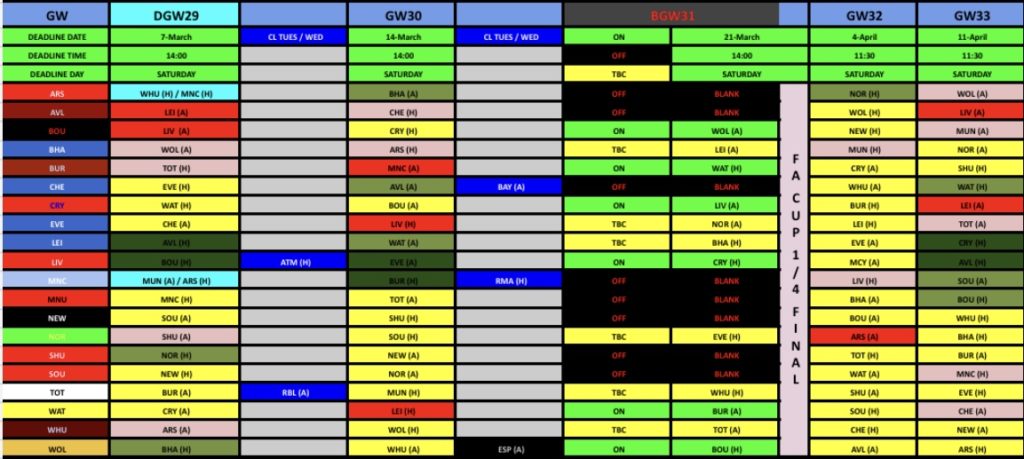 FIXTURE TRACKER LINK
Thanks for reading Fantasy Football Fixture Analysis Gameweek 29. This article was written by Guy Sanchez (Footy Fantastic).
VOTE ON THIS WEEK'S CAPTAIN POLL GW29


Fantasy Football 247 League Codes: