Fantasy Football Fixture Analysis Gameweek 31
Welcome to Fantasy Football Fixture Analysis Gameweek 31. Agreeing to write an article for Gameweek 31 is making me feel a little bit like the Birmingham City 'fan' who punched Jack Grealish on Sunday afternoon; a mug. As I set about planning for this article, two issues became clear early on: (1) we won't even know the full set Gameweek 32 fixtures until after Gameweek 31 deadline, and (2) we won't even know the full set of Gameweek 33 fixtures until after the Gameweek 31 deadline. Given that we usually look at the upcoming three gameweeks, those two issues make this article – for want of a better word – bullsh*t.
Undeterred, I have tried to come up with a way of making this article useful despite its speculative foundation. As such, I have split it into discussing the teams with guaranteed fixtures in Gameweeks 31 and 33 and then teams that will likely have two fixtures in Gameweek 32. I appreciate that this lends itself heavily towards those with all their chips left to play and the 'FH 32, WC 34' strategy but I cannot see a way of comprehensively dealing with everyone's unique situations in one article. It will hopefully still be of use to those deploying different strategies simply by discussing the stats for the upcoming gameweeks and I will throw in some teams I would be looking at if I was running a different chip strategy. To avoid taking up your whole lunch break or your significant other thinking you've got bowel problems because you've been in the bathroom for so long, I will focus on the favourable fixtures.
Unusually, I have not reviewed the weekend's games to introduce this article. It probably has something to do with Salah being totally obliterated by his cheaper attacking teammates. It probably also has something to do with not owning Sterling. It possibly has something to do with me throwing a tantrum and watching the Six Nations instead of the football. At least it made my intro short for once.
FPL FIXTURE TRACKER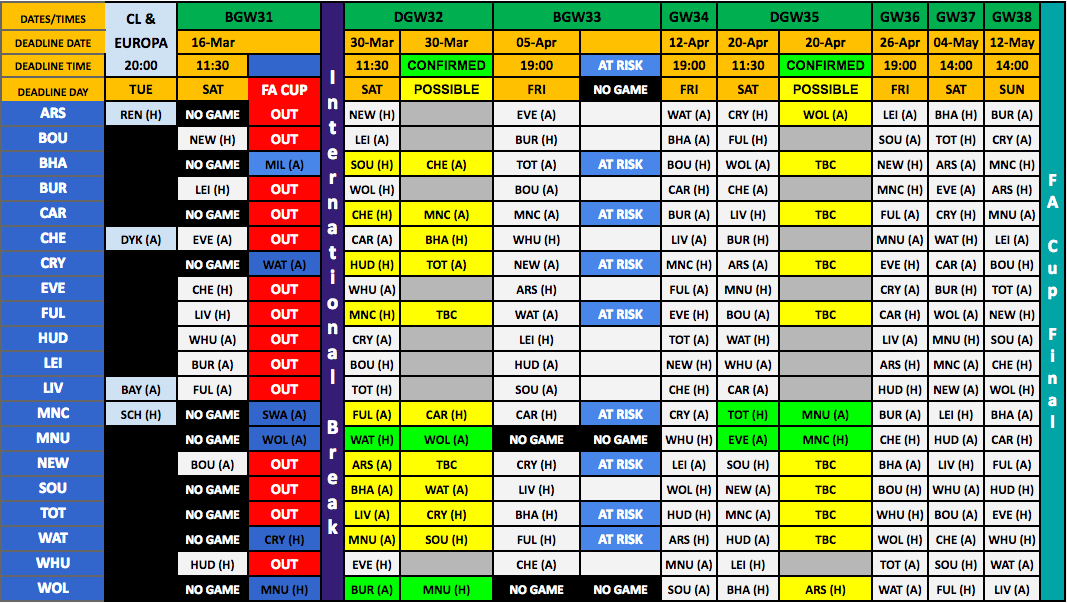 FIXTURE TRACKER LINK
Favourable fixtures for Gameweeks 31 and 33
Bournemouth – Newcastle (H) in GW31 & Burnley (H) in GW33


It will take more than a 2-0 victory against Huddersfield to convince us that Bournemouth have turned a corner away from home. Luckily, Bournemouth's fixtures in Gameweeks 31 and 33 are both at home. The Cherries have only lost to United, Arsenal, Liverpool and City at home and they scored 2+ in nine of their other eleven games at the Vitality. Callum Wilson also returned from injury in style with a goal and an assist against Huddersfield and seemingly also managed to inspire Ryan Fraser to a return to form as he chipped in with a goal and an assist too.
Newcastle have just two points in their last six away games and conceded in every single one of them. Burnley have been poor away from home all season; managing just three clean sheets and conceding 2+ in 8/16 matches.
Bournemouth are also showing promise of some defensive returns having conceded just two goals in their last four away games, which included ties against Manchester City (1) and Chelsea (0). Newcastle have failed to score in six of their matches on the road this season (in 14) and Burnley have failed to score in eight.
Leicester – Burnley (A) in GW31 & Huddersfield (A) in GW33


Since September, Leicester have only managed to put more than one goal past Wolves (3) away from home. It is, therefore, a little disconcerting that their fixtures in Gameweeks 31 and 33 are both away. More promisingly, those games are against two sides fighting relegation. Well, one is fighting it and the other has lost the battle; Burnley and Huddersfield (need I say 'respectively'?). Burnley and Huddersfield place 3rd and 4th (respectively!) in the charts for the most goals conceded at home.
Defensively, Leicester might not be worth your investment this week. Sorry Pereira owners but I would be surprised to see the Foxes shut Burnley out; Burnley have scored in each of their last 9 home games and have only drawn a blank against Chelsea and Manchester United at home all season whilst Leicester have only kept four clean sheets on the road. Huddersfield have scored in four of their last six home games too so I wouldn't count on a Leicester clean sheet across the two fixtures. Poor Pereira owners.
Liverpool – Fulham (A) in GW31 & Southampton (A) in GW33


It is a shame that Liverpool's fixtures in Gameweeks 31 and 33 are both away from home; Klopp's men have scored 20 fewer goals away from Anfield which seems them rank below Crystal Palace in that respect (by one goal). Promisingly, their games are against two sides fighting relegation. Well, one is fighting it and the other has lost the battle; Southampton and Fulham (need I say 'respectively'?). Southampton and Fulham place 5th and 2nd (respectively!) in the charts for the most goals conceded at home. No, you aren't re-reading the Leicester section by accident (well, you sort of are because I did just copy and paste it) but Liverpool's fixtures are similarly excellent, despite both being away from home.
Many of us fell into the 'trap' of doubling up on Liverpool defence rather than their attackers this week which backfired massively. Presumably you would have taken Mane/Firmino to partner Salah and we all know how well they did this weekend in contrast to Robertson, Van Dijk and Alexander-Arnold. Hopefully the defenders will strike back over the coming weeks as Liverpool have only conceded 17 goals all season and just eight of those came away from home. Whilst Fulham have only failed to score just four times at home all season, they only scored one goal in a further seven of those matches. It is worth noting that Southampton have managed to score in their last nine home games though, including six against Manchester United (2), Arsenal (3) and Manchester City (1).
Unfavourable fixtures?
Everton – Chelsea (H) in GW31 & Arsenal (H) in GW33


I know I said I am focusing on favourable fixtures but Everton's fixtures are probably worthy of mention as I imagine a fair few of you will have an Everton player taking up a valuable spot in your squad. In stark contrast to Leicester and Liverpool, Everton have two tricky home fixtures. Everton have only won one game at home in the league since November (Bournemouth). It remains to be seen whether Chelsea have recovered from their 4-0 and 6-0 defeats away to Bournemouth and Manchester City, respectively, but things are clearly not all good in the camp. Whilst I would not be bringing in Everton attackers, I don't think I would be getting rid of them in preparation for the blanks either. Despite failing to score in their most recent two home fixtures, they were against City and Liverpool and the Toffees have only failed to score on one other occasion at home (Leicester). Chelsea have conceded in eight of their last nine away fixtures and Arsenal, as I am sure you are all aware, haven't kept a clean sheet away from home all season. *Makes a note to bet on BTTS in Everton games in the coming weeks*
Free hit in GW31?


West Ham lost 2-0 to Cardiff at the weekend and Felipe Anderson is disliked by just about every FPL manager right now yet I would still want some West Ham coverage this weekend if I was 'free hitting'. Their opponents, Huddersfield, has been commented on already. Suffice it to say that whilst West Ham may not be firing on all cylinders at the moment, Huddersfield are firing on fewer with just four points since November. West Ham's Gameweek 33 opponent is Chelsea away from home which is why I would probably prioritise the above listed teams over West Ham if you are trying to get players in to cover both gameweeks.
Favourable fixtures in Gameweek 32
Manchester City – Fulham (A) and Cardiff (H) in GW32


This is where the article gets a little bit speculative. It is not even clear that Manchester City have a double gameweek in Gameweek 32 but it is logical and Fulham and Cardiff are their likely opponents. Fulham away from home has been discussed above. As for Cardiff at home, the Bluebirds have conceded 26 goals away from home and only scored nine. Chelsea and Liverpool both put four past Cardiff at home but there is not much point talking about Cardiff's results when City are averaging 3.31 goals at home and 0.75 goals conceded.
The problem really though is predicting who will play. With such good fixtures comes an added rotation risk to throw into Pep's equation. One would presume that Jesus and Aguero will start a game each and Sane and Mahrez will start one at the expense of Sterling and Bernardo but I would be surprised to see that actually happen. The mystery of Benjamin Mendy could also spring us a surprise that week. As Guy wisely said last week, I will let future writers do the legwork on which Manchester City players you will want for Gameweek 32.
Chelsea – Cardiff (A) and Brighton (H) in GW32


Again, this Cardiff and Brighton double-up is not confirmed. Cardiff have conceded more goals at home (31) than any other side in the league. Cardiff have bizarre home form; in their last six home matches, they have three clean sheets, conceding eleven in the other three. Despite beating Crystal Palace 2-1 away from home this weekend, Brighton's away form is poor; three wins and one clean sheet all season.
Chelsea's team, touch wood, should also be easier to predict than City's. Sarri simply does not have the squad depth that Pep does to start giving Hazard and co the day off. This arguably makes them better picks in Gameweek 32 although I'd be lying if I said I am planning on having more Chelsea players than City players that week.
Manchester United – Watford (H) and Wolves (A) in GW32


The Ole revolution is over. Rip up the permanent contract. Rip up your season ticket renewal form. After making history midweek, United were certainly 'due' a Premier League defeat under Ole and it came in pretty convincing fashion against Arsenal. However, it will take more than that for us to consider United assets not worth touching anymore. Hey, at least if you captained Pogba this week he contributed to your points tally.
This double gameweek has been confirmed for Manchester United; Watford at home followed by Wolves away. Watford have just three clean sheets away from home all season, conceding 2+ on seven occasions. Wolves have also conceded 2+ on seven occasions at home this season, managing five clean sheets. Whilst the Premier League newcomers have only conceded five goals in their last seven matches, including Chelsea's last gasp equaliser today and Huddersfield's last gasp winner a few weeks back, they have had a relatively easy run of fixtures recently so don't let that deter you from United assets. Limiting Bournemouth and Chelsea to just one goal each at their home stadiums are notable achievements though.
It is probably not the time to bring United defenders in though; Watford have blanked away from home just five times all season and Wolves just four times. You might get one clean sheet, but I wouldn't bank on it. I'd sooner bank on the defender you choose being rested in the game they manage to pluck a clean sheet out of!
Thanks for reading Fantasy Football Fixture Analysis Gameweek 31. This article was written by AT.
Welcome to our Fantasy Football leagues section.
The League Codes for FF247 for the 2018/19 season are as follows –