Welcome to Fantasy Football Fixture Analysis Gameweek 37. One mans struggle in the real world.
Saturday 19th May 2018 (One week post-FPL)
Gordon perched on his stool and surveyed the array of options laid out on the breakfast bar in front of him. He just couldn't decide what to have. His wife stuck her head around the door, she looked different somehow, he wasn't sure how, just different. "Hurry up, you do this every Saturday, we need to be in car by 11.30". Gordon checked his watch, 10.35, plenty of time. He went back to staring at the colourful array of boxes in front of him. The stupid thing was he'd made the decision about what to have days ago, but when he'd reached for the box of Cornflakes he found there wasn't enough left for a bowl; so frustrating. He chastised himself, wishing he'd just bought another box earlier in the week when he'd had the chance.
The box of Shreddies caught his eye, he'd read an article the day before that said they were fortified with vitamins and minerals and would keep you satisfied until lunch, sounded promising. He flipped the box over and studied the nutritional information, impressive, no doubt about it, but false advertising had fooled him before. Not today.
Just as he was about to give up and skip breakfast all together he had an epiphany 'Cereal Express'! He grabbed his phone and tapped the Twitter app. These guys had been posting cereal suggestions every week; they had never let him down. His heart sank 'Cereal Express will no longer be posting cereal suggestions'. He stared at the tweet with a blank expression, "typical" he muttered to himself.
His son Charlie bounced into the room, "morning Dad", he smiled at Charlie, he looked different too, taller? Older maybe? Without a moments deliberation Charlie grabbed the box of Cheerios, poured out a huge bowl, drowned them in a gallon of milk and began absent-mindedly tucking-in whilst flipping through TV channels. Gordon watched his son with a sense of admiration, whilst thinking 'how come my 12 year old son is so much better at this than me?'
He was snapped from his reverie by the shrill of his wife. Panicking, he glanced at his watch – 11.31am. He'd been so lost in thought he'd completely lost track of time. He jumped up; no time for breakfast now, something he knew he'd regret later in the day. "I'm coming dear, where are we going anyway?" her retort was laced with annoyance "You know where we're going, I've told you a million times, we're going shopping, I need a new hat, we're at a christening tomorrow". In that instant Gordon knew that today was going to be a miserable day, and tomorrow evidently would not be much better.
The end is nigh. In just under 2 weeks time, over 5 million men and women will be reintegrated back into normal society, It's a daunting prospect. Thank God it's a World Cup Year.
If the thought of life without FPL fills you with dread, then fear not, we're not there yet, there is still 2 game-weeks to go. First up our third and final DGW. Some of you will be playing your BB, some your TC, and those who play for fun will be wondering how the hell everyone just scored way more points than they did (hopefully), and what exactly is a DGW anyway?
There are no real surprises in this weeks picks. I could probably have just directed you to AT's GW36 Fixture Article from last week (remember him?!), it would still serve you well, but that would just be plain lazy.
The All Important Fixture Tracker. Or what's left of it…
Gameweek Tracker GW37-38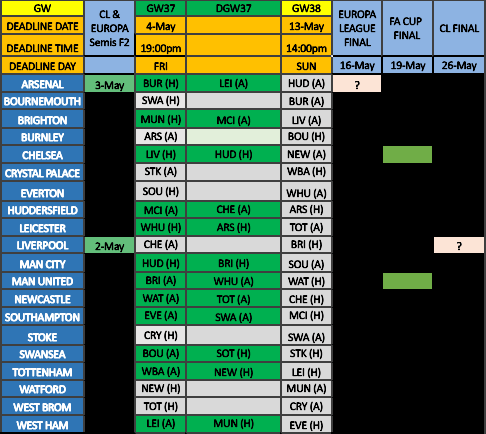 FAVOURABLE FIXTURES


#1) Man City – Huddersfield (H), Brighton (H), Southampton (A)
I read an article last week where some fella was having a right old whinge about Pep Guardiola ruining 'his' team. My heart went out to him. Imagine having to watch your team systematically destroy teams week-in week-out? Some folk are never happy.
City are breaking Premier League records left right and centre. The title was secured earlier than has been done before, the biggest title-winning margin (16pts, Man Utd, 1999/2000) looks a distinct possibility, and with it the most points scored in a season (95pts, Chelsea, 04/05). They've equalled the record for most wins (30) and, they'll probably break their own record (+71) for best goal difference, they're also one goal off the record of most goals scored in a season (103). Crikey.
Their dominance does not end there. They look set to have the highest possession average, having already broken the record for most passes with a whopping 84% completion. Did I mention Guardiola also broke the record for consecutive League Manager of the Month awards (4)? I didn't? Well he did. I could go on, but you get the picture. So has Pep 'ruined' city? I'll respectfully disagree.
No surprise then, that the Citizens are once again the number one pick in this weeks fixtures, especially when you check out the opposition.
DGW's don't come much better than this; two home games, bottom of the table opposition and both with terrible away form. Expect goals, lots of goals (again). Prior to their defeat to neighbours Utd in GW33, City had 14 home wins on the bounce. In GW35 they showed us that the title race may be over, but they have no intention of throwing on their budgie smugglers any time soon. A 5-0 win against the Swans means they have now scored 4 or more at home no less than 7 times this season.
The Terriers head to the Etihad having lost 11/17 games away from the John Smiths (or is it?!), conceding a whopping 32 times. Only Stoke (37) and West Ham (42) have conceded more on their travels. To add insult to injury, things haven't been much better at the other end of the pitch, only Brighton (9) have scored less than the 11 away goals Huddersfield have registered this season.
Speaking of Brighton they're up next. Their away record is even worse than Huddersfield's. 11pts out of a possible 54 away from the Amex, and as mentioned they also have the worst record for away goals scored (9).
As it stands, the Saints are heading for the drop, but their 2-1 win over Bournemouth at the weekend will have given them hope, lifting them to within 1pt of safety. By the time they host City in GW38, they could already be down. If they're to have any hope of survival they'll need to make the most of their two DGW fixtures, as the chances of them getting anything against City seems highly unlikely. Oh, and if City win this one they'll have broken another record of most away wins in a season. Ruined.

#2) Tottenham – West Brom (A), Newcastle (H), Leicester (H)
After last weeks FA Cup semi-final defeat to Manchester Utd, Tottenham will be more determined than ever to ensure they have a strong finish to their league campaign. It's still a distinct possibility for Spurs to finish second, although it's perhaps more realistic that they are fighting with Liverpool for third place. With Harry Kane doing all he can (I swear on my dogs life) to stay in the hunt for a third consecutive golden boot, FPL players have several compelling reasons to retain and even add to their Spurs assets for their final 2 game-weeks. Looking at their next 3 fixtures only adds to the allure.
If you can't start a DGW at home then surely a trip to the Hawthorns is the next best thing?
To be fair, the Baggies have improved in recent weeks. I witnessed this first hand at St James Park at the weekend, it just goes to show the difference it can make when you don't have a complete Muppet in the dugout. Their 0-1 win at Old Trafford in GW34 sits in the middle of 2 draws at home to Swansea (1-1) and Liverpool (2-2), clearly they're not going down without a fight, but is it too little, too late?
My lot (Newcastle) head to the capital in the second game of both teams DGW. Swansea's defeat to Chelsea at the weekend means that it's now impossible for both Swansea and Southampton to reach 41pts, we're officially safe, which is just as well, as against West Brom we looked as if we'd already packed our trunks in preparation for a trip to Whitley Bay. We haven't won away to Spurs since 2013, I have no qualms about sticking my TC on Harry, and I've told you before; I'm cold as Ice.
Spurs wrap up their season at 'home' to Leicester in GW38, all going well it will mark the end of their temporary Wembley stay, I'd imagine they'll want to end their tenure in style. At the end of last season Spurs went to Leicester and won 1-6, Harry got 4 that day, if he's still in the run for the Golden Boot, would you bet against him doing it again?

#3) Man Utd – Brighton (A), West Ham (A), Watford (H)
The blue half of Manchester has deservedly taken all the plaudits in recent weeks. I can't imagine its been much fun for Jose Mourinho, then again I'm not sure if Jose knows what fun is any more. He's upset everyone from the players to the tea lady this season, but if United can secure second spot in the league, then Jose will have achieved their highest finish since Alex Ferguson retired in 2013. He'll still not be happy and if he is not happy then no one else is allowed to be happy…
With second spot not yet secured, you can be sure that Jose will have his troops fired up (I suspect this consists of a monotone diatribe that makes little sense to anyone but himself) for their remaining 3 fixtures. Both of their DGW37 fixtures are away from Old Trafford, but after the humiliating defeat at home to West Brom in GW34, perhaps that's not such a bad thing.
Brighton's last home game (Spurs, GW34) ended in a 1-1 draw. They've only actually lost 4 times at the Amex this season but they've also only managed to keep 4 clean sheets in their 18 home games. Currently on 37pts, the Seagulls will hope to get something out of their last 3 fixtures to ensure Premier league survival, I'm not convinced they'll get anything out of this one, so lets hope the teams below do them a favour.
West Ham head into the DGW on the back of a 1-4 defeat at home to City. Their home form has been a mixed bag in recent game-weeks. A draw against relegation threatened Stoke in GW34 followed a 3-0 win at home to Southampton in GW32, but it was a 0-3 defeat at home to Burnley the week previous, so who knows which West Ham will turn up. One thing I do know for sure is that Manchester Utd are a considerably better team than Stoke or Southampton, I'd be surprised if this doesn't go Jose's way. He'll still have a face like a smacked arse post-match.
The Red Devil's welcome Watford to Old Trafford for the final match of the season.
No team has lost more away games than Watford this season (11), although it is a record they share with West Brom and we all know how their visit to Old Trafford went. Surely though lesson's will have been learnt from that one. Watford has earned an impressively bad 1pt in their last 10 away games and that was against Stoke. You would have to go all the way back to GW13 for their last victory on the road, that was against Newcastle so we'll not talk about that.
UNFAVOURABLE FIXTURES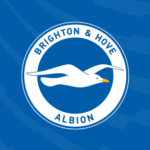 Brighton – Man City (A), Man Utd (H), Liverpool (A)
Man alive, the Premier League fixture planners have not made it easy for Brighton. In the 25 years of the Premier League, the 3 promoted sides have only stayed up twice (Fulham, Bolton and Blackburn, 2001/2002 and QPR, Norwich and Swansea in 2011/2012)
With Newcastle already safe (get in!), attention turns to Brighton and Huddersfield. Both teams are at present above the drop zone, but with those fixtures they'll be looking over their shoulders nervously.

Huddersfield – Chelsea (A), Man City (A), Arsenal (H)
Huddersfield have it marginally better than Brighton, but there's not much in it. Like Brighton they have 2 tough away games, and either one of the two could yet slip into the dreaded drop-zone. Surely nobody has Huddersfield players now anyway.
That's me done for the season. Thank you all once again for making FF247 what it is, I wish you all the best of luck in the remaining two game-weeks, and see you all next season when we all do it again… or in 6 weeks when we play World Cup Fantasy…you know It makes sense!
Thanks for reading Fantasy Football Fixture Analysis GW37. This article was written by Rosco.
The League Codes for FF247 for the 2017/18 season are as follows: