Fantasy Football Fixture Analysis Gameweek 4
Welcome to Fantasy Football Fixture Analysis Gameweek 4. Now most of you will probably know that I am one half (third) of Harry and Lloyd and if you still don't know who Harry and Lloyd are… then I can't help you! This week I have decided to fully embrace the moniker of Dumb and Dumber as I haven't the foggiest idea what I'm going to write and which teams I am going to suggest. The reason behind this is I have only returned from coaching 'soccer' in America, I haven't seen any pre-season, I have only watched one or two Premier League games and I have barely got the chance to get on the site and chat to you lovely people. Someone tell me why I am writing this article again? Oh, that's right I am one of the young ones who has lots of spare time. Well I am looking forward to getting back into the swing of things and watching some proper 'football' because by God the Americans are sh*te! I thought the MLS was bad but American soccer has a long, long, long way to go! Sorry to any of the Americans on here but be honest with yourselves!
Like I say, I haven't had the chance to watch much of the Premier League especially the new boys, but I will try my best, so enough preamble let's try waffle my way through this.
Smart –



Arsenal – TOT (H), WAT (A), AVL (H)
Arsenal will want to bounce back quickly after their 3-1 defeat to Liverpool on Saturday and what better way to do that then coming up against their neighbours, Tottenham. The North London Derby has gotten bigger in the last few years with both teams actually having something to play for with the emergence of Spurs as an actual football team. Arsenal have played alright so far this season, but they failed their first proper test last weekend which may not instil hope amongst the Arsenal faithful. I would say to relax as I actually feel Arsenal could do alright this season if they shore up their defence. The NLD will undoubtably come too early so I would give this game a miss before bringing in any Arsenal players. *Edit – Spurs have just lost to Newcastle, so I really haven't the foggiest what is happening this season and looks like both teams are rubbish!
The next two games are much better for Arsenal as they face another London derby against Watford which should see them grab a win and then they face Aston Villa who are still finding their feet in the big league. Both Watford and Villa do not have the sturdiest of defences and with the new attacking trio of Lacazette, Aubameyang and Pepe I think Arsenal will have too much speed for these two defences to handle.


Burnley – LIV (H), BHA (A), NOR (H)
I have thought long and hard over putting Burnley in this section mainly due to their next fixture against Liverpool. Jurgen Klopp's men are top of the table and have three wins out of three; honestly, I don't see them losing that streak against Burnley and should win but the reason I still put the Clarets in my 'smart' fixture section is due to the Liverpool defence. Last season, VVD and co. were impenetrable but this year has been a different story. Allison is injured, TAA and Robbo have forgotten they are defenders and as Jamie Carragher has pointed out Liverpool are playing a high line trying to catch teams offside, which is leaving a lot of space in behind. Going off these factors I feel Burnley could nick a goal so having one of the strikers could be a decent punt. The other player that should benefit from this game is Nick Pope who will have plenty of chances to earn save points with Mane, Salah and Firmino all firing at him.
After the visit of Liverpool, the fixtures go in Burnley's favour with a trip to the coast to play Brighton and then a visit of new boys Norwich. These games will be much more equal for Burnley and should profit both FPL points and actual points. Brighton have started the season well with a win, a loss and a draw but they will likely have a game on their hands against Burnley so a draw is what I would be tipping between these two teams. Next is Norwich, who have set tongues wagging amongst FPL managers with the likes of Pukki and Cantwell doing the business. The Canaries are coming off a 3-2 defeat to Chelsea so they are not a team who will sit back which Burnley can take advantage of. This is another game where owning the likes of Ashley Barnes could be a cheeky punt.
Dumb –


Leicester – BOU (H), MUN (A), TOT (H)
The former league champs have had a bit of a fall from grace since lifting the title after finishing the season tied for 9th place last season. This season they have started with a win and 2 draws so while still undefeated they aren't exactly setting a blistering pace. The likes of Maddison, Tielemans and Perez are not banging in the goals like we all would have thought and liked at the start of the season but with the talent those boys have it is only a matter of time. That time however will not come anytime soon, I fear. In their next three games they play Man United and then Spurs, which on paper should be two losses but going off history it could be a coin toss as to who gets the points. Vardy has a brilliant record against the top 6 after scoring 34 goals against them so this could point to him gaining FPL points even if Leicester drop PL points.
The next game for the Foxes will be a great chance for three points coming up against Bournemouth who are a dodgy team at the best of times and do not have the greatest defence. This should give Vardy and the other Leicester attackers a brilliant opportunity to notch up goals, assists and more importantly FPL points.


Aston Villa – CRY (A), WHU (H), ARS (A)
This is another of my dodgy, blindly guessing picks as I have only seen maybe a total of 10 minutes from the Prem new boys Villa and that was in their 2-0 win over Everton on Friday night. I must say that from what I saw they looked good but going off what GP says about Everton and how they "were severely lacking fight"; I don't know if it was a matter of Villa looking good or Everton looking bad. This is the main reason that I have put Villa in the 'dumb' section as their fixtures are all against Premier League regulars but they are not the greatest of teams, Palace have just shocked everyone with a 2-1 win over Man United but this could just be a lucky win as I have not seen too many people raving over Palace on the boards, the little I have seen. West Ham are another team that should easily beat Villa but are a team that are like Dr Jekyll and Mr Hyde; one week they can look great and the next you wouldn't touch them with a ten-foot pole! I actually can see Villa beating West Ham and it could be a decent game for the likes of Jota, McGinn and Wesley.
After the visit of the Hammers, Villa then come up against Arsenal which should be an automatic loss for Dean Smith's men as Arsenal have looked decent going off the Premier League table but then going off the Pool game earlier and seeing a 3-1 loss I doubt the Arsenal defence are the most sturdy, so with the speed and movement of Wesley; he could get in behind and cause trouble.
Dumber –


Brighton – MCI (A), BUR (H), NEW (A)
Haven't seen much of Brighton but with 4 points out of 9 it isn't the worst start but they haven't really had much to do so far. Playing Watford then West Ham aren't the hardest of teams but now the real test of wizarding magic from Potter comes in as the Seagulls are going of a stretch of playing 3 of the top 6 in their next 5 games. Brighton are coming up against the defending champions this weekend and I don't have much faith in them grabbing any points, but I would be happily proven wrong. It may seem harsh to put Brighton in the 'Dumber' just on the back of the City game but like I said above the matches against the other top 6 teams are coming up plus the match against Burnley is one that could be a sticky situation for Brighton to navigate and just tipped the scale for me to put them in this section.
It is not all dementors and death eaters for Potter and co. as they do have a match against Newcastle sandwiched in there that should see them get some form of points. Newcastle have a new manager, not much improvement transfer-wise, no improvement off the field so a win against Brighton is not something I can envision but stranger things have happened.
Dumberer –


Newcastle – WHO (H), EVEN (A), CARES (H)
It's Newcastle, with Steve Bruce in charge, with Mike Ashley still as owner. Just don't bother! Sorry bro :kiss: *Edit – I don't know anymore! If Newcastle can beat Spurs, then I give up!
Final word – I didn't include Liverpool and City in this as that would be a waste of time as we all know their qualities, and all have their assets so don't start questioning me in the comments.
Thanks for reading Fantasy Football Fixture Analysis Gameweek 4. This article was written by MattX.
FPL FIXTURE TRACKER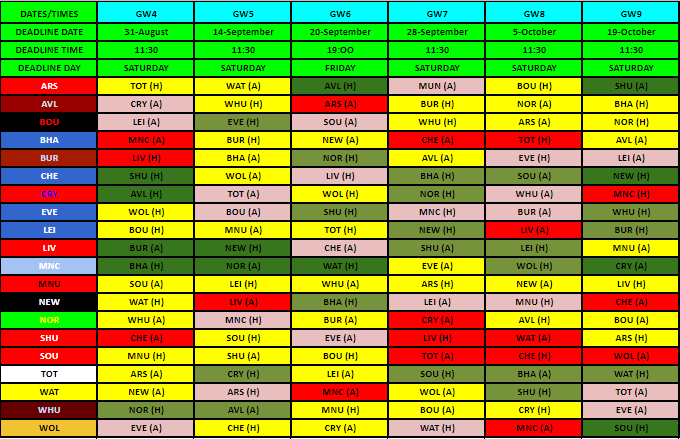 FIXTURE TRACKER LINK
Fantasy Football 247 League Codes: