Fantasy Football Fixture Analysis Gameweek 5
Welcome to Fantasy Football Fixture Analysis Gameweek 5. An international break is of course one of the most frustrating times as an FPL manager as we reflect on a good, bad or indifferent game-week just gone and have a fortnight to fight back or continue momentum. In between many of our assets are away on international duty and our hopes are that fatigue, excessive game time or injury do not come back to bite us. Especially for those of us who have made early transfers!
This week's Fixtures will be slightly different in that we are just going to concentrate on those teams featuring in the Champions League or Europa League. The draws for both competitions were made over a week ago and now the teams and their managers will face selection headaches and we as FPL managers are likely, to some extent, to face nightmare rotation concerns.
As a reminder, Man City, Man United, Liverpool and Spurs feature in the Champions League while Chelsea and Arsenal face Thursday evening Europa fun. Oh the shame!
Just to further complicate the next few weeks, all six teams all face a Carabao Cup tie towards the end of the month.
Man City


15 Sep – Fulham (H) PL
19 Sep – Lyon (H) CL
22 Sep – Cardiff (a) PL
25 Sep – Oxford (a) CC
29 Sep – Brighton (H) PL
02 Oct – Hoffenheim (a) CL
07 Oct – Liverpool (a) PL
If you were worried about City rotation before now, then the start of their Champions League campaign won't help your panic attacks. Which is a shame because their Premier League fixtures look fantastic, certainly from an attacking point of view. Fulham are the visitors in GW5 and they have conceded 9 goals in their first 4 league matches… and that includes matches vs Burnley & Brighton. So one would reasonably expect City to fill their boots here, if only we could get into Pep's brain to see who he plans to play, bench or rest! The Wednesday following the Fulham game sees Lyon visit the Etihad and Pep will clearly want to start the CL campaign with a victory – his team selection for this match may give us a clue as to if he prefers different players for different competitions.
Guardiola has already suggested that Mendy's gametime may be managed when City 'play two games in a week', while after Sané was left out of the squad vs Newcastle in GW4, Pep said, 'I have 6 strikers, they cannot all play every game.'
A trip to Cardiff follows in GW6 and while City should clearly have too much for the Bluebirds, we saw the struggle Arsenal had in South Wales and you can bet your life that Warnock will have his team fired up for the clash with the Champions. However, City haven't lost a league game to a team outside the perceived top 6 since they lost 4-0 at Everton in January 2017 and that fact is unlikely to change at Cardiff.
City then have a Carabao Cup tie with Oxford in midweek – if any of your City contingent feature here then I'd get rid asap for they are unlikely to be part of Pep's squad for the GW7 visit of Brighton. The Seagulls last won an away match in the league in November 2017 at Swansea. They don't travel well, though they will point out that they limited Liverpool to just a single goal in GW3. They will try and frustrate City but ultimately this is another match that we should expect City to win and win comfortably.
A midweek Champions League trip to Hoffenheim is then on the agenda for City before the massive GW8 clash with Liverpool at Anfield on the Sunday. City have lost their last three vs Liverpool including two losses at Anfield last season in the league and CL. Pep will want to reverse that trend of course and knows how important it will be to beat one of City's main rivals for the league. Rotation here will of course be at a minimum, he'll play his strongest XI. Before that is anyone's guess!
The lesson here is if you hold City assets, and we all do, then make sure you have playing cover in your squad. Take the good days, accept that there will be matches they don't play – they will likely be minimal for the likes of Ederson, Walker, Mendy, Fernandinho, Sterling and Aguero. The rest… good luck!
Man Utd


15 Sep – Watford (a) PL
19 Sep – Young Boys (a) CL
22 Sep – Wolves (H) PL
25 Sep – Derby (H) CC
29 Sep – West Ham (a) PL
02 Oct – Valencia (H) CL
06 Oct – Newcastle (H) PL
United remain an enigma and whereas their fixtures on the face of it look relatively straightforward, a look below the surface shows a murky world of apparent infighting between manager and board coupled with some strange results and inconsistent displays. Bizarrely United's best performance this season was when they lost 3-0 at home to Spurs and then in GW4 when they won at Burnley who were still under the influence of the Europa drug.
So if life wasn't tricky enough for United, they return from international duty to travel to joint league leaders Watford. Of course, United's record vs the Hornets is understandably good, they have won 13 of the last 14 meetings, but this is a confident, vibrant, free-scoring Watford team who will go into the game full of confidence and United don't always play in situations like this.
The Reds then travel to Switzerland to play Young Boys in the Champions League – this could be another test for United in a small stadium. Mourinho could indeed have revived his troops by then and they could come out firing and win both of these games if confidence has been restored, but the team look brittle right now and ready to wilt at the slightest blow. See the Tottenham game. Playing great, miss a couple of chances, Spurs nick two quick goals and the United heads drop and confidence is slashed.
GW6 sees United return to Old Trafford and home comforts as Wolves come to town. Now Wolves impressed at home to City and were solid victors at West Ham and seem to be adapting to Premier League life after what was a tricky start. In all honesty this is the sort of match that United have drawn over the last few years so it wouldn't surprise me to see that occur again. Then again in Lukaku carries on scoring, Alexis can find some end product and Pogba can sort himself out, United have the class to win.
A Carabao Cup clash with Derby precedes a trip to West Ham. Pointless West Ham. In many ways in my opinion, but that's just a personal thing. United drew 0-0 at the London Stadium last season but to be honest if they don't win this one they may as well just give up and accept mid-table mediocrity as the likeliest scenario right now.
The visit of Valencia to Old Trafford is another that could go either way with United in their current mood. It's the sort of game under the lights at Old Trafford that should get the crowd going and thus the team responding. This may be more hopeful than realistic, but if man has no hope what else has he got?
GW8 means a trip to Newcastle which looks straightforward on paper but we have seen how tough they can make life for the likes of Man City and Chelsea with Rafa setting them up tightly. Rafa ain't stupid. Fact. United may get frustrated. Fact. United have taken just a point from their last two visits to St James' Park. Fact.
Overall I would be wary of United. Lukaku ain't cheap, Alexis ain't firing, Lingard has done nothing, Pogba can be brilliant, or Ozil-like depending on how he feels, and can you really trust the defence?
Liverpool


15 Sep – Spurs (a) PL
18 Sep – PSG (a) CL
22 Sep – Southampton (H) PL
25 Sep – Chelsea (H) CC
29 Sep – Chelsea (a) PL
03 Oct – Napoli (a) CL
07 Oct – Man City (H) PL
This next month could not only be crucial for Liverpool in their pursuit of domestic and European success but also for you, the FPL manager, as you strive for that top 1k rank or mini-league domination. Liverpool have of course been the go-to team for us managers so far this season. Owners of Alisson, Robertson, Gomez, van Dijk, Mané and Salah have all benefited from Liverpool's free scoring and stout defending. We all knew their opening fixtures promised these kind of results but now the tide is turning, at least in terms of fixtures.
As you can see from their Champions League group, the draw has not been kind to them. They will of course be confident of winning every game, and with good reason, but there will surely be a time when the level and intensity of these matches takes it's toll. And where and when will Klopp rotate? Southampton at home in GW6? He's already hinted he will rotate it in his pressers yet so far all the above mentioned players have started all four league matches and played the majority of minutes. With the likes of Sturridge, Shaqiri, Henderson, Keita, Wijnaldum, Fabinho, Lallana, Lovren etc waiting in the wings, Klopp now has so many more options than he has ever had at the club.
Surely Klopp can't rotate much in GWs 5,7 & 8 which leaves the visit of Southampton in GW6 and the Carabao Cup clash vs Chelsea which comes days before the GW7 trip to… Chelsea.
The question on whether or not we should lose Salah was brilliantly covered by Pancho in his article…. ahem, should be covered by Pancho in his article next week… (*holds breath whilst simultaneously wondering how wise that strategy may be!). That is your choice of course and is far from straightforward. After all, it's not like Liverpool are going to stop attacking. Plus they showed last season that they can score vs anyone. That's the way they play and they do it well.
Just like we said in the City section, it is clearly a time to ensure you have cover on your bench because if the league fixtures are not hard enough, then a visit from PSG and a trip to Napoli makes it the toughest of months for Liverpool. And for FPL managers it's decision time which could have huge consequences for your season.
Spurs


15 Sep – Liverpool (H) PL
18 Sep – Inter Milan (a) CL
22 Sep – Brighton (a) PL
25 Sep – Watford (H) CC
29 Sep – Huddersfield (a) PL
03 Oct – Barcelona (H) CL
06 Oct – Cardiff (H) PL
If Liverpool's fixtures are tricky then Tottenham's are a real mixture up until the next international break after GW8. Their Premier League fixtures are great on paper once they get past Liverpool while the next month sees Spurs play both Inter Milan and Barcelona in their Champions League group.
First up then is the visit of Liverpool to Wembley in GW5. Last season Spurs won this fixture 4-1 but with Pochettino's men crashing at Watford last time out they'll need to recover immediately if they are to repeat last season's heroics, especially with Liverpool looking better organised at the back and without a clown in goal.
Poch then takes his team to Milan to face Inter in what will be far from an easy midweek trip before facing an away trip to Brighton in GW6. We have seen already that Brighton can be well organised, especially at home, where they have already beaten Man United. Last season Spurs were held to a draw by The Seagulls and ex-Spurs defender Chris Hughton will have his side well organised to face his former club. A midweek Carabao Cup date with Watford will allow Poch to rest some of his starting XI before he takes his team to Huddersfield in a game that he will expect to win. Last season a Kane brace helped Spurs win 4-0 in the corresponding fixture.
Barcelona then come to town and it doesn't get much harder than that. One would assume that Poch will play his first choice XI for these two tough Champions League matches which could easily impact on the game time for the likes of Ben Davies and Kieran Trippier in some of the league matches, while the return of Heung-Min Son from international duty and Erik Lamela from injury could easily see Poch rotate in midfield.
Spurs then face just a 3-day turnaround before they welcome Cardiff to Wembley and while a home win would appear an almost certain bet, fatigue will need to be avoided to keep up the league challenge.
Chelsea


15 Sep – Cardiff (H) PL
20 Sep – PAOK Salonika (a) EL
23 Sep – West Ham (a) PL
25 Sep – Liverpool (a) CC
29 Sep – Liverpool (H) PL
04 Oct – MOL Vidi (H) EL
07 Oct – Southampton (a) PL
No Champions League for Chelsea this season. Instead the Blues face the shame of Thursday evening Europa action. Luckily for Maurizio Sarri, the draw has been kind to Chelsea which will allow him to rest most if not all of his first choice league starting XI. This should mean little rotation in the league over a month which sees three kind looking matches plus a visit from Liverpool.
The Blues have won four from four in the Premier League thus far which sees them top the table at this early stage alongside Liverpool and Watford. Expect that to become five from five when Cardiff visit Stamford Bridge in GW5 – Warnock will of course try to keep things tight, just like they did vs Newcastle and Huddersfield, but playing Chelsea at Chelsea is a different ball game. Last time these two met at the Bridge was in 2013 when Chelsea won 4-1 – Eden Hazard scored twice that day and will likely be in good demand ahead of GW5.
The Blues then face their first Thursday away day when they play PAOK Salonika which as we have already touched on, should allow Sarri to have a look at the likes of Cahill, Christensen, Emerson, Moses, Loftus-Cheek, Hudson-Odoi and Gerrard. Even Danny Drinkwater might make the squad.
The Sunday of GW6 sees Chelsea travel east to face West Ham which will see a return for the first XI who should have more than enough for the Hammers. Chelsea struggled last season vs West Ham, losing away and only drawing at home, but it would appear to be a happier, stronger ship this season and on current form should have no fears here.
The end of September sees a double-header vs Liverpool. First up is a clash at Anfield in the Carabao Cup, which will almost certainly see mass changes from both sides. The teams then meet again four days later, this time in the league and this time at the Bridge. Chelsea have only won one of the last seven meetings between the two – that victory was last season when an Olivier Giroud goal was enough.
Another Europa match follows as MOL Vidi appear at the Bridge before Sarri takes his players down to Southampton in GW8. Chelsea have won all of the previous six matches between the two and it was Hazard and Giroud who scored to clinch victory at St. Mary's last season.
So overall, the month looks manageable for Chelsea – three winnable matches and the Liverpool clash. The big plus will be the easy Europa draw which should see Hazard, Alonso et al play just the one game a week and go into those league game fresh and well rested.
Arsenal


15 Sep – Newcastle (a) PL
20 Sep – FC Vorskla (H) EL
23 Sep – Everton (H) PL
26 Sep – Brentford (H) CC
29 Sep – Watford (H) PL
04 Oct – Qarabag FK (a) EL
07 Oct – Fulham (a) PL
It's been an interesting start for Unai Emery as Chief Gooner. Two opening defeats vs Man City and Chelsea have been followed by victories against West Ham and Cardiff with three goals scored in both those wins. The month of September should give us a bigger clue as to whether the tide has actually turned or if it's just that West Ham and Cardiff are as bad as we think. The Europa draw looks to be kind and just like Chelsea, should allow Emery to rest his stars and play the minions.
The Gooners resume after the international break with a trip to Newcastle. Potentially tough, as we touched on earlier, Benitez will set up to frustrate and make life difficult for the Gooners – sure enough Arsenal lost at St James' Park last season but the Toon have already lost at home to Spurs and Chelsea this term. Then again, Spurs and Chelsea are better than Arsenal.
The Gooners then entertain FC Vorskla in the Europa League – surely a time for Welbeck to show his true potential. There is not much recovery time for those involved before a Sunday meeting with Everton at the Emirates. With both teams currently on 6pts this could be a shoot off in a match that historically brings goals. Arsenal have won seven of the last eight vs the Toffees and scored five in both victories last season.
The midweek Carabao Cup clash with Brentford should allow Welbeck more game time before Watford make the short trip to the Emirates. Another entertaining game in prospect with the Hornets in table-topping form and with the Gooners finding their scoring touch, clean sheets may be at a premium.
Die hard Gooners will then start a long weekend with a Thursday trip to Azerbaijan for a Europa encounter vs Qarabağ FK before the first team travel across London on the Sunday to tackle the relatively free-scoring Fulham. With all roads leading to Mitrovic, this will be another tough test for Emery's men and as we alluded to in the opening paragraph, by the time of the next international break we'll have a better idea of whether the Gooners can again challenge the top 4.
Thanks for reading Fantasy Football Fixture Analysis Gameweek 5. This article was written by Cookie
FPL FIXTURE TRACKER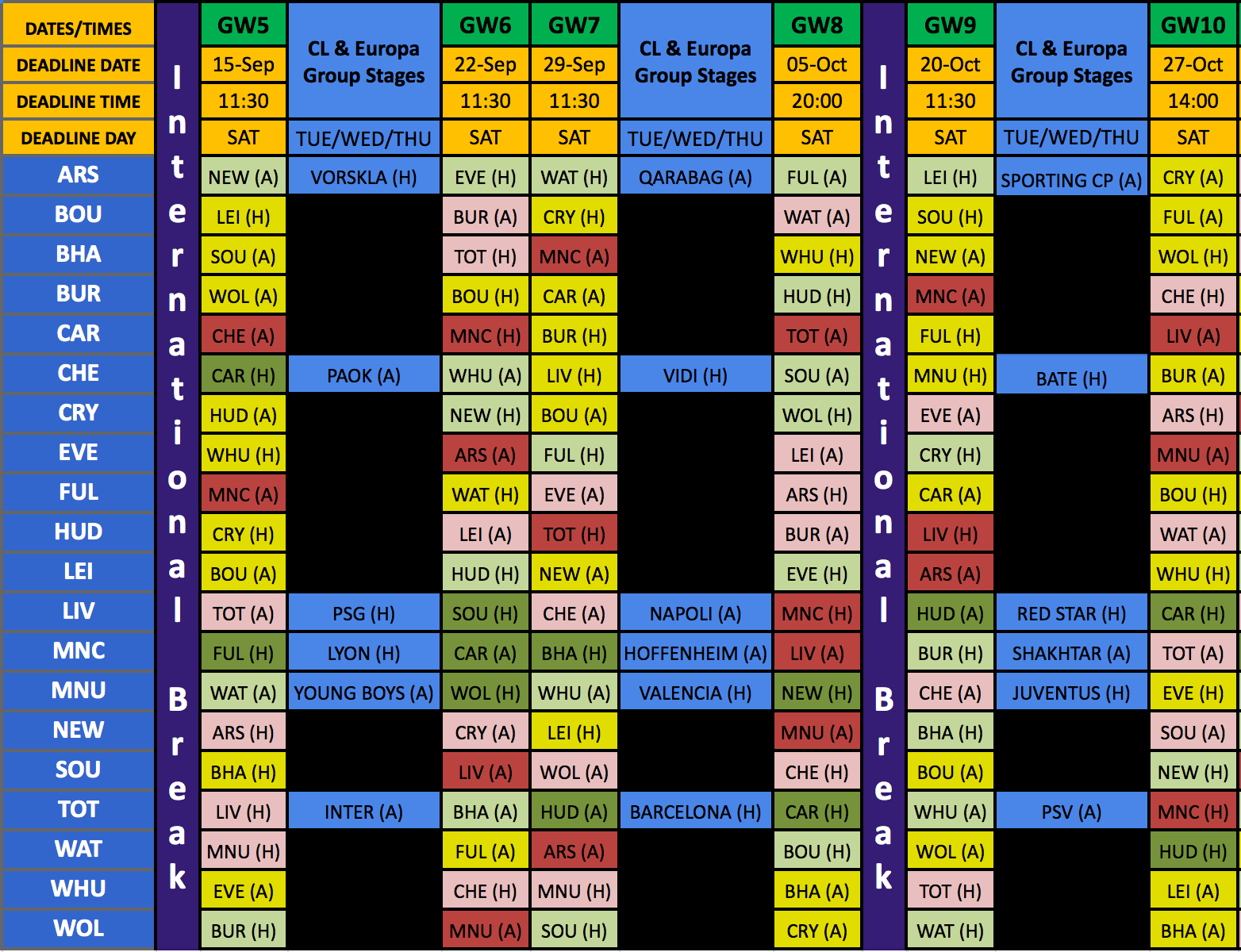 FIXTURE TRACKER LINK
Welcome to our Fantasy Football leagues section.
The League Codes for FF247 for the 2018/19 season are as follows –
Thanks to our friends Follow @ff_surgery and please give them a follow.