Fantasy Football Fixture Analysis Gameweek 5
Welcome to Fantasy Football Fixture Analysis Gameweek 5.
1.7 million. If this figure represented my bank balance or my home value I'd be a happy chap. However, the only thing 1.7 million represents is my current FPL rank. It's bad. My worst rank to date. I took the liberty of calculating my points had I left my GW1 team untouched. Had I done that my rank would have been 40k. Ouch. A three-week hiatus from FPL and football, in general, resulted in bad decisions, a pointless wildcard and a whole lot of regret. On the plus side, I've got a cracking tan
In my GW1 captain's article, I discussed how we frequently over complicate FPL, wise words, if only I practised what I preached. 
Init asked me to keep it upbeat this week, the above may sound as though I ignored him, however, despite my apparent woes I'm actually feeling ok about it. Don't get wrong, I'm not thrilled, Dave (we all know a Dave) from work is top of my Mini league and he's gloating like he's won the whole thing, but every Dave needs to remember – be nice to those who you pass on the way up because you have to pass them on the way back down. 
The international break whilst untimely to those wanting to push on or atone for their mistakes could actually be a blessing in disguise. It's an opportunity for us to catch our breath, take stock and plan to come out fighting. 
"You can't go back and change the beginning, but you can start where you are and change the ending".

– CS Lewis
It's time to go again. 

Liverpool – Newcastle (H), Chelsea (A), Sheffield Utd (A)
I'll keep this brief. Unless you're brave, stupid or Cookie you likely have your Liverpool players already in place. It's four wins in four for the table-topping reds and their place in this article will be commonplace most weeks of the season. With that in mind, it feels superfluous to write a lengthy diatribe on their merits.
Despite a 'tricky' trip to Stamford Bridge in GW6 would it surprise anyone if the league table shows 7 wins in 7 come GW7? It's Newcastle at Anfield this week and even the most ardent Newcastle supporter (that'll be me then) will expect nothing more than a proper good spanking and there will be nothing kinky or enjoyable about it. 
A trip to Chelsea will hold little fear for Jürgen Klopp's men, Franks new look blues are yet to record a win on home soil with the visit of Leicester and Sheffield resulting in 1-1 and 2-2 respectively, I'm sure Frank would snatch your hand off if you offered him a similar result in GW6. 
Finally, it's a trip to Bramall Lane to face new boys Sheffield United. The Blades have performed admirably thus far, they took all 3 points in their GW2 fixture at home to Palace but it was followed up by a 1-2 defeat the following game-week against Leicester, I expect Liverpool to tear them a new one. 
My final word on the reds – it may have taken them 4 game weeks to record a clean sheet, but to go without both attacking and defensive representation seems foolish and that's coming from the idiot who ditched Salah, TAA and VVD in my GW3 wildcard.
Man City – Norwich (A), Watford (H), Everton (A)
Like Liverpool, City's inclusion is both warranted and expected. The injury to Laporte may have dented their defensive appeal but given how the citizens dominate possession will it really matter?
I wrote more than I intended above so I'll keep this brief.
A trip to Carrow road may see Pep's troops gate-crash the Pukki party, and even if the Fin does take advantage of their (slightly) diminished backline I'd imagine it will be the Sterling / KDB / Aguero (delete where appropriate) party come Saturday evening. 
Bottom of the table Watford visit The Etihad in GW6 and they'll need no reminder of how they fared the last time they squared up to the blue team from Manchester. A 6-0 demolition in the FA Cup final still fresh in their minds, the Hornets come into this game looking ripe for picking. This could be carnage. 
GW7's trip to Goodison is the only fixture of the three to give pause for thought, but it was a perfunctory 0-2 win there back in February for City and a similar result seems highly plausible. 
Burnley – Brighton (A), Norwich (H), Villa (A)
Burnley travel to the Amex in the first of three favourable fixtures which could be fortuitous at both ends of the pitch for the Clarets. It's one draw (West Ham) one defeat (Southampton) for the Seagulls at home this season, and despite a respectable 28 goal attempts in those two fixtures, they only have a solitary goal to show for it – save points heading in the general direction of Nick Pope please! At the other end of the pitch, only Chelsea (41) and Man City (32) have had more goal attempts than Burnley (31) on the road this season, bad news for Brighton, good news for Ashley Barnes and his owners.
The Canaries travel to Turf moor having yet to pick up a point on their travels. Burnley have won one (Southampton 3-0) and lost one (Liverpool 0-3) at home thus far, their match in GW6 could be a boring 0-0 or 3-2 thriller, there'll likely be points in it for your Burnley players come what may.
Finally, it's a trip to Villa Park. The Villians have lost one (Bournemouth 1-2) and won one (Everton 2-0) so much depends on which Villa show up come GW7, much like the Norwich fixture this one could go either way.
Tottenham – Palace (H), Leicester (A), Southampton (H)
Palace head to the Tottenham Hotspur Stadium (wonder how much it cost to come up with that name?) in what should be the start of a favourable run of fixtures that stretch through to GW10. However, as they showed in the 0-1 defeat to Newcastle (get in!) in GW3 you just never know. In their favour Palace sit bottom of the pile for goal attempts (11) away from home but as they showed in their GW3 victory of Man Utd (1-2) that matters little. However, if Harry can find his shooting boots he could find favour in a Palace defence that sits fourth for most shots conceded (37) on the road.
Leicester may not seem a good fixture on paper, but you only have to look to last seasons corresponding fixture (Spurs won 0-2) to know that means little in this game. Leicester have looked defensively sound at the King Power, the single goal conceded reflects a defence that has conceded just 16 shots (as a comparison City top the table with just 9) so this may not be a five or six-goal thriller although given that Spurs have conceded more shots (56) than any other team on their travels it just might be.
It's hard to decide what sort of team Southampton are this season if making a judgement based solely from their away form. A 3-0 defeat in their GW1 opener (Burnley) seemed expected but then they go and pick up a 0-2 win against Brighton in GW3. Spurs have yet to start their 'best 11' but hopefully, the return of key players in the next few weeks will coincide with an upturn in their fortunes. This feels like one of those matches where Kane either scores a hattrick or does his ankle in again, your guess is as good as mine. 

Watford – Arsenal (H), Man City (A), Wolves (A)
Where did it all go wrong for Watford this season? Everywhere would be your answer. A GW4 draw away to Newcastle may have halted a run of three successive defeats but expect normal service to be resumed imminently.
 Quique Sánchez Flores has returned as manager, and he'll be hoping to turn around the fortunes of the team currently glued to the bottom of the table. We have seen the effects a new manager can bring to a team in turmoil but the visit of Arsenal followed by a trip to the Etihad is far from ideal fixtures if he's hoping to make an instant impact. 
Leicester – Man Utd (A), Spurs (H), Newcastle (H), Liverpool (A)
It feels harsh to put Leicester down here given that they remain undefeated thus far, but there is no denying that three of their next four fixtures look ominous. We're always hearing how well Vardy plays against the big six, if he can bring the same form as he's shown over the last two game-weeks into this run then he could make a mockery of these so-called bad fixtures.
Given the form of both Man Utd and Spurs, it would be no surprise to see Leicester pick up points in both fixtures, but you also have to assume that the respective managers of both clubs will be eager to raise their game against the team currently third in the table.
Newcastle at home may not seem a bad fixture, but it's worth noting we won the corresponding fixture back in April. The foxes will hope to reverse that result because the following week they travel to Anfield and despite picking up a 1-1 draw there last season, it would take a brave punter to back a similar outcome.
It's good to be back. I hope you're all feeling suitably refreshed and I wish you all an arrow of green – just leave one for me though yeah?
Thanks for reading Fantasy Football Fixture Analysis Gameweek 5. This article was written by Rosco.
FPL FIXTURE TRACKER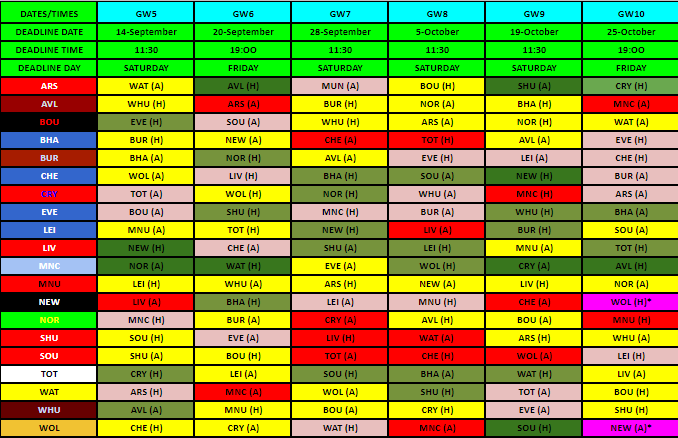 FIXTURE TRACKER LINK
Fantasy Football 247 League Codes: