Fantasy Football Fixture Analysis Gameweek 6
When Rosco wrote the Fixtures article last week, he mentioned that he was ranked at 1.7 million in the game. Well, I'm currently ranked at 1.5 million – so that should tell you a couple of things. First off, I'm reasonably better at this game than Rosco. Now this isn't something I'd normally brag about, but he brought up the rankings, and I had to follow suit.
Second thing you need to know is that between his rank of 1.7 million and mine, at a much more respectable 1.5 million, the owners of this site have really pulled out all the stops to provide you with the best minds for fantasy analysis possible. Now granted, they don't ask me to write any actual tips for buying/selling players, and I can't really be trusted with captaincy issues – but I'm great for building a good parlay (you might call them accumulators?). If you need to know which fixtures will hit or miss, I'm your man. There was a rumour out there that they asked my opinion on a couple of parlay picks and then picked the exact opposite of what I suggested… but as long as they made money, I've done my duty.
So, here once again, I present to you my very best picks for the upcoming fixtures. And I've started it off with NORWICH! I'm telling you, you're in good hands.
Favourable Fixtures
Norwich – BUR (A), CRY (A), AVL (H)


Looking at the tracker, you might think I'm a bit off my rocker here with Norwich, but there's a lot to like about this team right now. There are a million sports cliches that a person could use to describe Norwich (for example: they're too dumb to know they should lose, they're too new to realize history isn't on their side, etc, etc). But the fact of the matter is, they have one of the premier scorers in the league in Teemu Pukki, they've only failed to score a goal in one match this season, and they're now riding the high of beating Manchester City. Sure, you can blame the City defence – but Norwich had the goods to exploit the shaky back line whilst also keeping Aguero and Co. relatively in check.
The reasons for not investing in Norwich up to this point are many – but now that they've played their games against Liverpool, Chelsea and City, there aren't any reasons (from a Fixtures perspective) to continue to neglect stocking up on this squad. I'll concede that two of their next three games are on the road, but the level of competition here shouldn't matter too much once all is said and done.
Burnley gave several investors false hope when they beat Southampton 3-0 in their opener. But since that game, Burnley haven't won a match and, more importantly, haven't kept a clean sheet. It's all lining up for Teemu to keep up his 1+ goal per game average here in this next round. As for Palace, they've been a bit more defensive in their approach to start the year – but that's honestly just a polite way of saying that their attack has been dreadful. Palace have only scored 3 goals through 5 games to start the year, and they showed that maybe their defence isn't what we thought it was when they gave up 4 to Spurs. Either way, the Palace game set in the middle of this run makes a Norwich investment beyond just Pukki seem a bit more palatable at the moment. Finally, let me borrow a quote from Dennis Green to sum up Aston Villa: "They are who we thought they were." If you've never seen that rant where this quote comes from, I highly suggest you copy that into YouTube (it's well worth it). Villa are once again rolling out their bedding in the confines of the relegation zone, and there's no reason to think that Norwich won't have enough firepower to roll through this match with ease with all of the stats we now have through five games.
*This article was written prior to Monday's Aston Villa v. West Ham game, so if Villa somehow come out and win 7-0, disregard everything I just said. But…it's Aston Villa, I'm not too worried about it.
Liverpool – CHE (A), SHU (H), LEI (H)


It's boring to write about Liverpool. Seemingly, all across the fantasy world, you're going to find articles and analysis on Liverpool. Quite frankly, it's disgusting how much good press this team gets. This may be the Everton fan within me speaking, but I'm about done with complimenting Liverpool week in and week out. But, given that this is a fantasy advice article, and not a personal blog about why blue is better than red in nearly every way, I'm obliged to tell you that Liverpool have good fixtures coming up.
And it doesn't even matter who they're playing, because all of Liverpool's fixtures are good. Will Liverpool have enough to beat Chelsea and their starlet Tammy Abraham? I don't see why not. Liverpool haven't been very obliging in losing lately, and why should they start now? What about two home games against Sheffield United and Leicester? Laughable to think that either team stands a chance. Liverpool look good enough to have the first season without a loss since The Invincibles back in 03-04. And even that might be selling them short. Liverpool are probably good enough to not even have a draw this year.
Now that I've said that, I've hopefully sufficiently jinxed them into a loss here soon. We'll see how that pans out for us. The only real 'black eye' that Liverpool have at the moment is just the single clean sheet to start the year, but they're scoring at such a prolific rate, that nobody really cares. Whether or not you should hold onto your high-priced Liverpool defenders is a topic for a different article, I'm just telling you that the Fixtures for Liverpool are good. And they'll probably not look bad for quite some time.
Manchester City – WAT (H), EVE (A), WOL (H)


There's been a lot of talk this week about how poor this City defence really is. And maybe that talk is justified. From a fantasy perspective it's worrying because you can't count on the easy clean sheets from this squad, but from a fixtures standpoint, it's all a moot point. City, even with the recent loss to Norwich, are still the leading goal scorers in the league. Even if it takes Pep some time to shore up his defence, the team is still scoring at a clip of 3.2 goals per game. And at that rate, they can afford to have the occasional brace go through against them. And this is why I'm grateful that I'm often tabbed to do the Fixtures articles instead of actually giving real advice. Will Otamendi remember how to defend? I have no idea. But, being the big dumb American that I am, feel pretty certain that Otamendi won't make or break City's scoring efforts here in this next run.
Starting with Watford, it's hard to say that their place in the table doesn't accurately reflect their true worth. They should be doing better than they are. Their players, on an individual level, should be enough to pull them out of dead last. But collectively, they just aren't making that happen for themselves yet. So again, my job is easy. The second place team, that scores more than any other team in the league, are going up against the team in the bottom of the cellar this week. Easy peezy. And Everton? God help us all. No amount of statistical analysis or even tarot card reading could make sense of Everton right now. Suffice to say, Everton are once again aiming for something familiar like 8th place when all is said and done. City should be able to oblige them to that end. And then another bonus for City, they get to play Wolves in three rounds' time – and they're only doing marginally better than Watford in 19th place. So for all of the doom and gloom surrounding City right now because they dropped a key game in the title race last week – things really couldn't be looking any better for them here going forward into the autumn months.
Unfavourable Fixtures
Brighton and Hove Albion – NEW (A), CHE (A), TOT (H)


Brighton are one of those teams that are always synonymous with words like 'value pick' or 'differentials'. Nobody builds their team around Brighton players, but every now and again, you'll try to catch fire with a one-off move with one of their best players in a decent spot. Well this is not that spot. You might look at the Newcastle game as a semi-favourable matchup for Brighton, but Newcastle are far too erratic to bet against. Newcastle may concede 3 goals in the first half hour, or they could back into a 1-0 win like they did against Spurs. There's simply no telling what they'll do. Newcastle are the footballing equivalent of roulette. That alone is enough reason for a team like Brighton to avoid them.
Looking past the Newcastle game, you can't like going away to Chelsea or hosting Spurs. Neither Chelsea or Spurs are world-beaters on their own this year, but they've certainly circled their matches against Brighton as games they'll want to build some momentum with.
Leicester – TOT (H), NEW (H), LIV (A)


For my final pick here this week I had several options. I could've gone with Southampton or Sheffield United maybe. But I couldn't go back to back with one of those after Brighton. Nobody is truly invested in those teams, and nobody would be on the fence on whether to keep those assets. But Leicester do have some ownership percentages that make them worth talking about, and many people will be wondering whether their next run of games will merit keeping or selling one of their key players.
It's hard to know how Spurs will do against Leicester. They're even on points, but they've gone about getting those points in dramatically different fashions. Leicester have been the more steady of the two teams. They're tied for fewest goals conceded on the year with 4 (3-way tie with Liverpool and Manchester United), but they're not scoring at a rate that's anything to write home about (just 6 goals through 5 games). Spurs are more feast or famine. They're tied for third best scoring in the league, but have been a bit more porous at the back. And even with the discrepancy between how these two teams have gone about their business, they both ended up on 8 points going into this next round. Seems like Spurs have the better momentum right now, and you really can't trust Leicester to get a big result here in this spot.
With the Newcastle game, remember they are roulette. I could tell you red or black and Newcastle could land on green just to spite you. And Liverpool away? Fughedaboutit. The only people that will be betting on Leicester to win that game are just hoping against hope that something will go their way to hit that parlay so they can get caught up on their bills. There's too much gray area here for Leicester, and I'd recommend people look elsewhere to find a winning squad.
Thanks for reading Fantasy Football Fixture Analysis Gameweek 6. This article was written by FootyFantastic.
FPL FIXTURE TRACKER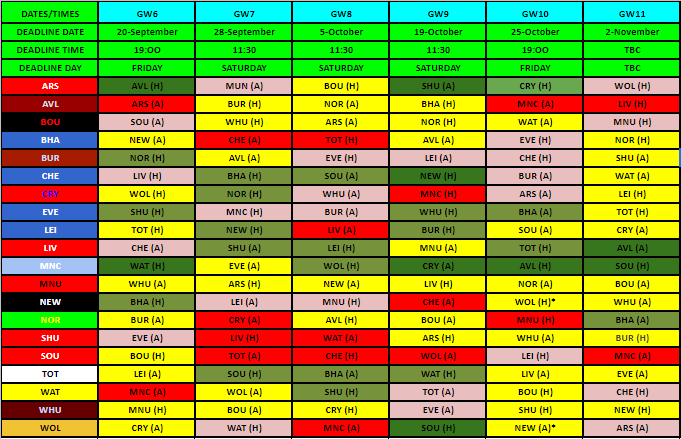 FIXTURE TRACKER LINK
Fantasy Football 247 League Codes: