Welcome to Fantasy Football Fixture Analysis Gameweek 6. It was pointed out to me last week that I have a habit of answering questions that I pose to myself. Do I care? I do not. I'm just kidding – I promise you will not find me answering my own questions in the meaty part of the article this week. And it's not because I feel that I shouldn't be answering my own questions – I just feel that given my performance thus far this season, those answers I provide would probably be wrong.
This game is breaking me this season, and it's making me question everything I know about being an analyst and sports fan in general. This past week, after point hit adjustment, I scored 57 points. That was as close as I've come to hitting the average score for a round all year. Part of me wonders if this is part of some curse for leaving the MLS behind for good. If that's the cost I have to pay to not watch a football team play in a baseball stadium, then so be it. But it sure would be nice to get back to some winning ways in FPL. So in an attempt to build my own slump buster, here's what I'm thinking for favourable fixtures this coming round. If I'm wrong, please tell me so – I have no pride left. I just want to score higher than the average.
The Fixture Tracker…
Gameweek Tracker GW6-11


Top 3 Best Bets
Manchester City – CRY (H), CHE (A), STO (H)

It's quite possible that City are the most reviled team in all of England this morning – at least in terms of viewing them through an FPL lens. How long have we heard now that City are going to rotate the squad? How long have we bought into the myth that KDB is essentially going to be converted into a third centre back? And just so you know, you can't trust that either Kun or Jesus will start any given match – and if they do start, they most certainly won't play well together. Whether you hear this stuff from paid pundits, weekend bloggers or even your mate down the way at the office, we can all agree that we've at least heard these rumblings in one form or another.
Ladies and gentleman, we've been duped. For his own nefarious purposes of winning his home mini league, Pep Guardiola has spread disinformation about his squad in an attempt to throw everybody off of his true plans. Just look at the stats, and you'll see that the great impending demise of City for FPL viability has been nothing more than a hoax. City, along with United, are averaging just north of 3 goals scored per game. The also mirror United in that they've only allowed a pair of goals against them over five matches. Aguero and Jesus have combined for 9 goals already – no other pairing in the league even comes close to that number. And KDB, the man that was supposedly not going to provide assists this year due to positioning and rotation, now has 3 assists on the year (which puts him only two off the league lead in that stat). Now, we could all continue to listen to the rumo(u)rs, or we can just take the facts at face value – and those facts back City 100%.
Even if we look to the match away to Chelsea as a stumbling block in this scenario, you can't deny that the two home matches against Palace and Stoke aren't just a couple of ripe apples, waiting to be picked. Palace have yet to score a goal this year, and City are as stingy as any defence in the league – there is no amount of analytical shuffling that can give Palace any chance in that game. Chelsea are good, but they're not playing to the level that City are. If Hazard comes back full time, they might ask a couple of questions of Guardiola's side, but we can worry about that if/when it happens. And as for Stoke, they're decently decent…? It's hard to find a phrase that encapsulate them better than decently decent, but they don't have enough firepower to handle City at the moment.
Tottenham – WHU (A), HUD (A), BOU (H)

A lot of people put their armband on Kane this week – and those people will probably still be livid about his output (or lack thereof) this past weekend. But even the best strikers don't score in every game they play, and you have to continue to play the odds when they go in your favour to find those points. It's not like Kane was completely inept on the pitch against Swansea, he did take his chances when they arrived – but the finishing we've come to expect was severely lacking. It happens. From a statistical standpoint, Spurs dominated that game, and their 0-0 draw was not warranted. Consider that Spurs shot the ball 26 times on Saturday (8 of those shots on target), had 75% possession and generated 11 corners, and it should make you think that they were just unlucky on the day – but it no way do stats like those make you think that the team is fundamentally broken in some way. I hate when pundits say that a team 'had a bad day at the office', but in this case, it might be the best way to look at it.
And as for continuing to play the odds when they go in your favour, if you own Kane/Eriksen/Alli, then the odds are definitely going your way in this run that Spurs have coming up. West Ham are only out of the relegation zone via a slight goal differential, but they don't have their act together enough to compete here. Huddersfield continue to surprise many people – but the biggest team they've played thus far is probably Leicester, so we'll see what they're really made of now that they have to play one of the bigger clubs. And Bournemouth would be the worst team in the league right now if Palace weren't throwing off the curve in their bid to be the first team mathematically relegated by Christmas. All in all, this should line up nicely for those who took the plunge and brought in Spurs coverage.
Everton – BOU (H), BUR (H), BRI (A)

In looking at this pick, please remember that this is a Fixtures article, and try to forget that I'm an Everton fan – this whole thing will work out better for both of us if you can pretend I don't have just a little bias here. Everton have had a horrible string of results; in fact, it's been so bad that they actually find themselves in the relegation zone. And I'm not here to make a justification as to why Everton have only scored 2 goals this year, or even why they've got one of the worst defensive records on the league table right now. I don't need to make any justifications because you, an intelligent FPL player, know that Everton had to play City, Chelsea, Spurs and United in consecutive matches with three of those games being away from home. As smart as you are, dear reader, you can probably surmise that most any team in the league would be battered after such a run. Undoubtedly, Everton had one of the worst schedules in modern FPL history, and they've got all the lumps, bumps and bruises to show for it.
But after such a brutal schedule, there inevitably has to be an easier set of fixtures waiting for them – and that's exactly what we have here. I could've put United here simply based on their form, but this schedule that Everton has now is too good to gloss over. I really feel the worst for Bournemouth here. Everton are just dying to crush a lesser team to build up some confidence again, and I feel like this is a good spot for such a game to happen. Burnley could pose a problem or two based on their decent form at the moment, but Everton will be keen to build a bit of momentum in a second home game. And Brighton might be a bit more stout at home given their result of WBA, but the fanboy in me still sees Everton nab 7-9 points from this run getting capped off on their grounds regardless.
Teams To Avoid
Crystal Palace – MCI (A), MUN (A), CHE (H)
Leading up to this run, Palace have been inept, impotent and have found numerous ways to beat themselves. Now, however, they're truly in danger. Ask Everton how they found a schedule like this to their liking, and they'll probably say… it's not so great. The only good news right now is that Palace may get a bit of TV time going up against the titans of the league. The bad news is that they may not actually score a goal until October at the earliest. It should be common knowledge at this point to avoid Palace at all costs, but Benteke is such a great value forward, right?
Bournemouth – EVE (A), LEI (H), TOT (A)
No surprise here considering that I've spent nearly an entire article bashing this team in some roundabout way. But the bashing is warranted. Bournemouth wilt whilst on the road, and a pair of away games against a better class of competition is going to do them no favours. Interesting fact: through five games, Bournemouth players have only accumulated 5 BP total. Out of 30 possible BP, these guys have taken 5. I like those little stats that paint a better picture of a team the longer you think about them.
Brighton – NEW (H), ARS (A), EVE (H)
Don't look now, but Newcastle have somehow found their way into the Top 4, and that could pose a problem for Brighton. Nobody thinks that Newcastle will retain their post for long, but they've rattled off three straight wins against teams on Brighton's level, and that kind of form should be worrying for BHA. Arsenal away is a tricky game on paper, but Arsenal might have a mental lapse and gift away a win. Or Arsenal could crush them by five goals – that's a hard one to call. Finally, Everton 'should' have some momentum going into their match with Brighton, so we who call upon a higher power to heal Seamus Coleman will remain hopeful of a positive Everton outcome.
One Week Punt
Brought to you with a bit of a different slant on it again this week. We asked our FF247 League sponsor Starting 11 to give us their 'One Week Punts', given as this is what they do for a living basically. We shall hand over to them for their One Week Punts line-up for GW6 –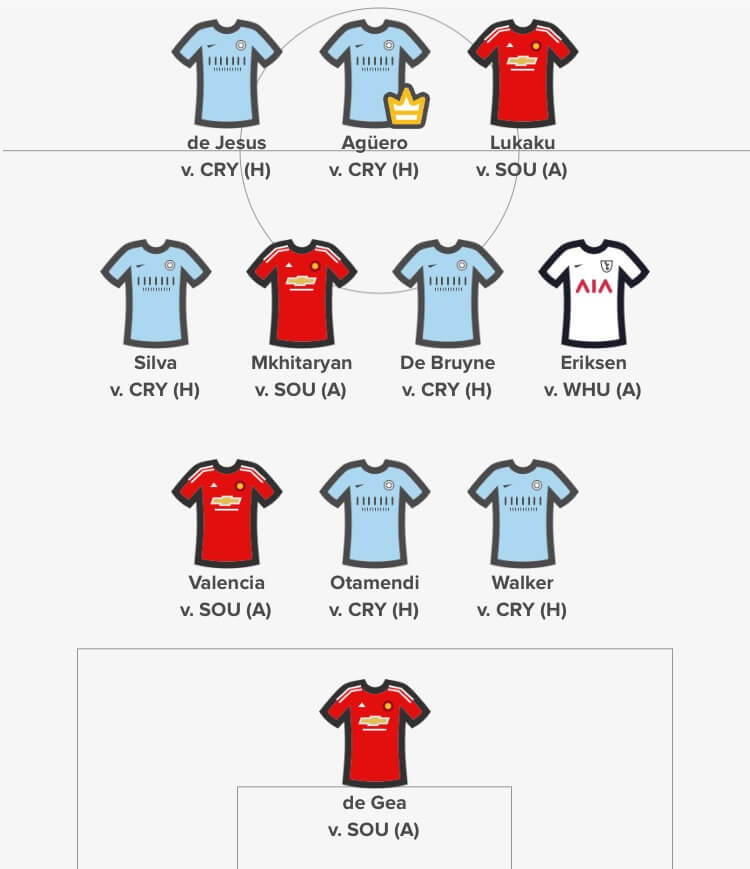 You can download Starting 11 now on iOS and Android.
Thanks for reading Fantasy Football Fixture Analysis Gameweek 5. This article was written by Guy
The League Codes for FF247 for the 2017/18 season are as follows: