Fantasy Football Fixture Analysis Gameweek 8
Welcome to Fantasy Football Fixture Analysis Gameweek 8. Writing a 'Fixtures Analysis' article, which essentially looks ahead a few weeks in time, is often a redundant job when the weeks ahead are suddenly punctuated by yet another international (*needless / pointless / money grabbing) (*delete as you see fit) exercise. Let's face it, who's going to remember what 'future' advice was given here come GW9 which is currently 18 days away?!
Now of course any transfers made this week, on the basis of also being 'fixture proof in the future', should still be relevant come then but there are also a lot of hurdles for any said transfers to jump before they, or indeed you, even think about them featuring in your fantasy team again. As such we have decided to take a slightly different slant on the article this week and have simply taken a step back, studied the fixture tracker as a whole for the next 11 weeks, (that's every week between now and Christmas), and made a few overall observations on it all, which hopefully may prove useful to you. Both now and perhaps also in the future. Well actually, on reflection, we just went off on a tangent about random players whilst always attempting to keep to a 'fixturesy' theme, not wanting to step on the statistical toes of our Captain or Player Tips teams too much.
The all important FPL FIXTURE TRACKER itself…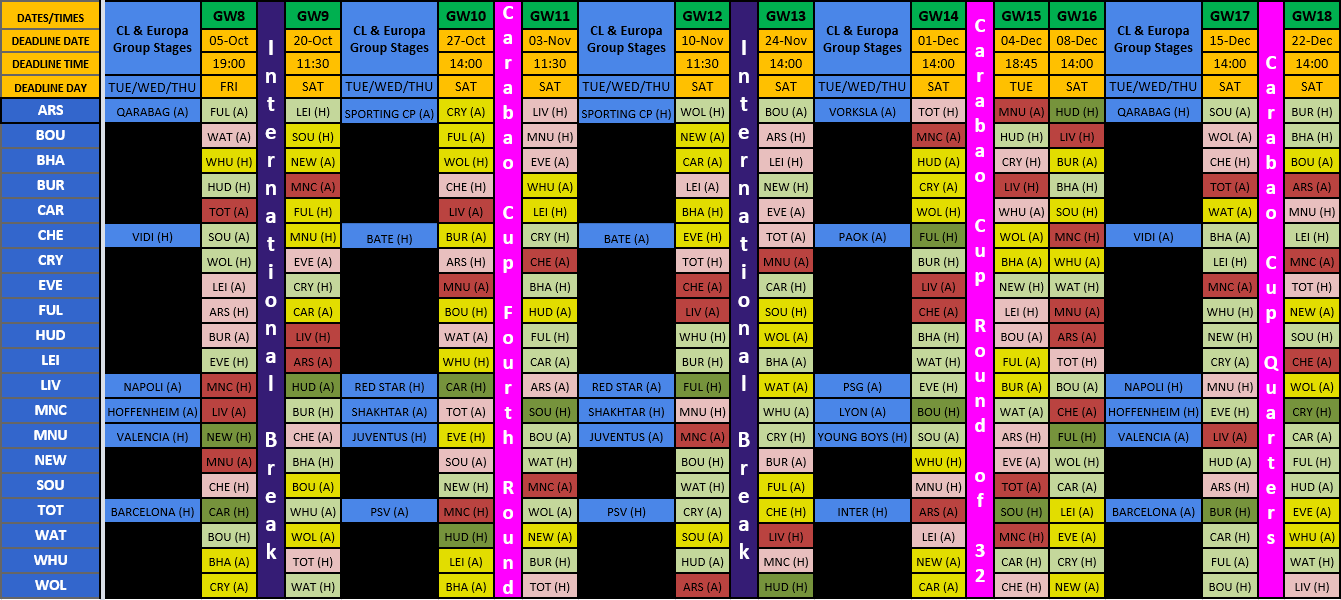 For the purposes of the article we have shown the full lot from now until GW18.
The Immediately Obvious
Let's get the basic housekeeping out the way early doors:
1. Early Deadline – GW8 begins on Friday at 8pm UK time.
It's a simple fact to point out but we can bet you (easily won) money now there will be a fair few who read this and privately utter a thank goodness that they did.
And then scheme to keep it quiet from their ML rivals!
2. Midweek Fixtures
There are European fixtures aplenty this midweek prior to GW8, and even a domestic cup game. Six teams feature in Europe : Arsenal, Chelsea, Liverpool, Man City, Man United and Spurs. Everton and Southampton also have an outlying Milk Cup tie to contest. So that's 8 teams with fixtures prior to Friday, or 40% of the total. Take a look at the teams involved and how much of your preferred playing personnel that represents and the figure is probably closer to double that.
It's not for us to tell you when to make your transfer moves but anything prior to about 10pm on Thursday night comes with it's own health warning already attached.
Busy Teams = Rotation Risks?
We have two International Breaks looming – one after GW8 (this week) and another after GW12. That small period in-between is one of the busiest of the season for some though. For anyone involved in both European competition and the Milk Cup it's equates to roughly 7 games in just over 30 days, basically every weekend PL game is followed by a midweek one between Gw's 9 and 12 inclusive. And of course it's the usual culprits as per above, given their European involvement.
The possible amount of games for these teams between 9 & 12 is as follows:
7 – Arsenal, Chelsea, Man City and Spurs (involved in all).
6 – Liverpool and Man United (miss the Milk Cup between GW's 10 & 11)
Again this will represent a fair percentage of your team. We aren't suggesting there's a fat lot you can do about it but we are simply making you aware of it. A good and active bench may be advisable.
Key Players (and their fixtures)
We thought we'd focus in on some key players rather than just the teams this week but of course you can always also read 'Aguero' as 'Man City' for the purposes of the fixtures ahead.
Salah – Man City (H), Huddersfield (a), Cardiff (H)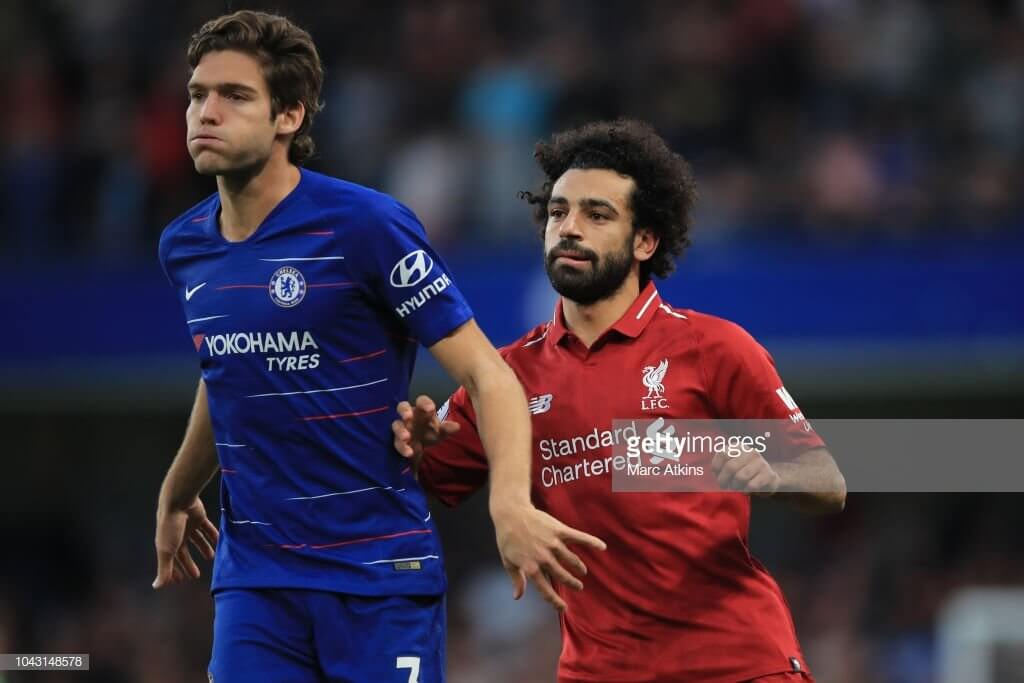 We can't even say he was surprised when he was subbed off early against Chelsea, never mind us. He looked resigned to it and almost expected it. As did we. Where's our beloved Salah gone?! He'd looked off the pace, lacked sharpness and barely moved from the right wing all game. Last season you'd have been hard pressed to say which position any of the Liverpool front three were supposed to be playing in. On Saturday it was fairly obvious, and maybe that's an issue in itself.
It's becoming troubling though, for those stubborn enough to still own him. It doesn't get much better this week as he faces a Pep side that, unlike himself, doesn't seem to have dropped last seasons ball.
The main issue that Salah owners face is fear though. Fear that they finally sell him and then he suddenly has a break out week. He's still (just!) in that Kun category of a select few players that could suddenly explode at a moments notice.
Which brings us nicely on to his fixtures – it's Huddersfield and Cardiff next after that tricky Man City visit. Which sounds like the type of teams that Liverpool (and he) usually duff up…
Hazard – Southampton (a), Man U (H), Burnley (a)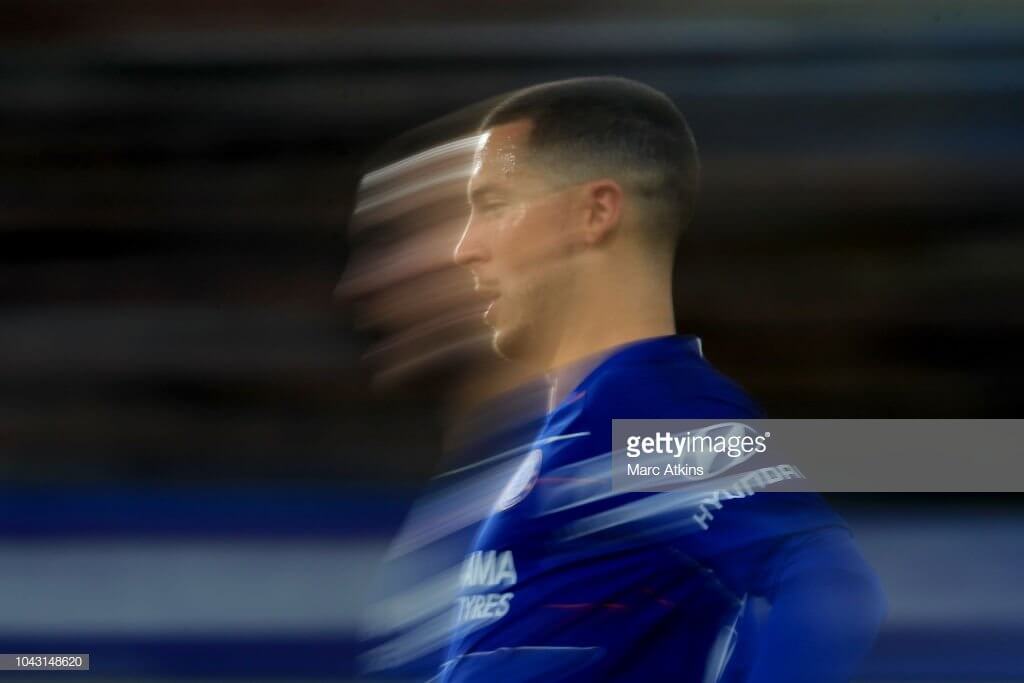 Hazard seems to be in direct contrast to Salah right now – sharp, fit and popping up everywhere. He could realistically have had another hat-trick against Liverpool but for some Alisson heorics. He's beginning to feel like a must-have for those that still don't own him.
His fixtures suggest the same with Saints away this week, a rudderless Man United at home after that, Burnley away and then Palace at home. In all honesty though he's looked that good recently that the fixtures themselves feel almost irrelevant. Let's face it, if you're the best player on the park by a country mile in a World Cup knockout game against Brazil then most other games should come fairly easily to you.
Arnautovic – Brighton (a), Spurs (H), Leicester (a)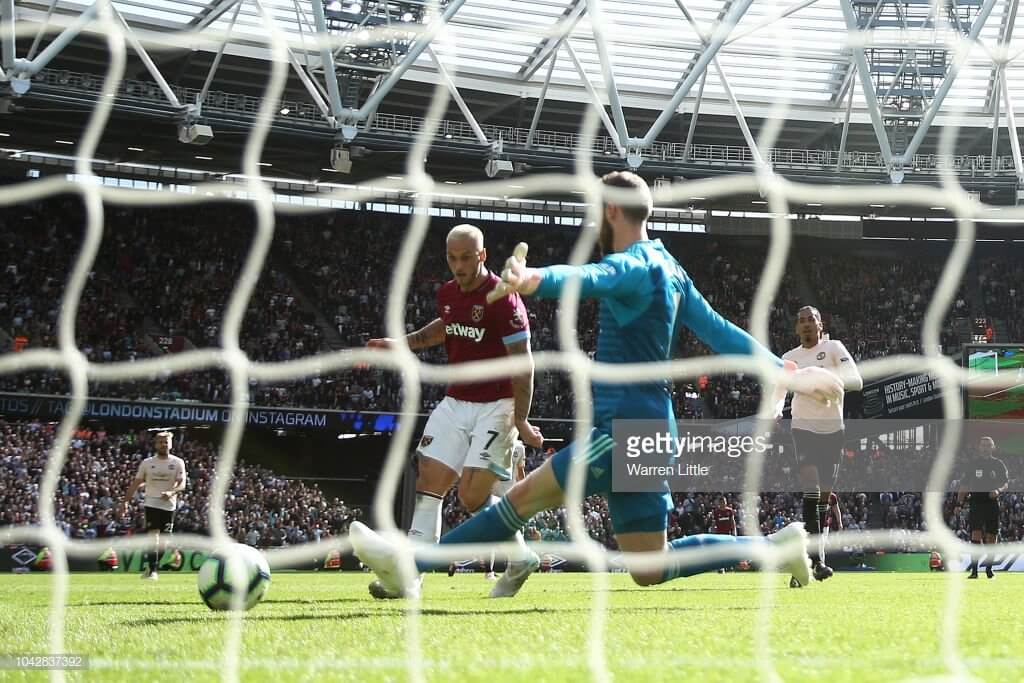 We really should stop talking about seemingly fixture proof players for fear of becoming an irrelevance ourselves, but like Eden, Arnie is almost becoming just that right now. That's now goals against Arsenal and Everton away in two traditionally 'challenging' fixtures and Man United at home.
And it's not so much the immediate fixtures, and indeed form, that brought him to our attention but the overall ridiculously kind run of fixtures that West Ham have between now and Christmas. Take GW's 9 and 13 out of the equation (Spurs and Man City) and they don't play another traditional (and we're being kind here) 'Top 4 ish' team until Arsenal visit in mid January for GW22. Even the Spurs and City games will be ones that they will be well up for, for varying reasons.
Zaha – Wolves (H), Everton (a), Arsenal (H)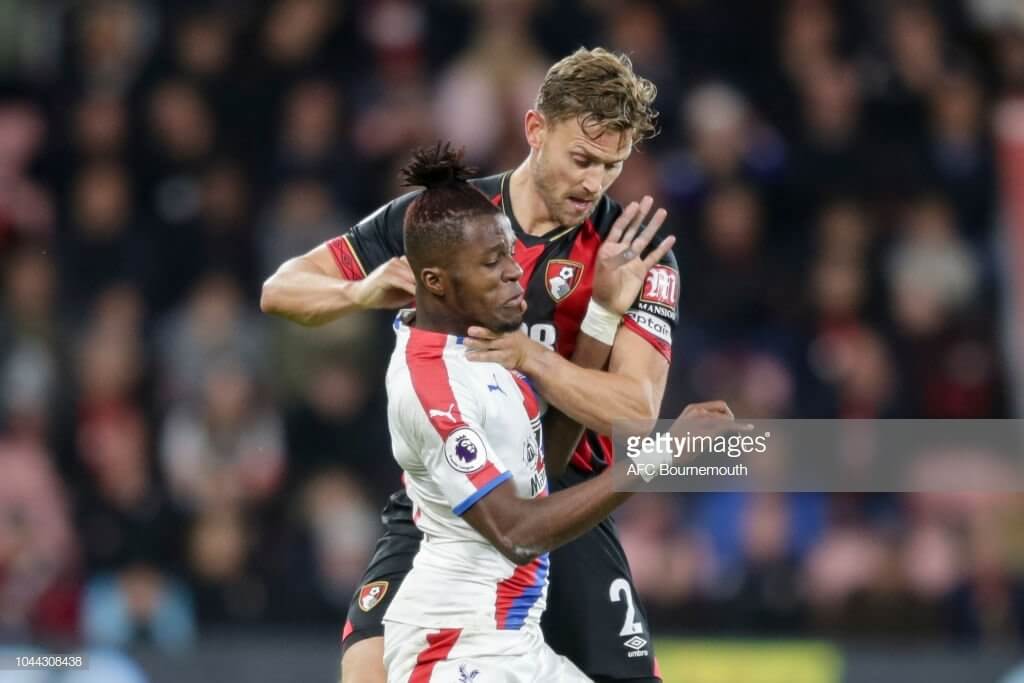 Even if we are to begin to class Wolves as a tough fixture for anyone, as we probably now should, the above fixtures still don't do justice to just how hard life is about to become for Zaha and co. Add in that the next 3 after those are Chelsea, Spurs and Man United and it may be about time to finally take a dive off the Zaha train. We've deliberately sandwiched the 'flashy but flaky' one in between the two 'meat-heads', who coincidentally are almost in the same postcode as him, both literally and more crucially price-wise. We shall let his current owners come to their own conclusions after that…
Mitrovic – Arsenal (H), Cardiff (a), Bournemouth (H)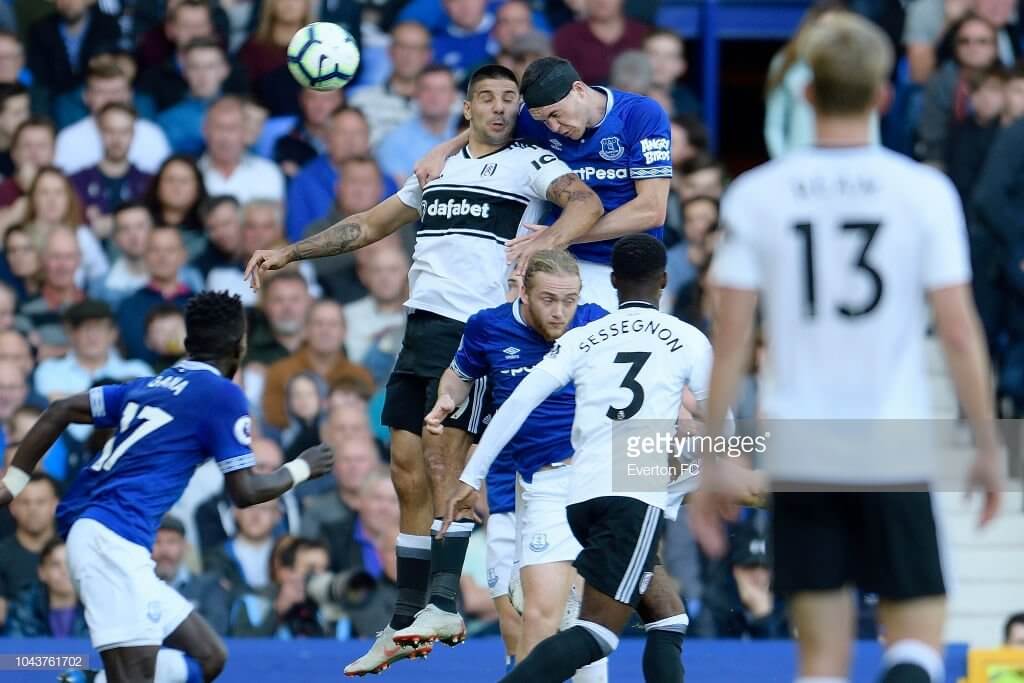 Meat-head 2 is actually ahead of Meat-head 1 in the points so far which was a tad surprising as it felt like Arnie had been perhaps a tad more consistent but they've both scored in 4 different games and assisted in 1. Mitro has 1 goal more overall and also 1 appearance more. It's probably a psychological thing with your writer here in that I notice (and rue) the goals from the players I don't own more than those from the players that I actually do. Jealousy is a terrible trait but just take a second and ask yourself if you don't indeed do the same thing…
Forced introspection aside Mitro is worthy of a mention as he may have a potential toughie this week but then he has Cardiff, Bournemouth and Huddersfield on the spin, all of whom have proved themselves very adapt at conceding this season.
Kane – Cardiff (H)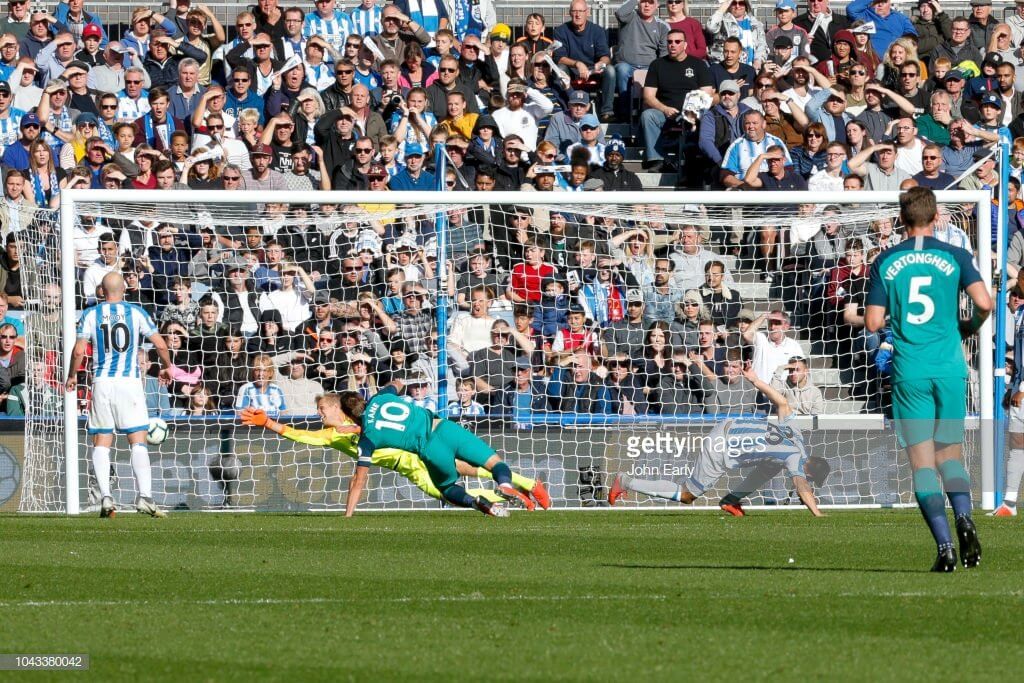 That's probably all you need to know and perhaps the best advice you'll get this week!
However… whether you can afford him is a different matter and whether he is actually worth affording (long term) is another altogether. For the record, his fixtures after the one stated above are West Ham away followed by Man City at home. Neither of which are quite as appealing. A bit like Salah he's simply not looked quite the same player that we are so accustomed to just yet.
BONUS SECTION – FANTASY CHAMPIONS LEAGUE!




It returns with a bang on Tuesday and so we just thought we would throw this is in as a quick reminder as the reaction and participation when it launched a few weeks back was fantastic.
We won't have a regular article on it, as being quite frank, it just feels like way too much research! However, the key (basic) points that you need to know in terms of actually playing it this week are as follows along with Mito's great little Fixture Tracker for it all…
Deadline: Tuesday 2nd October @ 5.55pm UK time. It's an early one but get used to it as this is how it will be every week, annoying as it is!
Transfers: You get 2 Free Transfers this week to use before the above deadline.
Order your subs correctly: Don't forget that you get to sub in any players who haven't played on Tuesday for those who did, but who you didn't much like the score from. Stick your Wednesday players on the bench basically, and make sure there are no Tuesday ones on there or else they'll be staying there.
Captain Tuesday: Same principle here; you get two stabs at it so make sure your deadline captain plays on Tuesday and if he fails then you get to switch him for a Wednesday player.
Wednesday Deadline: Again it's early doors at 5.55pm UK time so make sure you do all of the above subs / capo changes prior to this.
Fixture Tracker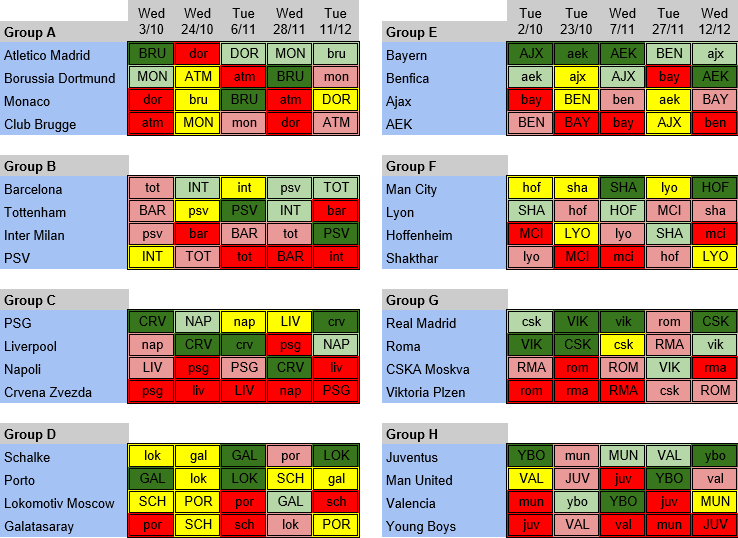 CL Set-piece takers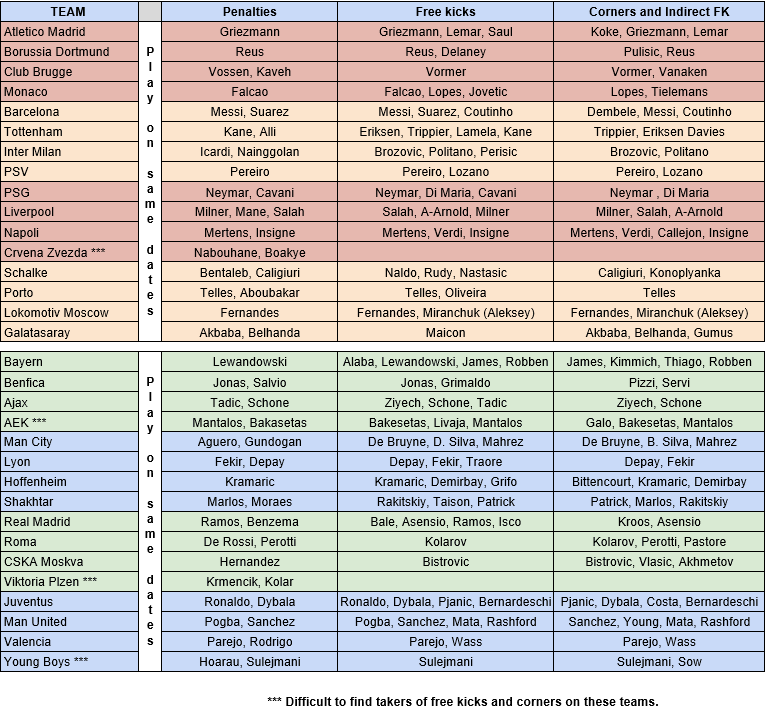 *this hasn't been updated since MD1 but should still be a very relevant guide.
Thanks for reading Fantasy Football Fixture Analysis Gameweek 8. This article was written by inittowinit
Welcome to our Fantasy Football leagues section.
The League Codes for FF247 for the 2018/19 season are as follows –
Thanks to our friends Follow @ff_surgery and please give them a follow.