Fantasy Football Fixture Analysis Gameweek 8
Welcome to Fantasy Football Fixture Analysis Gameweek 8. As we enter the final game week before the second international break I find myself scratching my head after another poor score and yet another (I've got 5 in total) red arrow. As ever I look for the positives, and whilst I can't find any In my FPL side, I will take my switch to this weeks fixtures article (from last weeks tips) as an ideal opportunity to scholar-up on which teams I should be targeting in the coming weeks. So If like me your game-week has been less than satisfactory, join me in pretending it never happened and look to start afresh come GW8.
I have made a point of omitting Manchester City this week, their fixtures are good, you already have their players, you don't need me to point out the obvious. So, outside of the Citizens where should you be looking over the next three? Let's have a gander eh?
Favourable Fixtures
Chelsea – Southampton (A), Newcastle (H), Burnley (A)

Chelsea's opening day result (a 4-0 defeat at Old Trafford) seems like a millennium ago. It was looking like a long hard season for the Blues and new manager Frank Lampard, whilst in contrast, things looked positively rosy for his Old Trafford counterpart. Jump forward seven game-weeks and the tide has turned, Chelsea are up to sixth in the table and the less said about 'Utd' the better.
With such a small set of data points to survey it's hard to make any real judgements on a team's home or away form, what the data will tell you however, is that in their two away fixtures that followed their opening day spanking, they have 6 points on the board with 8 goals for and 4 against. So, what conclusions can we draw from that? Well, despite their transfer embargo and the promotion of 'youth' they clearly have no problems scoring, but perhaps keeping hold of Sideshow Bob would have been a wiser move.
First up in their favourable trio is a trip to St Mary's Stadium where the home fans are yet to witness a win this season and have had precious little else to celebrate other than their 1-1 draw against Man Utd in GW4. That draw and two defeats see Southampton sitting second bottom of the 'home table' with only Watford's inferior goal difference propping them up. From a defensive point of view, despite that opening day pummelling and my Side Show Bob quip, Chelsea's defence away from Stanford Bridge is actually pretty decent. It would be easy to look at the two goals they conceded away to Wolves and Norwich and make the assumption that you should avoid their defence, but look a little closer and you'll see that only two sides have conceded fewer shots than Chelsea (28). However, it's at the other end of the pitch where Chelsea really shine. Only Manchester City (77) have had more goal attempts than Chelsea (56), the return of winger Callum Hudson-Odoi in GW7 has added further ammunition to a Chelsea attack that has already shown capable of doing serious damage as perfectly illustrated by the 5 goals they put past Wolves in GW5.
GW9 sees my lot head down south and I'm not expecting much. Against any team of note we favour a heavy backline which is occasionally effective (0-1 Spurs GW3) but usually not (3-1 Norwich GW2, 3-1 Liverpool GW5). Against Leicester at the weekend we were already 1-0 down when Isaac Hayden's wreckless challenge gave us a mountain to climb and in the end, we were lucky to just concede the 5 goals. At home Chelsea's form has been a mixed bag, their 2-0 win over Brighton at the weekend was their first win on home turf but I fully expect that trend to continue when Steve Bruce's Black and White clowns head to the capital.
GW10 will see Franks troops head to Turf Moor to face off against a Burnley side who have shown decent home form at least in the two fixtures that weren't against Liverpool (0-3), the caveat being that their two wins came against Southampton and Norwich. Clearly this fixture is the more difficult of the three, it's not unfeasible to imagine a 0-0 in this one but I expect the Blues to be too much for the Clarets.
Arsenal – Bournemouth (H), Sheffield United (A), Crystal Palace (H)

I find Arsenal the most painful team to watch. It has nothing to do with them as a club and everything to do with them from a fantasy perspective. For a start I rarely own their players, Aubamayang is the one I'd want, but with my funds tied up in midfield, he will for now remain elusive. The second issue I have is they always seem to play late in the game-week, GW7 just gone being a prime example and game-weeks 8-10 see them play Sunday, Monday and Sunday again. Chuck the above two issues together and you have a recipe for red arrows should they score and it feels like they usually do.
In GW8 Bournemouth are the visitors to The Emirates. The Cherries have won two, lost one on the road this season but their wins came away to Villa and Southampton and this feels like another game where Aubamayang and co will do damage to my rank come Sunday afternoon. Given that Arsenal has conceded (5) almost as many as they've scored (7) at home I would give their defence a wide berth, and whilst I'm here to promote the merits of the Gunners I'd possibly favour offensive players from both sides in this one.
Having watched Liverpool's away victory at Bramall lane over the weekend I'd be doing you and the Blades a disservice in promoting this as an easy fixture. However, despite their best efforts at the weekend and in previous home matches, they have just a solitary win (Palace in GW2) from 4 to show for their efforts. This one is a hard one to call, especially given Arsenal's away form thus far (1 win, 1 loss, 2 draws), if the Blades play as they did at the weekend there could be an upset on the cards but if Arsenal want to remain part of the 'big six' its matches such as this that they really need to be winning.
The Eagles take the trip across London In GW10 and will be hoping for a repeat of the corresponding fixture back in April which saw them grab an unexpected 2-3 victory. You could point to their GW3 win at Old Trafford (1-2) to show they're capable, similarly, you could point to their GW5 defeat away to spurs (4-0) to show they're not. From a stats perspective only Sheffield United have had fewer goal attempts (22) so a repeat of last season's result seems unlikely, and whilst their defensive stats aren't terrible, its Arsenals offensive stats showing that only four teams have had more goal attempts at home (62) than the Unai Emery's side.
West Ham – Crystal Palace (H), Everton (A), Sheffield United (H)

West Ham sneak into this week's favourable fixtures largely thanks to the omission of Manchester City, that's not to say their fixtures aren't decent. Throw in the fact that the Hammers are actually looking pretty handy and capable of both clean sheets and goals makes their inclusion at the expense of Pep's Roulette wheel of fortune all the more appealing.
Palace are the visitors in GW8, you would have to go all the way back to the 2014/15 season for the last time Palace took all three points in this fixture and it would be unlikely if that trend weren't to continue. Manuel Pellegrini's team have only been beaten once at home or anywhere else for that matter, a 0-5 reverse to 'City' in GW1 the only blot on their copybook. They have won both their subsequent matches at the London Stadium 2-0, the last coming in GW6 at home to a hapless Manchester United. As mentioned previously, the Eagles have a poor record in terms of goal attempts, which does not bode well, against a Hammers side who have shown themselves to be defensively resolute in recent weeks.
Of their three upcoming matches, a trip to Goodison Park in GW9 is arguably the most difficult. However, its two defeats in their last two at home with the Toffee's failing to pick up any points in game-weeks 5 through 7. Everton's stats from both a defensive and attacking perspective show that they are if anything a bit middle of the road, but perhaps that's more alarming in that despite looking sound from a statistics point of view, they have still failed to pick up any points.
Finally, we have the visit of the Blades, I'm not entirely convinced this is a good fixture given the impressive form that Chris Wilder's team have shown away from Bramall Lane this season. Their 0-2 victory at Goodison in GW6 and the 2-2 draw at Stamford Bridge should serve as a cautionary tale for Manuel Pellegrini and any fantasy managers thinking of starting their West Ham defensive assets in this one.
A special mention should go to Leicester City. A GW8 fixture at Anfield sees them miss out on a spot in this article proper, but after that, they have a sea of 'green' fixtures that run through till GW18 and as they showed against Newcastle in GW7, their assets will certainly warrant your attention.
Unfavourable Fixtures
Southampton – Chelsea (H), Wolves (A), Leicester (H)

I've already touched on Southampton in the favourable section for Chelsea. The visit of the blues in GW8 begins a run of bad fixtures that carries for the foreseeable. If you're considering Saint's players (which I'm sure very few of you are) then, for now, do as Horse does (all season) and avoid.
Crystal Palace – West Ham (A), Man City (H), Arsenal (A)

Again, I've touched on Palace a few times already in this article, I'll not repeat myself, all I will say is look at those fixtures and tuck your 'Martin Kellys' last on your bench and if you own anyone more expensive ship them out pronto.
Newcastle – Man Utd (H), Chelsea (A), Wolves (H) 

Having just sat through the humiliating defeat to Leicester it's hard to see where the points are going to come from, certainly not in the next two fixtures. in GW10 I can only hope we at least show some resilience, especially since I'll be in attendance with our very own Init and GP, they must be gluttons for punishment! Avoid at all costs!
Thanks for reading Fantasy Football Fixture Analysis Gameweek 8. This article was written by Rosco
FPL FIXTURE TRACKER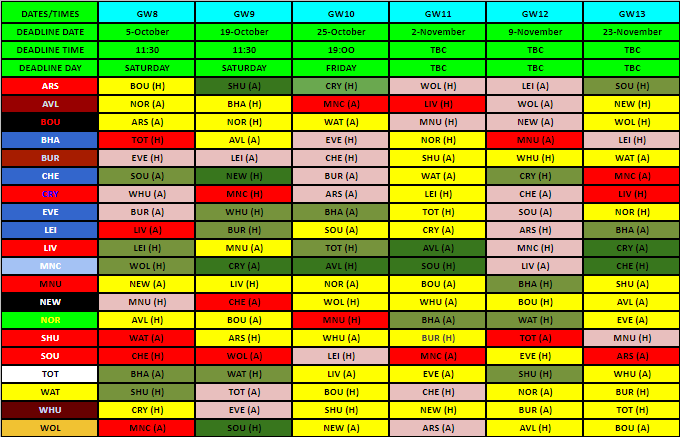 FIXTURE TRACKER LINK
Fantasy Football 247 League Codes: