Fantasy Football Fixture Analysis Gameweek 9
As we fast approach the middle of yet another international break, the transfers have slowed down, thoughts are wondering elsewhere with the Rugby World Cup and international friendlies and it's fair to say fantasy football has taken a back seat. The hacking of FPL accounts even seems to have been put on hold.
Step forward DCI Coleen Rooney and Rebekah "I'm a celebrity, get me out of this awkwardness" Vardy for a dose of entertainment that you just can't help but find interesting or hilarious. Or both. Much like Love Island, many people have put it out there that they aren't remotely engrossed in the storyline but, deep down, we know it's more a case of "The lady doth protest too much". As Pam from Gavin and Stacey said, "It's all the drama, Mick – I just love it!". Those memes and the coining of the phrase "Wagatha Christie", too. What a gift.
We're now looking at a rivalry that follows in the footsteps of Vieira vs Keane, Real Madrid vs Barcelona and Liverpool vs Man United. It matches Father Ted and Father Dick Byrne in the mid-90s and we all know how that came to a head. I, of course, mean the All-Priests five-a-side Over-75s Indoor Challenge Football Match featuring Father Jack on Dreamy Sleepy Nightie Snoozy Snooze, up against Father Romeo Sensini who had 17 caps for the Vatican over 75s, looked after himself, drank only very, very fine wine, could climb two flights of stairs unattended and only needed one nun to help him get out of a chair. But who, between Rooney and Vardy, would lose and have to kick a bishop up the behind? If you have no idea what I'm talking about, check out the comedy series Father Ted and watch the episode Escape from Victory.
Anyway, back to fantasy football – as, let's face it, that's what I know you're actually here to read – and it's time to get the FPL wheels back on track. But Ole's not at the wheel, you'll be relieved to hear.
Your Best Bets
Man City – Crystal Palace (A), Aston Villa (H), Southampton (H)

Talking of getting back on track, surely Pep's men will do just that from Gameweek 9 onwards? You'd have to think so, anyway, following that rather surprising 2-0 defeat at the Etihad at the hands of Wolves, thanks to two Traore goals. That was the second match the Cityzens have lost this campaign and, coincidentally, one of two that Kevin de Bruyne has missed, with the ill-fated 3-2 loss at Norwich being the other.
So, looking ahead to the games that Man City have and we start with an away day at Selhurst Park, the location of a 3-1 victory in the visitors' favour the last time the two sides met back in April. That day, Sterling slotted away two and Jesus completed the scoring at the last minute. De Bruyne started, too. But enough about him. The 10 games between the two sides leading up to that day have comprised two defeats, one draw and seven wins for the boys in blue, with 28 goals scored and just six let in, in the process. This season, the Eagles have been more resilient at home as just one goal has been conceded in four league fixtures and so I'll just say it may not be so much of a walk over.
But, as Aston Villa and then Southampton come to the Etihad in Gameweeks 10 and 11, they do then bring with them an even higher chance for Man City to properly return to winning ways and become the formidable force we are used to. In the case of the Villains, it's another visit to a top six team as the two previous trips this current campaign garnered 3-1 and 3-2 losses to Spurs and Arsenal respectively. Head to head, you have to look back to 2013 for the last time Villa defeated the Sky Blues, as Brad Guzan then had to pick up the ball from the back of the net 17 times in the six meetings since. Dare I say it; Tom Heaton is going to have a big task ahead of him. As for Southampton, they have been at the other end of five straight losses to Pep and co., conceding 15 in that time, with a 6-1 hammering the last time the two teams met in Manchester.
Chelsea – Newcastle (H), Burnley (A), Watford (A)

After fearing what the season could bring following the 4-0 defeat at Old Trafford back at the start of the season, Chelsea's fans have gone from shrugging off their team as being in "the banter era" to one delivering exciting football thanks to the likes of Mason Mount, Tammy Abraham and even Willian. The 4-1 win against Southampton last weekend came on the back of three straight wins across all competitions and the next trio of ties certainly provide potential for those who have put faith in the Blues' FPL assets who, no doubt, will be quite a bit pricier come next season.
Newcastle go into Gameweek 9 after their 1-0 win against Man United which, you could argue, has papered over the cracks somewhat. We have to remind ourselves that result joined the Magpies' only other win of the season against Spurs, another team in a rather sticky situation. Unless there is a sudden influx of injuries for Frank Lampard to deal with, there may not be so much luck for Steve Bruce in this fixture, especially if you remind him that May 2012 was the last time his side was victorious at Stamford Bridge. Since then, it's been the scene of seven straight wins across all competitions in Chelsea's favour, as the home fans have cheered in 20 goals.
Burnley, meanwhile, are back to showing themselves to be tougher opposition once again as there proved to be too many distractions for them last season. That said, you have to look back to the year 1983 for the last time the Clarets overcame Chelsea at Turf Moor, a match attended by just 7,393 people in the old League Division Two. Fast forward to 2019 and things are rather different in football now as, for a start, more people will turn up for it. Whilst the last time the two teams played each other finished 4-0 to the visitors, this episode may be a closer affair. The same can't be said for Watford in Gameweek 11 if they continue to play the way they are at the moment, having netted just four in eight matches.
Leicester – Burnley (H), Southampton (A), Crystal Palace (A)

"Leave it, she ain't worth it!", a phrase usually ushered in most British town centres on a Friday night, is also one Jamie Vardy is saying to his wife, whilst trying to prevent this Twitter saga from distracting him – and possibly some others in the Foxes team – as they look ahead to Burnley coming to the King Power Stadium. No doubt Brendan Rodgers will have something to say about the situation, hopefully pulling the number nine to one side and whispering softly in his ear: "Just remember your ethos, your reason, your vision – chat sh*t, get banged". This would also be another momentous occasion for the fact it was a sentence ushered by the Northern Irishman that was longer than five words.
So, Sean Dyche and his squad come to the East Midlands sitting a very respectable seventh in the table after two wins, two draws and a loss making up their last five results. The home side, on the other hand, sits three places higher with a 50 per cent win rate, as the manager really seems to be making a big difference to its fortunes. It wouldn't be a surprise to see them finish within the top six or even top four, come the end of the season. As previously mentioned, the Clarets have proved themselves to be tougher opposition, but you have to fancy the home side.
Away days to Southampton and Crystal Palace are on the cards shortly afterwards, as the Saints sit 17th in the table. Whilst Norwich have the greatest number of goals conceded, Ralph Hasenhüttl's side sit third in that table of shame, with only eight goals to their name as well. Crystal Palace, on the other hand, are faring better – however a lot can happen between now and Gameweek 11. I say that because this is a side who are well known for their unpredictability and so a great start can easily come to an end, though it is a direct contrast to that horrendous start to the 2017-18 season that their fans endured.
Clubs to Avoid
Crystal Palace – Man City (H), Arsenal (A), Leicester (H)

Having mentioned them as facing two of the three teams above, it's not exactly a surprise to see Roy Hodgson's men on this list, as much as they lie sixth in the table following four wins. What already separates them from the rest of the teams within the top 10 is that they have the fewest goals scored with just eight, as Burnley and West Ham are next in line with 11.
Man City will be looking to bounce back from being eight points behind Liverpool, whilst Arsenal look to keep the record of just one defeat for as long as possible. Though Leicester don't have the best record against the Eagles, they are a different side to the seasons that have passed since they became Premier League champions.
Norwich – Bournemouth (A), Man United (H), Brighton (A)

As the Canaries' mounting injury crisis starts to introduce doubt and worry into the fans' mindset after their very respectable start to the season, FPL managers are also starting to wave goodbye to the Flying Finn. No, not Mika Hakkinen – remember him, Formula 1 fans?! – but Teemu Pukki, who has had the temerity to blank three times in a row. In the case of the latest match, it was a 5-1 thrashing by Aston Villa in what many people had already called a relegation six-pointer.
In the eight matches to date, Bournemouth have already conceded 13 goals, however they have also scored the same amount and so the tie at the Vitality Stadium could be very interesting – especially as Eddie Howe's men have won both of the last matches. Even Man United should be able to move past Norwich and the last Brighton result showed they, too, can show a great juxtaposition to their manager and be fired up.
Southampton – Wolves (A), Leicester (H), Man City (A)

With the statistics you'll have no doubt already read, Southampton haven't really shown themselves to be worthy of any FPL assets as of yet and, with the next three matches, it looks like that trend is set to continue. Though the fans are no doubt fondly thinking about the 4-0 cup win at Fratton Park in September, their team has now been defeated in three consecutive matches, conceding nine and scoring just three.
Wolves, a team still glowing after their 2-0 triumph at the Etihad, welcome the Saints to Molineux in Gameweek 9. The last time the travelling support from the south coast side celebrated a league win at that location was in 2004, which was the last time the sides met each other before they experienced stints in the Championship and League One. Leicester and Man City then present their own kinds of problems, as Southampton's defence will need to be tighter than it was in the 4-1 and 3-1 losses to Chelsea and Bournemouth, respectively, earlier in the season.
Thanks for reading Fantasy Football Fixture Analysis Gameweek 9. This article was written by theswirly.
FPL FIXTURE TRACKER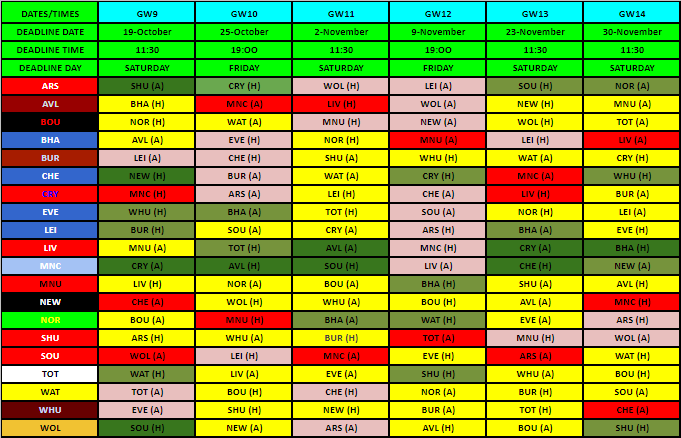 FIXTURE TRACKER LINK
Fantasy Football 247 League Codes: