Fantasy Football Fixtures Gameweek GW12
As we alluded to recently, we have scaled this particular article back a bit in recent times and, rather than waffle on about the same teams each week for a month, we are doing it more periodically and oft when it is more pertinent.
An International Break is usually a good opportunity to re-boot and this one provides the perfect timing as we can now look ahead to a good chunk of five gameweeks from 12-16 and this then takes us nicely into the busy Christmas period which sees another five gameweeks, albeit those ones are squashed into 21 days.
Consider this part one of two then and we shall have the Christmas sequel the week prior to Gameweek 17 to deal with the said mess above.
Rather than just give you a vague idea of three teams with decent fixtures and a couple who blatantly obviously don't, we have decided to rifle through the entire lot, and to rank them for good measure, in terms of fixture difficulty. So, without further ado, here's a whistle-stop tour of the fixtures from here until Gameweek 16…
FPL FIXTURE TRACKER
But first up, that all important Fixture Tracker itself…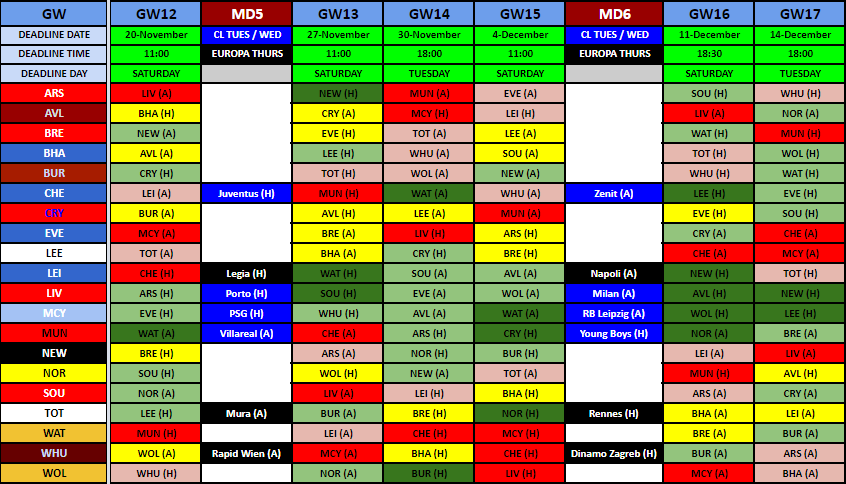 The Top Tier

1. Man City – EVE (H) – PSG (H) – WHU (H), AVL (A), WAT (A) – RBL (A) – WOL (H)
They pip top spot here over Spurs, simply because they are Man City and they are… Spurs. Potentially a couple of tricky ones in there but often after City have slipped up that is followed by a period of relentless ruthlessness. A couple of Champions League games to consider here, but that's nothing new for them.

2. Spurs – LEE (H), – MUR (A) – BUR (A), BRE (H), NOR (H) – REN (A) – BHA (A)
On paper, at least, Conte has a great opportunity here to get his new team up and running properly. If nothing else, there should be goals on offer in this lot and you'd imagine the whole team will have been equally buoyed and relieved to see Kane finally wake up again vs Albania and then San Marino.

3. Liverpool– ARS (H), – PORTO (H) -, SOU (H), EVE (A), WOL (A), – MIL (A) -, AVL (H)
Arsenal looks the only real hurdle here but Liverpool are perfectly capable of making that one into a cake-walk too, should the mood take them. There is a Merseyside derby in there but, right now, that looks about as challenging as Porto at home in the Champions League.

4. Leicester – CHE (H), – LEG (H) -, WAT (H), SOT (A), AVL (A), – NAP (A) – NEW (H)
It's certainly been a mixed start for Leicester but, if they are ever going to get up and running, it will be now. Well, ok, after that Chelsea game. That said, they often rise to such challenges and that could be the springboard they need to then go and do exactly what they are capable of to the likes of Watford and Southampton.

5. Newcastle– BRE (H), ARS (A), NOR (H), BUR (H), LEI (A)
A somewhat surprising inclusion near the top of this (or any) table, but the fixtures do suggest that if there is going to be any new manager bounce then it could be here. That is to say, taking a Rafa style approach to targeting fixtures, certainly in three of them, Arsenal and Leicester perhaps not so much.

6. Crystal Palace – BUR (A), AVL (H), LEE (A), MUN (A), EVE (H)
Their inclusion here is following form but, a bit like Newcastle, we wouldn't necessarily recommend that you go filling your team with any of them.
The 'on the fence' ones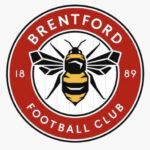 7. Brentford – NEW (A), EVE (H), TOT (A), LEE (A), WAT (H)
For a newly promoted side, the first innings has gone OK – they've batted slightly above par. They now need to simply keep things ticking over in the middle innings before then deciding whether to accelerate towards the closing hurdle or just play it safe. The fixtures can be viewed one of two ways, and neither would necessarily be wrong. The poster boys of our 'middle' section.

8. Chelsea – LEI (A), -JUV (H) -, MUN (H), WAT (A), WHU (A), – ZEN (A) -, LEE (H)
For a team at the top of the table, this is possibly a false position in the fixtures scheme of things, but with Leicester, Man Utd and West Ham in the next few it is testing times for their title credentials. That is not to say that we (don't) doubt them, as they will probably ace all of this and come out with 12 points from the lot, it's more just that the road there will be rocky.

9. West Ham – WOL (A), – RPW (A) -, MCY (A), BHA (H), CHE (H), – DIZ (H) -, BUR (A)
The Ferryman may dare to dream, we shall probably have a better handle on his dreams after this lot as there are three games they should win and two others that will test whether they are 'Leicester in disguise' circa 2016 or simply 'West Ham' circa… always.

10. Leeds – TOT (A), BHA (A), CRY (H), BRE (H), CHE (A)
We don't really know what to make of Leeds this season, or indeed what to expect of them. They could just as easily win all of these as lose them and nobody would be surprised either way.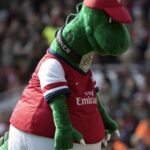 11. Arsenal – LIV (A), NEW (H), MUN (A), EVE (A), SOU (H)
A right mixed bag here for Arsenal that could go either way. They are 'in form' but also feel like they are always on the cusp of being 'Wenger Arteta Out' -esque.

12. Norwich – SOU (H), WOL (H), NEW (A), TOT (A), MUN (H)
This is probably as high up in a league table as Norwich will get until about Gameweek 2 of next season in the Championship but, if ever they are going to to get anything, then it will be in the next three – beyond that it looks bleak/er.

13. Man Utd – WAT (A) -VIL (A) -, CHE (A), ARS (H), CRY (H), – YBS (H) -. NOR (A)
The current trend seems to be – Disaster!, Ole saves his job, Disaster!, Ole saves his job, Disaster!, Ole saves his job. Which all points to him being sacked after the defeat at Norwich….
The rest…
You can rest assured that anyone from here on below is in trouble for the next few weeks. If you own them then fine but just consider when to play them, but certainly don't be looking to buy any.
14. Southampton – NOR (A), LIV (A), LEI (H), BHU (H), ARS (A)
15. Everton – MCY (A), BRE (A), LIV (H), ARS (H), CRY (A)
16. Burnley – CRY (H), TOT (H), WOL (A), NEW (A), WHU (H)
17. Aston Villa – BHU (A), CRY (H), MUN (H), LEI (A), LIV (A)
18. Brighton – AVL (A), LEE (H), WHU (A), SOU (A), TOT (H)
19. Wolves – WHU (H), NOR (A), BUR (H), LIV (H), MCY (A)
20. Watford – MUN (H), LEI (A), CHE (H), MCY (H), BRE (A)
Thanks for reading Fantasy Football Fixtures Gameweek GW12. This article was written by Adam Alcock.
VOTE ON THIS WEEK'S CAPTAIN POLL GW12
SET-PIECE TAKERS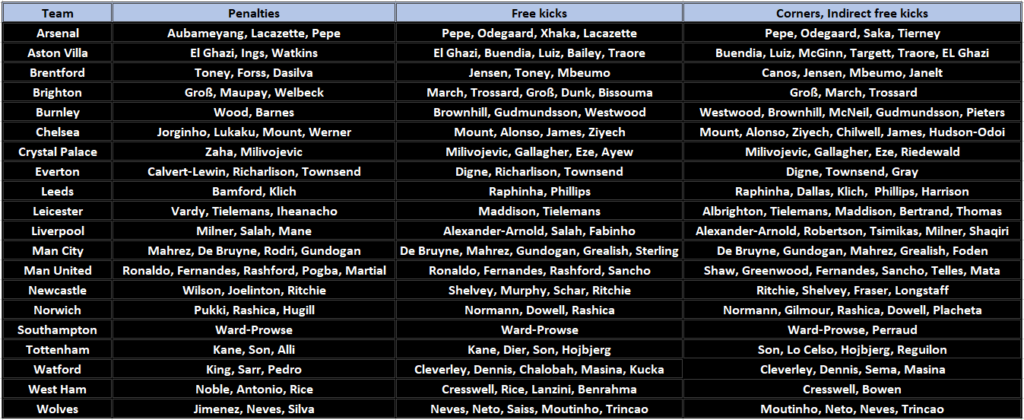 Predicted Line-Ups FPL 2021/22
You can access our Live feed to these here.
FF247 LEAGUES FOR 2021/22
Fantasy Football 247 League Codes:
Both leagues will be shut to new entrants as of 01/01/22.