Fantasy Football Fixtures Gameweek GW33
It must be DGW planning time again! This almost feels like part 2 of what I began back in GW31 but, back then, we only had a few snippets of info to go on, namely a couple of DGW32 fixtures and a few more DGW33 ones. The latter ones still stand but now we have another raft of DGW36 and 37 games to add to our planning.
The planning, or indeed the complete picture, is not yet finalised as we still have one game that is yet to be added (Wolves v Man City), apong with a few others that are currently scheduled but may yet be moved, depending on how teams progress in the other competitions, notably the FA Cup and the CL.
We do still have enough though to build a framework from. So, as we stand, this is our take on how it looks and which teams may have the best of the DGWs. Or the worst…
FPL FIXTURE TRACKER
But first up, that all important Fixture Tracker itself…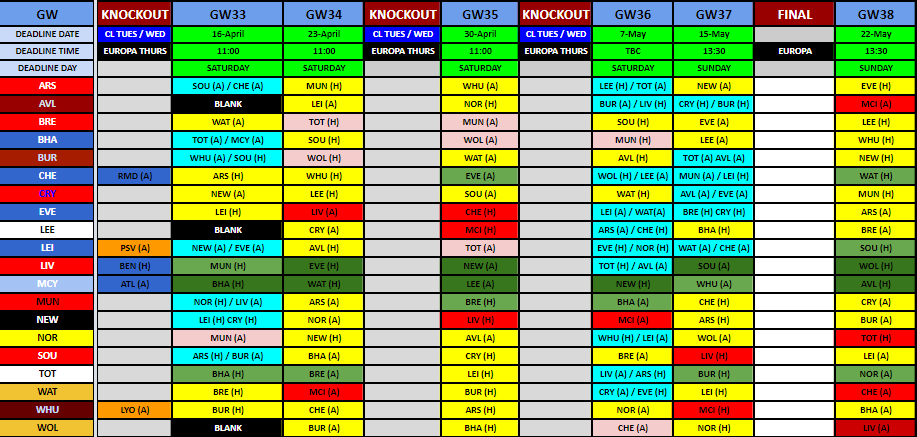 FIXTURE TRACKER LINK
The quick take-aways from the Tracker are;
Man City have the most scope for movement yet, with their game away at Wolves to be scheduled and their FA Cup involvement meaning further movement may be required.
18 teams have at least one DGW to come.
Only Brentford and West Ham don't, they just have six straight games.
GW by GW… Key Facts
DGW33
3 teams blank – Villa, Leeds and Wolves.
7 teams have a DGW – Arsenal, Brighton, Burnley, Leicester, Man Utd, Newcastle and Saints.
GW34
All teams play once, a normal GW. As we speak…
GW35
All teams play once, a normal GW. As we speak…
DGW36
10 teams have a DGW – Arsenal, Villa, Chelsea, Everton, Leeds, Leicester, Liverpool, Norwich, Spurs and Watford.
DGW37
6 teams have a DGW – Villa, Burnley, Chelsea, Palace, Everton and Leicester.
GW38
All teams play once.
The Numbers Game…
Exactly as per last time, this becomes a numbers game. But that is not to say that having the most games equates to having the most points. You need only ask Werghorst owners about that particular calculation. As such, we shall split the teams down by the amount of DGWs they have upcoming – but we shall also give them an overall rank in terms of fixture difficulty. This takes the form of a '*' on a scale of 1-5.
For the purposes of this, we shall look at only GWs 33 to 37, as this period is where all the DGWs lie, and we shall ignore GW38 as that one tends to take on a life of its own anyway!
3 DGWs…

Leicester – NEW (a) & EVE (a), AVL (H), TOT (a), EVE (H) & NOR (H), WAT (a) & CHE (a)
This sounds good. In theory… Until you also factor in their European involvement! If they were to progress in that they could (in theory) face 13 games in 42 days. Which is approximately a game every 3.2 days, for six weeks on the trot.
How good this run of games is may then depend on how they prioritise and, let's face it, rotation will become a factor regardless.
DGW RATING ***
2 DGWs…

Arsenal – SOU (a) & CHE (a), MUN (H), WHU (a), LEE (H) & TOT (a), NEW (a)
Both of their DGWs feature at least one tough looking fixture and sandwiched in-between are a couple of other potentially tricky-looking games against fellow top 4 chasers Man Utd and West Ham. That's not to say they cannot or won't pick up points along the way but there are no givens here, especially after what we saw Brighton do to them at the weekend.
DGW RATING **

Burnley – WHU (a) & SOU (H), WOL (H), WAT (a), AVL (H), TOT (a), AVL (a)
If you're going to be so bold as to tell another team that they don't know how to win games then you'd best make sure you don't back that up by being beaten by Norwich… The manager in question also noted that "I've been down there, I know what it's like". Er, yeah. You are down there, pal, and for the record you've won four games from 30, which ironically is less than Norwich and the fewest in the league.
And looking at this run of games they may do well to improve on that very much. Southampton and Watford look like their best chances but those also smack of the types of games that they tend to draw, and they tend to draw a lot.
DGW RATING *

Chelsea – ARS (H), WHU (H), EVE (a), WOL (H) & LEE (a), MUN (a) & LEI (H)
You have a good few weeks to decide on Chelsea's DGW allure as they have those back to back in 36 & 37. The games prior don't look particularly easy, but they may be worth pusuing for the doubles themselves. The main problem will be the sheer amount of games in succession and Tuchel does have a fairly big squad at his disposal, if you catch our drift.
DGW RATING ***

Everton – LEI (H), LIV (a), CHE (H), LEI (a) & WAT (a), BRE (H), CRY (H)
Much like Chelsea, Everton can be a wait and see as they have very difficult games prior to a double-double. The doubles themselves actually look ok but we'll have to see what state Everton arrive at them in, in terms of their safety or indeed desperation by that point. Desperation may be a good thing though as Leicester and Watford's races may be run by that stage.
DGW RATING **1/2

Aston Villa – BLANK, LEI(a), NOR (H), BUR (a) & LIV (H), CRY (H) & BUR (H)
Our first real outlier here as Villa begin this run with a BLANK. It's difficult to know what to make of them too as their form has been patchy at best, they are stuck in mid-table and aren't going anywhere anytime soon. As for the doubles themselves, it will largely depend on whatever motivation they have left. Although that Liverpool game looks not only difficult but also one in which you'd imagine Gerrard would be happy to bring the league into disrepute for and throw out an U12s team…
DGW RATING **
1 DGW and it is this week (GW33)
Let's just deal with the immediacy then…

Brighton – TOT (a) & MCY (a)
Despite doing it against Arsenal, this looks about as tough as it gets based upon the current form of the opposition. May as well have just chucked Liverpool in there for a treble while they were at it!
DGW RATING 0 (ZERO)

Man Utd – NOR (H) & LIV (a)
A more contrasting DGW you couldn't really ask to see. Which is a bit like United themselves, in terms of the talent they possess and the performances they then conversely put in.
DGW RATING ***, maybe just **!

Newcastle – LEI (H) & CRY (H)
Seemingly now almost safe from relegation, Newcastle would still fancy another victory or two in that aim for comfort, so there will be no let up. Let's face it, most of their players will be looking to prove that they are good enough to stay next season ahead of what will probably be a full on assault on the transfer market in the summer.
DGW RATING ***

Southampton – ARS (H) & BUR (a)
Likewise, Saints are almost certainly now safe, but it would appear their players are fully aware of this. To say they have downed tools may be a bit harsh, but they have certainly had one eye on the beach for a few weeks now as they have managed to concede no fewer than 19 in the last six, with five defeats and one draw in that abysmal run.
DGW RATING *
1 DGW… but a distant one
There are 8 other teams with a single DGW to come – Palace, Liverpool, Norwich, Spurs & Watford.
That's 5, but Man City have one but it has yet to be scheduled.
Likewise do Wolves, and it is worth noting that they BLANK this week to begin with.
Leeds do too, although they do have a DGW confirmed in 36.
It's not worth rating these ones yet as it's simply a single DGW in the future and we'd have to assess them closer to that point to have any idea whether they still had things on the line to play for. It's probably safe to say that Man City, Liverpool and Spurs probably will have out of those, and players from those sides are all worth owning regardless.
Thanks for reading Fantasy Football Fixtures Gameweek GW33. This article was written by Inittowinit.
VOTE ON THIS WEEK'S CAPTAIN POLL GW33
SET-PIECE TAKERS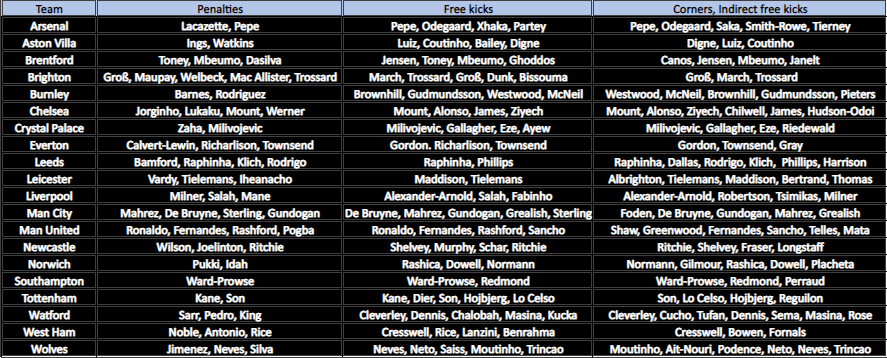 Predicted Line-Ups FPL 2021/22
You can access our Live feed to these here.
FF247 LEAGUES FOR 2021/22
Fantasy Football 247 League Codes:
Both leagues will be shut to new entrants as of 01/01/22.