Fantasy Football Live Match Chat and FF247 Site Team Gameweek 35+
Welcome to Fantasy Football Live Match Chat Gameweek 35+.
GW35+ Deadline; Saturday 11th July 11:30am GMT
Timing is everything…
For those of you struggling to keep up with the rapid deadlines; tough sh*t &


It's posted on site in at least three different locations, including a very handy countdown timer. But if you are one of those, not to name names, (Raz, Ivan & AJW) you may want to pay attention to the following as the next few weeks may prove particularly challenging for you;
GW35+ ends abruptly on Monday night, GW36+ then begins the following day. Which is called Tuesday, just in case you are already struggling to keep up. That one then goes all the way through until Friday night. And then GW37+ begins on Saturday. Which is the day that follows Friday.
As for 35+ itself we have the (now) usual divorce lawyers dream of five games on Saturday from about midday to 10pm, four on Sunday but ending at 8 and then another on Monday. But that's where you need to start paying attention as 36+ creeps up quickly.
As always we shall endeavour to post the line-ups prior to each phase of the relevant GW and our usual aforementioned FPL Countdown Timer (to be found above the latest comments section) will once again be active.
Tips will be dispensed in the chat below but feel free to get involved in said chat, whether that's asking for advice or answering others.
The games in full…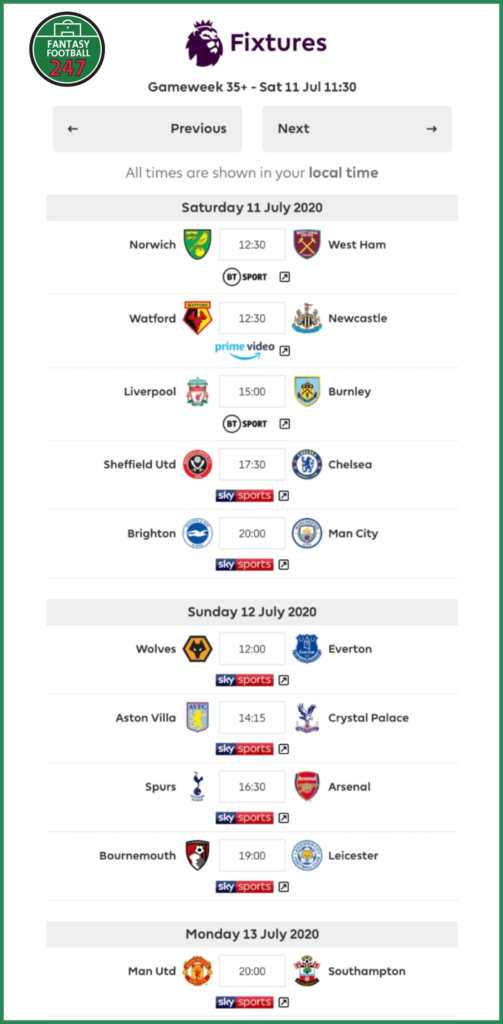 FF247 SITE TEAM GW35+
Our GW34+ Result…
Talking of timing our Bench Boost week began well on Tuesday with Pulisic smashing one in which also saw him grab a couple of bonus points. Foster let us down somewhat though as we had that one down as a nailed on clean sheet. Sort of.
In the more reliable corner Pope and Taylor duly delivered on Wednesday against the #bendoverBrady bunch. Taylor even obliged with an assist and the full three bonus.
Seemingly we picked the wrong Man City assets for their routing of Newcastle, but we suspect we weren't alone in that. Captain KDB did still bring in a semi-respectable 14.
Our decision to keep Salah, or rather dither and not actually make a decision at all, inadvertently keeping him in the process, paid off big time. 18 points big time. TAA did diddly-squat though.
Jimenez doing likewise may have sealed his fate but we shall come onto that later. As for Doherty we just had to laugh, how could you not with a CS and bonus points in the bag after 90 minutes. And then that…
Heading into Thursday with 71 points and 5 players left its fair to say we were eyeing the hollowed ton. Things got off well with both Ings and Aurier doing their jobs. One with a goal, the other with a clean sheet and bagging 5 bonus points between them.
We just needed Man United to hammer Villa, or at least tap them out a bit. It ended up somewhere in-between the two stools but fortunately we seem to be better at picking players from the other side of Manchester (aka Salford) as our trio got 26 between them to take us to a final tally of 114.
This meant another green arrow and a healthy rise of over 50k places up to 33,422nd. Let's go see what we did with our 2 free transfers.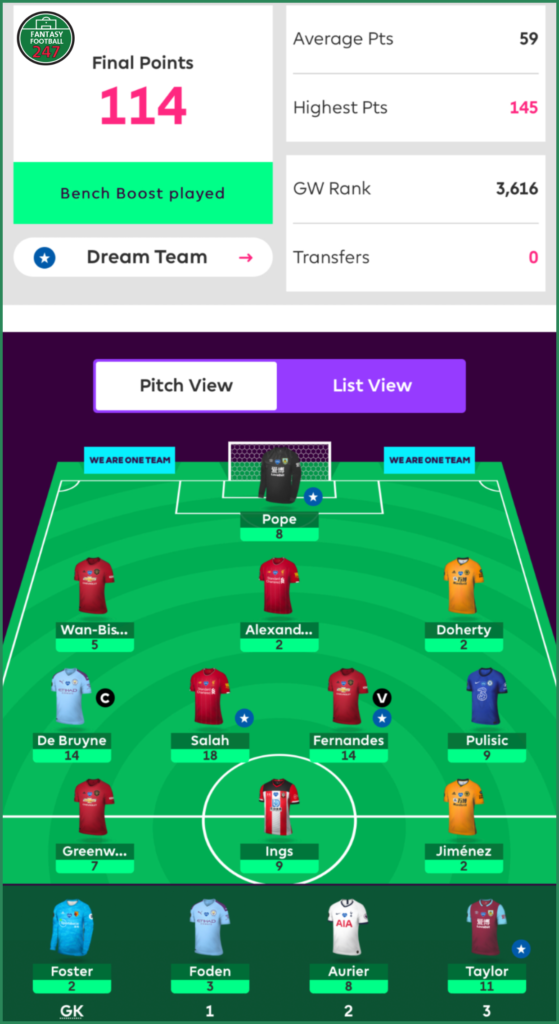 GW35+ TRANSFER
We have SOLD Jiménez and Doherty and BOUGHT Vardy and errrrr someone we never thought we would buy.
Unfortunately our stooge who lazily couldn't be arsed to sell Salah last week was given this week off from transfer decision duty. Hence it fell to the other maverick to orchestrate proceedings. And this one never does nothing. Ever.
Jiménez to Vardy was the obvious shout but we couldn't afford that alone, in fact we were just 1.8mln short. Not an easy amount to find. We could sell Salah but our sensible ones wouldn't allow that. We could sell TAA, but that was thrown out too. Despite both being likely to be benched this week. Allegedly. The sale of Doherty was mooted and then gained traction. But who would we buy for 4.6mln? It was then suggested we buy Iheanacho and save all the hassle. That idea wasn't even commented on. Bastards. Just watch him outscore Vardy. So we had 4.6mln to spend on a defender. Not much there. And no suggestions from the Brains Trust so nothing was done and just like that Vardy's price rose overnight and now we only had 4.5mln to spend.
To cut a long story short (errrrrm bit late for that pal), we had a choice of Jack Stephens of Southampton and Aaron Cresswell of West Ham. Lol. All this to get Vardy. FML. Both have decent looking fixtures. Even Cresswell and his bunch of useless no-hopers, but at least he can cross the ball even if defending is a slight issue.
Amazingly, Cresswell was voted in basically so we can play him vs Norwich this week rather than Stephens vs United. It's a genius move that we recommend you all make immediately.
GW35+ CAPTAIN
Our Captain for GW35+ will be Bruno
Our Vice-Captain will be Vardy
Bruno won the vote 3-2 with a late surge in the voting. Difficult to argue with as he is the form player of the league and has the added bonus of playing in the final fixture of the game-week on Monday evening.
Our GW35+ team in full…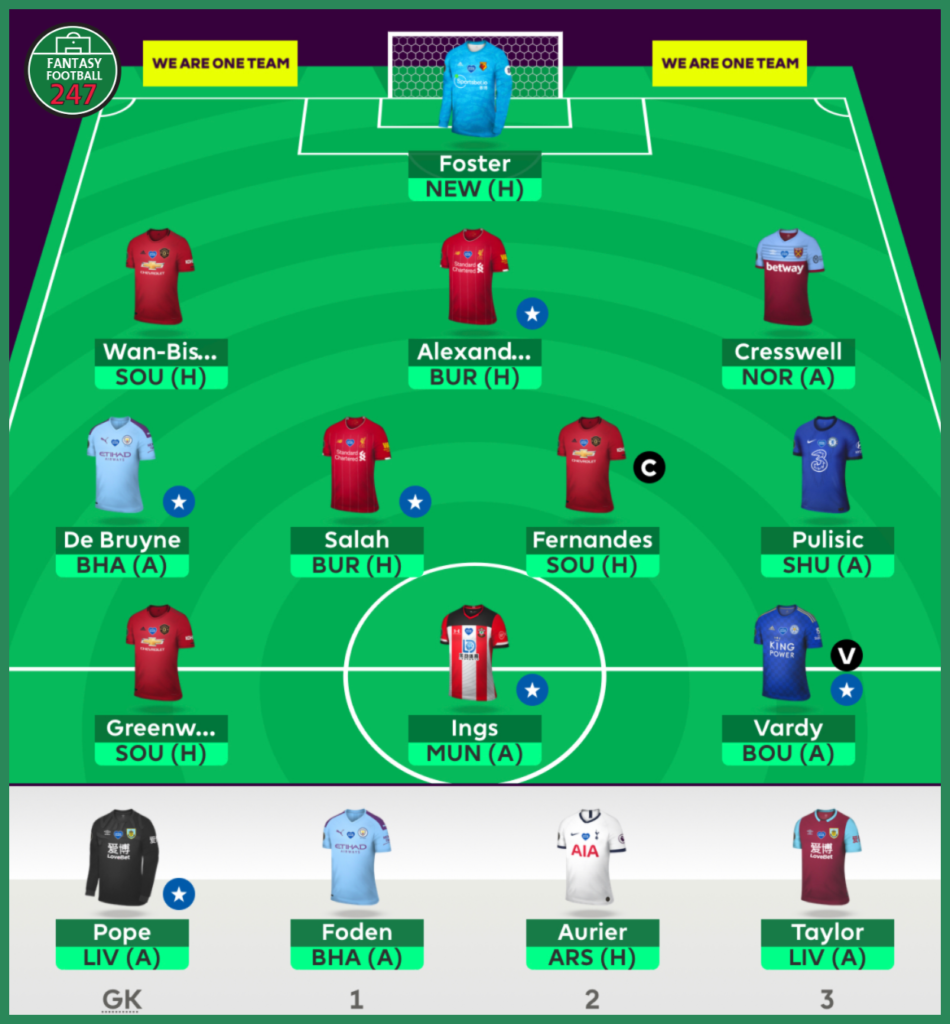 Should you wish to follow the FF247 Site Team's progress you can do so here.
Keep track of all the action, the goals, the talking points, right here at FF247 Live Match Chat, an interactive chat which encourages you to keep involved and share your thoughts and emotions as the matches take place.
CAPTAIN POLL GW35+
Good luck to absolutely everyone for Gameweek 35+ from all at FF247!
Thanks for reading Fantasy Football Live Match Chat and FF247 Site Team Gameweek 35+.
FPL FIXTURE TRACKER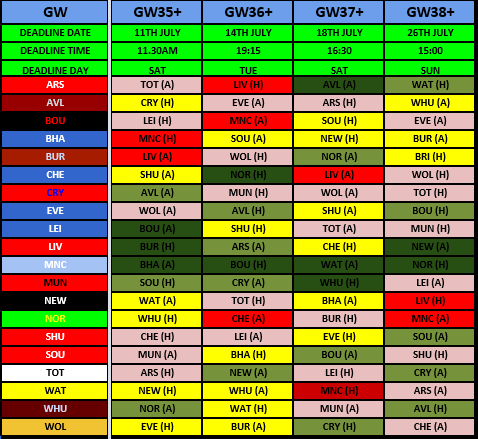 FIXTURE TRACKER LINK
Fantasy Football 247 League Codes: