Fantasy Football Live Match Chat and FF247 Site Team Gameweek 37+
Welcome to Fantasy Football Live Match Chat Gameweek 37+.
GW37+ Deadline; Saturday 18th July 4.30pm GMT
But can he play left-back?
These game-weeks are getting ridiculous now. As one ends, the next starts and so it is with GW37+, although at least this one lasts for five days. This is of course due to the weekend's FA Cup semi-finals which are between Arsenal and Manchester City and then Manchester United and Chelsea. Now the implications of these cup semis are that players from any of the aforementioned teams could pick up injuries or fatigue from their Cup matches and it also means we won't receive team news on their opponents (Watford, Villa, West Ham and Liverpool) before they meet in midweek.
The game-week begins on Saturday early evening, 5.30pm to be precise, with a real humdinger of a game as Burnley travel to relegated Norwich. That's our only game of Saturday. Sunday sees two matches. First up is the local derby between Bournemouth and Southampton before Spurs entertain Leicester. We then move onto Monday as Brighton host Newcastle at the same time as Sheffield United take on Everton and then later on Wolves look to brush past Palace.
Tuesday sees Watford attempt to slow the Man City goal machine before Villa host Arsenal.
Finally, we conclude on Wednesday with Man United welcoming West Ham before Chelsea go to Liverpool.
If you're worn out by all this then rest is assured as you have three and a bit days off before the last day of the season!
As always we shall endeavour to post the line-ups prior to each phase of the relevant GW and our usual FPL Countdown Timer (to be found above the latest comments section) is once again active.
FF247 SITE TEAM GW37+
Our GW36+ Result…
Tuesday began with us owning just Pulisic but also with some trepidation that Giroud would go bananas against a profligate Norwich and we'd have a monster on our hands come the next team meeting. Sure enough l'Adonis notched but thankfully just the one (with Pulisic handily assisting) and so onto Wednesday and hopefully a David Silva Masterclass to justify our eyebrow raising sale of KDB.
Not only did we buy Dilva, we bloody well captained him! And boy are we glad we did as he brought home the hallowed treble: a goal, assist and all 3 bonus. For a total of 26. That was the good news…
Elsewhere Foden blanked again and Pope lost his CS and 3 bonus points late on. Salah and TAA similarly disappointed with a 2 and a 0.
Wednesday brought us hope with Wan-B, Bruno, Greenwood and Ings all starting. The reality was a mixed bag with a CS, an assist and a goal between them leaving us somewhat confused as to whether that was enough or that we simply expected more. Probably 70/30 in favour of the latter.
That left Friday. And last weeks hero Cresswell propping up the rear. From hero to zero. Well ok, a two point zero but all the same.
That left us with 61 points and a rank of 38k, a rise from about 50k, but that's not our final GW36+ rank. In the interests of getting this article live we have gone early and so will update the final rank when we can, as if it matters.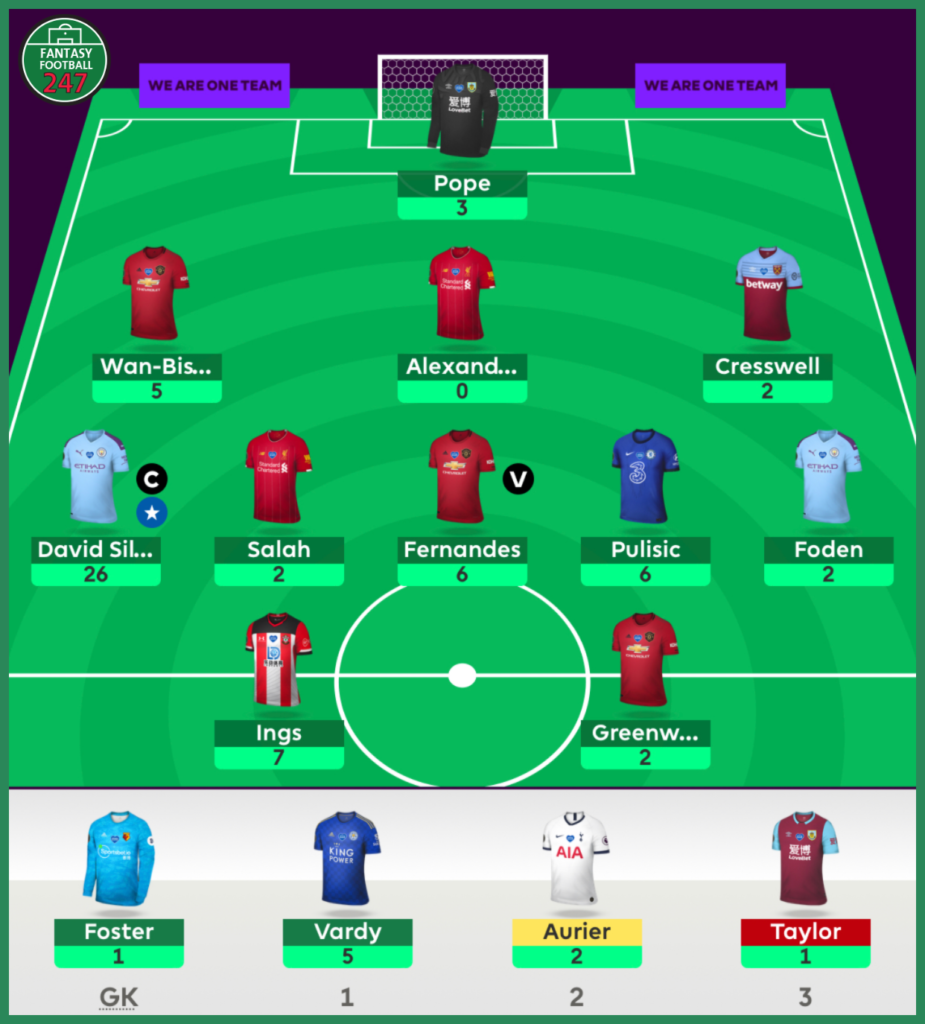 GW37+ TRANSFER
We have SOLD Vardy and BOUGHT Aubameyang
As much as we do eventually get some decisions correct and we do fairly well in general (relatively speaking) we shudder to think what people would make of our thought process in terms of 'getting there'…
This week's discussion began with selling Vardy and quickly went onto needing a defender instead. We had Martial playing left-back and wearing the armband at one point despite already owning 3 Man Utd players (which nobody noticed) and eventually came back round to Vardy. It's like five clowns walking into a sweet shop at times.
To save the day, and our sanity, somebody pointed out Arsenal's two remaining games and Aubameyang was ushered in with haste.
GW37+ CAPTAIN
Our Captain for GW37+ will be BRUNO FERNANDES
Our Vice-Captain will be (whoever came in for Vardy) AUBAMEYANG
No surprises here, Mr. Consistent got the vote. He's looked like both the best, (and at the very least) the liveliest player in the league since he arrived. So much so you almost expect some sort of FPL return every time he moves, never mind gets on the ball.
Our GW37+ team in full…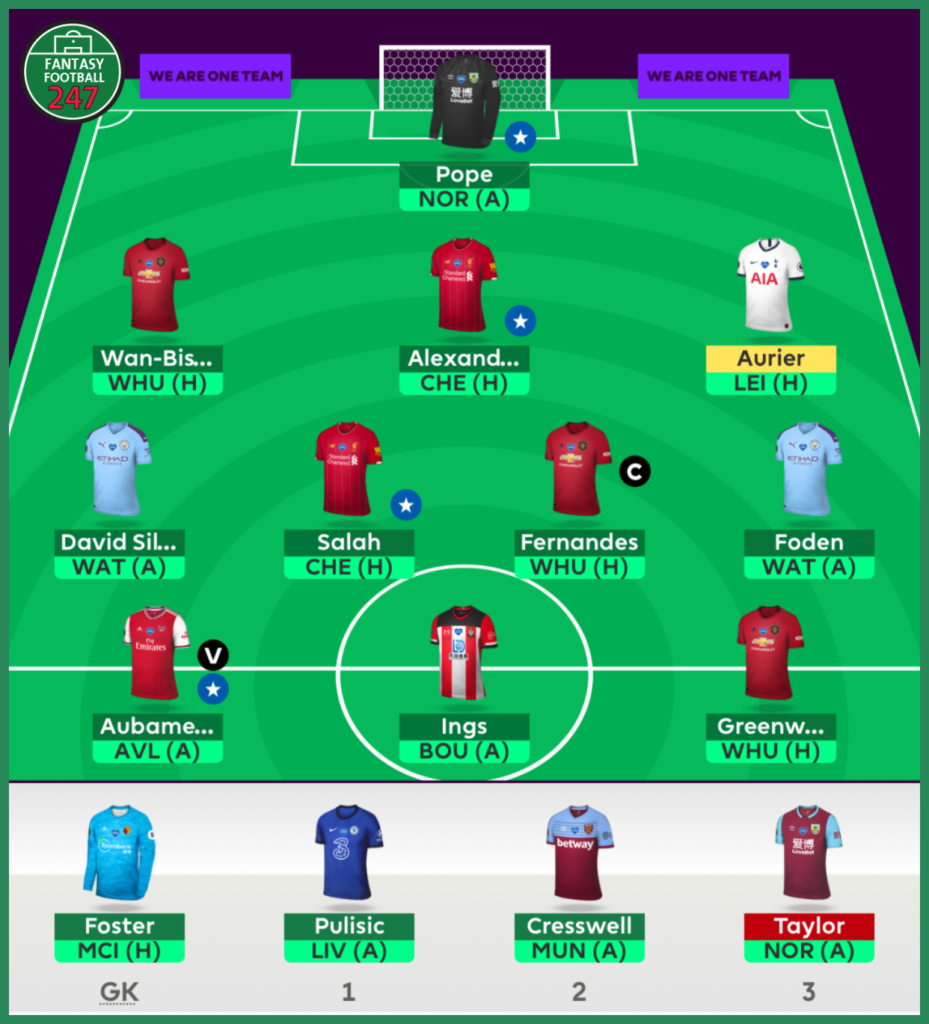 Should you wish to follow the FF247 Site Team's progress you can do so here.
The games in full…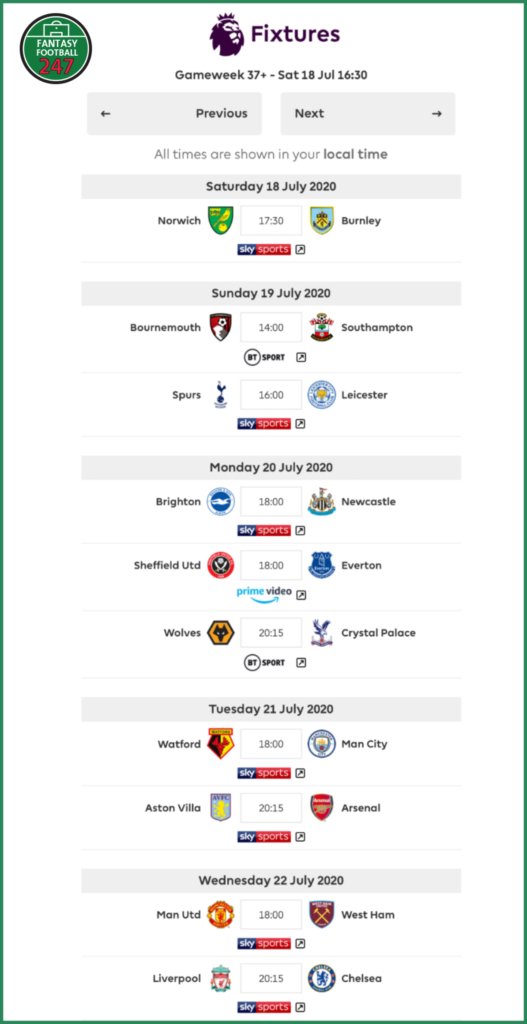 Keep track of all the action, the goals, the talking points, right here at FF247 Live Match Chat, an interactive chat which encourages you to keep involved and share your thoughts and emotions as the matches take place.
CAPTAIN POLL GW37+
Good luck to absolutely everyone for Gameweek 37+ from all at FF247!
Thanks for reading Fantasy Football Live Match Chat and FF247 Site Team Gameweek 37+.
FPL FIXTURE TRACKER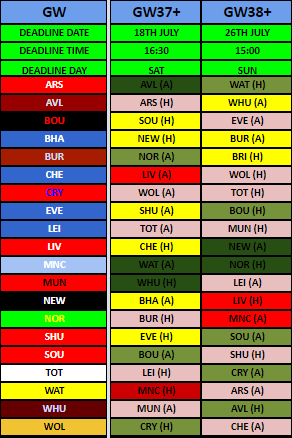 FIXTURE TRACKER LINK
Fantasy Football 247 League Codes: