Fantasy Football Live Match Chat Gameweek 4
Welcome to Fantasy Football Live Match Chat Gameweek 4.
After a wonderful GW3 where we all scored big points and played all those wildcards perfectly we head into another slate of games which I am sure will bring us equal joy.
And what better way to get a points filled GW going then Chelsea and their high flying Timo Werner where he is sure to single-handedly dismantle Palace, showing off once again the brilliance that Fat Frank has taken full advantage of so far. That early game is followed by three more encounters all nicely spread out for us so we have more time to enjoy and gloat about our great decisions when selecting a team.
In the second fixture we get a chance to watch the washed up James Rodriguez and the non scoring duo of DCL and Richarlison tangle with relegation bound Brighton and their Chelsea leftover (Lamptey) at right wingback.
Leeds and Man City are up next in what is likely a 5-2 win for City, wouldn't be shocked if Leeds gave up 3 penalties.
In the last game of the day we see Saudi owned Ashley owned Newcastle and their 200 20 million pound signing Mbappe Callum Wilson go at the Burnley backline and Sean Dyche's innovative low-to-no pressing scheme.
Those four fixtures are followed up by six on Sunday. We get started with two early games. Leicester take on West Ham in a match up the ancient Jamie Vardy versus West Ham's future star Diangana, who I hear has already scored this FPL season. Sounds like he will fetch them a lot of money in 2-3 years when they go to sell him, good for them. In the other game Saints take on West Brom and some kid named Diangana who seems to be doing well, what a coincidence.
After the early two we see another pair of games at the same time. One game sees the ever improving Arsenal (checks standings notices they are tied on points with Villa, Palace and Leeds) match up against a team we all expect big things from; Sheffield (checks standings notices they are in the relegation zone on zero points) United. That game coincides with Fulham's visit to Wolves. This is bound to be an interesting game as Fulham surely learned their lesson from the last time they were in the Premier (checks standings, oh FFS!!!) League.
The fifth game of the day pits Man United and their interesting no tactics approach against Spurs and their boring tactics approach. To be fair to Jose though I heard he has added a new wrinkle to his jaded approach in having proven goal scorer Harry Kane create opportunities so unproven goal scorers can try and score. Will be interesting to see what Ole with this information, will he choose to play candy crush or possibly change to words with friends for this game.
The last fixture of the gameweek brings us Villa playing host to the complacent Liverpool. Villa won't have six points before Christmas and Liverpool having won the PL last season won't have the sort of drive to win it again, don't waste your time with this game.
The games in full…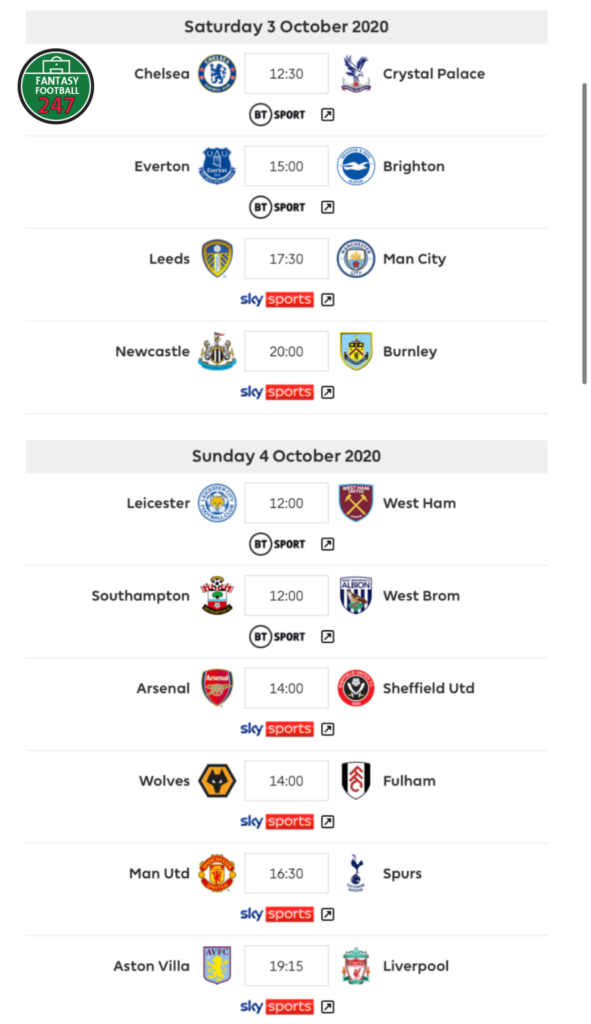 Keep track of all the action, the goals, the talking points, right here at FF247 Live Match Chat, an interactive chat which encourages you to keep involved and share your thoughts and emotions as the matches take place.
Good luck to absolutely everyone for Gameweek 4 from all at FF247!
Thanks for reading Fantasy Football Live Match Chat Gameweek 4.
FPL FIXTURE TRACKER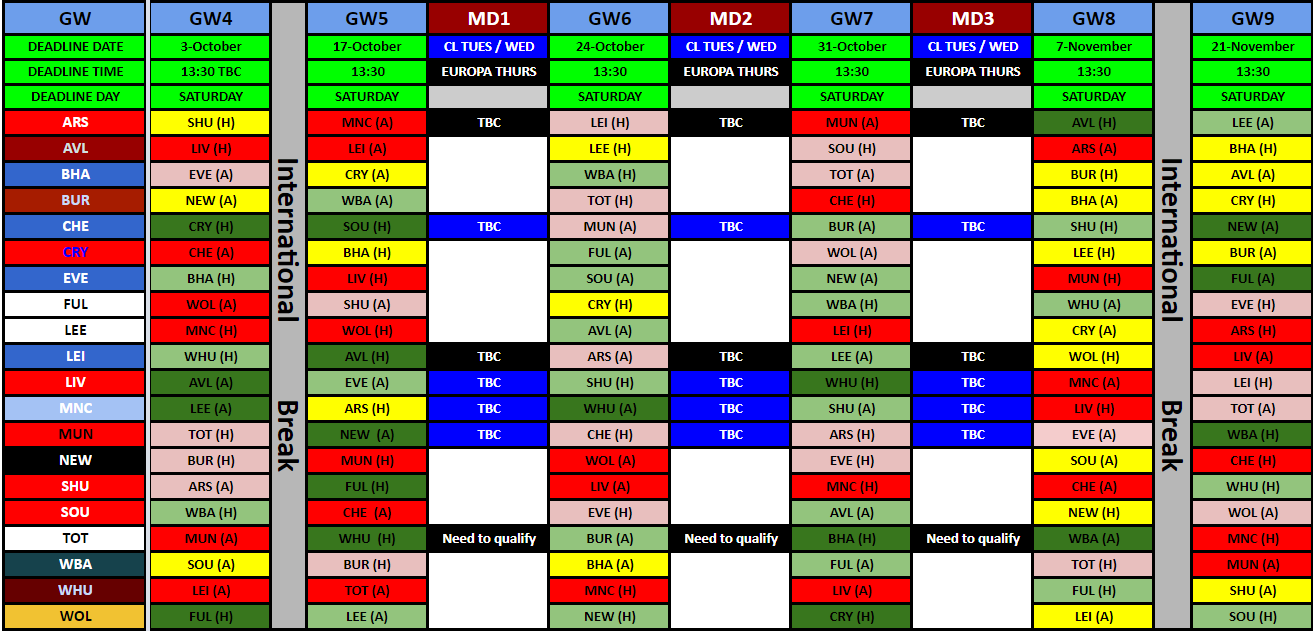 FIXTURE TRACKER LINK
Fantasy Football 247 League Codes:
All prizes must be claimed within 30 days of the final GW.