Fantasy Football Live Match Chat Gameweek 6
With five of the big boys, and also Arsenal, having been on European duty this week we may be about the hear the dreaded 'R' word a number of times over the next few days as the team-sheets roll in. Certain key personnel such as Hazard were given the week off, other ones played (relatively poorly) and then proceeded to wander around with a pack of Lemsip in their hand afterwards to further fuel speculation as to their possible involvement. All will be revealed in due course though…
Watford pitch up at Fulham to kick us off on Saturday lunch-time to test their strong arm tactics against the strongest of arms in the shape of Mitrovic. Expect fireworks. New FPL favourite Fraser then gets a taste of real Northern 'hospitality' at Burnley to begin our 3pm games. Cardiff will hope, probably in vein, not to be the victims of a Pep backlash. Zaha will no doubt get fouled and subsequently wound up like nobody's business against Newcastle after last week's revelation that he 'gets fouled a lot and gets wound up by it'! Vardy then gets another bite at grabbing our attention with a tasty home game against Huddersfield. Salah will then divide an FPL nation by either appearing against Saints or not, and that's before he even gets a sniff of kicking a ball or two into their net, or doesn't. Either way, avoid twitter would be our advice, the idiots will be out in full force! Jose's reinvigoration will be severely tested as the Wolves come a hunting.
Our evening game, after a breathless Saturday afternoon, may end up with Poch wandering alongside the Brighton seafront, supping from a can of Special Brew, muttering nonsensical musings to himself, if the current pattern is to be believed. Or Kane could score a hat-trick and half a million wildcards will be suddenly and unexpectedly activated. Football, eh…
Sunday then sees a supposedly rejuvenated West Ham face a supposedly in form and title challenging Chelsea. Time will tell on both fronts. Arsenal and Everton then close our week out with a challenge as to which one is worse at playing the ball out front the back.
THE GAMES IN FULL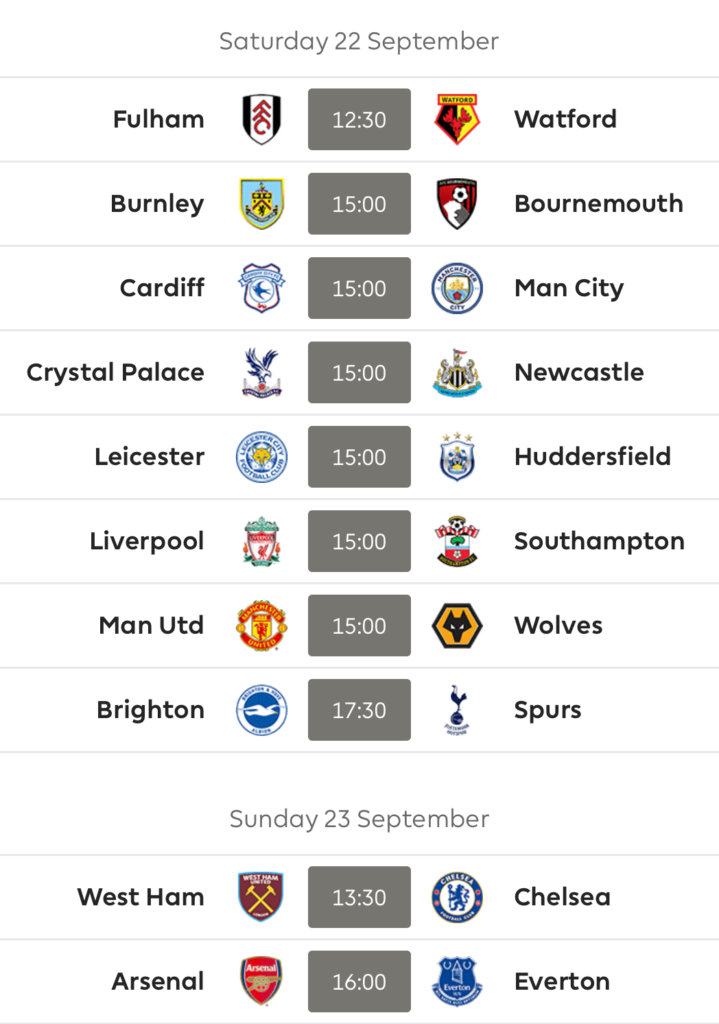 Keep track of all the action, the goals, the talking points, right here at FF247 Live Match Chat, an interactive chat which encourages you to keep involved and share your thoughts and emotions as the matches take place.
Good luck to absolutely everyone for Gameweek 6 from all at FF247!
Thanks for reading Fantasy Football Live Match Chat Gameweek 6.
FPL FIXTURE TRACKER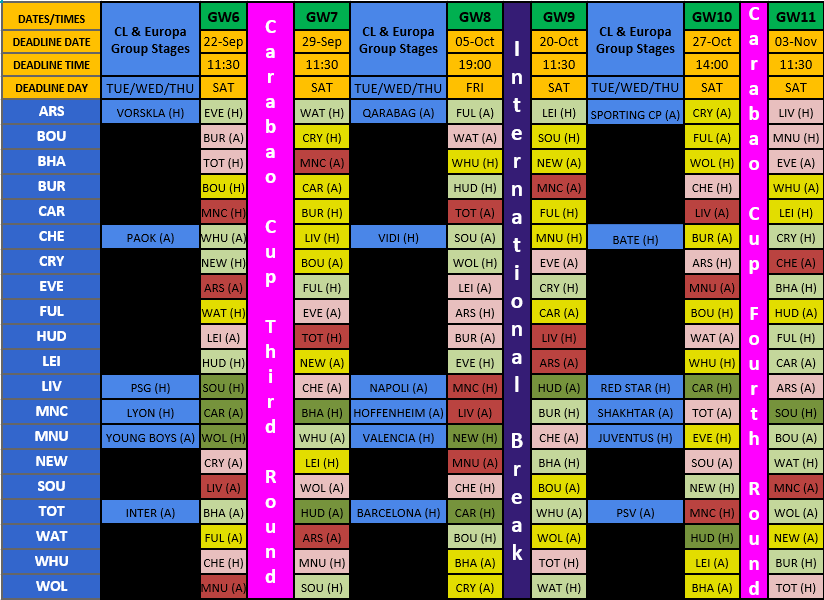 FIXTURE TRACKER LINK
Welcome to our Fantasy Football leagues section.
The League Codes for FF247 for the 2018/19 season are as follows –