Fantasy Premier League Set-Piece Takers 2021-22
Welcome to Fantasy Premier League Set-Piece Takers 2021-22.
Please find below the FF247 Set Piece Takers List for 2021-22. This list is a guide that we hope will help you select players that have the potential to bring in goals and crucial assist points. The table is based on information gathered from last season's games, Opta stats, pre-season friendlies and FF247 community input.
The article itself is archived under the tab at the top of the page entitled 'SET-PIECE TAKERS' so you can refer back to it at any time, as are many of our other articles and helpful tools such as Fixture Tracker and Weekly Tips.
Please be aware that this list is subject to change due to player injuries, drop in form, suspensions, manager whims, etc. The list will be updated throughout the season and as ever we welcome anybody in our community to inform us if you are aware of any updated roles or indeed anything you think we have got wildly inaccurate! You're not perfect and neither are we.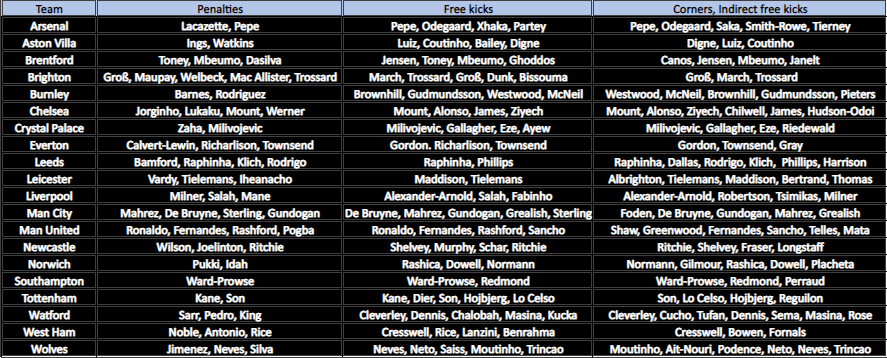 Thanks for reading Fantasy Premier Set Piece Takers – Fantasy Premier League 2021-22. This article was compiled by Mito21
Updated 07/11/2021